I recently tried a new soup recipe… Green Chile Chicken Crockpot Enchilada Soup… and it was FANTASTIC!  The best part was that the soup cooks in a crockpot, for super easy preparation! Throw ingredients into crockpot in the morning… enjoy this yummy soup at night!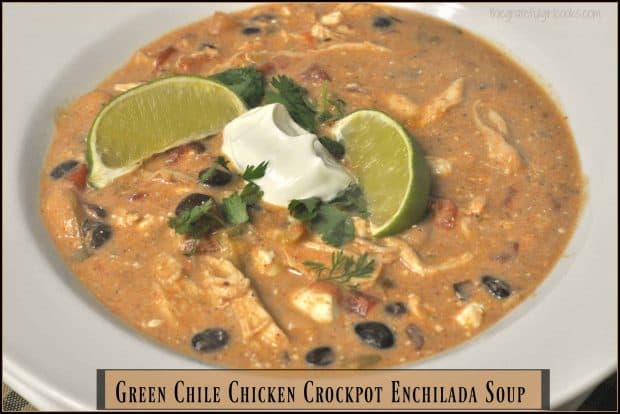 The flavors are amazing. If you enjoy Southwestern flavors, and want to make a big batch of delicious soup, then you might need to check this one out. I found the recipe on Pinterest recently and decided to try it out. This soup DID NOT disappoint! It was as easy as adding ingredients to crockpot, shredding chicken and adding it back in to crockpot… and then serving it up with some flavorful garnishes to finish it off! Super duper EASY!
Here's how easy it is to make:  Chicken, green enchilada sauce, white and black beans, green chiles, canned tomatoes, chicken broth, cilantro and spices are placed in crockpot. This is cooked on low for 5-7 hours OR on High for 3-5 hours.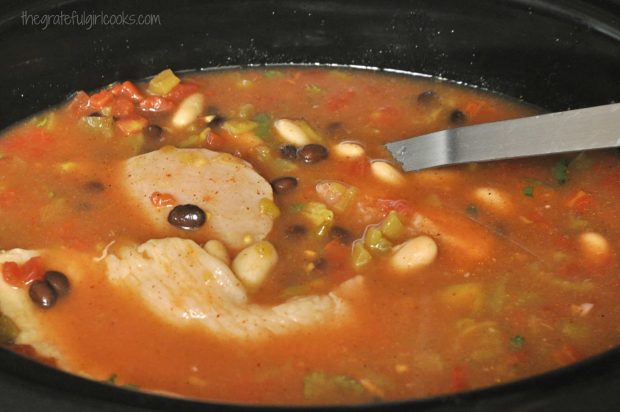 After the time you cooked it for is up, the chicken is removed from crockpot (and in my case, with a few straggler beans!). The chicken is then shredded with two forks (EASY).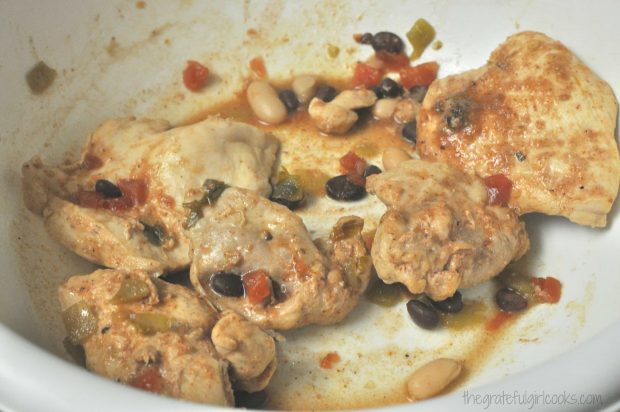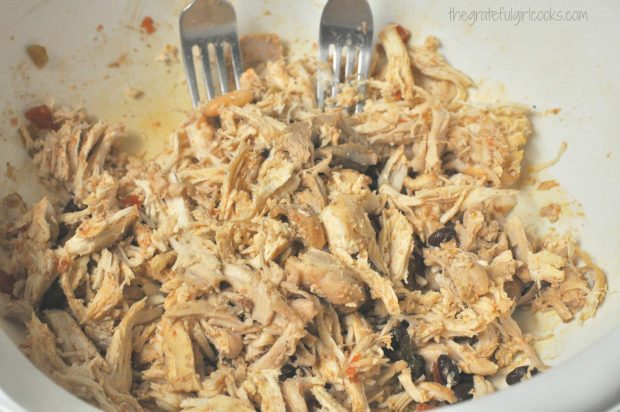 A block of cream cheese is cut into chunks and added to the soup. Heat is turned to high and soup is cooked for another 30 minutes. The cream cheese should be melted or easily stirred into the soup at the end of the 30 minutes.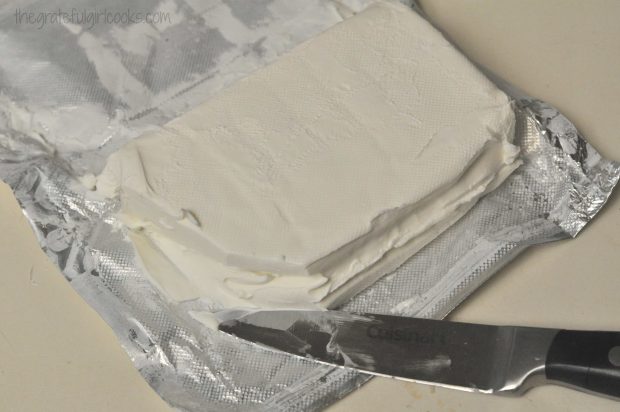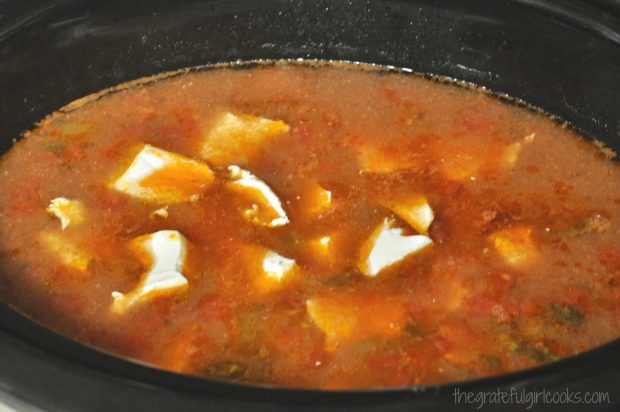 The shredded chicken is added back into the soup, and is heated another 10 minutes or so.  When completely heated through, ladle soup into serving bowls.  For BEST flavor, garnish each bowl with some chopped cilantro, a dollop of sour cream and a couple of lime wedges (lime wedges add even more flavor when squeezed over soup before eating!)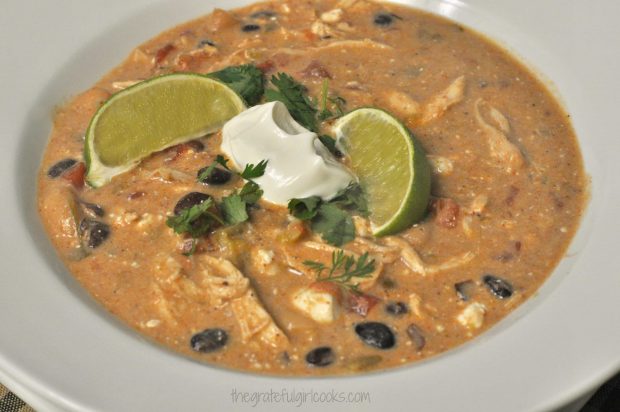 There you have it! The recipe is perfect to make on a busy day! Prepare soup (i.e. dump all the stuff into crockpot) in the morning, and let it cook all day. Before serving, all you will need to do is shred chicken, and add cream cheese & heat! It really is a super easy recipe… and it tastes FANTASTIC! Even the leftovers were perfect the next day!
Sure hope you will consider making this delicious, tasty soup! We absolutely LOVED it!  Have a great day.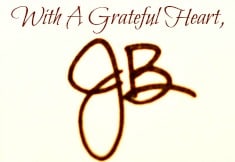 Recipe Source: http://www.chelseasmessyapron.com/crockpot-green-chicken-chile-enchilada-soup-video/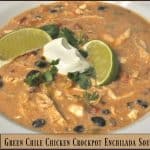 Green Chile Chicken Crockpot Enchilada Soup
This Southwestern flavored soup will hit the spot! Throw the ingredients in your crockpot, and let it do the work for you! You're going to love this soup!
Ingredients
1

can

(10 ounces) green enchilada sauce

1

can white beans

(I used cannelini), drained and rinsed

2

cans black beans

, drained and rinsed

1

pound

boneless chicken breasts or thighs

(I used a combo 2 breasts/3 small thighs)

2

cans

(4 ounces each) diced fire-roasted green chiles (including liquid)

1

can

(10.5 ounce) diced tomatoes (including liquid)

4

teaspoons

ground chili powder

1

Tablespoon

ground cumin

3/4

teaspoon

paprika

Salt and Pepper

(to taste)

3

Tablespoons

fresh chopped cilantro

2

cups

chicken broth

(or stock)

1

package

(8 ounces) cream cheese, softened to room temp)
For garnish:
Sour cream

, fresh lime wedges, additional chopped cilantro
Instructions
Into a large crock pot add green enchilada sauce, white and black beans, raw chicken, green chiles, diced tomatoes, chili powder, cumin, paprika, salt, pepper, 3 Tablespoons chopped cilantro, and chicken broth. Stir to combine.

Put lid on crockpot. Cook on LOW for 5-7 hours OR cook on HIGH for 3-5 hours.

When cooking time is finished, remove chicken pieces to a large bowl. Shred chicken using two forks. Set aside.

Cut cream cheese into small chunks and add chunks into crockpot. Stir well. Put cover on crockpot. Cook on HIGH for 30 minutes. When time is up, stir or whisk the cream cheese. It should melt or easily blend into the soup at this point.

Stir in the shredded chicken, and heat soup for another 10-15 minutes.

Ladle hot soup into serving bowls. Garnish each bowl with additional chopped cilantro, a dollop of sour cream, and a couple lime wedges. Lime wedges should be squeezed over soup before eating!
Here's one more to pin on your Pinterest boards!

Save
Save
Save
Save