If you're looking for a simple bread recipe to accompany your meals, may I suggest trying Italian Biscuit Flat Bread? Made with canned biscuit dough and topped with Italian spices, garlic and Parmesan cheese, they are an EASY side dish for meat or soup!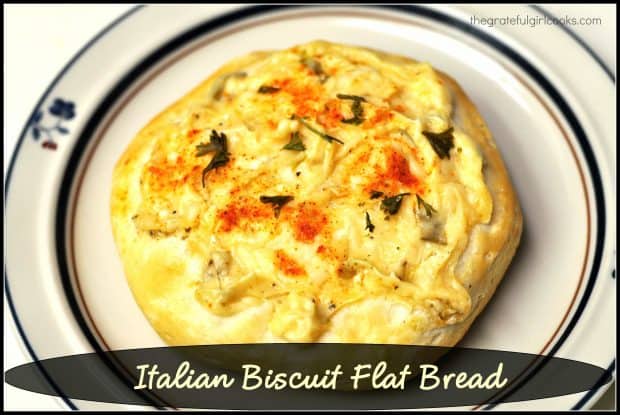 My husband and I have had a friend (whom we've known for 40+ years) staying with us for the past week. She was going to stay with us for two nights, but we were having such a great time, she stayed for a week! I haven't blogged at all while she has been here, because I've just been too busy having fun, and enjoying long conversations into the late night hours.
The weather has turned gorgeous and sunny the past few days in the Portland area…the three of us have enjoyed being outside more and even grilling a few dinners on our trusty Weber BBQ!  One evening I made these delicious Italian flavored flat breads (filled with Parmesan cheese, garlic, etc.) to accompany some marinated, grilled pork chops. I couldn't find the recipe for these (found it two days later-oops), but somehow remembered how I had made these numerous times before, and we all enjoyed them!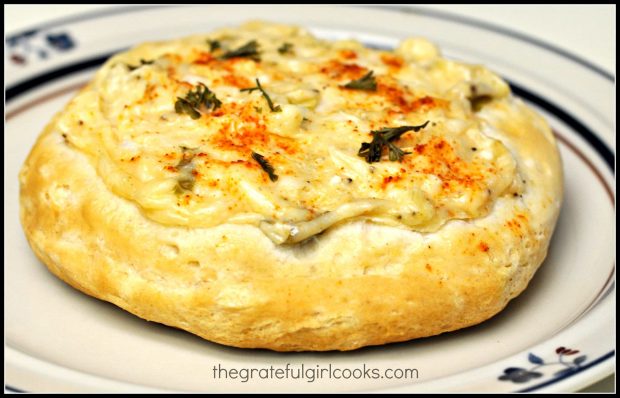 If you're looking for something besides a dinner roll or garlic bread to serve with a meal, I hope you will give these a try. Truthfully, the ingredients (mayonnaise? really?) sounded kind of weird when I first found the recipe years and years ago…but trust me…they are delicious!
I usually have most of the simple ingredients in our pantry, so I only need to buy a can of refrigerated biscuits when I decide to make these. This is a quick, economical, delicious and "easy to make" recipe… I hope you will enjoy them like we do!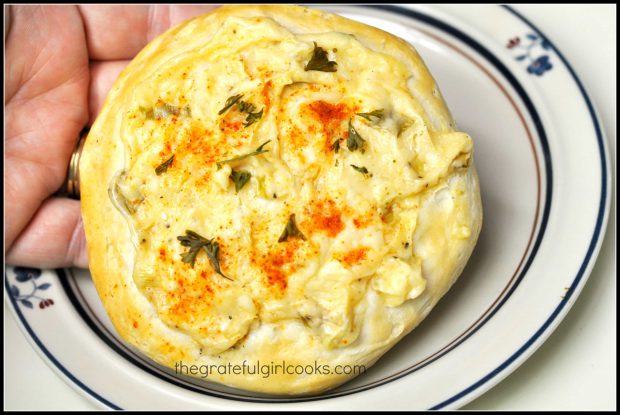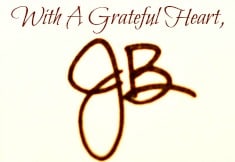 Recipe Adapted from: http://www.pillsbury.com/recipes/italian-biscuit-flatbread/eaf7f806-c6c1-4378-a314-6219cac5d7c9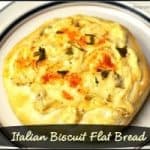 Italian Biscuit Flat Bread
A flavorful Italian flavored bread to serve alongside your favorite meal.
Ingredients
1/2

cup

mayonnaise

2/3

cup

Parmesan cheese

1/4

teaspoon

dried basil

1/4

teaspoon

dried oregano

3

Tablespoon

green onion

(white and green parts), chopped

1

minced garlic clove

(or substitute 1/4 tsp. garlic powder)

1 10

oz.

can refrigerated biscuits

(I use Grands Biscuits...but cheap biscuits work, too!)

*Optional: dried parsley and paprika

(sprinkled on top for garnish)
Instructions
Preheat oven to 400 degrees.

In a small bowl, mix all ingredients together except for the biscuits (and paprika and parsley, if using). Set aside.

Separate the biscuit dough into 8 biscuits.

On an ungreased work surface, press or roll (with rolling pin) each biscuit out into a 4 inch circle. Place biscuit rounds 1" apart onto ungreased baking sheet.

Spread 1 TBSP of the cheese mixture onto each biscuit (to the edges).

*If desired, sprinkle the top of the cheese mixture with dried parsley and paprika before baking.

Bake for 10-13 minutes in a preheated 400 degree oven, or until cheese bubbles and begins to slightly turn golden color on top.

Remove flat breads from baking sheet; serve, and enjoy!
Save
Save
Save
Save
Save
Save