I used to buy Taco Seasoning Mix. Not anymore! Years ago I got tired of buying the packages of commercially prepared seasoning mixes and started adding my own spices to ground beef pork or chicken when we ate tacos or taco salads. Today I can show you how to make your own taco seasoning mix very easily.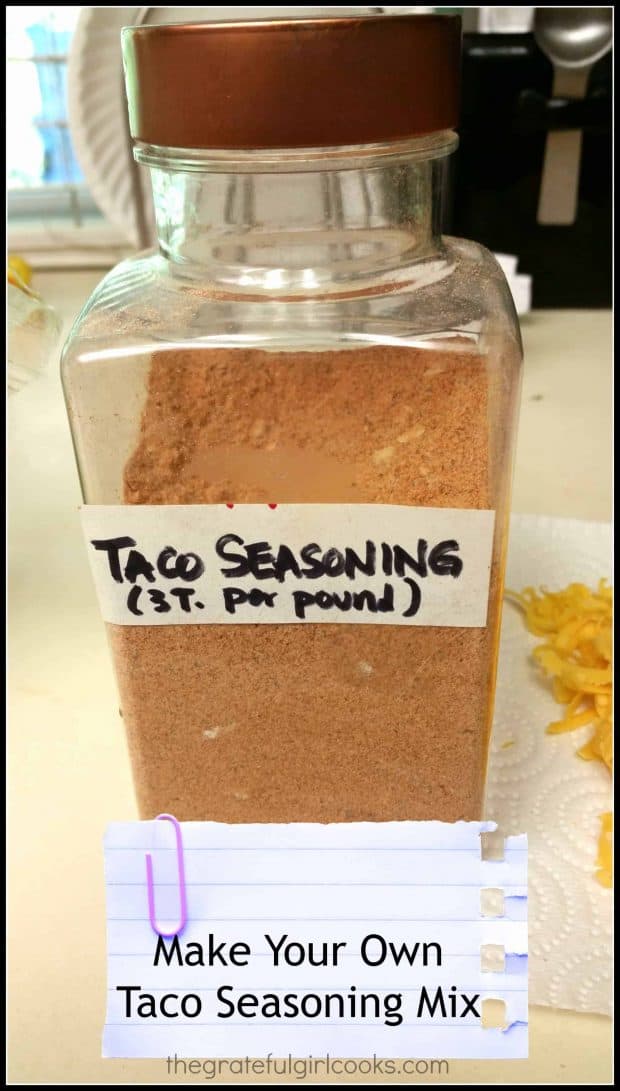 I used to haul out various jars of spices each time I made it and then haul them all back to the cupboard when I was done. Then I found a "copycat" recipe (a copycat version of Lawry's Taco Seasoning mix) in one of my "Top Secret Recipe" books by Todd Wilbur (I have several of his books and LOVE them). I took his basic "recipe" for the mix, multiplied it by 12 and ended up with quite a nice supply of taco seasoning, which I store in an old spice canister.  Since we eat tacos quite often (they're my FAVORITE food), it is great to have a ready supply of seasoning mix around for whenever I need it. It's easy, because all you do is add 2/3 cup water to 3 Tablespoons of the mix and the pound of meat, cook for 7-10 minutes and bam! You're done… and the meat tastes GREAT!
How easy is that? Sure is great to mix it all up ONCE and not have to haul all the spices out of the cupboard each and every time we have tacos! Hope you give it a try. It will save you some bucks and valuable time in the long run (and quite possibly a trip to the grocery store!)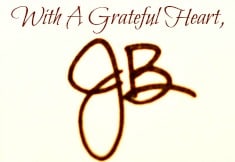 Recipe Source: "Even More Top Secret Recipes", by Todd Wilbur, published by the Penguin Group, 2002 (pages. 118-119)
**The recipe I am posting is the original recipe for enough seasoning mix for one pound of meat. Multiply it for the quantity you wish to have on hand. I found it easiest to make a whole bunch (for 12 meals) at one time.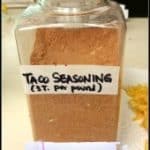 Make Your Own Taco Seasoning Mix
How to make your own taco seasoning mix...
Ingredients
1

Tablespoon

flour

1

teaspoon

chili powder

1

teaspoon

paprika

3/4

teaspoon

salt

3/4

teaspoon

minced onion

1/2

teaspoon

cumin

1/4

teaspoon

cayenne pepper

1/4

teaspoon

garlic powder

1/8

teaspoon

ground oregano
Instructions
Mix all the ingredients together in a bowl.

To prepare: Brown hamburger meat in a skillet until fully cooked. Drain the grease.

Add the spice mix (or use 3 Tablespoons if you prepared quite a bit of the mix).

Add 2/3 cup water to the meat and spice mixture. Stir to combine. Bring mixture to a boil, then reduce the heat to a low setting and cook, uncovered for 7-10 minutes. Stir occasionally.

Remove from heat. Spoon the seasoned meat into warm tortillas, taco shells, or onto a salad.

Enjoy!
Recipe Notes
Quantity listed is equivalent to one envelope of store bought mix. Ingredients as listed when added to a pound of meat (hamburger meat, shredded pork or chicken) will make enough seasoned meat filling for 12 tacos (3 Tablespoons meat each).
*I multiplied the quantity by 12 to get a large quantity of seasoning mix.
Save
Save