You'll love the convenience of creamy overnight oats that taste like a peach cobbler! Make them in 5 minutes, chill overnight, and they're ready at breakfast!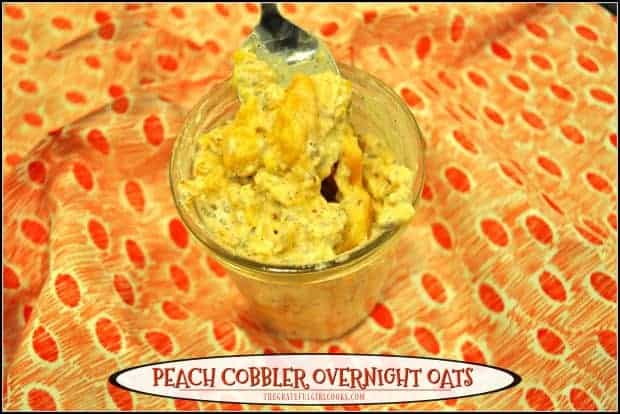 Peach Cobbler Overnight Oats are as simple to make as mixing up the ingredients, putting the mixture in a couple jars (in 5 minutes or less), chilling them overnight, and BOOM! They'll be ready to go for a quick, creamy, filling and delicious breakfast the next morning!
I am having fun trying different flavors of overnight oats… there are so many possibilities! So far I have made and posted the recipes for Apple Cinnamon, Chocolate Banana, Strawberry Coconut, and Banana Coconut.  I love the convenience and taste of this filling breakfast food!
Yes, But do You Eat Overnight Oats HOT or COLD?
I recently read a comment on another blog where a visitor was wondering HOW on earth were they supposed to cook the oats once they are in the jar with all the other ingredients, and it made me giggle, but then I realized that someone who has never made overnight oats before actually might want the answer to that question.
Guess what? YOU DON'T COOK THE OATS!  The oats become thick (kind of like a creamy pudding) overnight, and you eat them cold. That's right! COLD, right outta the fridge, right outta the jar… and they taste wonderful! AMEN… and pass me a spoon!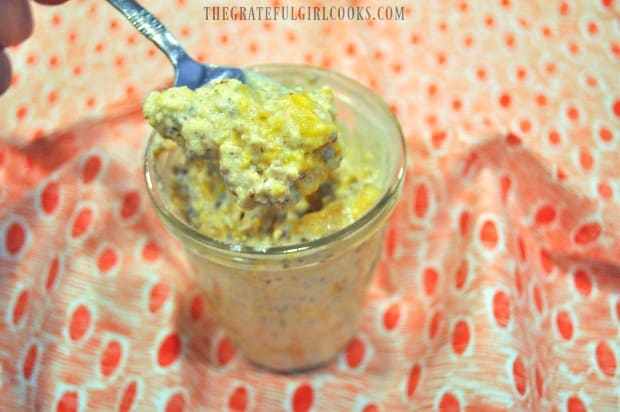 Here's a peek at the "cast of characters" used to make this particular recipe. I even was able to use some of the peaches from our pantry, that I had canned!
There is Flaxseed In These Overnight Oats… What On Earth Is Flaxseed?
This recipe includes flaxseed (which I keep on hand), but isn't an absolute necessity, in case you don't have access to it!  However, I heartily recommend it for it's health benefits!
Did you know that ground flaxseed is touted for being high in Omega 3 essential fatty acids (the "good fats"), is high in fiber (yet easily digestible), and has antioxidants?  Yep… flaxseed apparently been around since as early as 3,000 B.C. (grown in Babylon), and is nice to have handy in the kitchen, and in this yummy recipe!
Here's a pic of the ingredients: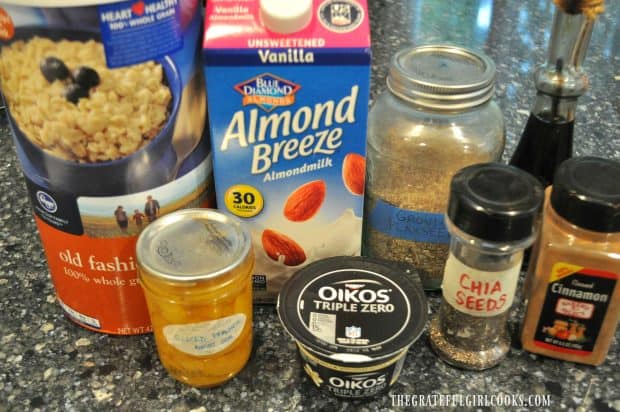 Okay… So HOW Do You Make These Overnight Oats?
If you've made overnight oats before, you are probably familiar with the "process".  You can either dump all ingredients in a bowl and mix, then transfer to individual containers, OR layer the ingredients into resealable containers, then mix them.
I like to layer them (especially for the pictures AND for one less bowl to wash (*cough, cough), so here's how I assembled them. The oats are on the bottom of the jar, followed by the canned, drained peaches.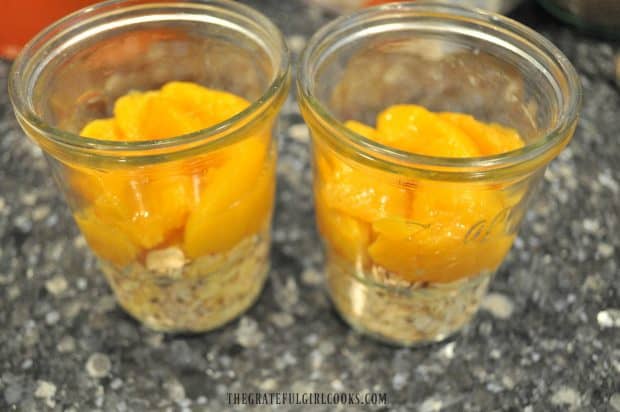 Top the peaches with low-fat vanilla yogurt, vanilla extract, salt, chia seeds, flaxseeds, and ground cinnamon. Give them a good stir to mix all together.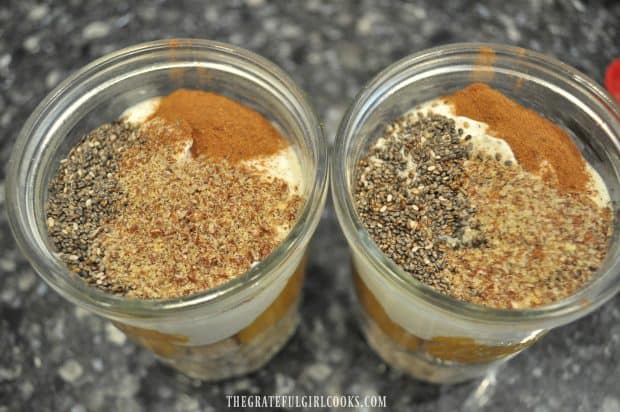 Milk is then poured over all, to cover. I used almond milk, but any milk will do just fine.  Ingredients were stirred again, to thoroughly combine.
Check to make sure there is enough milk to cover the top of the oats… if not, add just a bit more milk, and stir again to combine. See those pretty pieces of peaches in the mix? YUM. Good flavor, right there!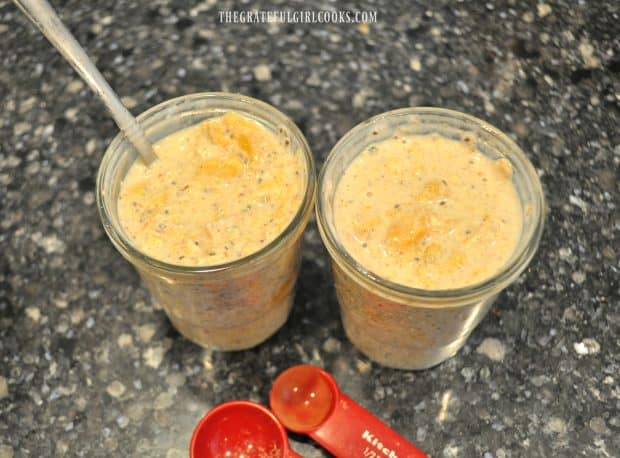 Once all ingredients are fully blended, cover the containers and refrigerate overnight, or for at least 8 hours.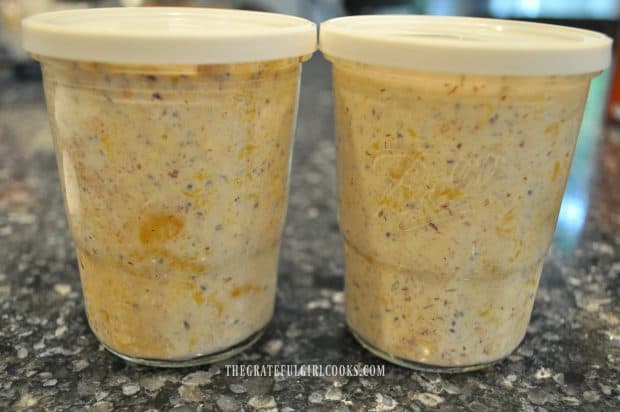 In the morning, you will notice that the oats have thickened considerably. Give them a stir, and dig in, to enjoy this delicious, cold and creamy breakfast treat!
If you've ever eaten a bite of peach cobbler or crisp the morning after it has been made and refrigerated overnight, you will find an amazing similarity in taste to these oats! YUM!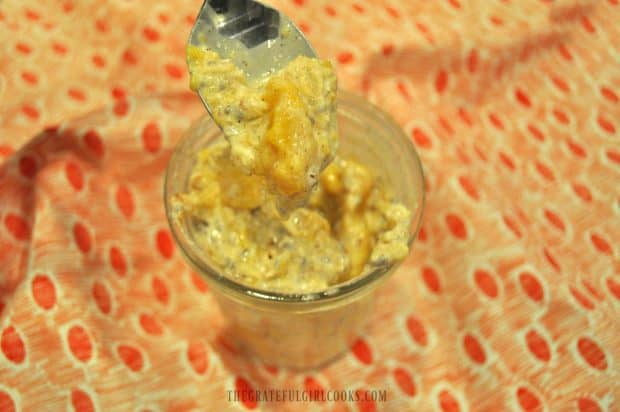 I hope you will consider making this delicious breakfast treat, and trust you will enjoy them! I know I sure did! Have a wonderful day, and may God bless you in all you do!
Interested In More Recipes?
Thank you for visiting this website. I appreciate you using some of your valuable time to do so.  If you're interested, I publish a newsletter 2 times per month (1st and 15th) with all the latest recipes, and other fun info. I would be honored to have you join our growing list of subscribers, so you never miss a great recipe!
There is a Newsletter subscription box on the top right side (or bottom) of each blog post, depending on the device you use, where you can easily submit your e-mail address (only) to be included in my mailing list.
You Can Also Find Me On Social Media:
Facebook page: The Grateful Girl Cooks!
Pinterest: The Grateful Girl Cooks!
Instagram: jbatthegratefulgirlcooks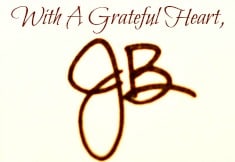 Recipe Adapted From: https://www.ladybehindthecurtain.com/overnight-peach-cobbler-oatmeal/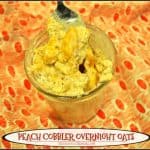 Peach Cobbler Overnight Oats
You'll love the convenience of creamy overnight oats that taste like a peach cobbler! Make them in 5 minutes, chill overnight, and they're ready at breakfast!
Calories Per Serving
:
254
kcal
Ingredients
2/3

cup

old fashioned oats

8

ounces

canned sliced peaches

, drained and chopped

5.3

ounces

vanilla yogurt

(I used Oikos Triple Zero)

1/2

teaspoon

vanilla extract

1/4

teaspoon

salt

1/2

Tablespoon

flaxseeds

(optional, but recommended)

1/2

Tablespoon

chia seeds

1/2

teaspoon

ground cinnamon

2/3

cup

almond milk
Instructions
METHOD 1
The EASIEST way to make these oats is to combine all ingredients in a medium sized mixing bowl. Stir well, to fully combine. Transfer the oat mixture into 2 half-pint sized containers (with lids). Cover, and refrigerate overnight. When ready to eat, stir and enjoy!
METHOD 2
To make (with one less bowl to wash!), as shown in photos... Place oats in each jar or container. Add peaches, then top with vanilla yogurt, vanilla extract, salt, flaxseeds, chia seeds and cinnamon. Stir. Top with milk. Stir to fully combine. Add additional milk if necessary, to ensure oats are fully covered. Cover container. Refrigerate overnight; stir, serve and enjoy!
Recipe Notes
NOTE: Overnight oats will keep for 3-4 days (covered), in refrigerator.
Nutrition Facts
Peach Cobbler Overnight Oats
Amount Per Serving (1 serving)
Calories 254
Calories from Fat 45
% Daily Value*
Fat 5g8%
Cholesterol 3mg1%
Sodium 451mg20%
Potassium 498mg14%
Carbohydrates 42g14%
Protein 9g18%
Vitamin A 400IU8%
Vitamin C 8.1mg10%
Calcium 275mg28%
Iron 1.8mg10%
* Percent Daily Values are based on a 2000 calorie diet.
Here's one more to pin on your Pinterest boards!