I recently made a Piña Colada Fluff Salad… and my husband and I can't stay out of it,  grabbing a spoonful here, and a spoonful there…because it is sooo incredibly good!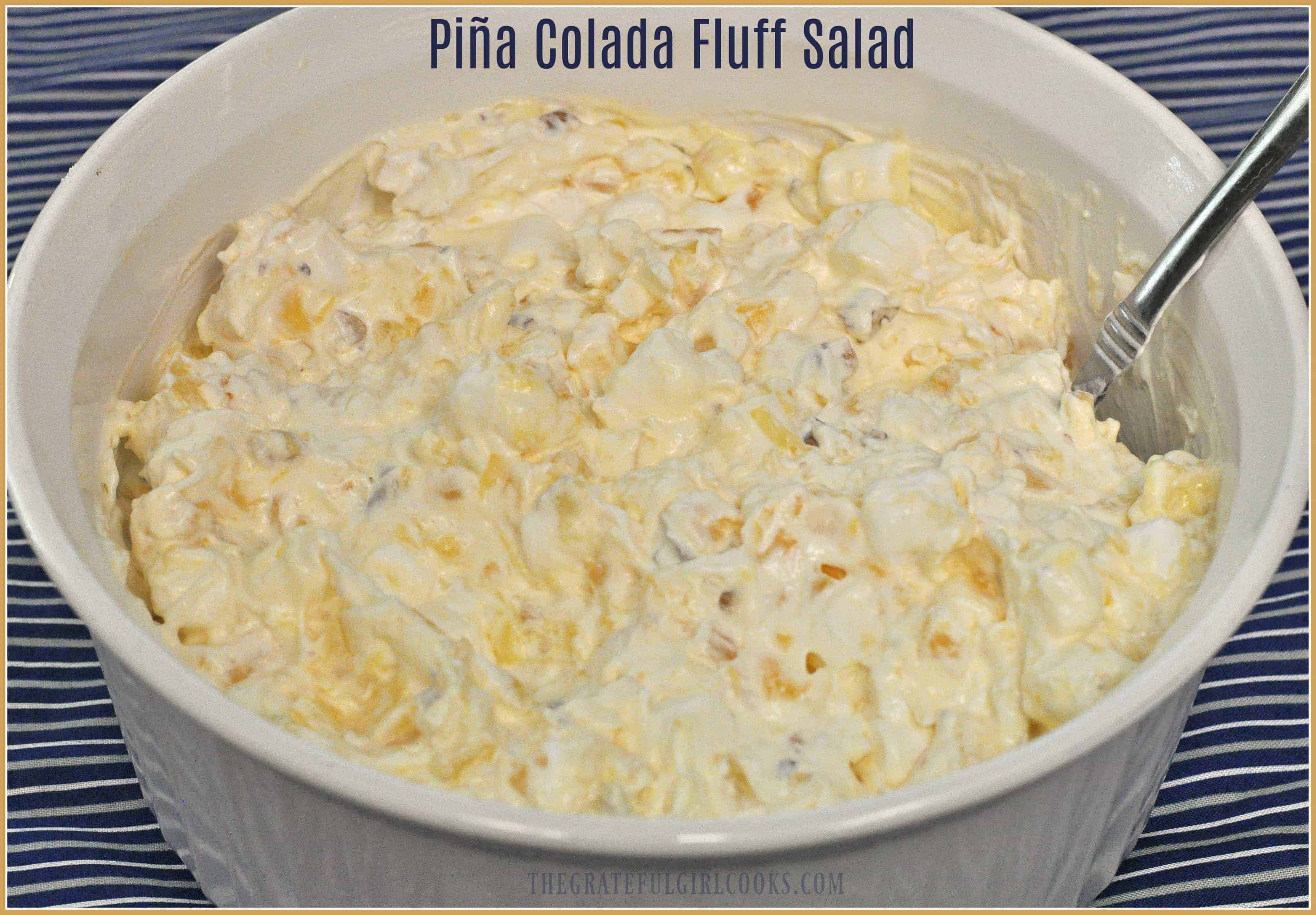 When I first showed it to my husband, he didn't seem too thrilled since he's not much of a pineapple and coconut kind of guy.   But… and that's a BIG but… after he took a taste of it, he took another bite, said it was "refreshing", then took another bite and then another!  You get the picture!  He ended up absolutely LOVING this sweet taste of the tropics "dessert" salad, that is made in about 5 minutes! Can you believe it? Yep. Only takes 5 minutes to make this delicious dish! How's THAT for a real timesaver!?
I can't vouch for it's "healthiness", but I can absolutely vouch for it's "amazingness!  Delicious! Here's the cast of characters: crushed pineapple, miniature marshmallows, shredded coconut, whipped topping, rum extract, chopped nuts, and vanilla pudding mix. Yep.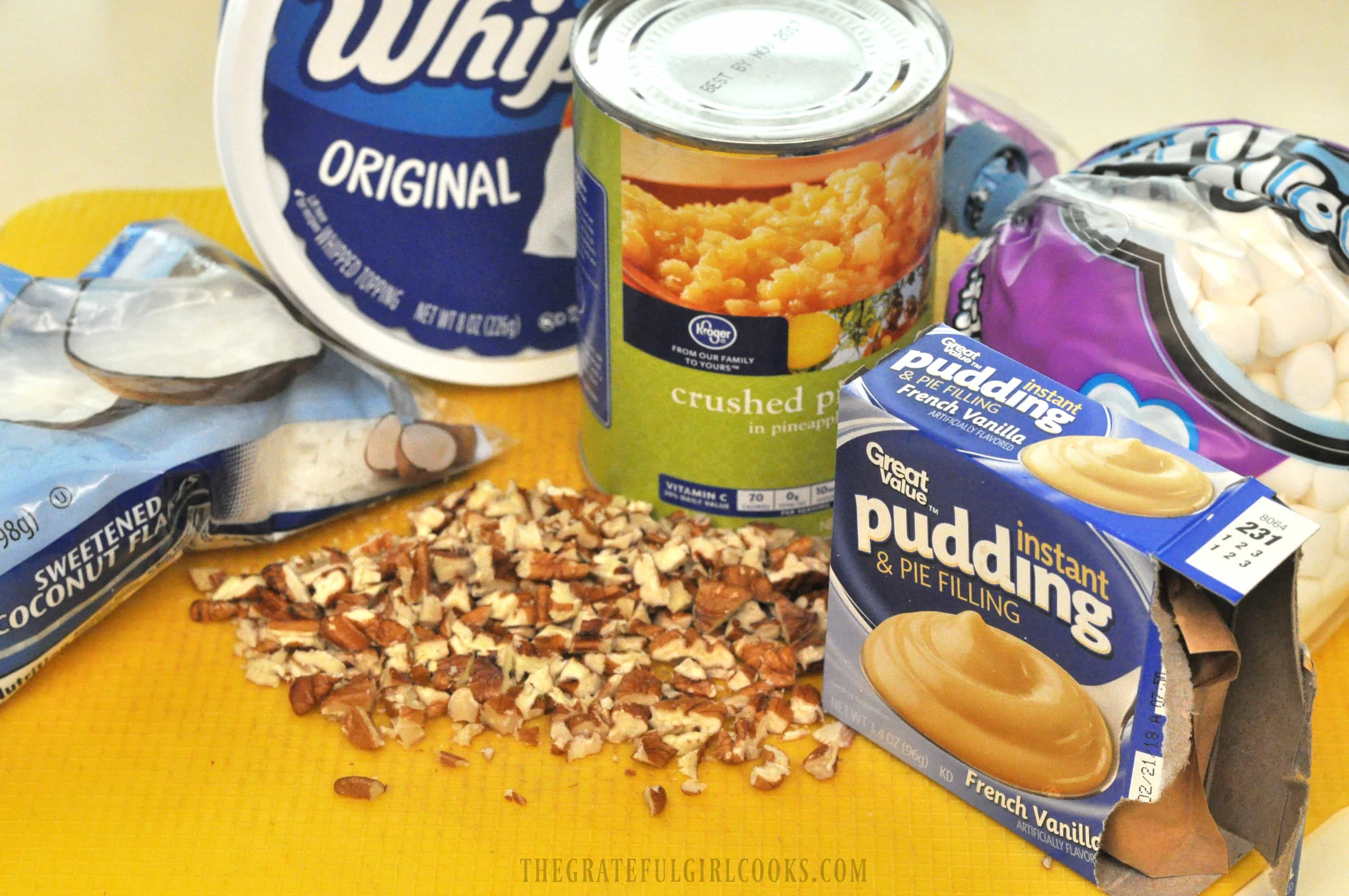 Trust me, this salad is fantastic!  And it's SO EASY to make in about 5 minutes. Here's what you do…
Place the pudding mix and an entire can (juice included) of crushed pineapple into a large serving bowl.  Stir ingredients until they are completely mixed together.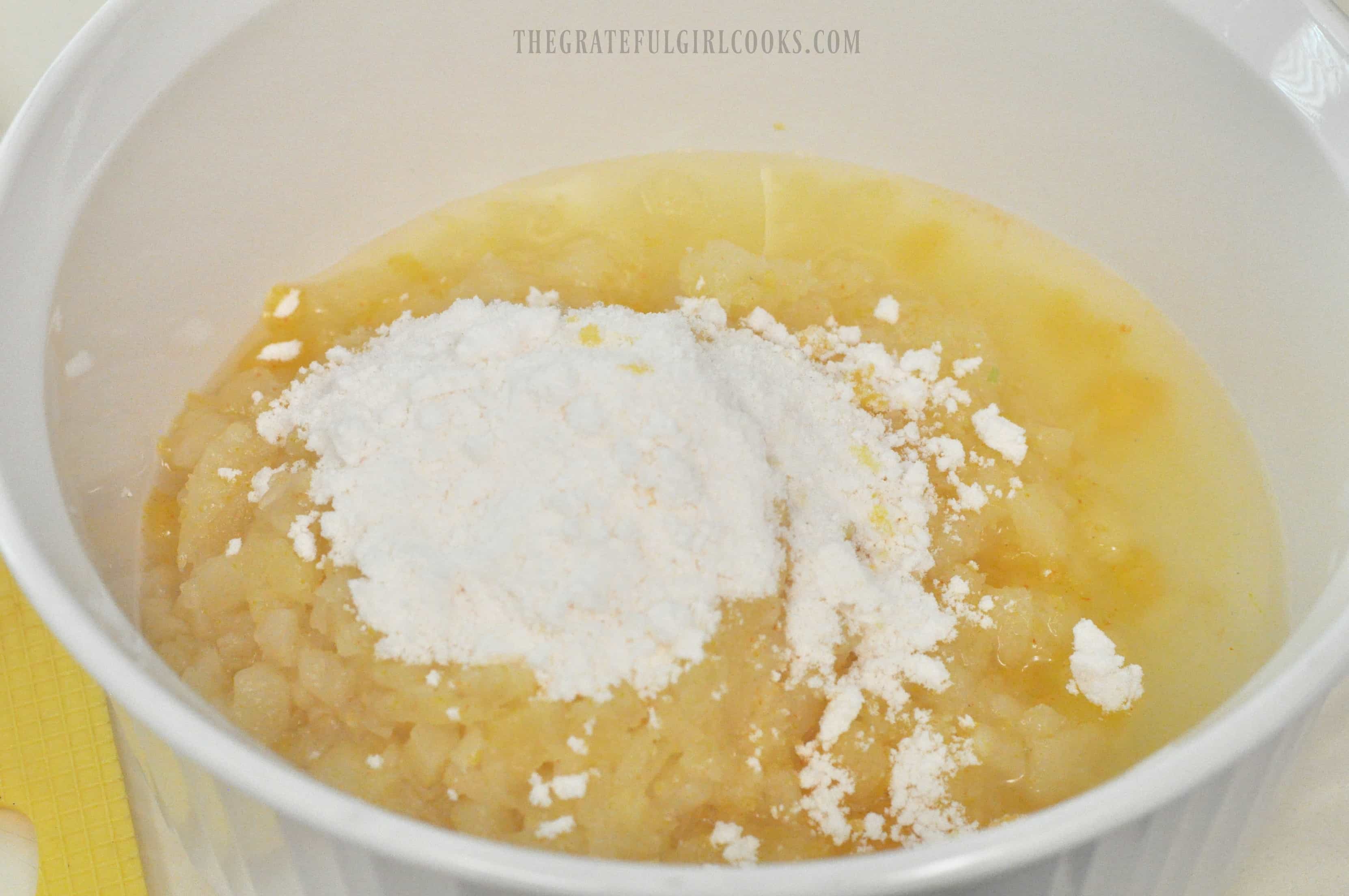 Add the marshmallows, shredded coconut, chopped nuts, and rum extract to mixture. Top it off with the whipped topping.  Gently fold all the ingredients together until completely combined.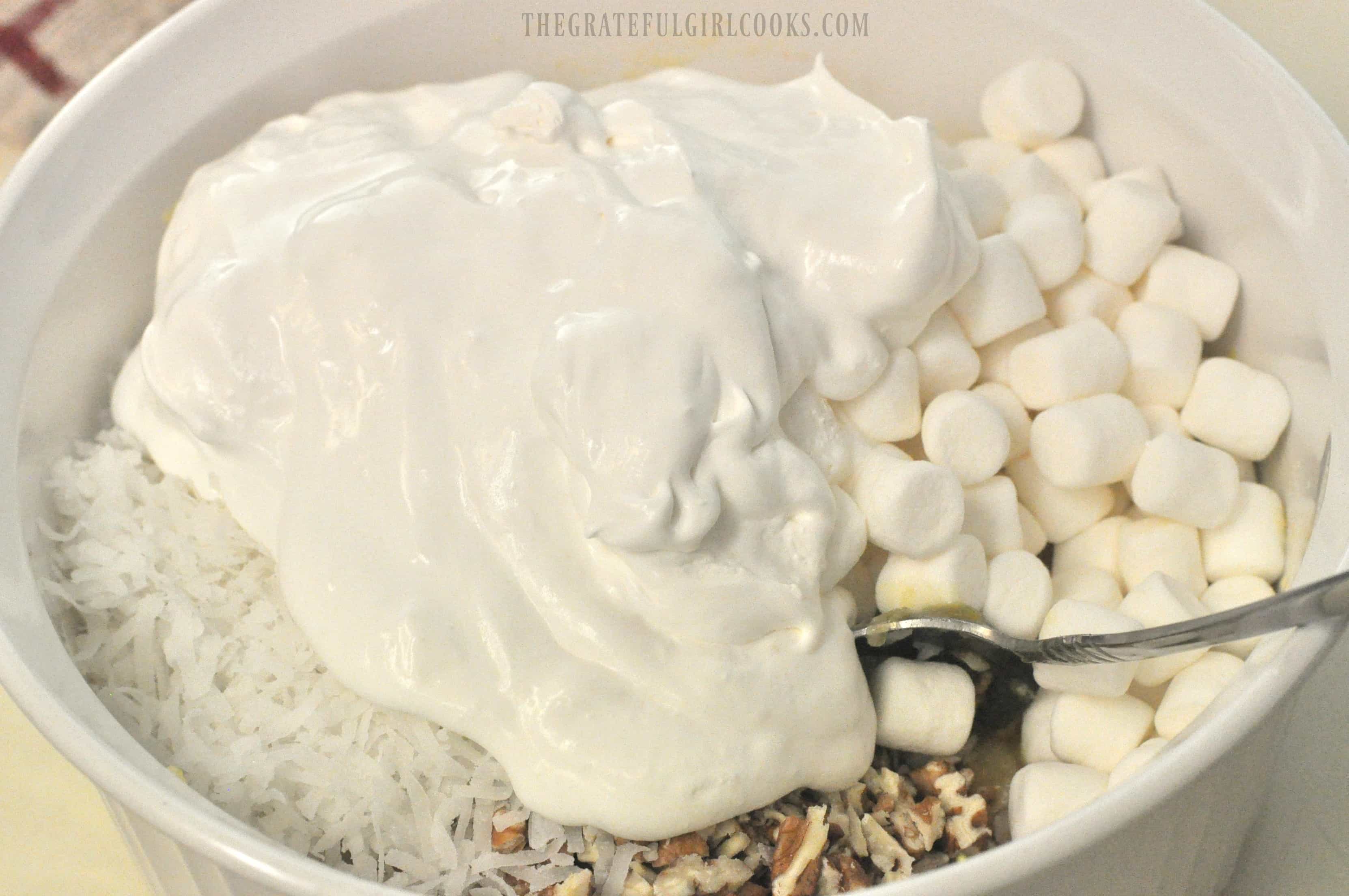 Once thoroughly combined, cover the bowl and refrigerate until ready to serve (I recommend refrigerating it for a couple hours, at least!).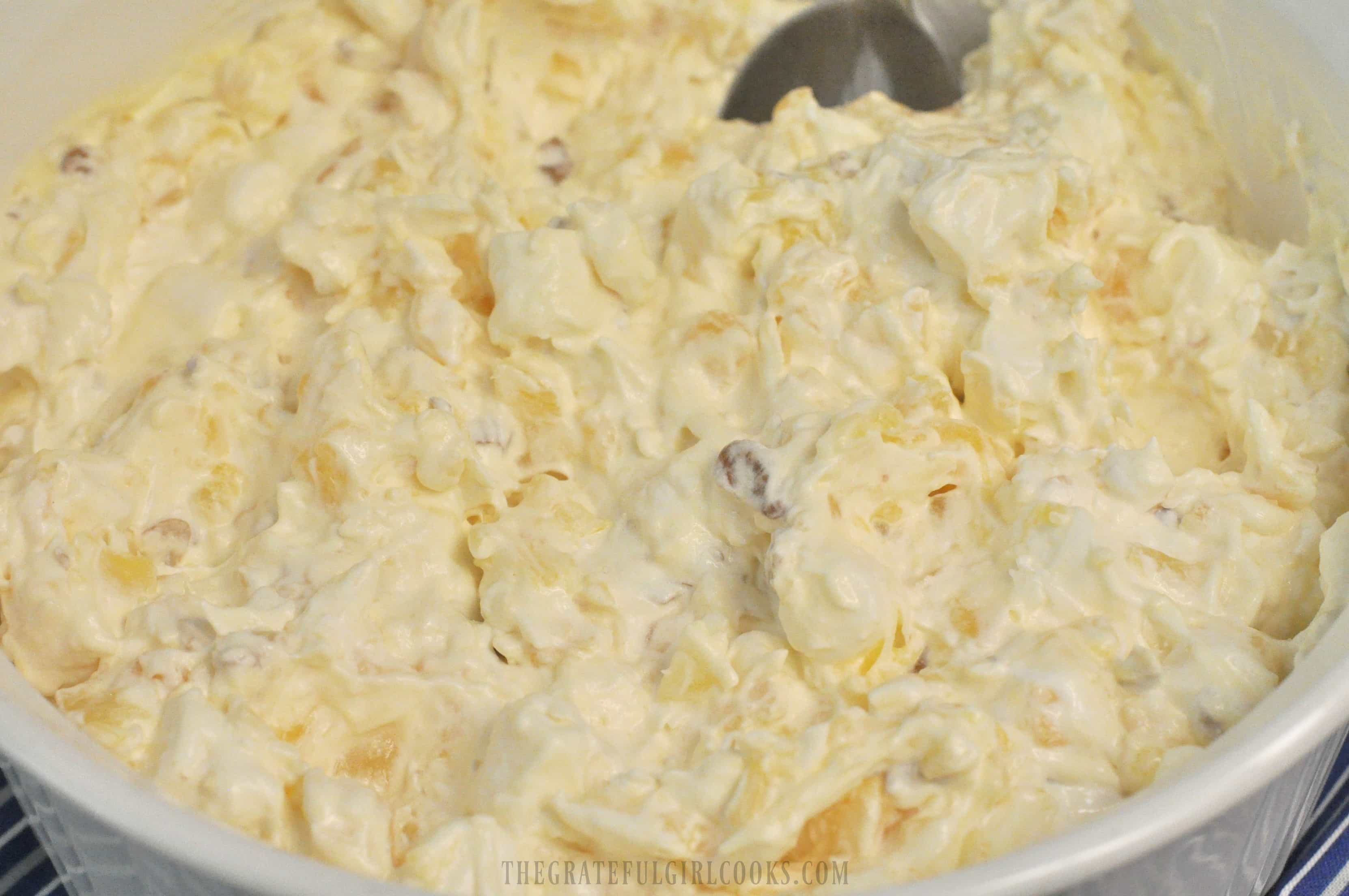 That's it!  See how easy that was?  When ready to serve you should notice that the salad has thickened up a little bit. Scoop it up, serve, and enjoy the taste of the tropics with this simple sweet salad.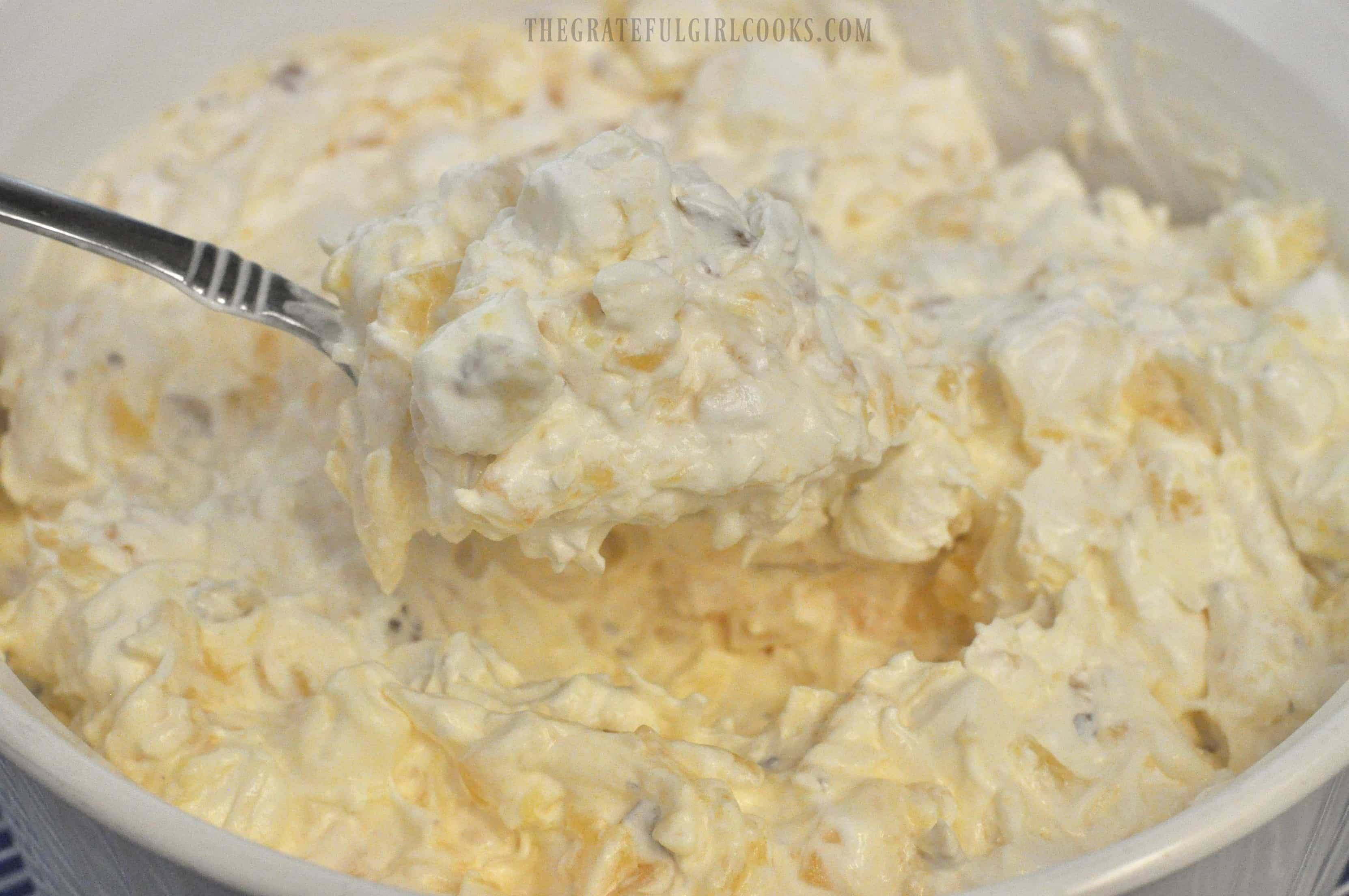 I really hope you enjoy this salad.  We truly did (and are still enjoying the leftovers, I might add!).  We had this with our dinner, but you could also serve this as dessert, if you wanted to.  This easy recipe is definitely going into my KEEP pile of recipes!  Enjoy!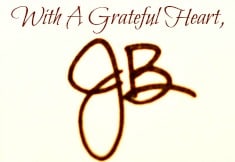 Recipe Source:  http://www.momontimeout.com/2015/02/pina-colada-fluff/

Piña Colada Fluff Salad
Enjoy a taste of the tropics with this simple and delicious sweet salad!
As Prepared By:
JB at The Grateful Girl Cooks!
Recipe type:
Salad/Side Dish
Ingredients
1 box vanilla instant pudding mix (3.4 ounces)
1 can (20 ounces) crushed pineapple (do NOT drain!)
½ cup chopped walnuts or pecans
1 teaspoon rum extract
2 cups miniature marshmallows
1 cup shredded sweetened coconut
1 tub Cool Whip (8 ounces), thawed
Directions
Place the entire can of crushed pineapple (undrained) and the pudding mix into a large serving bowl. Stir ingredients until they are fully mixed together.
Add chopped nuts, rum extract, marshmallows and coconut to bowl. Top with entire tub of Cool Whip, and fold the ingredients in together until fully combined.
Cover bowl with plastic wrap; refrigerate salad until completely chilled (recommend a couple hours) and you're ready to serve.

Here's one more to pin on your Pinterest boards!

Save
Save
Save
Save
Save
Save
Save
Save
Save
Save
Save