If you enjoy pork chops, easy to prepare dinners, and Southwestern flavors, then this recipe for Pork Chops Olé might be just the recipe you're looking for!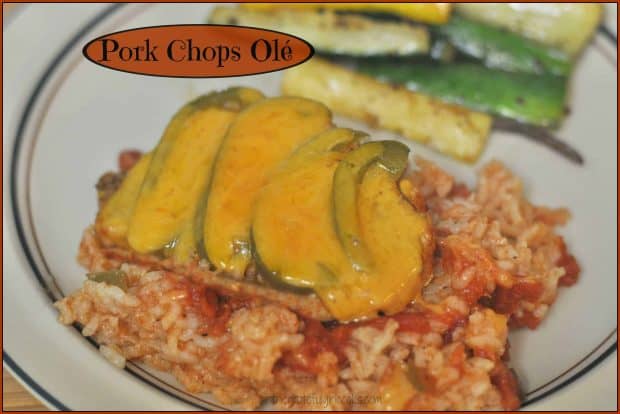 I was on the phone with my sister a couple days ago, and I told her I had some pork chops laid out for dinner, but hadn't decided on HOW to cook them yet. She told me about a recipe she had made previously, and it sounded promising. I got off the phone, tweaked the recipe just a tiny bit, and a couple hours later we were eating it for dinner… and it was GOOD!
Here's how I made it (NOTE:  the recipe, as written serves 6 – I made everything exactly the same as written in the recipe, but only used 3 pork chops for my hubby and I):
Season the chops with a sprinkling of salt, pepper, chili powder, cumin, and garlic powder.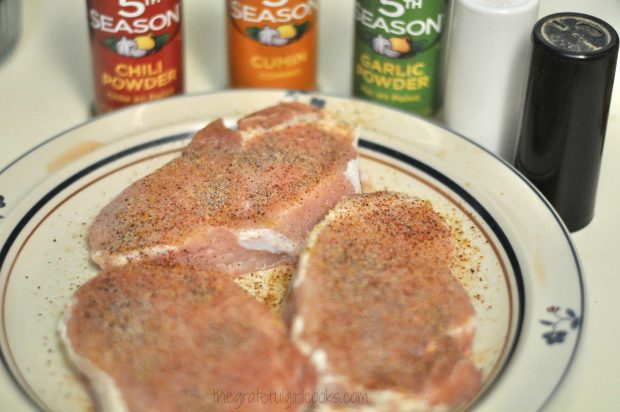 Heat oil on medium high until hot. Carefully place pork chops into hot oil. Do not move them once they hit the pan.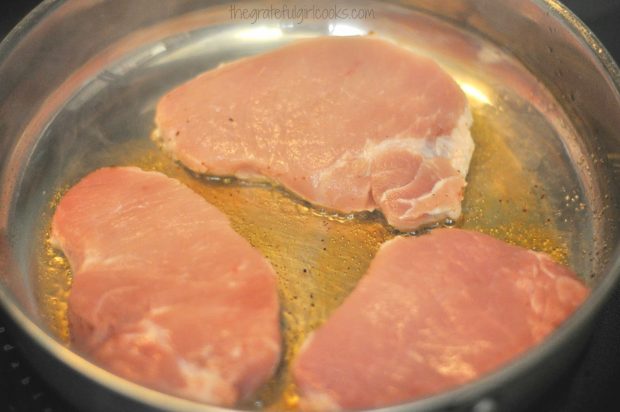 After 2-3 minutes (when they have a good "sear" on the bottom), flip them over and cook the other side for 2-3 minutes until golden brown. Brown on all sides, as well (I stand them up using tongs, to get nice brown color on the sides).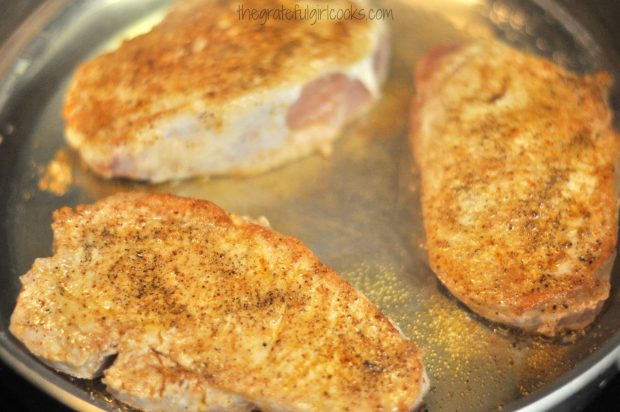 Spray a 9×13 casserole dish with non-stick spray. Add uncooked rice, can of diced tomatoes (including juice), water, diced green peppers, and a packet of taco seasoning to the dish. Stir to combine. Place seared pork chops on top of the rice/tomato mixture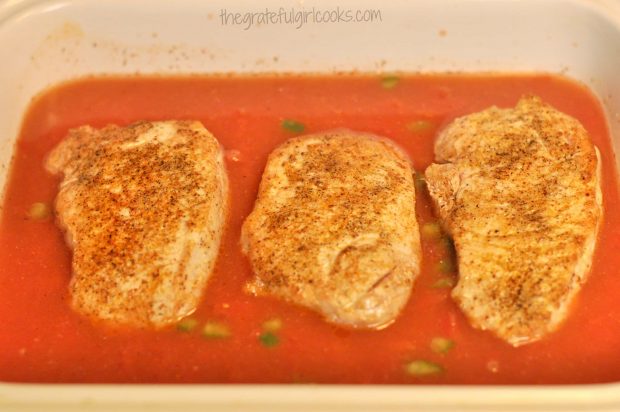 Garnish the top of each piece of pork with thin strips of green pepper.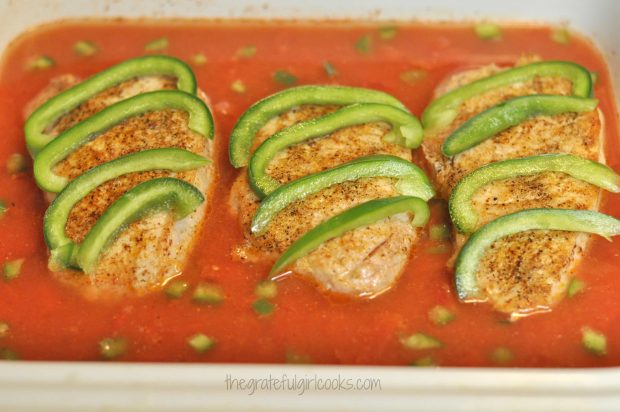 Cover the dish with aluminum foil, and bake for 90 minutes in a preheated 350 degree oven. At the end of 90 minutes (when your kitchen smells amazing!), carefully remove the dish from oven. Remove foil (and discard), then top each piece of pork with grated Cheddar cheese. Put the dish back into the oven (uncovered) for a couple more minutes, until cheese has melted.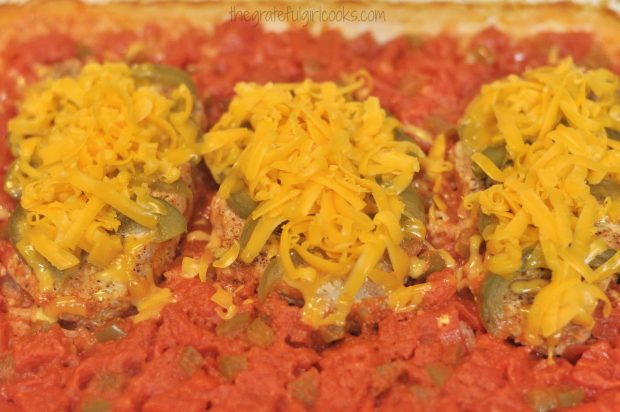 When cheese has fully melted, remove dish from oven. Use a spatula and place a serving of pork (and the Spanish rice it is sitting on) onto individual serving plates. Serve hot… and enjoy! The pork chop and the rice will have a wonderful Southwestern flavor. I served it with some sautéed yellow and green zucchini from our garden!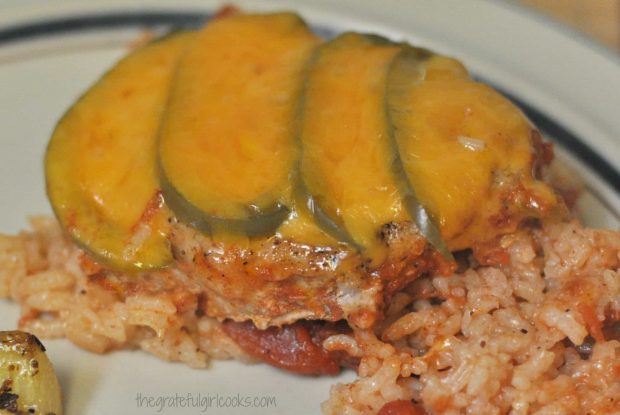 Hope you will give this recipe a try! Once you brown the pork chops, the rest of the meal is cooked in one dish, all together!  The rice cooks under the pork chops and comes out light, fluffy, and full of flavor!  Can't beat that!  Have a fantastic day, friends.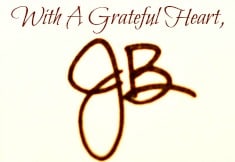 Recipe Source: My sister, Joni.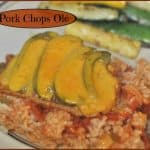 Pork Chops Olé
Southwestern flavors shine in this baked pork chop and rice "all-in-one-dish" meal!
Ingredients
6

pork chops

, about 1½" thick (I used boneless, but bone-in would work, too!)

Salt

, pepper, garlic powder, chili powder & cumin (to season chops)

2

Tablespoons

vegetable oil

1

cup

uncooked rice

1¾

cups

water

1

can

(14.5 ounces) diced tomatoes (use entire can, plus juice)

1

envelope taco seasoning

1/3

cup

chopped green peppers

(goes in with rice)

3-4

thin slices green pepper per pork chop

(as garnish for pork chops)

1

small handful grated cheddar cheese for each pork chop
Instructions
Preheat oven to 350 degrees. Lightly season pork chops with salt, pepper, garlic powder, chili powder and cumin.

Heat oil in large skillet. Once oil is hot, lightly brown pork chops on all sides (2-3 minutes per side).

Spray a 13x9 inch baking dish with non-stick spray. Add the UNCOOKED rice, water, diced tomatoes (including juice), chopped green peppers, and envelope of taco seasoning.Stir to combine.

Place the browned pork chops on top of the rice/sauce mixture. Garnish each pork chop with several thin slices of green pepper.

Cover dish with aluminum foil and bake at 350 degrees for 1½ hours. When done, remove dish from oven. Remove foil. Cover each pork chop with a handful of grated cheddar cheese. Place dish back into oven, (uncovered). Let cook for a couple minutes, until cheese has completely melted.

Remove dish from oven, and serve. I found it easiest to use a spatula and remove rice and pork chops at the same time. Enjoy!
Recipe Notes
Prep time is very fast... then it bakes for 90 minutes, so this is very simple to prepare. Find a quiet spot to put your feet up... and enjoy the wonderful aromas coming out of your kitchen as it bakes!
Save
Save