Homemade Shredded Pork Tamales topped with a "made from scratch" California chile sauce, are a delicious classic Mexican dish that you will LOVE!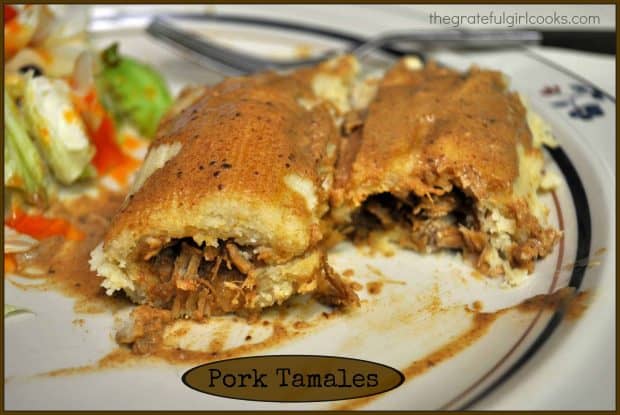 So… this year for Christmas Eve, I came up with a plan to try making pork tamales. I didn't have a backup plan in case I failed miserably, but that didn't stop me from taking the plunge into the big, daunting world of "homemade pork tamales".
Scroll Down For A Printable Recipe Card At The Bottom Of The Page
Whose Crazy Idea Was This Anyways?
Why I had the hair-brained idea of breaking from our Christmas Eve traditional Italian meal and attempting to make tamales for the FIRST TIME is anybody's guess. Oh well. I am happy to report that we DID NOT have to eat at a fast food place on Christmas Eve. These tamales turned out to be incredible (what a relief!).
I was definitely out of my "comfort zone" in the kitchen, but one thing I am constantly learning (thanks to my friend Shari, who inspires me always!), is to become more "fearless". This has taught me to experiment more with new recipes and foods. This is one "experiment" I am thrilled to have tried.
I found a recipe for shredded pork tamales on Pinterest, and thought it sounded good. The author of the recipe said she was given this "authentic" recipe by a woman she met at an international market in the Mexican foods aisle (how bad can that be, right?). The recipe sounded good to me, so I decided to give making tamales a try. I actually cooked the pork roast in my crock pot and made the chile sauce the day before I made the tamales, so a large part of the prep was done ahead of time.
Making Pork Tamales Was A Fun Challenge For Me
The recipe is fairly easy to follow. Truthfully I think the hardest part was trying to tie the tamales up at the end before steaming them. Since I have mastered the art of tying my shoelaces, I found it amazing that it was "harder than I thought it was" to wrangle those tamales! I persevered, fought the good fight with strands of corn husks and finally managed to get those beautiful tamales tied up. Yippee, and Olé!!! (Note: you don't have to tie them, if you don't want… I just think it holds them together much better while they are cooking!)
I hope you will give these a try. They are truly, wonderfully delicious. The recipe makes 16-18 tamales. We ate some, had more for leftovers, and froze some for another meal. I DEFINITELY recommend this recipe, and will be making these again. Here's a few pictures from the process:
Some Photos Of the "Process"
First thing I had to do was purchase corn husks and masa at the local grocery store in the Mexican food section. Easy peasy!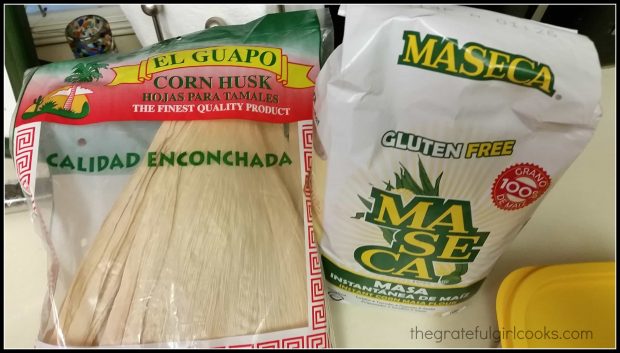 I cooked the pork roast, onion, garlic & spices in a slow-cooker for 6 hours the day before I made the tamales. Here it is right at the beginning of the cook time.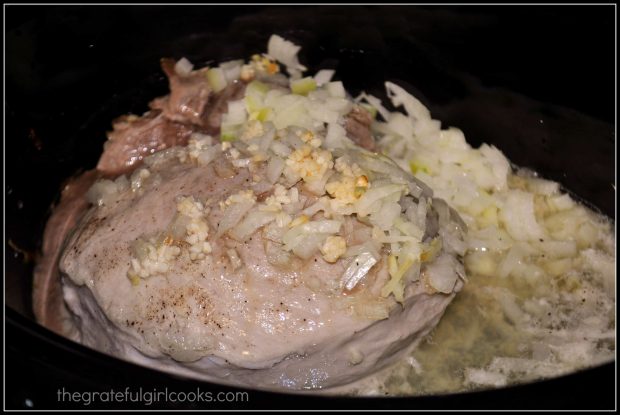 Once the pork is fully cooked, it must be shredded. Here is some of the fully cooked, seasoned, shredded pork ready to put into tamales.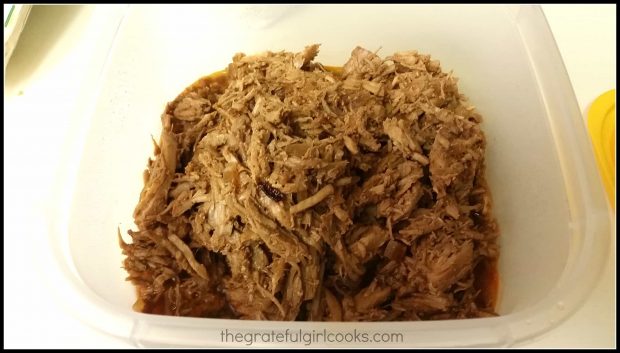 Making The Chile Sauce
The chile sauce is made using dried California chile pods. This was kind of cool. This mixture turned a dark color once it was done cooking.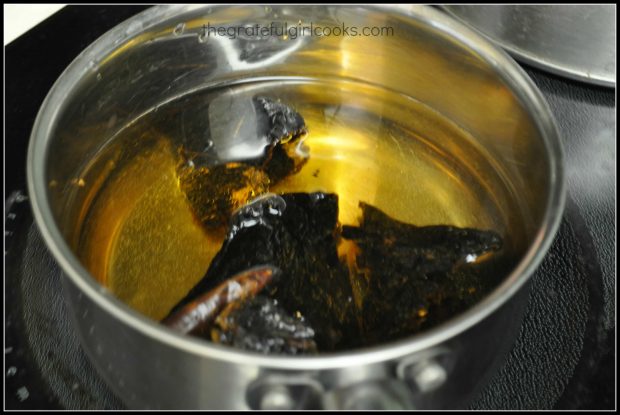 After the chile sauce has been cooked, cooled, and strained, it is added to shredded pork. Sour cream is then added to the leftover sauce, turning it into a light brown color.This will be used to spoon over the finished tamales once they have been removed from their husks. (Sorry for the photo quality…)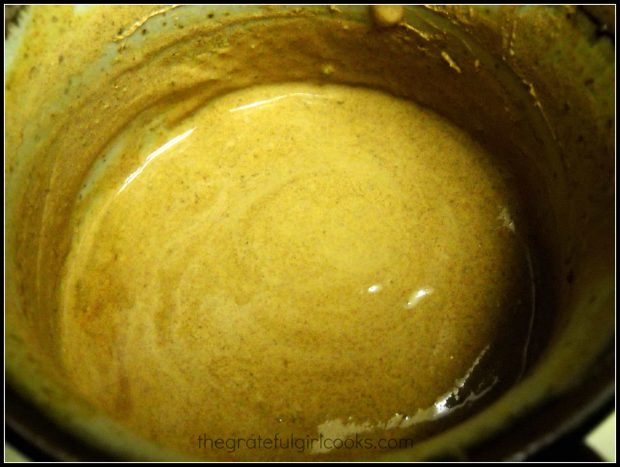 Getting Ready To Cook The Pork Tamales
Pork tamales are filled, the bottoms folded up and under, and the husks are secured with a long pliable strand of corn husk. I think they look cute! The one in the middle escaped and had to be re-tied.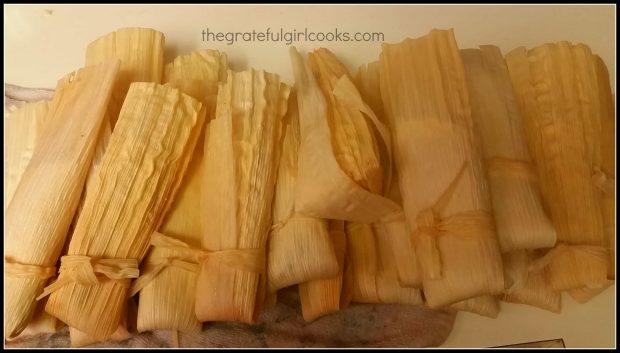 The tops of the tamales remain open, and the tamales are then placed standing upright into a steamer basket in a large stockpot, and are steamed for 1 hour.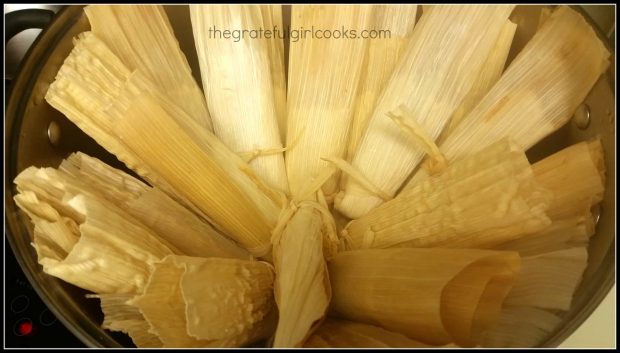 Time To Eat Pork Tamales!
When the tamales are done cooking, you remove the husks, place them on serving plates and spoon some of the chile sauce over the tops. Muy delicioso!!!!!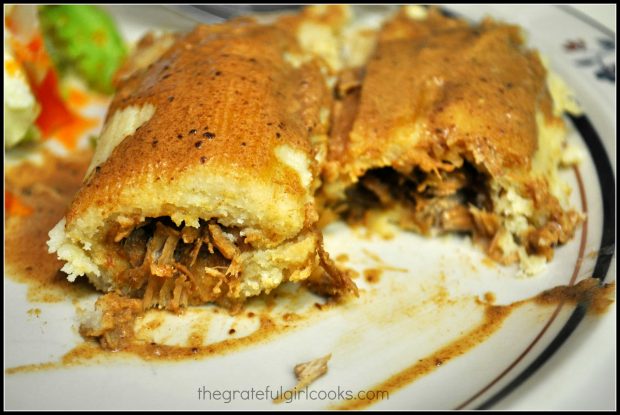 I'm not kidding you when I say these shredded pork tamales were absolutely delicious! I felt very accomplished to have made these for the first time, and plan to make many more. I was even able to tightly wrap some of them and freeze them for another day (and they were still good!).
It is a bit of a process to make these pork tamales, but honestly, it was worth every single minute! We LOVED them! I hope you will consider trying this recipe.
Looking For More Mexican-Inspired Recipes?
You can find all my recipes in the Recipe Index, located at the top of the page. I have quite a few Mexican-inspired recipes for you to enjoy, including:
Interested In More Recipes?
Thank you for visiting this website. I appreciate you using some of your valuable time to do so. If you're interested, I publish a newsletter 2 times per month (1st and 15th) with all the latest recipes, and other fun info. I would be honored to have you join our growing list of subscribers, so you never miss a great recipe!
There is a Newsletter subscription box on the top right side (or bottom) of each blog post, depending on the device you use, where you can easily submit your e-mail address (only) to be included in my mailing list.
Have a great day!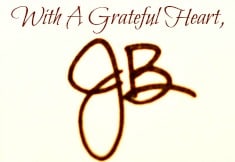 Recipe Source: http://allrecipes.com/Recipe/Real-Homemade-Tamales/Detail.aspx?event8=1&prop24=SR_Title&e11=real%20homemade%20tamales&e8=Quick%20Search&event10=1&e7=Home%20Page&soid=sr_results_p1i1
↓↓ PRINTABLE RECIPE BELOW ↓↓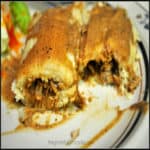 Pork Tamales
Homemade Shredded Pork Tamales topped with a "made from scratch" California chile sauce, are a delicious classic Mexican dish that you will LOVE!
Calories Per Serving
:
194
kcal
Ingredients
For Tamale Filling:
1 1/4

pounds

pork loin or pork roast

1

large brown onion

, chopped

1

teaspoon

minced garlic

1/2

teaspoon

cumin

1/2

teaspoon

chili powder
For Chile Sauce:
4

dried California chile pods

(found in Mexican food aisle in most grocery stores)

2 1/2

cups

water

1 1/2

teaspoons

salt
For Tamale Dough:
2

cups

masa harina

1

(10.5 ounce) can beef broth

1

teaspoon

baking powder

1/2

teaspoon

salt

2/3

cup

lard or shortening

(I used vegetable shortening)

1

(8 ounce) package dried corn husks

3/4

cup

sour cream

(add this to extra chili sauce and drizzle over tamales once removed from husk)
Instructions
Place the pork into a Dutch oven or into a crock pot with the onion, garlic, cumin, chili powder and water. IF USING DUTCH OVEN, make sure pork is covered with water. bring water to a boil, reduce heat and cook pork on simmer for about 2 hours, or until the meat is cooked all the way through. IF USING CROCK POT, add about 1 1/2 cups water and cook for 6 hours on high. When meat is done, remove to plate and set aside to cool slightly.

While meat is cooling, make the sauce: Wearing rubber gloves, remove seeds and stems from dried chile pods (trust me, you want to wear gloves). Put the de-seeded chile pods into a small saucepan with 2 cups of water. Simmer the chiles for 20 minutes, uncovered. Remove pan from heat; let cool. Place the chiles and cooking water into a blender or food processor and blend until it becomes smooth. Run the sauce through a strainer to remove any leftover chile pods. Stir the salt into the sauce, then set the sauce aside (If making the sauce ahead of serving, refrigerate it overnight, then bring to room temp before serving!).

Using 2 forks, shred the cooked pork into a bowl. Add 1 cup of the chile sauce to the meat. Mix.

Soak the corn husks in a large tub or pan of HOT water. Let them soak for at least 15-20 minutes, so they become pliable. While they are soaking, make up the Tamale dough:

In a large bowl, or the base of a stand mixer, mix the shortening (or lard) with 1 Tablespoon of the beef broth. Mix this until it becomes fluffy. In a separate bowl, combine the masa harina, salt and baking powder. Stir these dry ingredients into the shortening. Add a more beef broth, a little at a time, and continue stirring until the dough becomes "spongy" (kind of like a thick peanut butter consistency.

Fill the tamale husks one at a time. Remove corn husk from water, dry it off, then spread the dough over the corn husks. Dough should not reach the bottom or the top of the husk ( I left about 2 inches on bottom, 2 inches on top, and 1/2 inch on each side. The dough should be between 1/4 - 1/2 inch thickness. I kind of made a rectangle shape out of the dough (wetting my fingers to spread it out was a big help!). Once the dough is spread evenly onto the husk, spoon 1 heaping Tablespoon of shredded pork filling into the center, lengthwise (like filling a burrito) Fold the sides of the husk together in towards the center, fold the bottom part under and back, then tie the bottom part of the tamale with a long strand of another moist corn husk.

Repeat process with each tamale. Carefully stand the tamales up on top of a steamer basket in a large stockpot. Steam them (covered) for 1 hour. Remove from heat.

While tamales are cooking, mix the extra chile sauce with 3/4 cup sour cream until creamy; set aside (do not refrigerate).

To serve: Remove the tamales you are serving from their husks and place on serving plate. Spoon the chile sauce over the tops of the hot tamales. Serve.
Recipe Notes
Note that the cook time shown is for crockpot cooking of the pork roast. Time is dramatically cut if you cook it in dutch oven. Freeze or refrigerate extra tamales in their husks. I totally recommend cooking the meat the day prior to making the tamales. Then all you have to do is make sauce, dough, assemble tamales, and cook.
Nutrition Facts
Pork Tamales
Amount Per Serving (1 tamale (w/ sauce))
Calories 194
Calories from Fat 99
% Daily Value*
Fat 11g17%
Cholesterol 26mg9%
Sodium 387mg17%
Potassium 240mg7%
Carbohydrates 12g4%
Protein 9g18%
Vitamin A 120IU2%
Vitamin C 0.7mg1%
Calcium 50mg5%
Iron 1.4mg8%
* Percent Daily Values are based on a 2000 calorie diet.
Here's one more to pin on your Pinterest boards!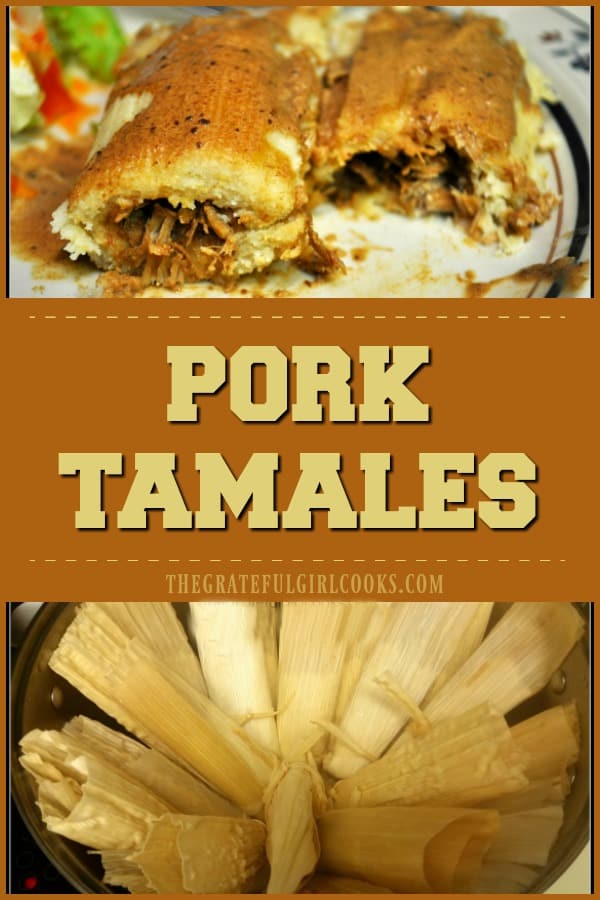 Save
Save
Save