So… this year for Christmas Eve, I came up with a plan to try making pork tamales. I didn't have a backup plan in case I failed miserably, but that didn't stop me from taking the plunge into the big, daunting world of "homemade pork tamales".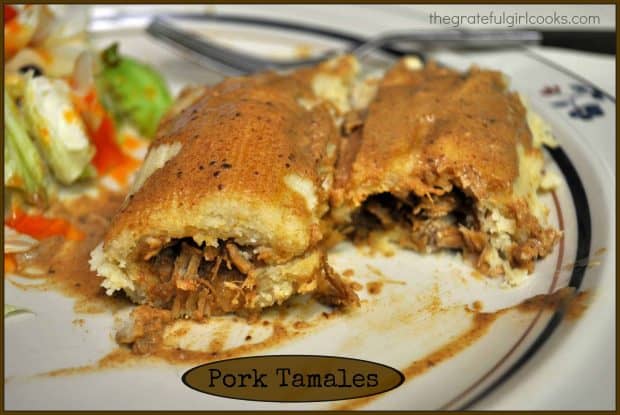 Why I had the hair-brained idea of breaking from our Christmas Eve traditional Italian meal and attempting to make tamales the night before Christmas is anybody's guess. Oh well. I am happy to report that we DID NOT have to eat at a fast food place on Christmas Eve… these tamales turned out to be incredible (what a relief!). I was definitely out of my "comfort zone" in the kitchen, but one thing I am constantly learning (thanks to my friend Shari, who inspires me always!), is to become more "fearless", and experiment more with new recipes and foods. This is one "experiment" I am thrilled to have tried.
I found a recipe for shredded pork tamales on Pinterest, and thought it sounded good. The author of the recipe said she was given this "authentic" recipe by a woman she met at an international market in the Mexican foods aisle (how bad can that be, right???). The recipe sounded good to me, so I decided to give making tamales a try. I actually cooked the pork roast in my crock pot and made the chile sauce the day before I made the tamales, so at least a large part of the prep was done ahead of time (I recommend this).
The recipe is fairly easy to follow… truthfully I think the hardest part was trying to tie the tamales up at the end before steaming them. Since I have mastered the art of tying my shoelaces, I found it amazing that it was "harder than I thought it was" to wrangle those tamales!  I persevered, fought the good fight with strands of corn husks and finally managed to get those beautiful tamales tied up. Yippee, and Olé!!! (Note: you don't have to tie them, if you don't want… I just think it holds them together much better while they are cooking!)
I hope you will give these a try… they were truly, wonderfully delicious. The recipe makes 16-18 tamales. We ate some, had more for leftovers, and froze some for another meal. I DEFINITELY recommend this recipe, and will be making these again.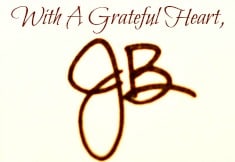 Recipe Source: http://allrecipes.com/Recipe/Real-Homemade-Tamales/Detail.aspx?event8=1&prop24=SR_Title&e11=real%20homemade%20tamales&e8=Quick%20Search&event10=1&e7=Home%20Page&soid=sr_results_p1i1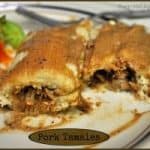 Pork Tamales
Shredded pork tamales... so very delicious!
Ingredients
For Tamale Filling:
1 1/4

pounds

pork loin or pork roast

1

large brown onion

, chopped

1

teaspoon

minced garlic

1/2

teaspoon

cumin

1/2

teaspoon

chili powder
For Chile Sauce:
4

dried California chile pods

(found in Mexican food aisle in most grocery stores)

2 1/2

cups

water

1 1/2

teaspoons

salt
For Tamale Dough:
2

cups

masa harina

1

(10.5 ounce) can beef broth

1

teaspoon

baking powder

1/2

teaspoon

salt

2/3

cup

lard or shortening

(I used vegetable shortening)

1

(8 ounce) package dried corn husks

3/4

cup

sour cream

(add this to extra chili sauce and drizzle over tamales once removed from husk)
Instructions
Place the pork into a Dutch oven or into a crock pot with the onion, garlic, cumin, chili powder and water. IF USING DUTCH OVEN, make sure pork is covered with water. bring water to a boil, reduce heat and cook pork on simmer for about 2 hours, or until the meat is cooked all the way through. IF USING CROCK POT, add about 1 1/2 cups water and cook for 6 hours on high. When meat is done, remove to plate and set aside to cool slightly.

While meat is cooling, make the sauce: Wearing rubber gloves, remove seeds and stems from dried chile pods (trust me, you want to wear gloves). Put the de-seeded chile pods into a small saucepan with 2 cups of water. Simmer the chiles for 20 minutes, uncovered. Remove pan from heat; let cool. Place the chiles and cooking water into a blender or food processor and blend until it becomes smooth. Run the sauce through a strainer to remove any leftover chile pods. Stir the salt into the sauce, then set the sauce aside (If making the sauce ahead of serving, refrigerate it overnight, then bring to room temp before serving!).

Using 2 forks, shred the cooked pork into a bowl. Add 1 cup of the chile sauce to the meat. Mix.

Soak the corn husks in a large tub or pan of HOT water. Let them soak for at least 15-20 minutes, so they become pliable. While they are soaking, make up the Tamale dough:

In a large bowl, or the base of a stand mixer, mix the shortening (or lard) with 1 Tablespoon of the beef broth. Mix this until it becomes fluffy. In a separate bowl, combine the masa harina, salt and baking powder. Stir these dry ingredients into the shortening. Add a more beef broth, a little at a time, and continue stirring until the dough becomes "spongy" (kind of like a thick peanut butter consistency.

Fill the tamale husks one at a time. Remove corn husk from water, dry it off, then spread the dough over the corn husks. Dough should not reach the bottom or the top of the husk ( I left about 2 inches on bottom, 2 inches on top, and 1/2 inch on each side. The dough should be between 1/4 - 1/2 inch thickness. I kind of made a rectangle shape out of the dough (wetting my fingers to spread it out was a big help!). Once the dough is spread evenly onto the husk, spoon 1 Tablespoon of shredded pork filling into the center, lengthwise (like filling a burrito) Fold the sides of the husk together in towards the center, fold the bottom part under and back, then tie the bottom part of the tamale with a long strand of another moist corn husk (see photo in post).

Repeat process with each tamale. Carefully stand the tamales up on top of a steamer basket in a large stockpot. Steam them (covered) for 1 hour. Remove from heat.

While tamales are cooking, mix the extra chile sauce with 3/4 cup sour cream until creamy; set aside (do not refrigerate).

To serve: Remove the tamales you are serving from their husks and place on serving plate. Spoon the chile sauce over the tops of the hot tamales. Serve.
Recipe Notes
Note that the cook time shown is for crockpot cooking of the pork roast. Time is dramatically cut if you cook it in dutch oven. Freeze or refrigerate extra tamales in their husks. I totally recommend cooking the meat the day prior to making the tamales. Then all you have to do is make sauce, dough, assemble tamales, and cook.
Save
Save
Save