Summertime. Heat. Hot. UGH. What better time to make a Quick n' Easy Chef's Salad for dinner? This is a great idea for those HOT, HOT, summer days when you don't really want to heat up the kitchen or cook a lot.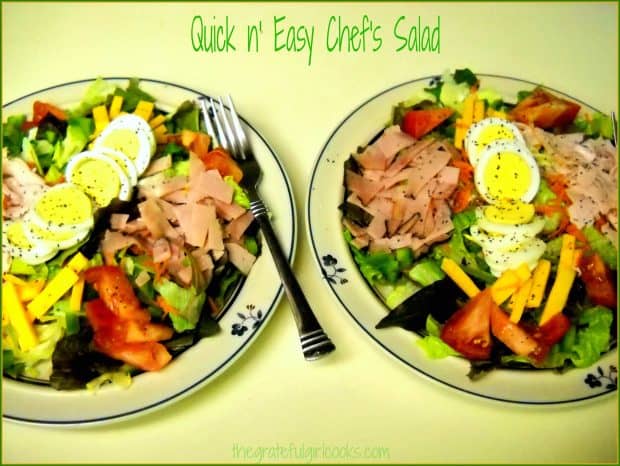 My husband and I love to have lighter meals at times when it is so hot outside that all you want to do is fill your tummy or feed your family, without exerting too much energy. Ever have days like that? I do, occasionally. Well, why not throw together a healthy, delicious entree salad, filled with lots of veggies AND protein and make THAT your meal? The bonus is that it's quick, easy, and delicious!
Chef Salads are kind of like that. You just "build" them as you like them. Usually I start with a bed of mixed greens. I slice up some hard-boiled eggs (see my cute little egg picture below?), slice cheese into stick-like portion sizes (I've used cheddar in these photos, but have also used cheddar and pepper jack combo before), chop a few tomatoes and/or other veggies like green/red peppers, cucumber chunks, red onions, etc, and slice up some deli-bought ham and turkey slices.
Then I assemble it all (as decoratively as my little old hands can), on a dinner plate, and top it with my favorite salad dressing. **In case you're wondering, my favorite salad dressing is bleu cheese. (I posted that in case you want to send me a case of bleu cheese dressing for my birthday).
Really the "hardest" thing about making this salad  is just hard-boiling the eggs ahead of time. No biggie.
By the way, speaking of eggs… I love my handy-dandy little ol' egg slicer I've had for over 30 years. Still works like a charm to make even slices of hard boiled egg to garnish this salad or potato salad with. Just sayin'. From the looks of this picture, it looks like it needs a good cleaning!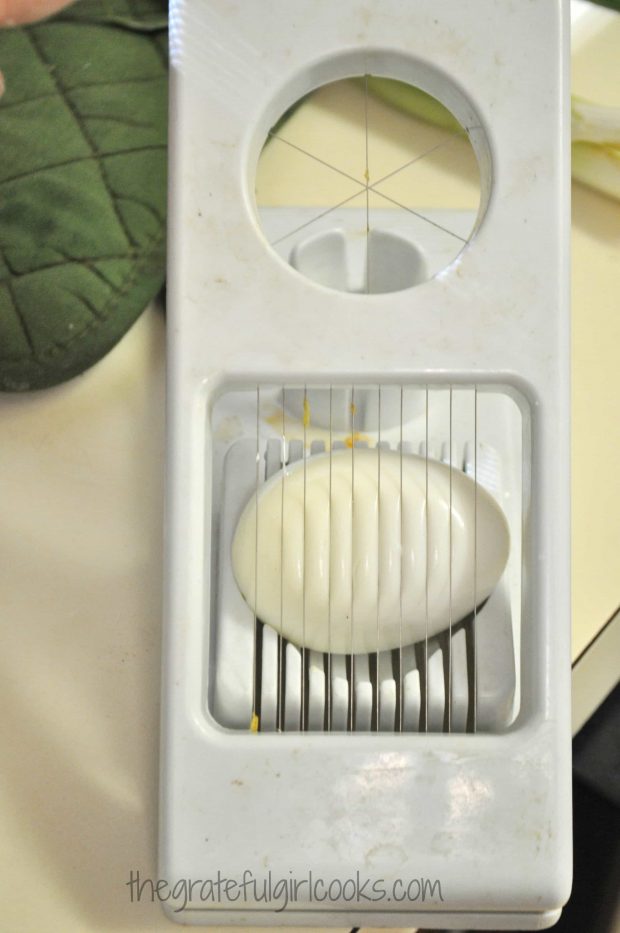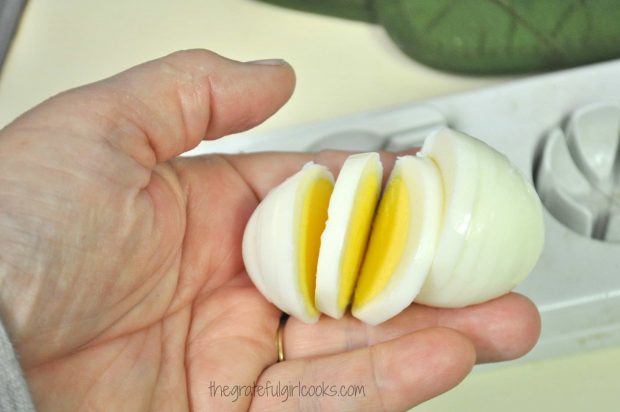 Anyways… just build the salad the way you or your family likes it. This is just the way I do it. Nothing too fancy… just GOOD. You really can't go wrong with hard-boiled eggs, ham/turkey, cheese, and whatever veggies you want.
Just try to make it look good. Remember… we eat with our eyes, right? (something like that… I do tend to use a fork for this meal).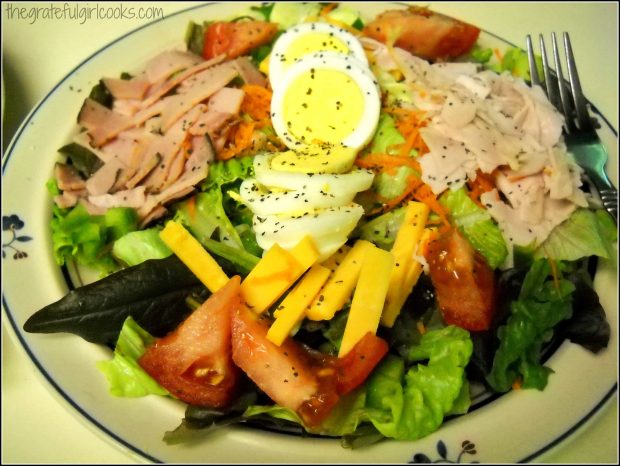 It's as simple as that! You really can make a quick, healthy, entree Chef's Salad for much less than you would spend to buy one in a restaurant. Hope you will consider making a Chef's Salad for you and your significant others sometime this summer.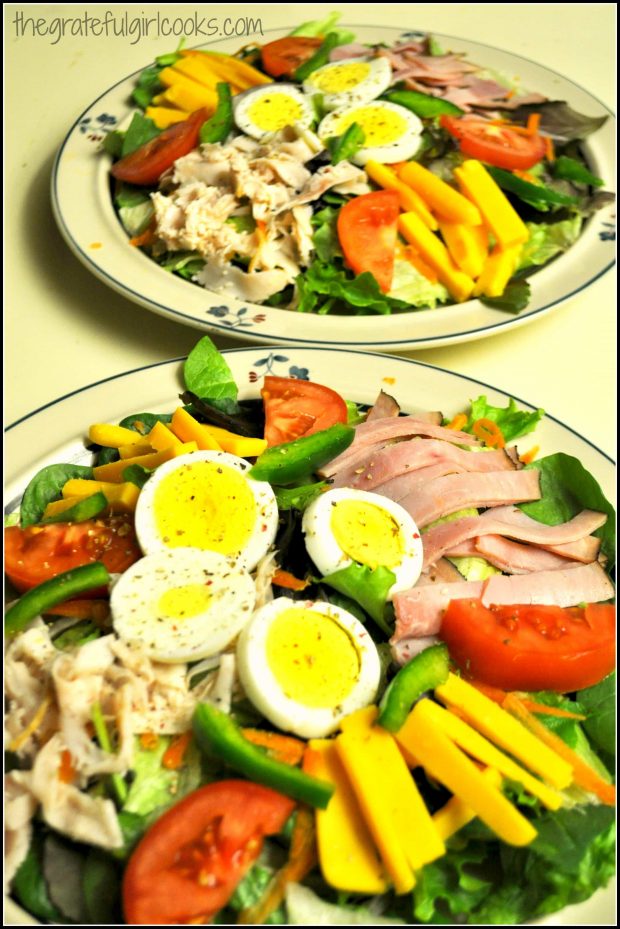 Hope you will be inspired to make a Chef's Salad this summer, and make it your OWN way. Have a great summer. Enjoy the beauty all around (look closely- you can find it everywhere); practice thankfulness, and try to make the most out of each day you are given.
God Bless You!
Interested In More Recipes?
Thank you for visiting this website. I appreciate you using some of your valuable time to do so.  If you're interested, I publish a newsletter 2 times per month (1st and 15th) with all the latest recipes, and other fun info. I would be honored to have you join our growing list of subscribers, so you never miss a great recipe! 
There is a Newsletter subscription box on the top right side (or bottom) of each blog post, depending on the device you use, where you can easily submit your e-mail address (only) to be included in my mailing list.
You Can Also Find Me On Social Media:
Facebook page: The Grateful Girl Cooks!
Pinterest: The Grateful Girl Cooks!
Instagram: jbatthegratefulgirlcooks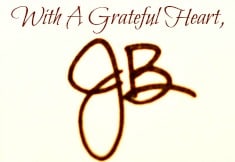 Here's one more to pin on your Pinterest boards!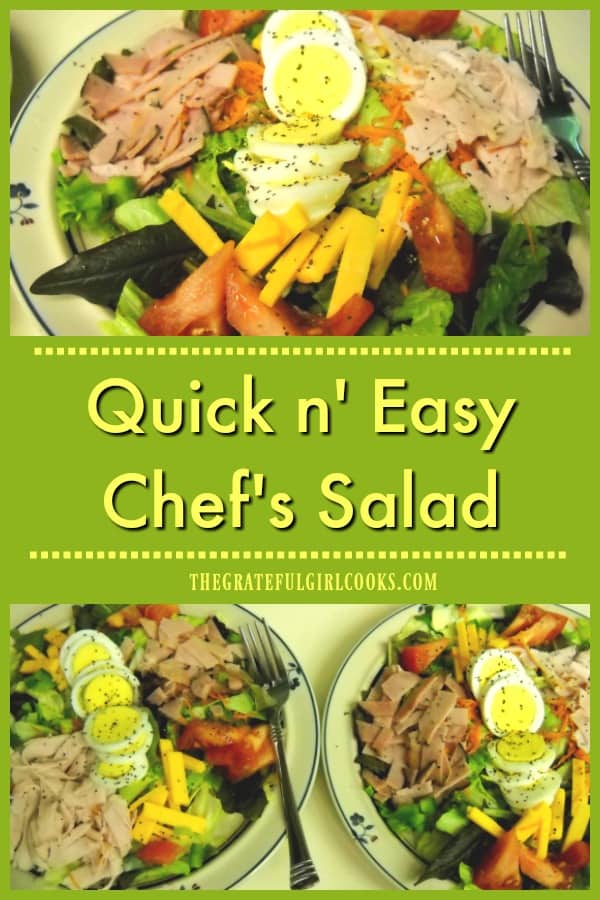 Save
Save