Happy Fourth of July! Here's a great recipe I found from my good friend Betty Crocker! (You've heard of her, right?) I adapted the recipe just a bit to include chocolate. These  Raspberry Meringues are light, crunchy and delicious, especially with the added bonus of having the bottoms of each meringue dipped in chocolate!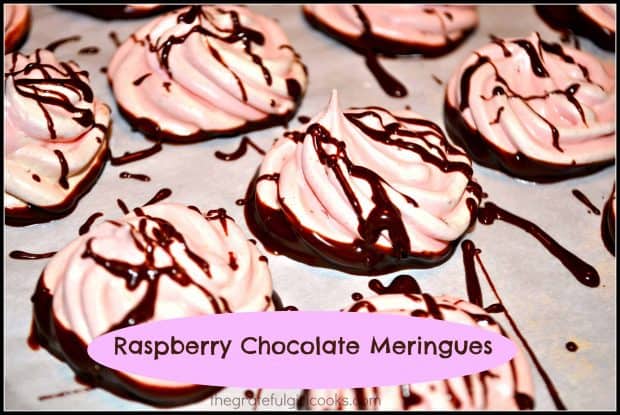 YUM! Who doesn't like the flavor combination of chocolate and raspberry? I know this is one of my favorite flavor combos (next to my all-time favorite of orange and chocolate…but that's another post!).
If you have never made meringues before, don't sweat it…they are very easy to prepare. The only time these really take to prepare is the 15-20 minute prep time and a 2 hour baking time on low heat. Make the meringues, throw 'em in the oven, then kick back and watch a good movie or read a great book while they are slowly cooking! Easy!
According to the dictionary, a meringue is "an item of sweet food made from a mixture of well-beaten egg whites and sugar, baked until crisp and typically used as a topping for desserts, especially pies. Individual meringues are often filled with fruit or whipped cream." So there ya have it. That's what a meringue is. When you bake them, they become glorious little crunchy puffs of goodness…it feels like you are biting into air, except the "air" tastes like raspberries and chocolate, in this case. Are you following all of this? I hope so.
Anyway…here's the recipe. Hope you enjoy these Raspberry Chocolate Meringues!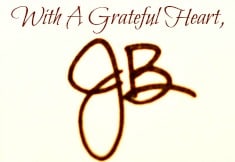 Recipe Adapted From: http://www.bettycrocker.com/recipes/raspberry-meringues/1bcfabf2-fefe-4441-9704-faf540115dcd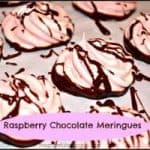 Raspberry Chocolate Meringues
Light and crunchy, these raspberry meringues with a chocolate base are a wonderful cookie. Enjoy!
Ingredients
For meringues:
3

egg whites

(at room temp!)

1/4

teaspoon

cream of tartar

dash of salt

3/4

cup

granulated sugar

1/4

cup

seedless raspberry jam

5-6

drops red food color
For chocolate glaze:
6

ounces

semi-sweet chocolate chips

1

Tablespoon

vegetable shortening
Instructions
Preeat oven to 225°F.

Line baking sheets with parchment paper.

Place the egg whites, cream of tartar and salt in a medium bowl or the base of a stand mixer. Beat these 3 ingredients until soft peaks form. This will only take a couple minutes.

Slowly add the granulated sugar to the egg white mixture. Continue beating until very stiff peaks form. This will take about 10 minutes

Add the raspberry jam and food color; continue to beat for 1 minute on high speed.

Fill a pastry bag (use a decorative star tip) with the meringue mixture OR simply spoon 1-inch mounds onto the parchment paper-lined baking sheets.

Bake meringues at 225°F. for 2 hours or until crisp and dry (might take just a bit longer depending on your oven).

Remove meringues from heat. Cool cookies completely before removing from the parchment paper.

Melt chocolate chips and shortening in microwave in 30 second intervals. Cook for 30 seconds; stir. If not melted, repeat. Do not burn the chocolate!

Carefully dip the bottoms of each meringue into the chocolate, then place on waxed paper to harden (chocolate side down-it's okay). If desired, drizzle a little chocolate over the tops of each meringue, as well.

Let chocolate harden completely, then store in a completely covered container. If left out exposed to air, the meringues will become "tacky" and will lose some of their crunch, so this is very important!
Save
Save