My husband and I love salmon. I've been preparing salmon the same way for quite a while (creatures of habit, but we like it), but finally decided to branch out, and start trying some new salmon recipes this year. Enter this delicious entree: Salmon in a Lemon-Butter Herb Sauce. Seriously delicious.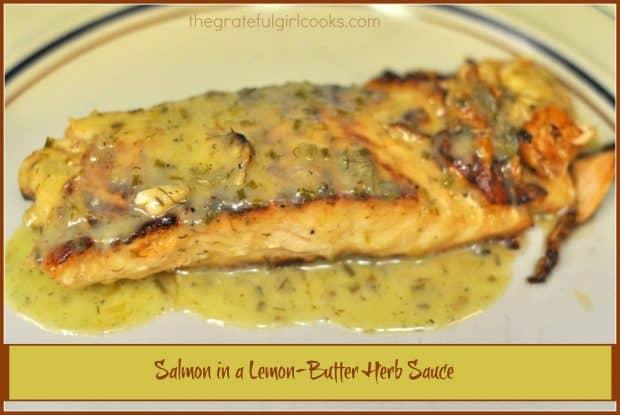 If I'm telling the truth I would tell you that I had to be on my best behavior not to "sample" the sauce multiple times until it was gone (somebody has to do Quality Control, right?). Yeah. The sauce is pretty amazing… not gonna lie! An extra benefit to making this at home versus ordering something like this at a restaurant is the cost factor. It's so much less expensive to create this easy, but elegant salmon dish at home! I really like that!
I found the recipe on Pinterest, and decided to give it a try! I slightly modified the recipe as far as cooking the salmon goes… original recipe calls for grilling the salmon fillets. Since it was cold and damp outside (February in the Northwest), I pan-seared the fillets, then topped them with the sauce. Fantastic! The sauce (with butter, white wine, lemon juice, and herbs) only takes about 10 minutes to pull together, and the salmon only takes about 4-5 minutes per side to cook, so all in all, this was a very quick and elegant dish to prepare. I will absolutely make this again… can't wait until it warms up a bit here in the Pacific Northwest… I'm anxious to fire up the ol' Weber grill and try this recipe with grilled salmon.
Sure hope you will give this recipe a try. I think you will LOVE it!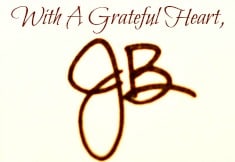 Recipe slightly adapted from: http://www.tablespoon.com/recipes/grilled-salmon-with-lemon-herb-butter-sauce/8a8b4611-8bb4-430b-bf23-6aaddcce21a5?_szp=100295&_szi=23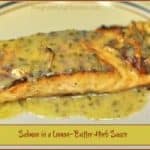 Salmon in a Lemon-Butter Herb Sauce
Grilled or pan-seared salmon, enhanced with a light, lemon-butter herb sauce is a delicious, simple elegant looking entree.
Ingredients
For Lemon-Butter Herb Sauce:
2

Tablespoons

finely chopped green onions

(shallots)

1/4

cup

dry white wine

3

Tablespoons

fresh lemon juice

6

Tablespoons

COLD butter

1

Tablespoon

dill

(dried or fresh), chopped

1

Tablespoon

finely chopped chives

1/8

teaspoon

pepper
For salmon:
3

Tablespoons

olive oil

1

Tablespoons

fresh lemon juice

salmon

(4 boneless, skinless fillets)

1/4

teaspoon

salt

1/4

teaspoon

pepper

1

Tablespoon

butter
Instructions
Prepare the sauce: Place the finely chopped green onions, lemon juice and wine in a small saucepan. Bring to a boil on high heat, then reduce heat to medium and cook for 7-8 minutes, or until liquid has reduced to about 2-3 Tablespoons. Remove from heat. Add butter, 1 Tablespoon at a time, stirring continuously, until all butter has been melted and incorporated into sauce. Add dill, chopped chives and black pepper. Mix to combine. Set sauce aside while you cook the salmon.

To cook salmon:

In a small dish, combine 1 (ONE) Tablespoon of olive oil and 1 Tablespoon of lemon juice. Using a pastry brush, coat all sides of the salmon with this mixture.

Spray a skillet with non-stick spray, then place the other 2 Tablespoons of olive oil into pan. Heat until VERY hot (but not smoking). When skillet is very hot, add the salmon fillets. It should sizzle when you add them to skillet. Cook salmon for about 4 minutes without moving them. After 4 minutes, carefully turn the salmon to the other side and continue cooking. Add 1 Tablespoon butter. As the butter melts, continuously spoon the melted butter onto the salmon as it cooks. Salt and pepper the salmon lightly. In about 3-4 minutes, the salmon should be done. Make sure the salmon is done, and flakes easily (due to differing thicknesses of salmon, you need to keep an eye on the salmon for done-ness).

Reheat lemon-butter sauce if necessary right before the salmon is done.

To serve, place salmon fillet on individual plate, then spoon some of the warm sauce over the top. Enjoy!
Recipe Notes
Salmon can also be grilled outside on a BBQ. Remember to coat it with olive oil and lemon juice mixture before adding it to the grill.
Save
Save