You'll enjoy this Southwestern Cobb Salad, with chili-rubbed steak, Romaine lettuce, feta cheese, orange slices, jicama, tomatoes, avocado & a delicious salad dressing.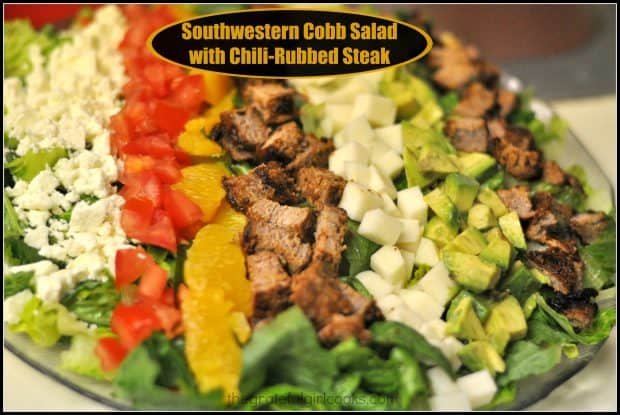 Last summer I found a Food Network cookbook in a used bookstore. The original price was listed as $29.95, but because it was used, I only paid $1.99 for it. SCORE! I've marked several recipes in it that I want to try… the first one that I've "officially" tried is this one for a delicious Southwestern Cobb Salad with Chili-Rubbed Steak. This Southwestern cobb salad has it all- meat, veggies, fruit, cheese, sweet, crunch, and spice. WOW! You're gonna love it!
Scroll Down For A Printable Recipe Card At The Bottom Of The Page
Why I LOVE This Southwestern Cobb Salad!
I made this entree salad for our dinner a couple of nights ago. It was fantastic… as well as a gorgeous looking salad! The salad was fairly easy to prepare, and the tastes were amazing! From the homemade salad dressing with a touch of spice and orange burst of freshness, to the simple chili-rubbed steak, this salad is filled with fresh, wonderful flavors!
The flavors I just described are the supporting stars of this Southwestern cobb salad, which features Romaine lettuce, feta cheese, fresh orange slices, jicama, tomatoes and avocado. My husband and I both LOVED it, and he's already asked me to prepare it again soon.
How To Make The Salad Dressing For Southwestern Cobb Salad
First thing I did was to make the salad dressing. Making the salad dressing is easy. I loved the addition of orange zest to it… the citrus zest helped make it very fresh tasting! Place the salad dressing ingredients into a small bowl. Easy enough so far, right?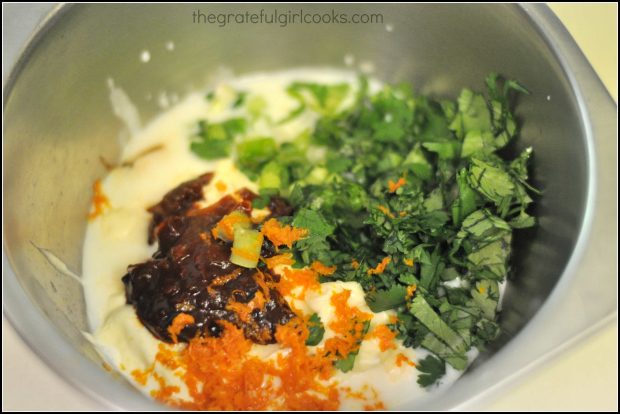 Give the salad dressing ingredients a good whisking, and it's done! Now all you will need to do is cover the bowl, and refrigerate the dressing until ready to use! EASY!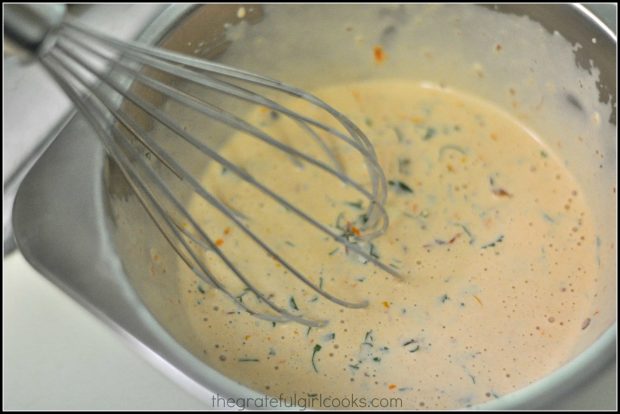 Make A Chili Spice Rub For The Steak
The next thing to do is make the chili spice rub mixture in another small bowl. It's simply olive oil and chili powder that you can mix together using a fork.. Making this rub is quick and EASY.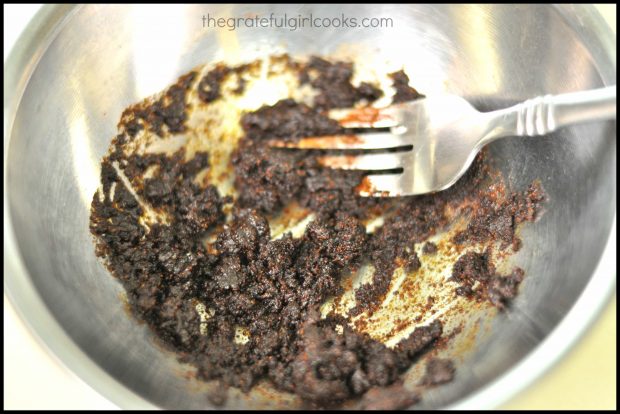 Once fully mixed, put a little bit of the rub on the steaks. TIP: The chili rub mixture is fairly spicy, so use discretion how much you put on the steaks.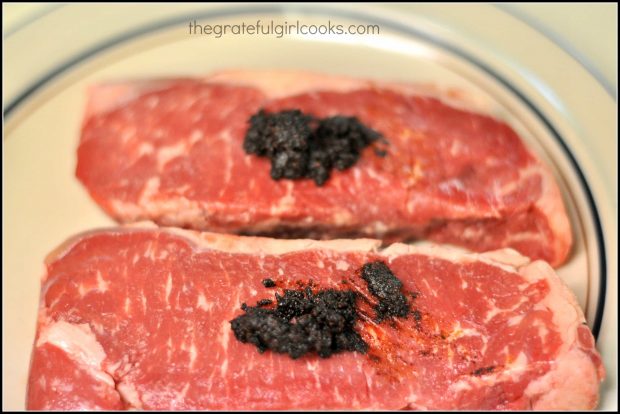 Rub the chili powder/oil mixture onto both sides of the steaks, before cooking.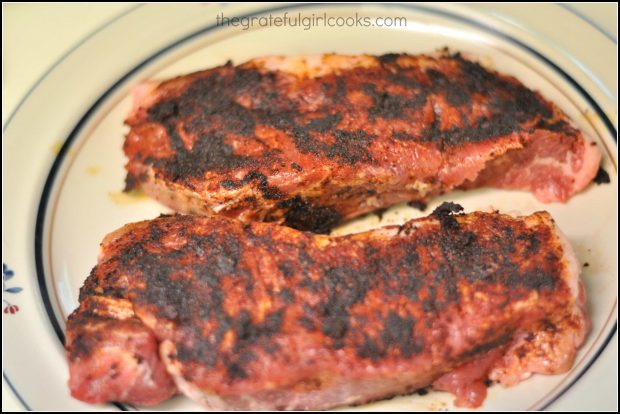 How To Peel and Cut Orange Slices For Southwestern Cobb Salad
Once salad dressing, spice rub and steaks are ready, it's time to chop the fresh veggies and fruit. Start with the orange. Cut the top and bottom peel off of an orange. Then cut down the sides of the orange, removing all peel and white "pith".
You'll be left with something that looks like this (below). Use a sharp knife and cut between each of the sections and remove the orange slices for the salad. Get the white membrane cut off the orange slices. It's not too difficult.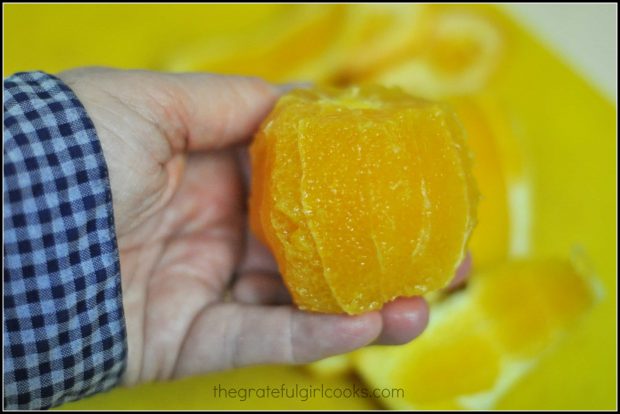 Preparing Jicama For The Southwestern Cobb Salad
This strange looking thing is a jicama, also known as a Mexican turnip. It has the firm texture of a raw potato. Use a sharp knife and carefully cut the peel off. It will look like a potato once it has been peeled.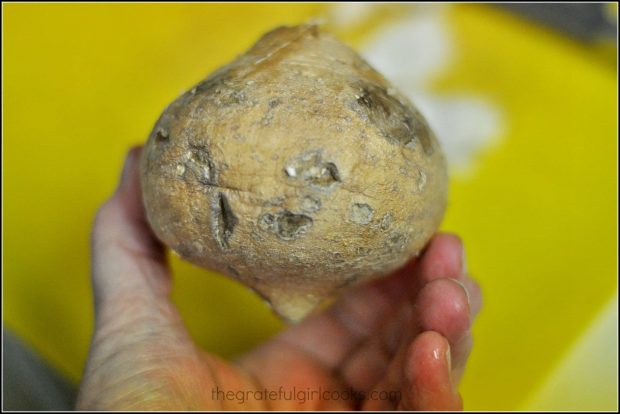 Cut the peeled jicama into 1 inch slices, then cut each slice into small cubes.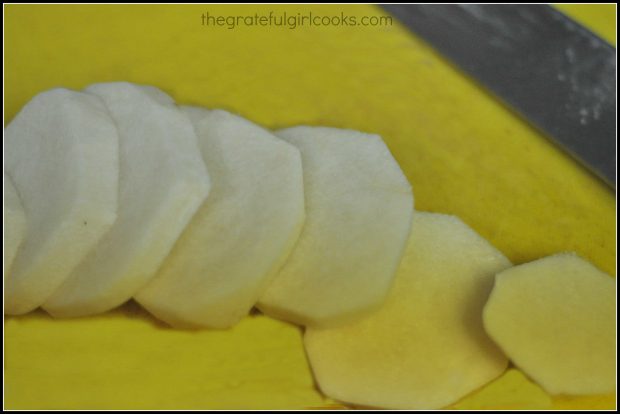 Assembling The Salad
The prep for the salad involves cubing the jicama, cutting the orange into gorgeous sections, chopping the tomatoes, and cutting a fresh avocado into cubes.
These ingredients for the Southwestern cobb salad were layered in rows, along with crumbled feta cheese, on top of the romaine lettuce. Make sure to leave a couple rows open to add the steak after it has been cooked! The platter with the lettuce and veggies was covered with plastic wrap and went into the refrigerator to keep cold, while I cooked the steak.
Cooking The Steak For Southwestern Cobb Salad
The steak was cooked per the original recipe instructions in the broiler of our oven. It was convenient and delicious, using this oven method. The next time I make this Southwestern Cobb Salad, I will throw the steaks on our Weber grill to achieve an even more smoky taste!
Here's the what the steak looks like, right after coming out from the oven broiler. Let the meat rest for 5 minutes before cutting. It is important to let the meat rest. This will keep most of the good juices inside the meat, instead of all over the pan. More juice INSIDE the steak means more FLAVOR! Once meat has rested, cut into small cubes.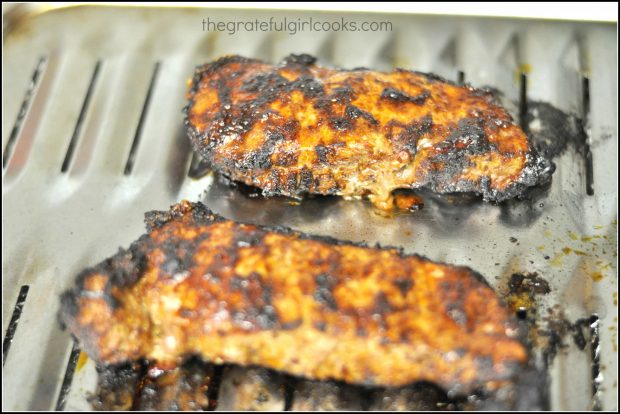 Remove the salad from refrigerator, and add the steak cubes, as shown. This Southwestern Cobb Salad with chili-rubbed steak sure is pretty to look at!
Roadmap For Assembling and Serving Southwestern Cobb Salad
Here's the "roadmap" for the salad: Place chopped Romaine lettuce on bottom of serving platter (or individual plates). Arrange rows of prepped fruit and veggies for a colorful presentation.
The order I used for the rows, left to right, were Feta cheese, chopped tomatoes, orange slices, steak cubes, jicama cubes, avocado, and more steak cubes. After the salad is layered, the only thing left to do is pour the dressing on top of the Southwestern cobb salad, and toss gently to combine. That's it!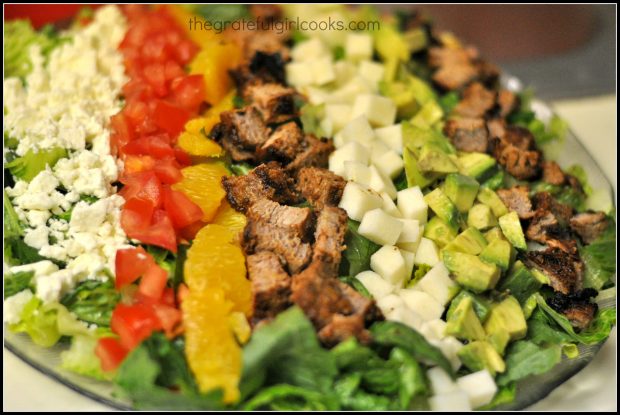 This Southwestern Cobb Salad is an all in one dinner salad, and it is delicious! Hope you will give it a try. I confident you will LOVE it! Enjoy!
If you enjoy Main Course Salads, be sure to check out these recipes below. These and others can be found in the RECIPE INDEX, found in the menu toolbar at the top of each page.
Interested In More Recipes?
Thank you for visiting this website. I appreciate you using some of your valuable time to do so. If you're interested, I publish a newsletter 2 times per month (1st and 15th) with all the latest recipes, and other fun info. I would be honored to have you join our growing list of subscribers, so you never miss a great recipe!
There is a Newsletter subscription box on the top right side (or bottom) of each blog post, depending on the device you use, where you can easily submit your e-mail address (only) to be included in my mailing list.
You Can Also Find Me On Social Media:
Facebook page: The Grateful Girl Cooks!
Pinterest: The Grateful Girl Cooks!
Instagram: jbatthegratefulgirlcooks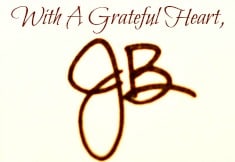 Recipe Source: "Food Network Kitchens Cookbook", published 2003, The Meredith Corporation, page 78.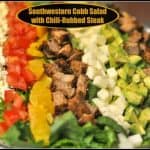 Southwestern Cobb Salad with Chili-Rubbed Steak
You'll enjoy this Southwestern Cobb Salad, with chili-rubbed steak, Romaine lettuce, feta cheese, orange slices, jicama, tomatoes, avocado & a delicious salad dressing.
Keyword:
Southwestern Cobb Salad
Calories Per Serving
:
694
kcal
Ingredients
For the dressing:
2

cloves

garlic cloves

, minced

1/2

teaspoon

salt

1/3

cup

mayonaise

1/3

cup

buttermilk

1

Tablespoon

chipotle hot sauce

(I used sauce from a can of adobo chiles)

3

Tablespoons

fresh minced cilantro

1

stem

scallion

(use the white and green parts of the onion), thinly sliced

1

teaspoon

finely grated orange zest
For the steak:
1.75

pounds

tri-tip steak or other sirloin steak

( I used 2 steaks), for a total of about 1 3/4 pounds meat

1

Tablespoon

olive oil

1.5

Tablespoons

chili powder
For the salad:
5

cups

head Romaine lettuce

, torn or chopped

1

ripe avocado

2

ripe medium tomatoes

, diced

1/2

cup

crumbled feta cheese

, or more (can also use Cotija cheese)

1

orange

, peeled, cut into sections

1/2

medium jicama

, peeled and cubed (about 1 1/2 cups)

Salt and freshly ground black pepper

, to taste
Instructions
Make the salad dressing: Smash the garlic cloves with the flat side of a butcher knife, then sprinkle with salt. Mix together to form a thick paste. Put the garlic "paste" into a msall bowl, then add the rest of the salad dressing ingredients (mayo, buttermilk, chipotle hot sauce, cilantro, scallion and orange zest). Whisk ingredients together until thoroughly combined. Cover and refrigerate.

Prepare the steak: Lightly salt and pepper the steak. In a small bowl, mix the chili powder and olive oil together until combined into a thick paste. Put this on the meat, and rub the spices into both sides of the meat. If you are grilling steak outside, put on grill and cook until medium. If you are going to be broiling the steak (as per recipe), here's what you need to do: Put a broiler rack and pan about 6 inches away from the broiler in your oven. Turn broiler on and let the pans PREHEAT for several minutes before putting the meat on the pan. When the broiler pan is really HOT, add the steak. (You should hear it sizzle as it hits the broiler pan). Cook for 7-8 minutes on each side for medium, turning once. When done, remove the steak to a cutting board. Let the meat rest for about 5 minutes, then cut into cubes.

To make the salad: Halve, seed, peel and cube the avocado. Peel and section the orange. Peel and cube the jicama. Chop the tomatoes. Put the chopped Romaine lettuce onto a large serving platter (or in a large salad bowl). Arrange the feta, chopped tomatoes, orange sections, steak, jicama and avocado in strips on top of the lettuce. Sprinkle with salt and pepper. Pour the salad dressing over the salad, and toss to combine. (if making individual serving plates, use 3 Tablespoons of dressing per salad).
Recipe Notes
NOTE: This recipe can be adapted to serve 6, by creating smaller portion sizes.
Nutrition Facts
Southwestern Cobb Salad with Chili-Rubbed Steak
Amount Per Serving (1 (1/4 of total))
Calories 694
Calories from Fat 423
% Daily Value*
Fat 47g72%
Cholesterol 157mg52%
Sodium 891mg39%
Potassium 1393mg40%
Carbohydrates 20g7%
Protein 47g94%
Vitamin A 6800IU136%
Vitamin C 46.6mg56%
Calcium 228mg23%
Iron 4.9mg27%
* Percent Daily Values are based on a 2000 calorie diet.
Here's one more to pin to your Pinterest boards!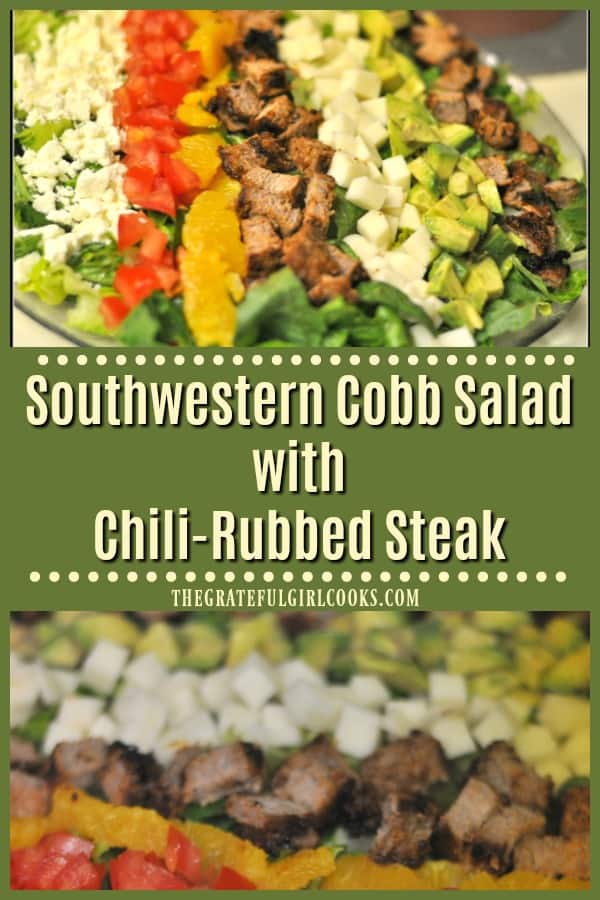 Save
Save
Save
Save