Good morning!  It's going to be a great day in the Pacific Northwest… we're headed into several days in a row of warm, sunny weather for Memorial Day weekend. With temps in the mid 70's and higher, it could even get to be warm and "sticky" outside… which is my horrible line to transition over to this wonderful entree I made last night… "Sticky Orange Chicken"!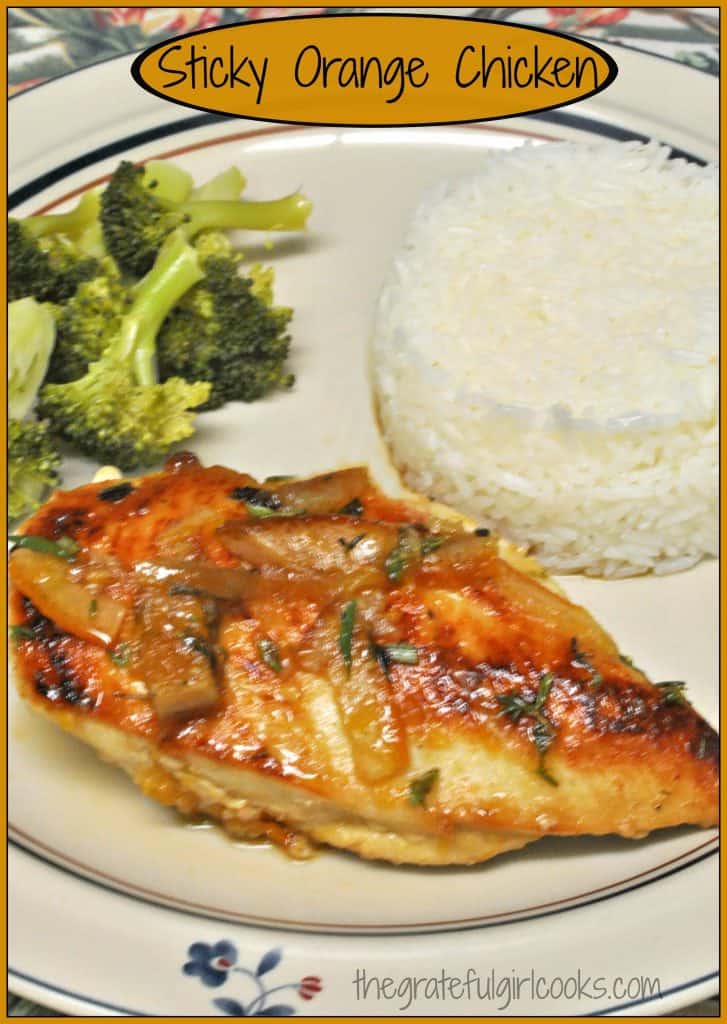 I found this recipe from Rachael Ray (celebrity cook) on Pinterest a while back, but finally took the opportunity to make it last evening. This chicken entree was so easy to make, and it really has a great fresh flavor, thanks in part to the orange marmalade sauce, which is infused with extra flavor from chicken stock, fresh rosemary and thyme. YUM! The whole dish took under 30 minutes to prepare, from start to finish, and was absolutely delicious! This would be a great meal to fix, at the end of a long and busy day!
Note: The recipe as written serves 4.  My pictures only show 2 pieces of chicken. I only prepared 2 chicken breasts for my husband and myself, but kept the original quantity of sauce (just a little Public Service Announcement).
Here's what you do to make this simple dish… first, gather ingredients together.  I'm fortunate enough to make my own orange marmalade, and I grow rosemary and thyme in my garden, so gathering this part of the recipe was a cinch! I also grabbed some apple cider vinegar, salt, and chicken stock from our pantry.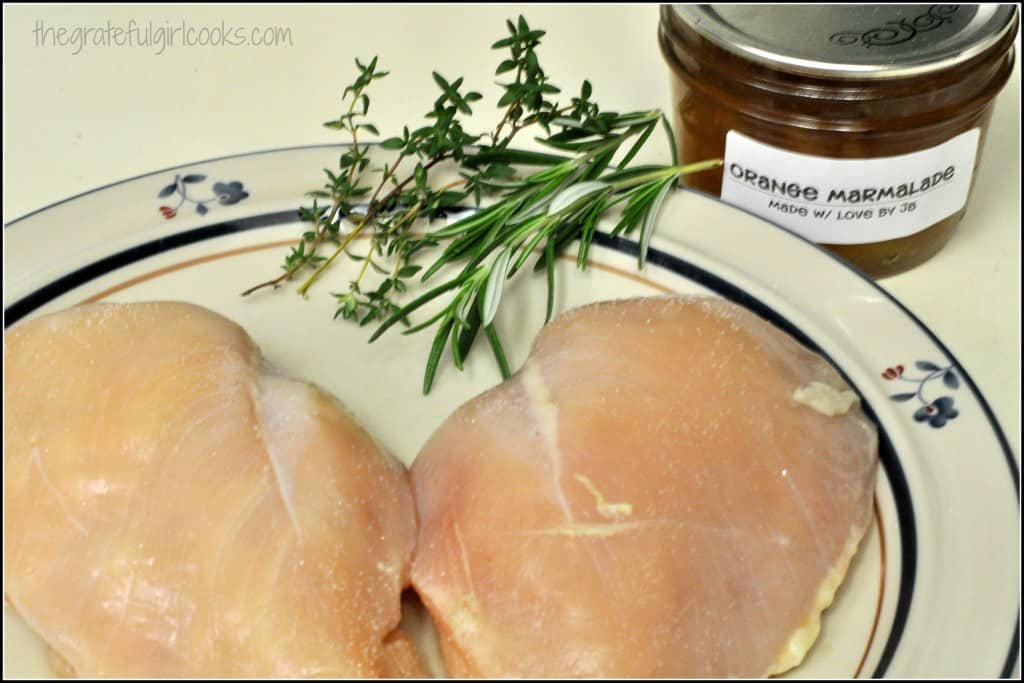 I heated olive oil in a skillet until very hot. I lightly salted the chicken, then added them to the hot skillet. (The chicken breasts should sizzle as you put them into the hot skillet).  I let them sear, untouched, for 5 minutes, then turned them to other side and cooked them for another 5 minutes.  The chicken was cooked for 10 minutes total.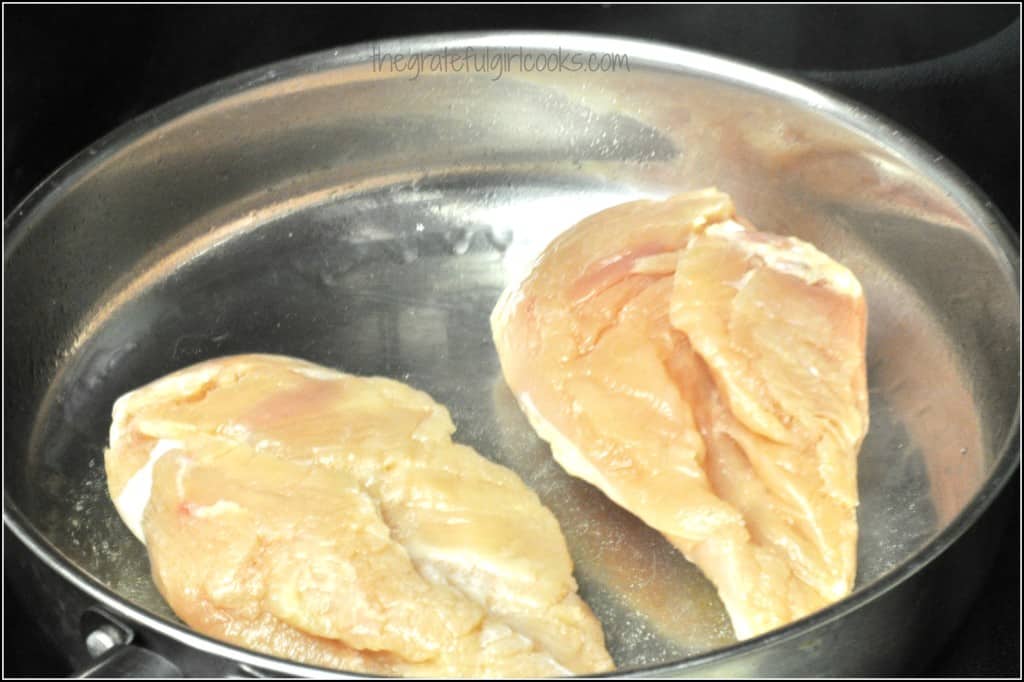 Once the chicken was seared and browned on BOTH sides, I removed the chicken to a plate.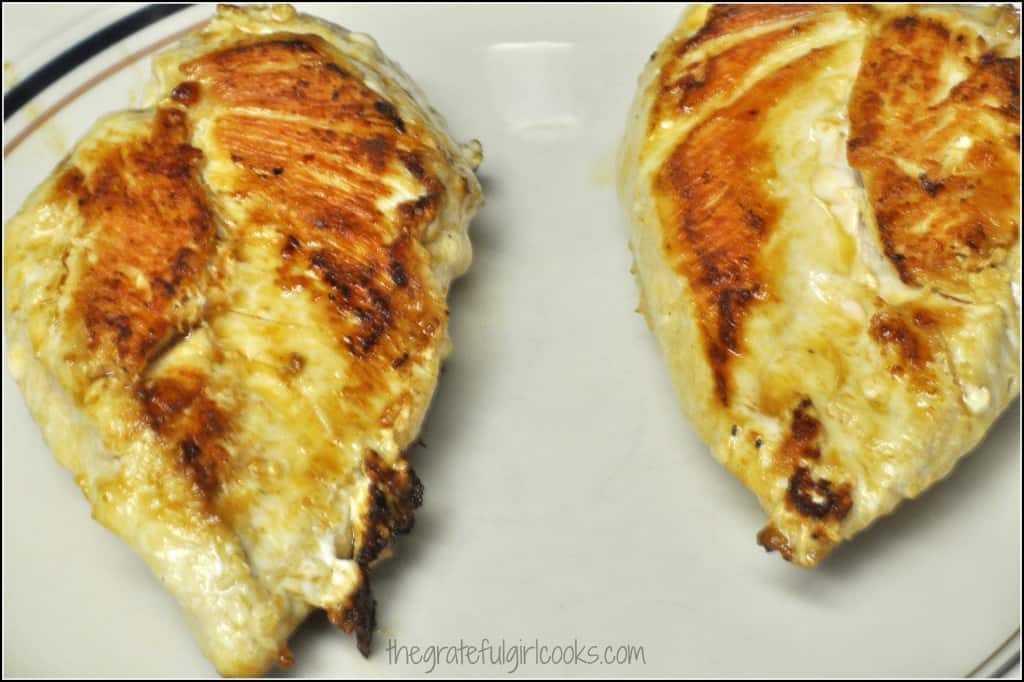 I added apple cider vinegar to the hot skillet to de-glaze the pan. I then added the orange marmalade, chicken stock, fresh chopped rosemary and thyme.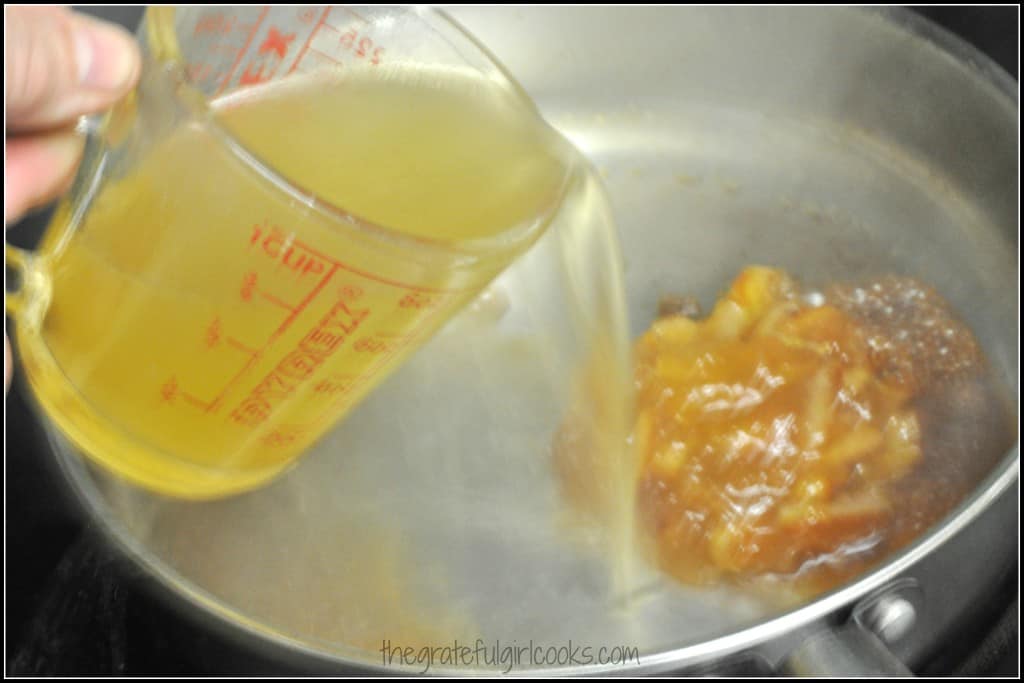 I whisked the sauce together and continued cooking it for 2-3 minutes. The sauce began to thicken up just a bit.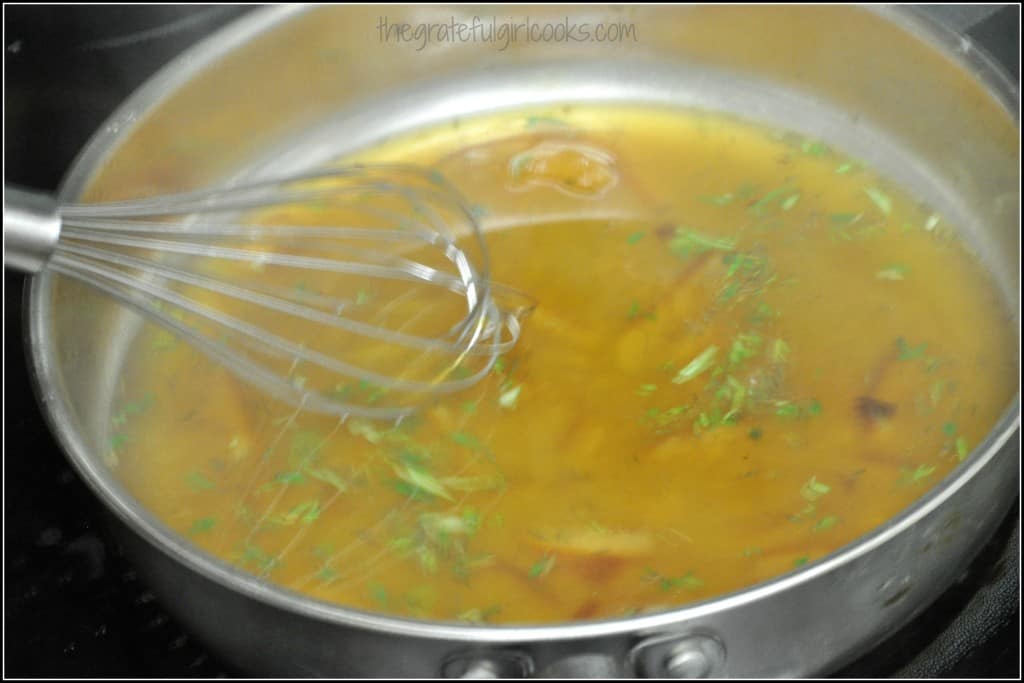 I added the chicken breasts back into the sauce. I continued to cook the chicken in the sauce for 5-6 additional minutes, spooning the sauce over the tops of the chicken continuously as it cooked.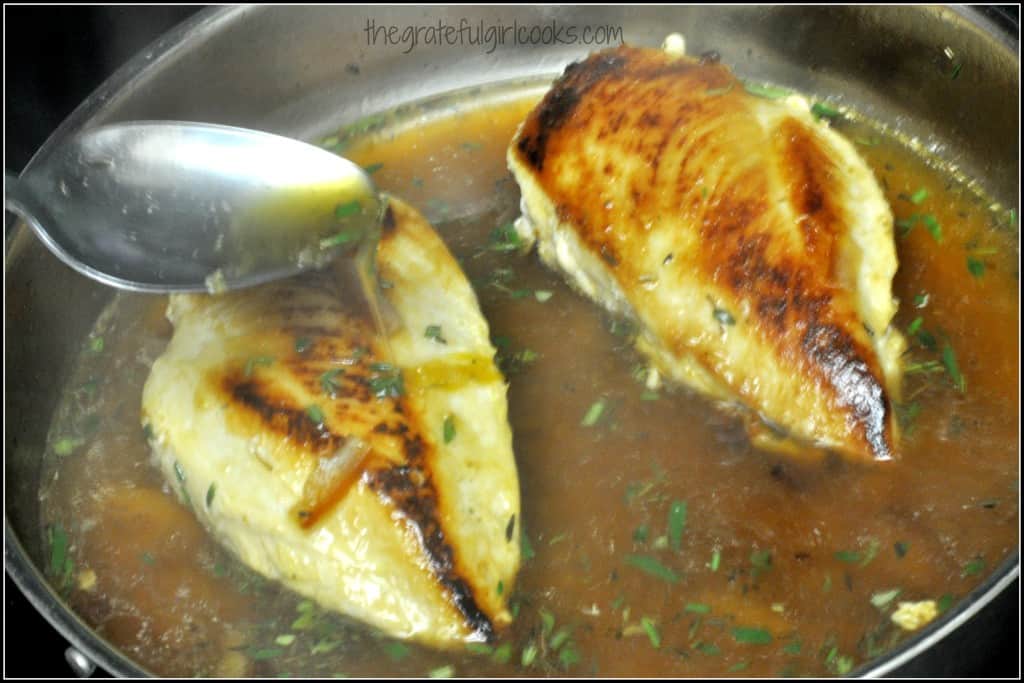 Once the chicken was done cooking, I removed it to individual serving plates. I spooned a little of the sauce over the top of each chicken breast (then froze the rest of the sauce for another time), and served it with a side of rice, and broccoli. YUM!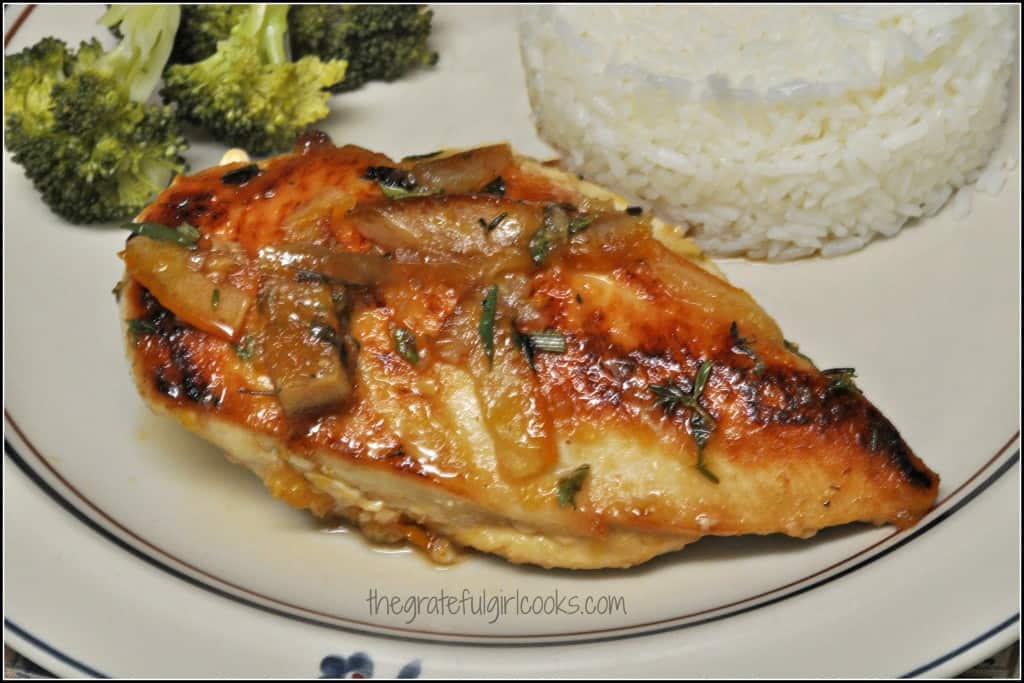 I sure hope you will give this recipe a try. Really EASY, QUICK, and YUMMY! Have a great day!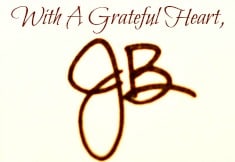 Recipe Source: http://www.rachaelrayshow.com/recipe/14441_Sticky_Orange_Chicken_with_Herbs_and_Sweet_Potatoes_with_Cider/

Save
Save
Save
Save