Do you enjoy stir-fry meals?  We sure do… in fact, I've been making this delicious, Asian-inspired Chicken and Veggie Stir-Fry using the same process and "recipe" for over 20 years.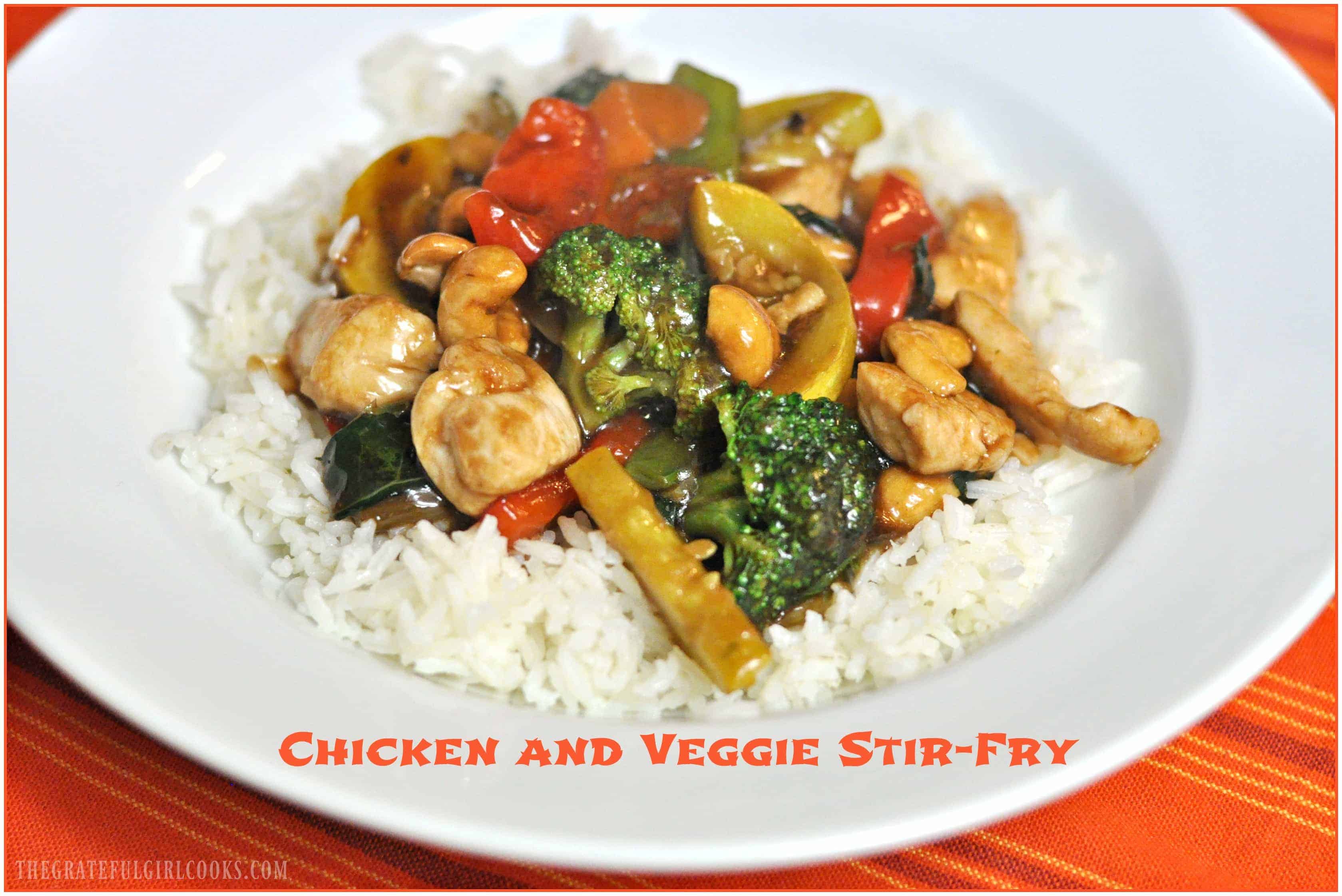 This dish couldn't be simpler to make… I came up with a simple Asian sauce after experimenting many years ago, then simply added chicken and fresh veggies, cooked it all together, and have been making stir-fry like this ever since!  The process is simple: stir-fry lightly seasoned, cubed chicken breasts and lots of fresh veggies.  Add a homemade Asian flavored sauce (so quick & easy to make), then serve on a bed of rice! The recipe is easy, packed with veggies, and is wonderfully delicious! (I found a great deal on a combo package of sliced veggies at the grocery store this time, but use whatever combination of fresh veggies you have available!).
Here's how to make this tasty meal: To save time, I cooked all three parts of this recipe at the same time (it's easy to do).  The first thing you need to do is cook rice according to package directions, then prep veggies and chicken while rice is cooking.  Make sure veggies are cut into bite sized pieces. Cut chicken breasts into 2 inch cubes.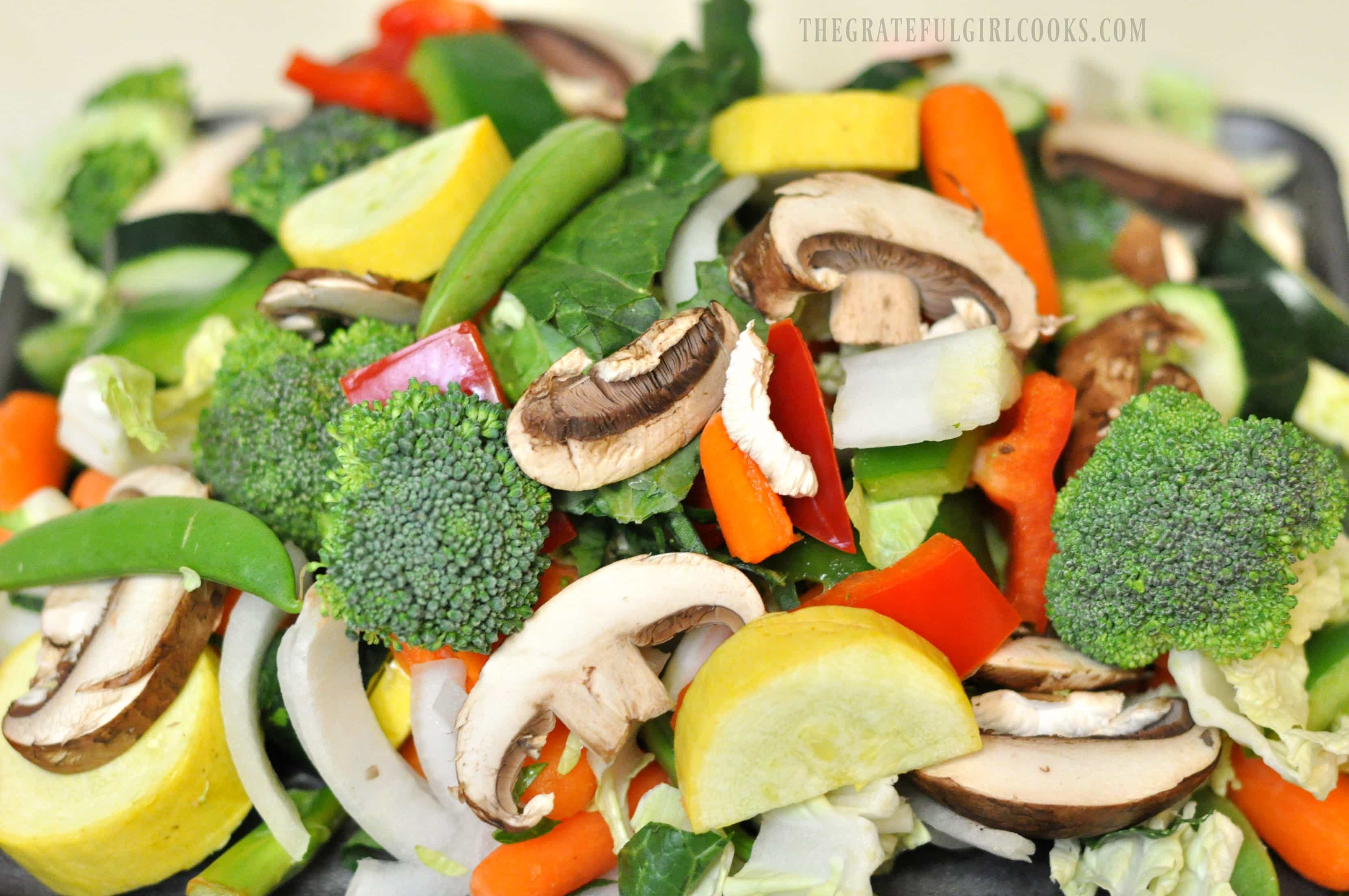 Prepare the stir-fry sauce by combining chicken broth, soy sauce, and ground ginger in small bowl. Stir in corn starch and mix well.  Set it aside.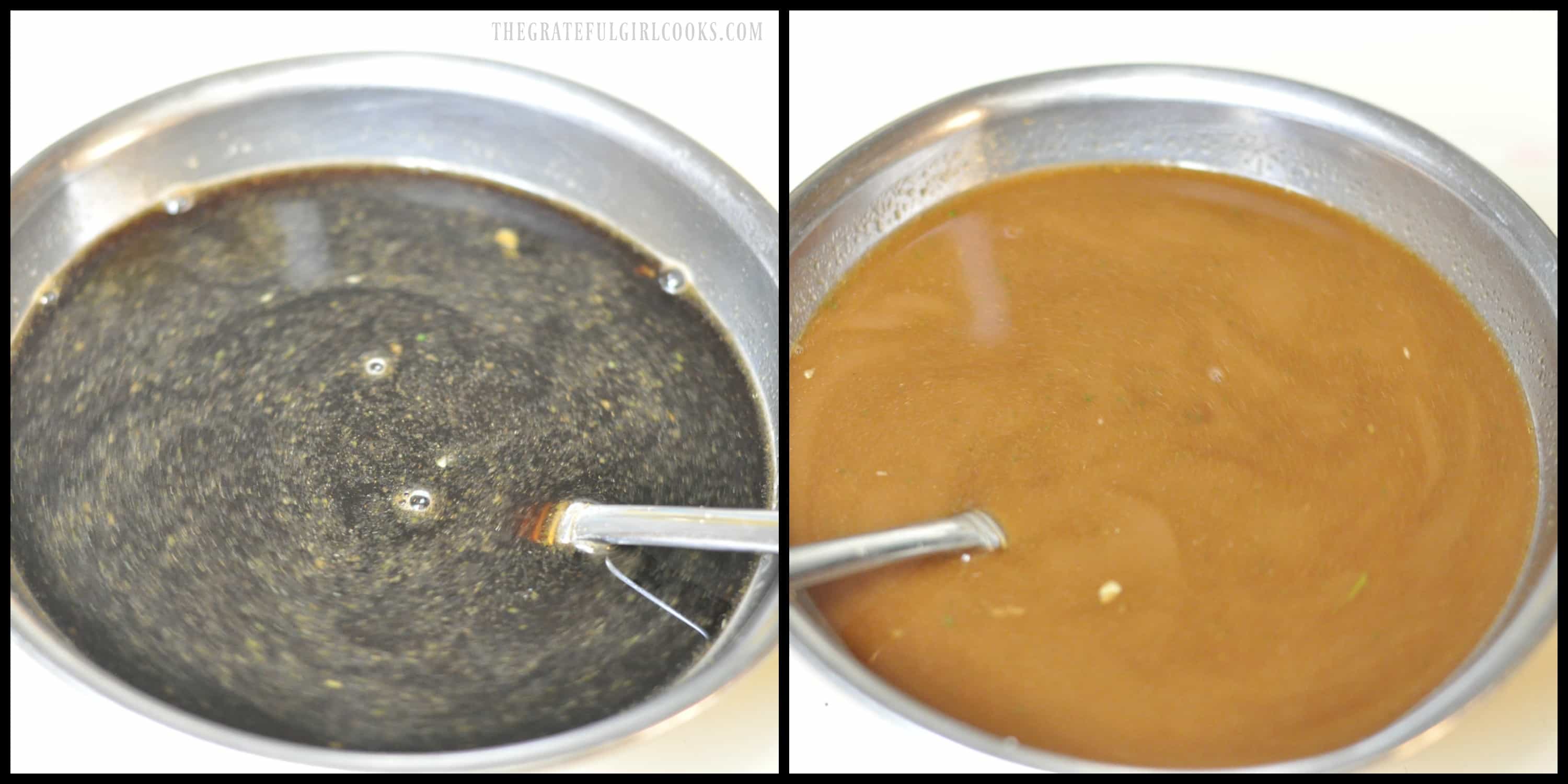 In a large skillet, heat HALF of the oil on medium-high heat until very hot, but not smoking.  Add all the veggies and cook for 6-7 minutes, stirring often until veggies are crisp-tender.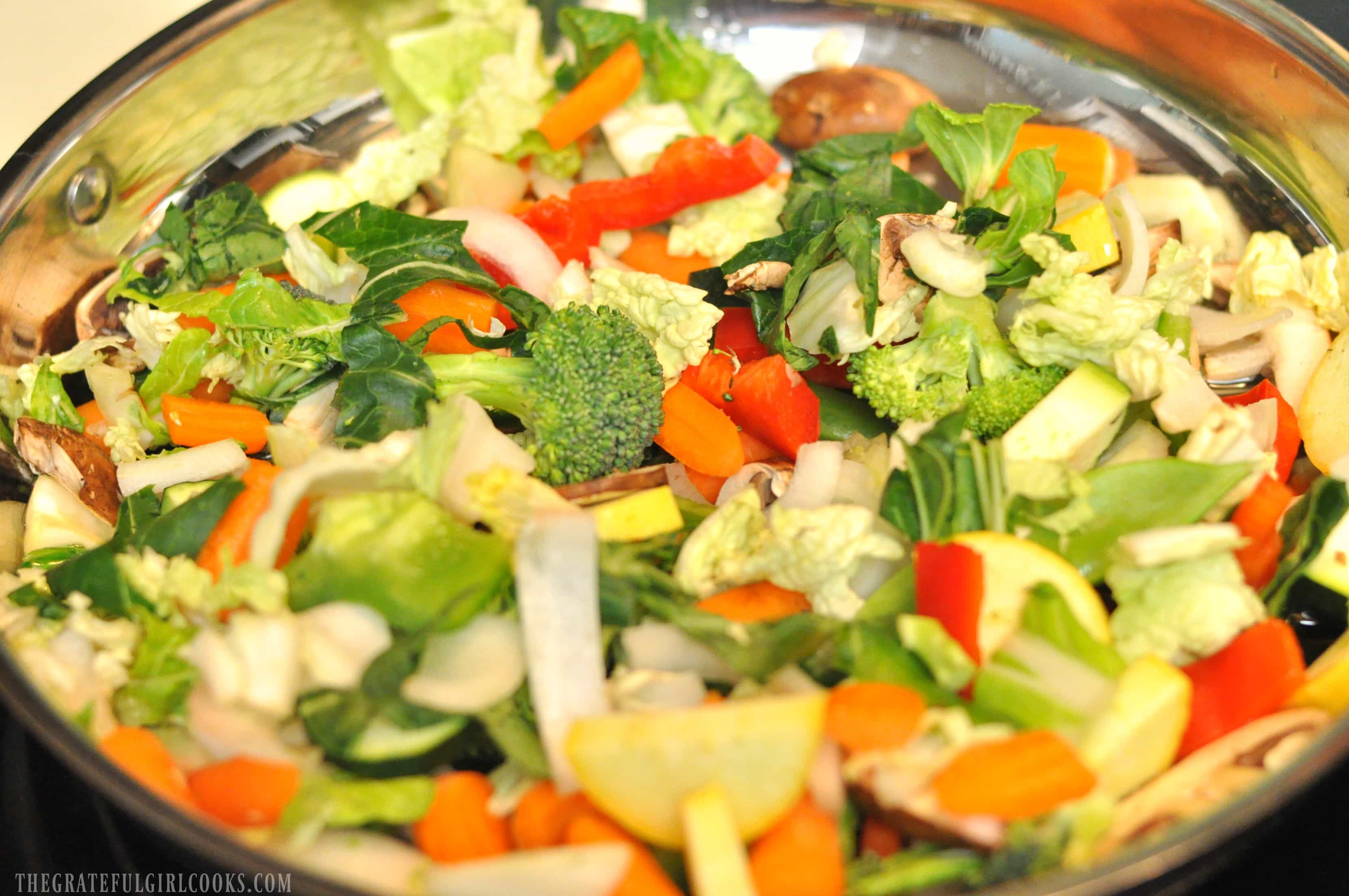 In a separate medium skillet, heat remaining half of the oil on medium-high until very hot, but not smoking.  Add chicken; cook, turning pieces over to cook all sides. Stir-fry the chicken pieces until they turn white in color and are cooked through (about 3-4 minutes). I cooked the chicken at the same time I was stir-frying the veggies, to save time.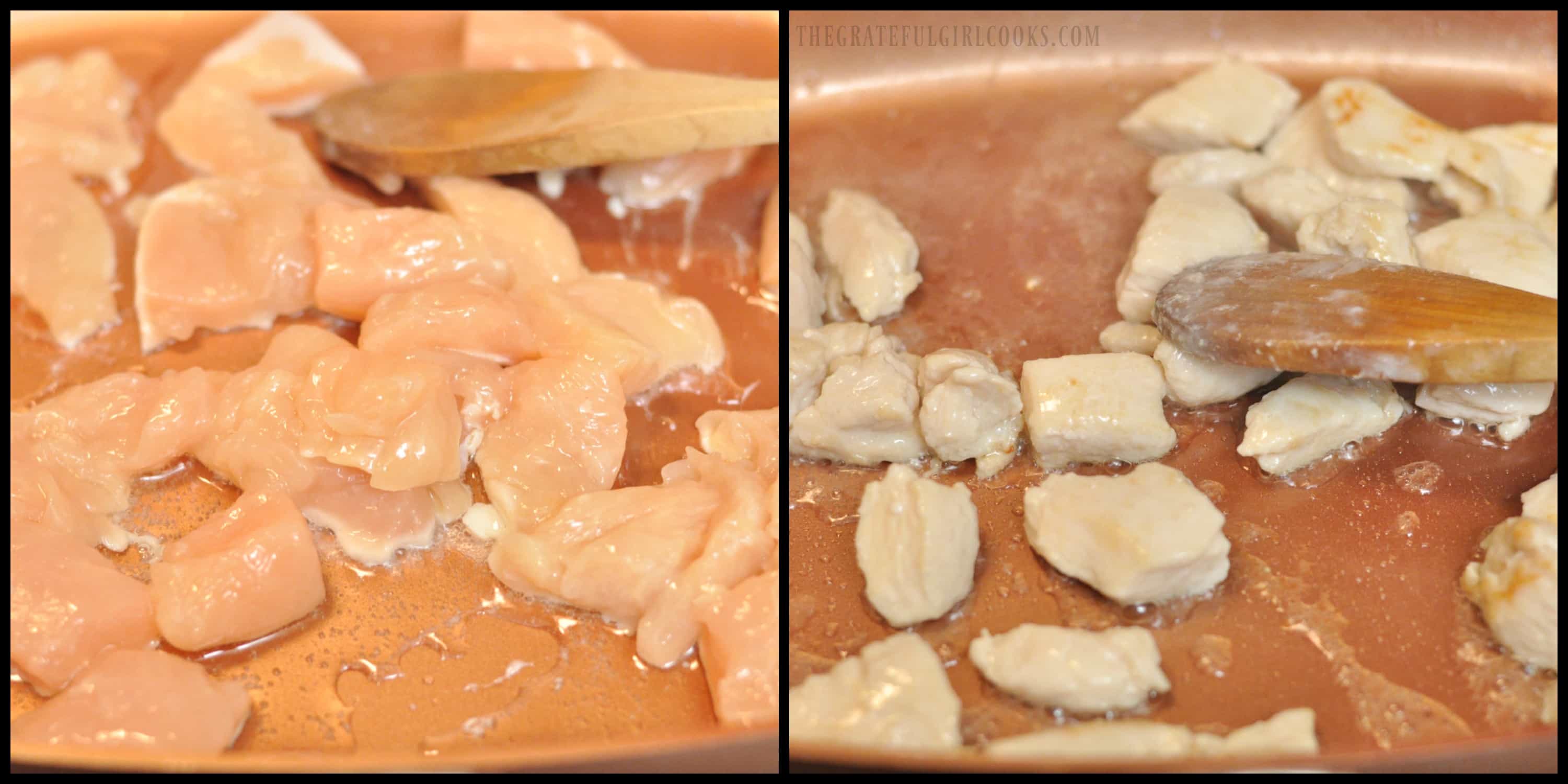 Add cooked chicken to the veggies in large skillet.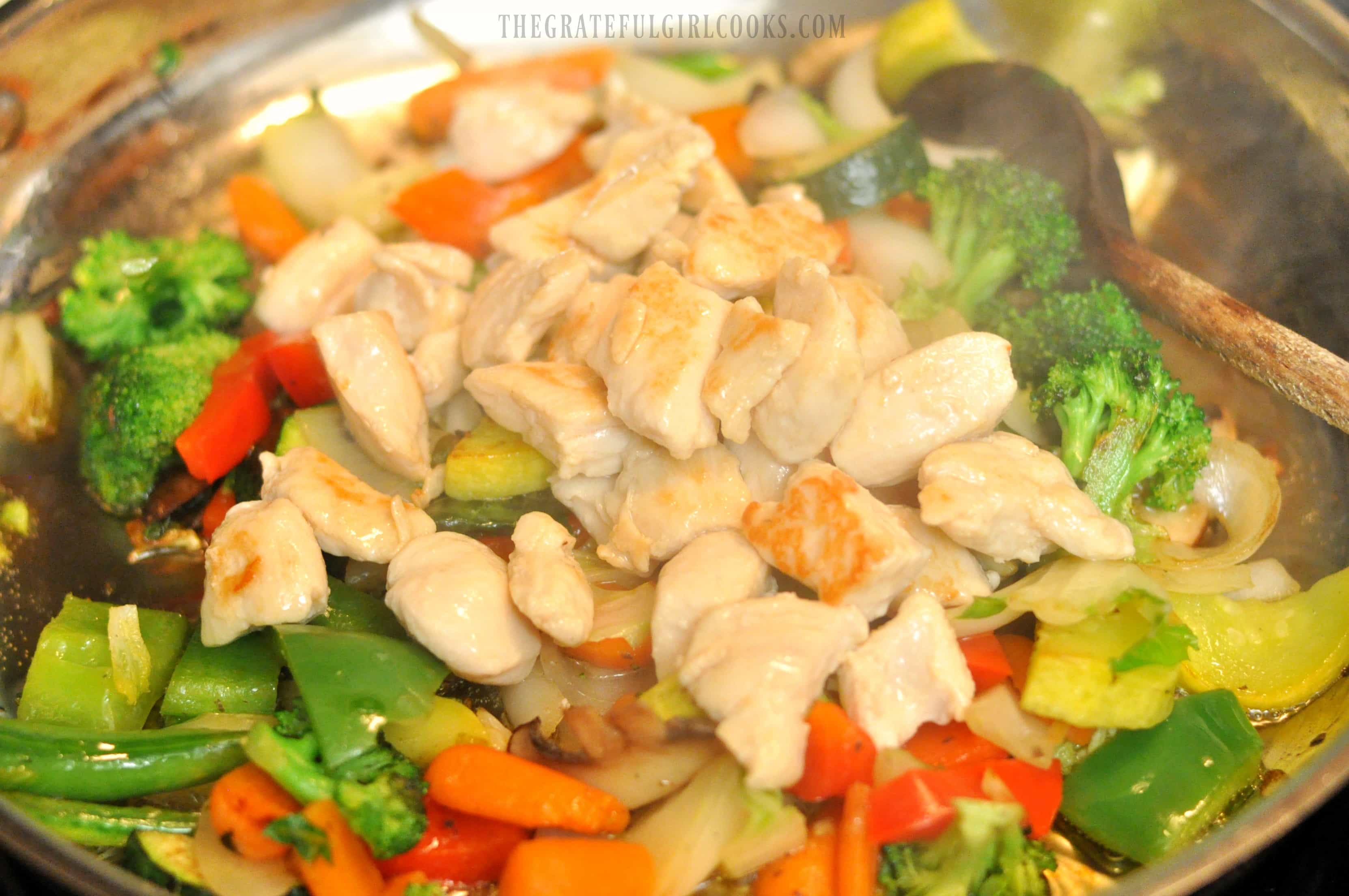 Give the sauce a good stir, then pour it over the chicken and veggies. Cook on medium-high heat, stirring often for about 2 minutes. The sauce will thicken as it cooks and will coat the chicken and veggies.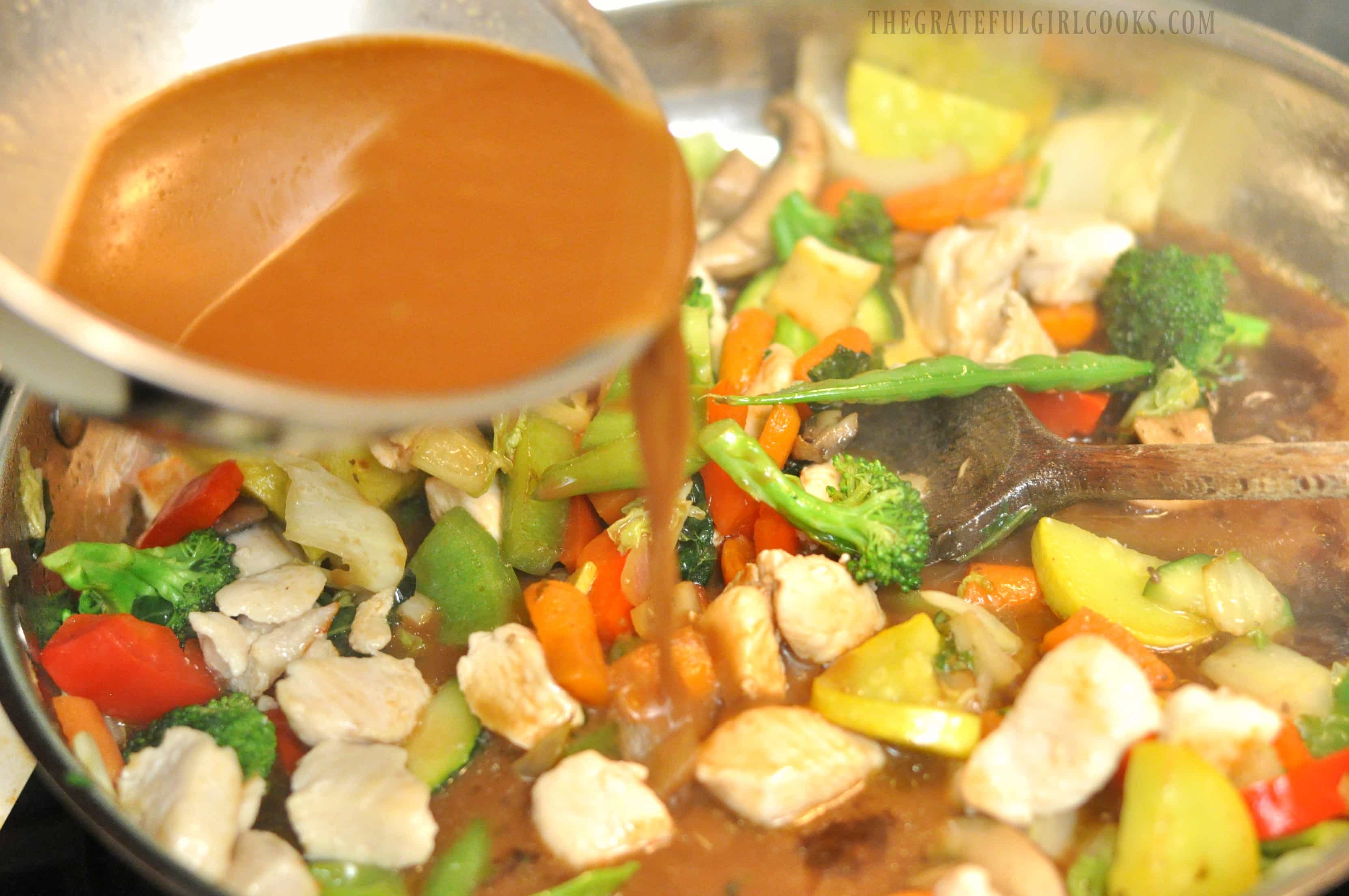 When done, add the cashews, and stir to combine.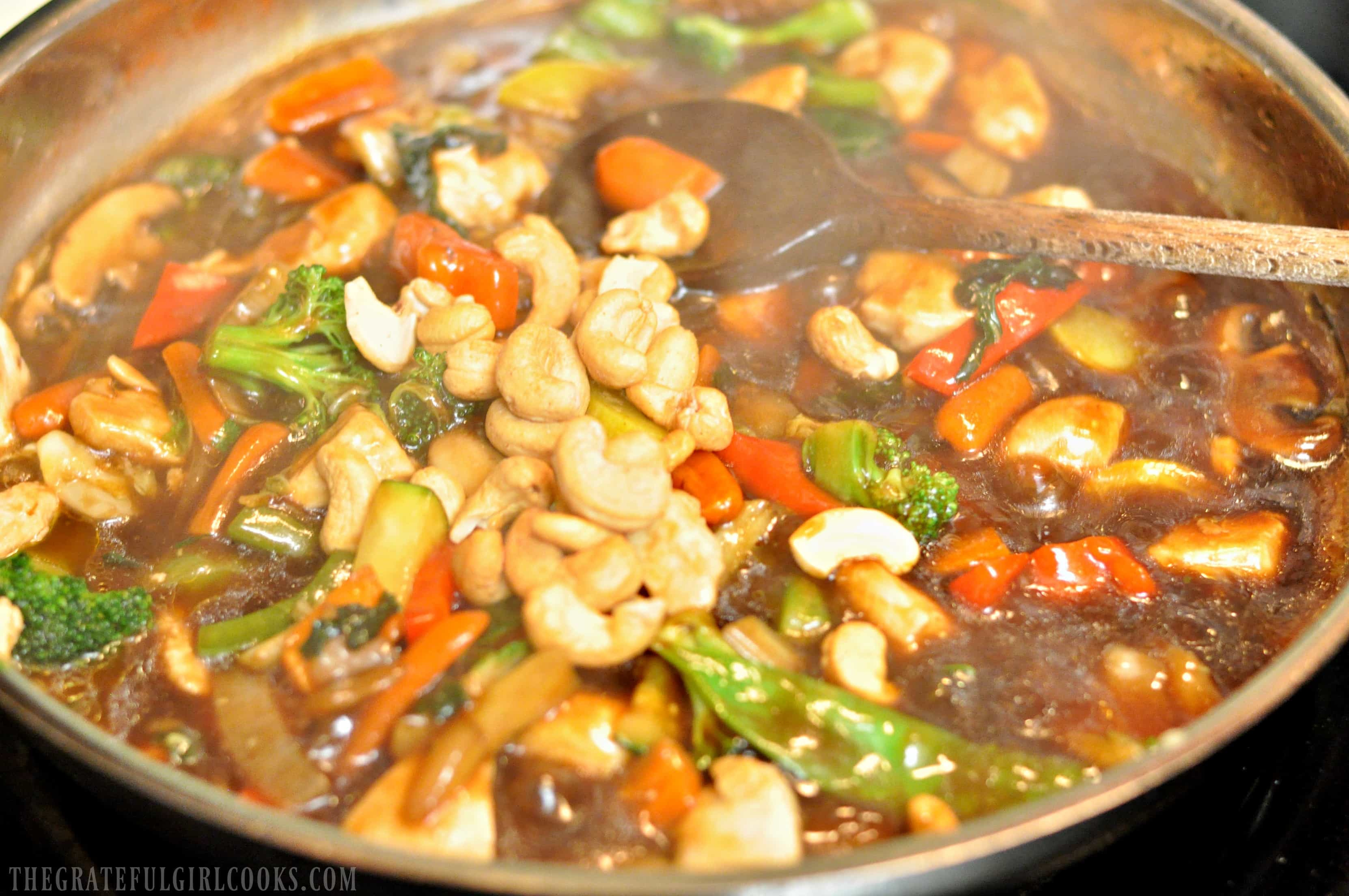 Serve hot on top of a bed of rice (brown or white).  Grab a fork (or chopsticks) and dig right in! It's GOOD!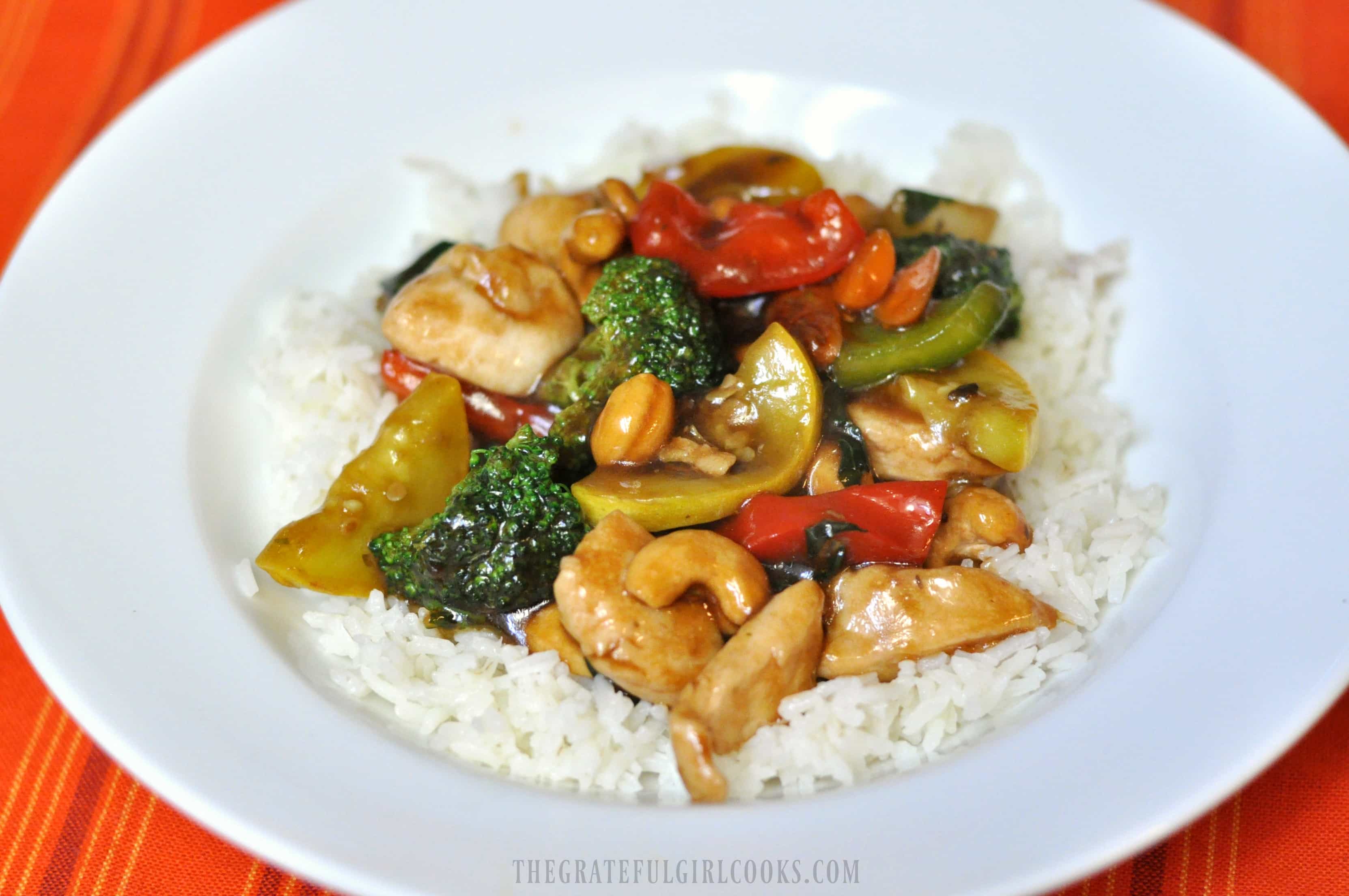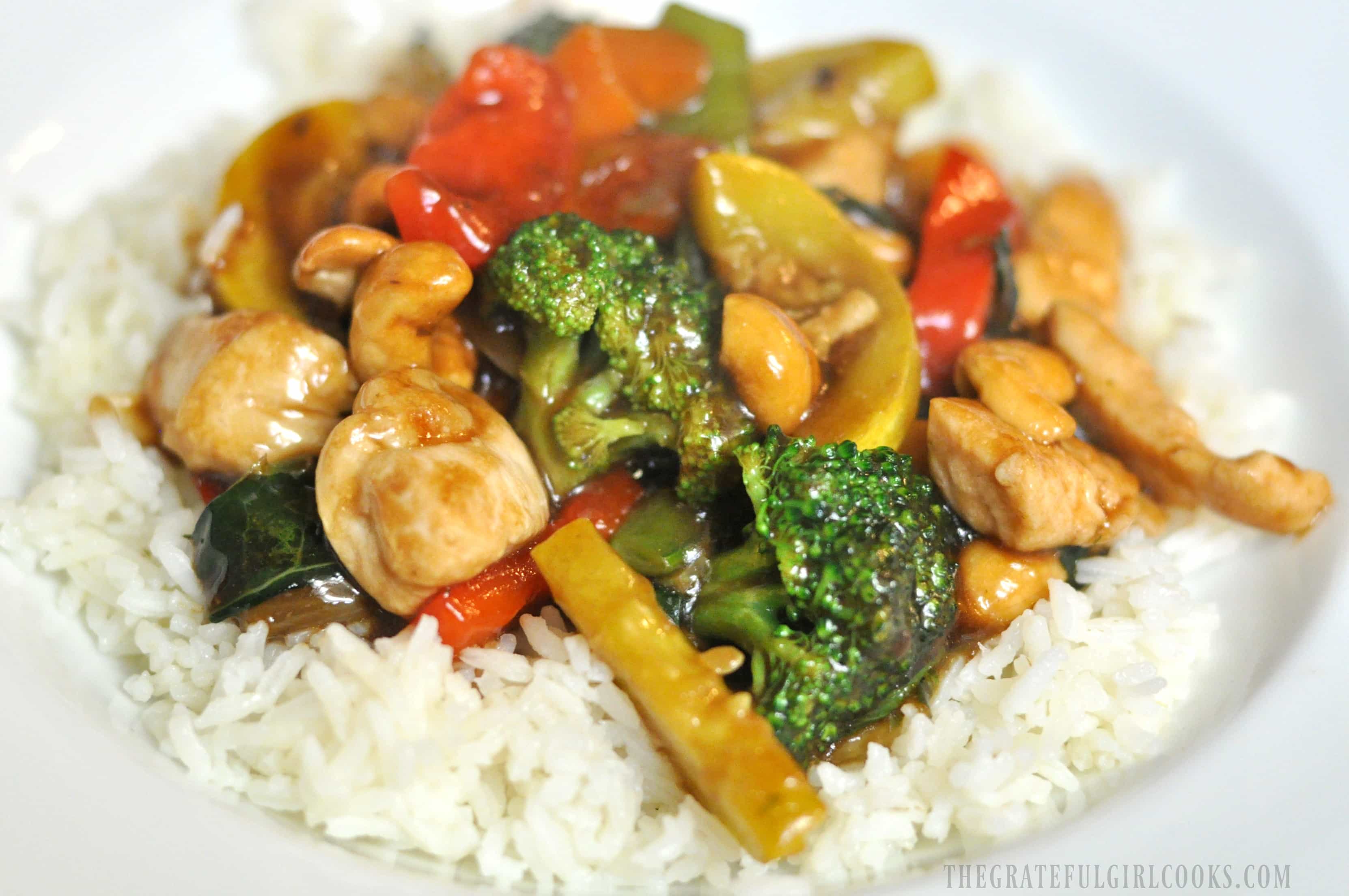 While you can adjust the veggies according to your taste and what you have available (I have done this many times over the years), the basics you should try to have in this dish are onion, carrots, broccoli, and red peppers, simply because they add so much color (and flavor) to the dish.  Any other veggies you choose to add will enhance the dish with additional flavor and color!!!  If you are a Vegetarian… simply omit the chicken!  Be creative… make it your own… and enjoy every bite!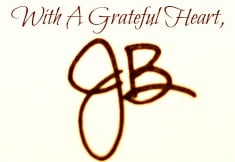 Save
Save
Save
Save
Save
Save
Save
Save
Save
Save
Save
Save
Save
Save
Save
Save