We've had lots of sunshine and hot weather the past several weeks in the Pacific Northwest. A few nights ago I decided to make my old standby recipe for Chicken Salad, serve it with some fresh pineapple, strawberries, and cantaloupe, and have dinner out on our back deck.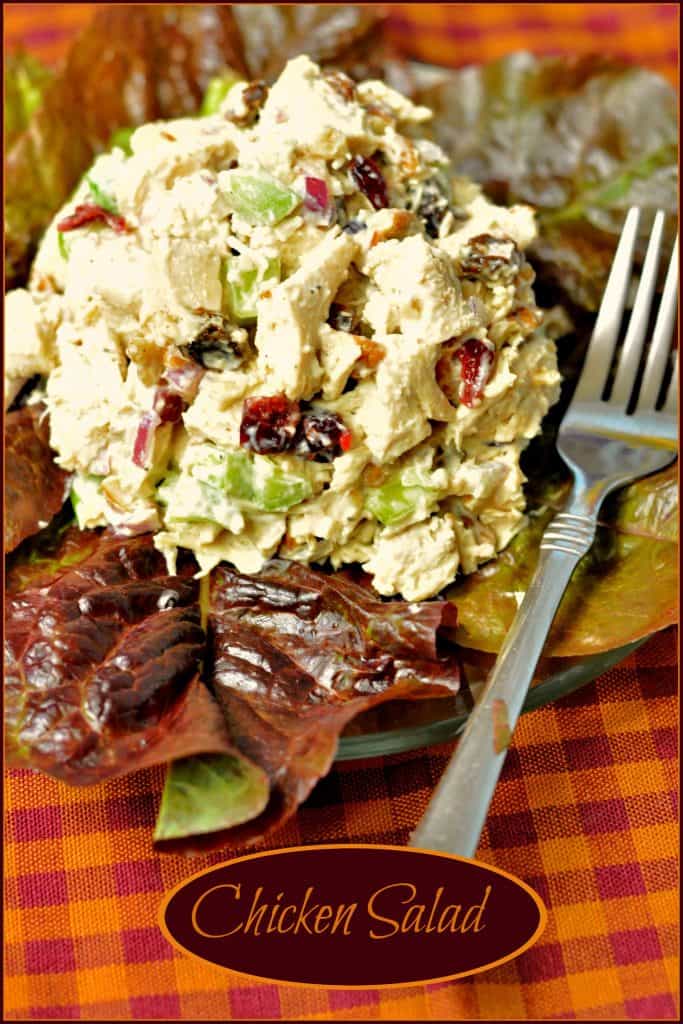 This was a perfect entree salad on a hot night (and I was able to use some of the red leaf lettuce from our garden to serve the salad on)… whoo-hoo!  I've been making chicken salad this way for over 25 years. I've never had a recipe that I've used, so I had to be deliberate about writing it down this time, so I could post the right quantities for this blog post.
We really enjoy the salad, with its chunks of chicken breast, crisp celery, the sweetness of chewy raisins and dried cranberries, the tangy red onion and the crunchy pecans! This salad is really easy to make, too! Quick and easy is my idea of a perfect meal!
Here's how I make it:  First, cook the chicken. Put frozen chicken breasts (yep-right outta the freezer) into a large pan of water and cook them on high for about 45-50 minutes (until fully cooked). (*Note: I use 4 chicken breasts, but picture shows 5 because I was cooking an extra one for another recipe).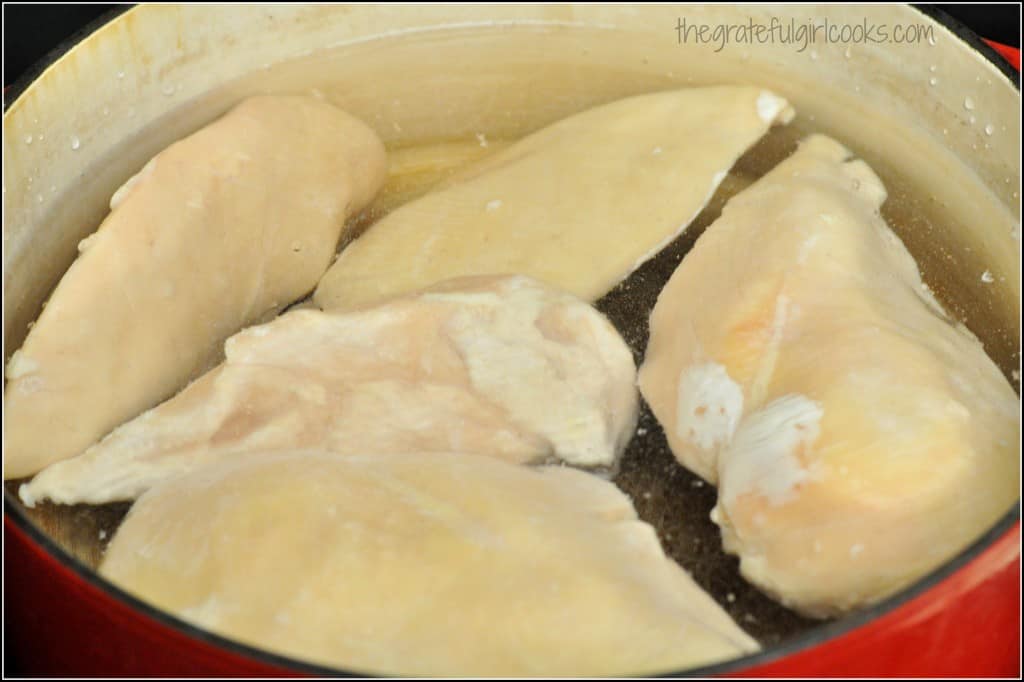 When chicken is done, remove it from the water and let the pieces cool a little. Then cut the chicken into 1 inch cubes and set aside.
While the chicken is cooking, chop the pecans, celery and red onion, and place them into a medium sized bowl, along with the raisins and dried cranberries (the cranberries are hidden in the picture…they must be camera shy).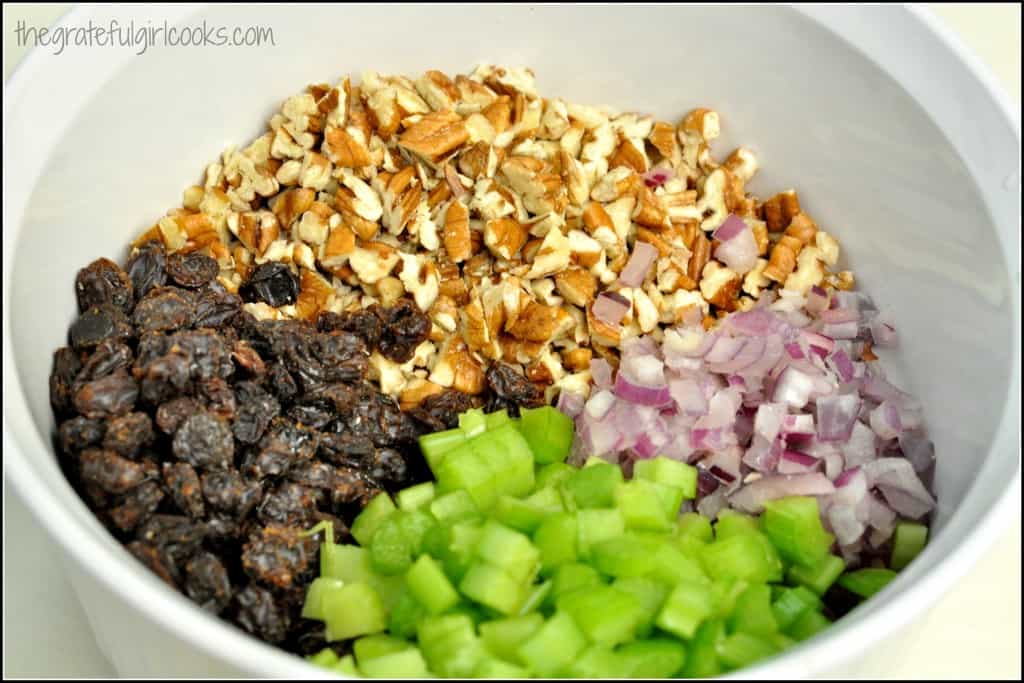 Add the chunks of chicken breast to the bowl.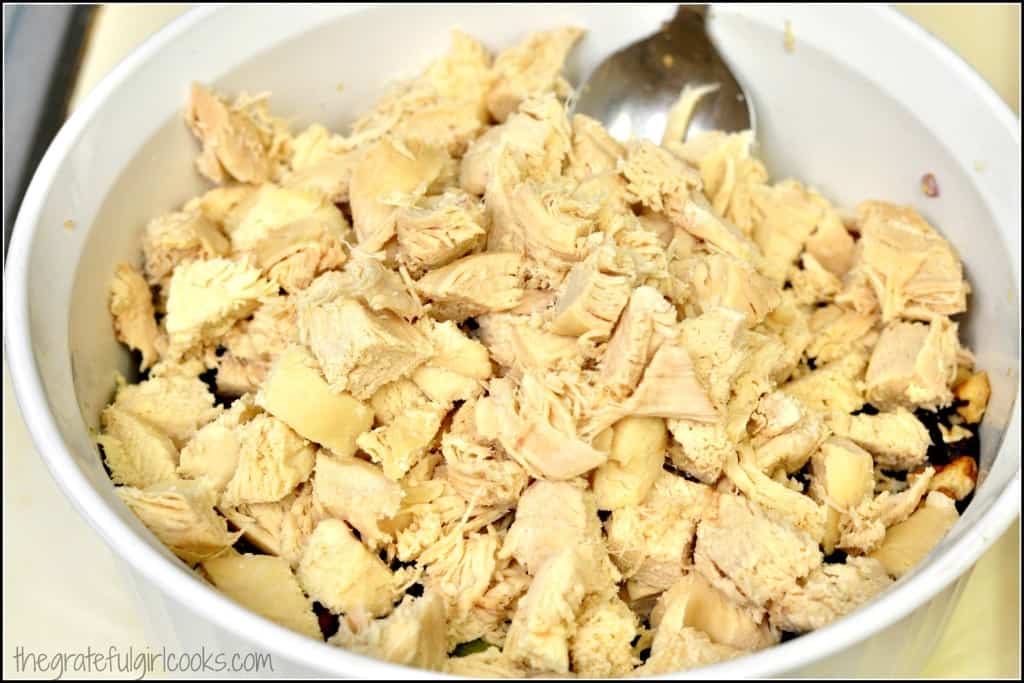 Add mayonnaise, then season it with salt and pepper. I give it a good stir to mix it all together (making sure it is all coated), then taste it, and add more salt and pepper, if necessary.

Cover the salad with plastic wrap and refrigerate it for about 2-3 hours (the longer the better so the flavors have time to really develop).  By the way… this chicken salad is great on sandwiches, too… I love to stuff a pita full of it, too!  Yum.
But my absolute favorite way to serve this is… just as it is!!!!! When ready to serve, I like to place some red lettuce leaves onto the serving plate, then arrange the chicken salad on top, for a nice presentation.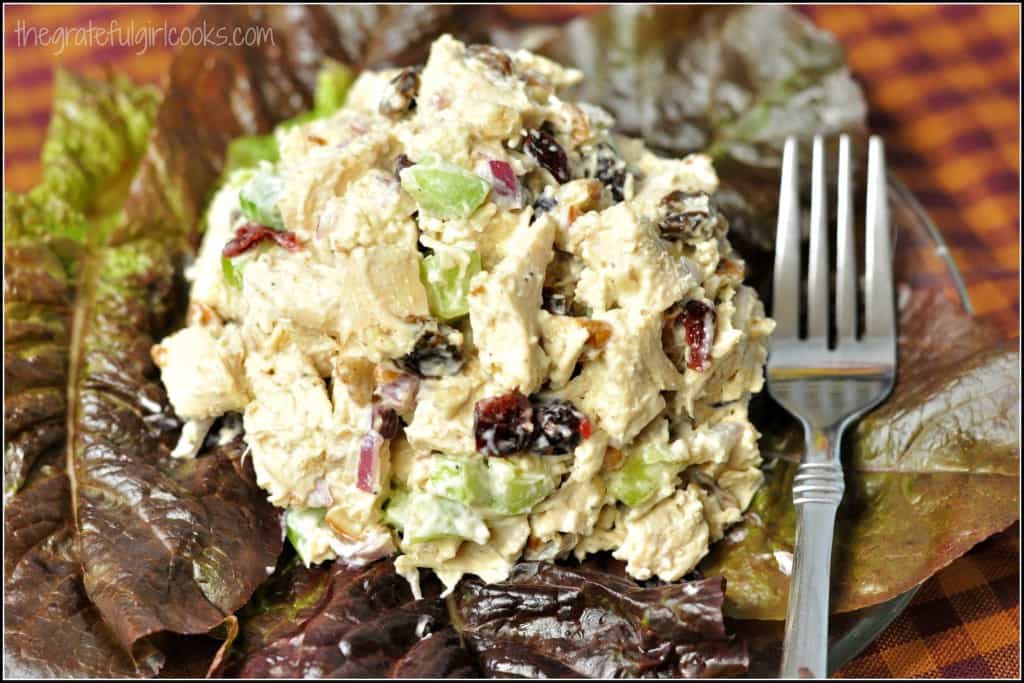 This chicken salad is a great quick bite for lunch OR for a light dinner! I sure hope you will try making this for yourself… it's really delicious! Hope you have a wonderful day and enjoy each minute of life you are blessed with!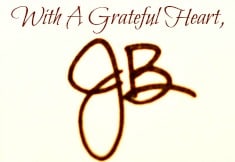 Chicken Salad
Enjoy this easy to prepare, light chicken salad, featuring chicken breast, celery, red onion, raisins, dried cranberries and pecans.
As Prepared By:
JB at The Grateful Girl Cooks!
Recipe type:
Entree Salad
Serves:
6-8 small servings
Ingredients
4 boneless, skinless chicken breasts (frozen)
1½ cups diced celery (I use 3 stalks-slice each stalk in thirds lengthwise, then chop)
1 cup chopped pecans (can also use walnuts)
¾ cup raisins
¼ cup dried cranberries
½ cup diced red onion
1⅓ cups mayonnaise
salt and pepper, to taste (approx. ½ teaspoon salt, ¼ teaspoon pepper-more, as needed)
Red leaf lettuce leaves (to serve salad on top of-this is optional, but it looks pretty!)
Directions
Place frozen chicken breasts into a large saucepan. Cover completely with water. Cook on HIGH for 45-50 minutes (until chicken is done). Remove from heat. Remove chicken to a cutting board and let cool.
In a large salad bowl, place the celery, pecans, raisins, dried cranberries, and red onion.
Once the chicken has cooled off (to the touch), cut it into 1 inch cubes. Add the chicken to the salad bowl.
Add the mayonnaise, salt and pepper. Mix well to combine all ingredients.
Taste salad. Add additional salt and pepper, to suit your taste. I usually have to add a bit more. When ready, cover salad with plastic wrap, and place in refrigerator to chill for 2-3 hours or more (the longer the flavors have time to come together, the better!)
When ready to serve, place a few red leaf lettuce leaves onto serving plate. Arrange salad into a mound in the center of the lettuce. Serve, and enjoy!
Keep leftovers covered and refrigerated. Will keep for several days!
Notes

Prep time includes time for cooking the chicken, but does not include refrigeration time.


Here's one more to pin on your Pinterest boards!

Save
Save
Save
Save