Chocolate and peanut butter… such a great flavor combo!  I tried to capture that "yummi-ness" in homemade ice cream I made one summer when I was experimenting with lots of homemade ice cream flavors, and tasting them, too!. Somebody has to do it, right?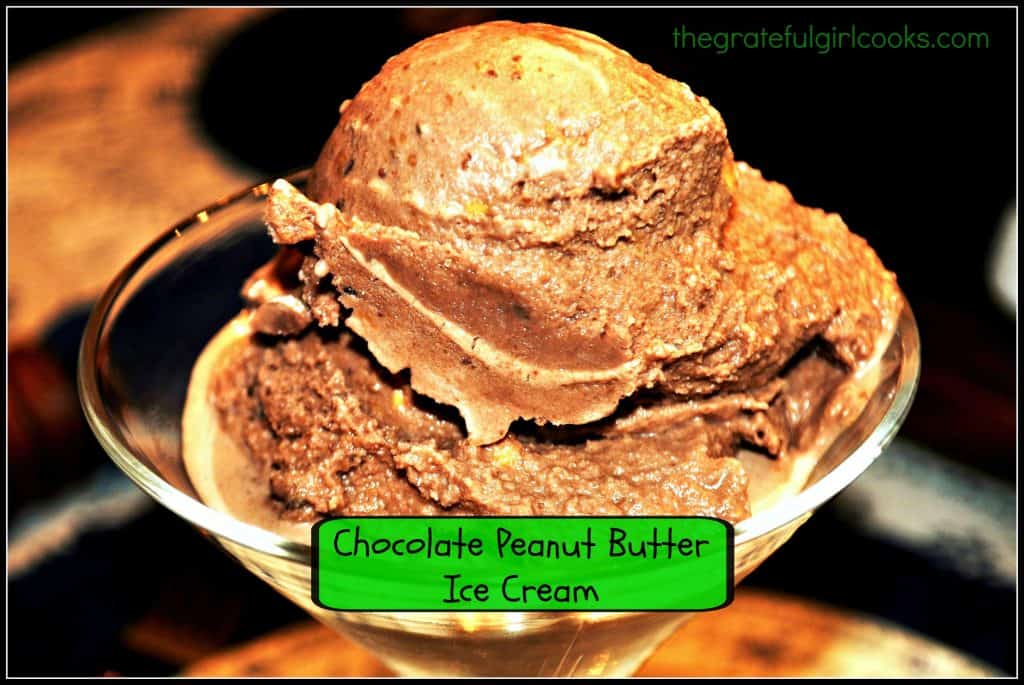 I took a basic chocolate ice cream recipe from the book that came with our ice cream maker, and incorporated some creamy peanut butter into the mix. The result was really wonderful.  Making this ice cream was really a no brainer, if I'm being truthful. I added some peanut butter to the ice cream mixture, poured it into my ice cream maker, then 5 minutes before it was done freezing, I simply added more peanut butter (in small bits) to the ice cream. By adding bits of peanut butter to the mostly finished ice cream, it allowed for it to be spread throughout the ice cream.  Easy-Peasy!
The end result was a wonderful taste treat on a hot, summer's day! And surprise, surprise… It's even good in Winter, Spring, and Fall!
Hope you will consider giving this recipe a try! If you like ice cream, AND you like chocolate and peanut butter…I think you will enjoy it!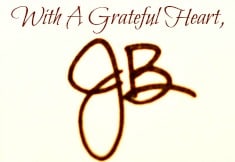 Recipe slightly adapted from: Cuisinart Automatic Frozen Yogurt-Ice Cream & Sorbet Maker Instruction and Recipe Booklet, page 4

Chocolate Peanut Butter Ice Cream
A cold and creamy ice cream, featuring the flavor combination of chocolate and peanut butter. Yum!
As Prepared By:
JB at The Grateful Girl Cooks!
Ingredients
1 cup whole milk
½ cup granulated sugar
8 ounces semi-sweet chocolate chips
2 Tablespoons peanut butter
2 cups heavy whipping cream (very COLD)
1 teaspoon vanilla extract
1 heaping Tablespoon peanut butter (added in bits right before ice cream is finished)
Directions
In a small saucepan, heat the milk until it has begun to bubble around the edges of the pan (but not a full rolling boil). You want it hot, but not boiling.
Using a food processor or blender, pulse the granulated sugar and chocolate pieces together, until the chocolate is finely chopped up. Add the 2 Tablespoons of peanut butter, then add the hot milk.
Process until the mixture is well blended, and the mixture is fairly smooth.
Pour the mixture into a large bowl, and let it cool COMPLETELY. Once mixture is cool, stir in the whipping cream and the vanilla extract. Cover ice cream mixture with plastic wrap and put into the refrigerator for at least an hour (the longer time, the better- you want it cold).
When thoroughly chilled, remove mixture from refrigerator. Turn on the ice cream maker, and pour the cold ice cream mixture into the canister. Freezer per manufacturer's instructions (usually about 25 minutes). About 5 minutes BEFORE the ice cream is done, add the final heaping Tablespoon of peanut butter, (in small amounts at a time), to the ice cream.
When ice cream is done, and has thickened, transfer to a covered container and place in freezer for an hour or two to firm up and "ripen".
Notes
Note that most of the "prep" time is inactive time, while mixture is refrigerating or firming up in freezer. I found it easiest to make up the ice cream and refrigerate it early in the day. I then made the ice cream right before dinner, then it was "ready and firmed up" for dessert a couple hours later!
Save
Save
Save