When it's cold outside, a big pot of hot soup always helps to take the chill off! A few days ago, on a drizzly, cold Pacific Northwest day, I made Corn, Bacon & Potato Chowder, from a recipe I've used for over 30 years. This thick, creamy chowder is easy to prepare, very filling, delicious, and is an old family favorite!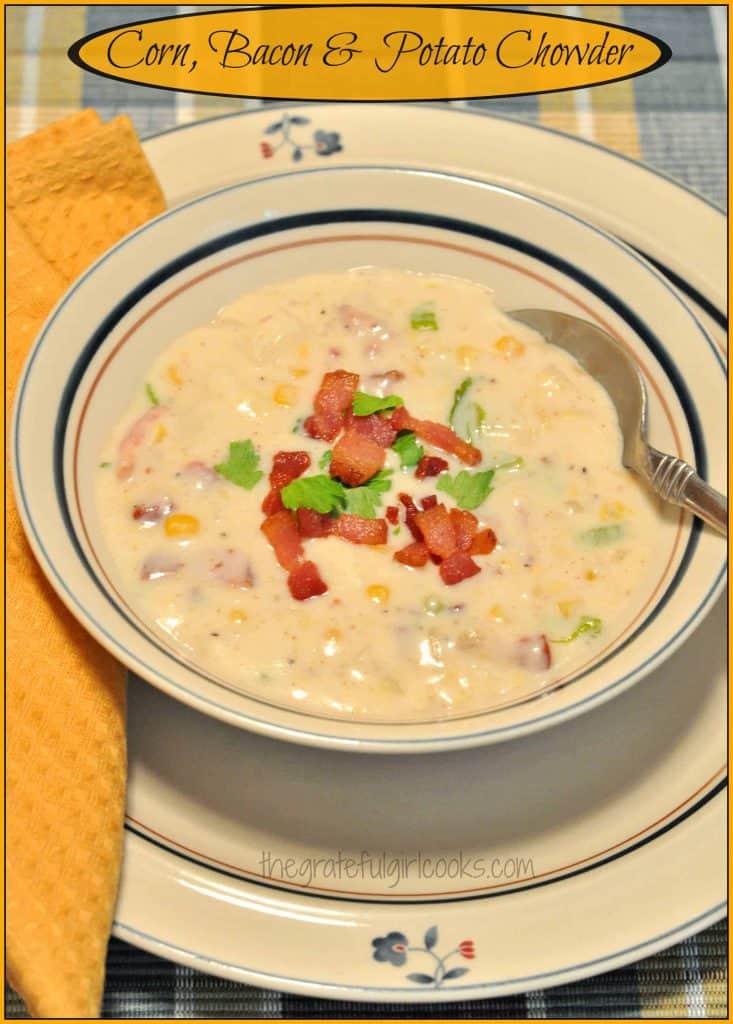 The recipe is simple to prepare, and the reward for a small amount of your time is a big pot of thick, tasty chowder! Here's how easy it is to prepare:
Start by cooking the bacon. (Bacon makes everything good). Fry the bacon until crisp. I like to stack the bacon, slice into thin strips, then fry it in the pan I am going to use for the soup.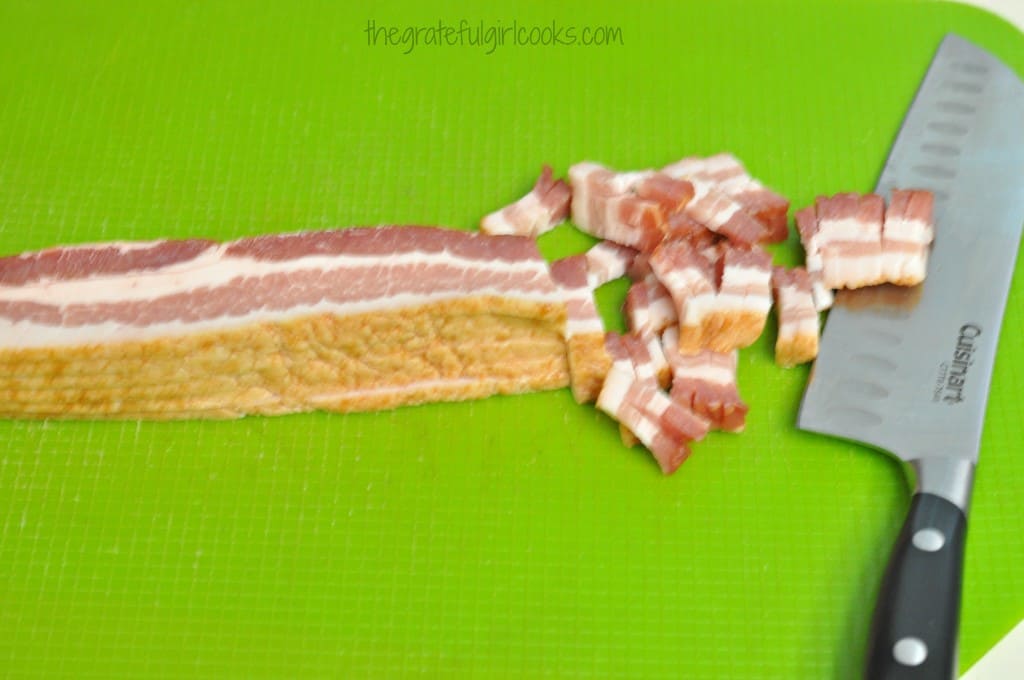 Frying the bacon in the same pan I cook the soup in, makes this a one pot meal! Less cleanup!  YES!!!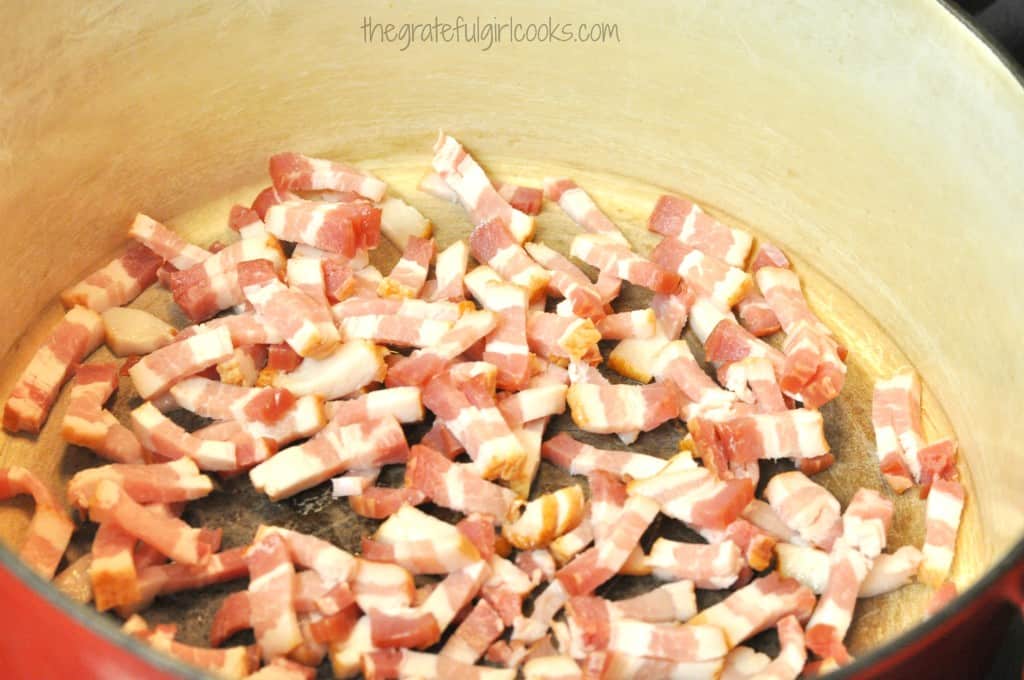 Once bacon is really crisp, remove (using a slotted spoon) to a paper towel lined plate.  Set a few bacon pieces aside to garnish the soup with later, if desired.  Leave 3 Tablespoons of bacon grease in pan, and discard the rest.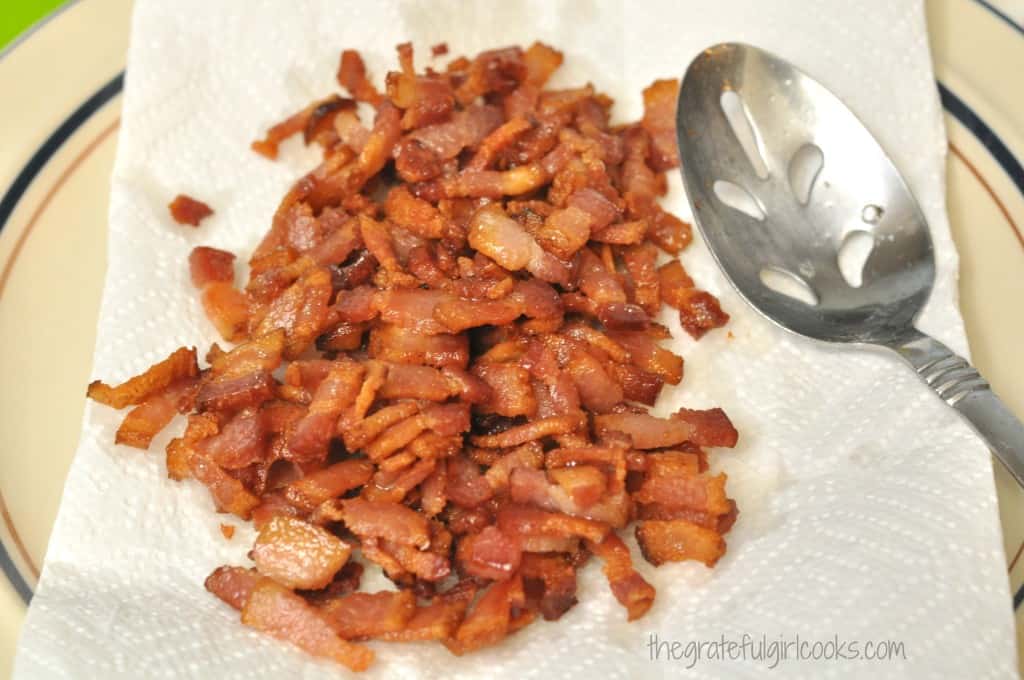 Add onion and celery (including celery tops) to the 3 Tablespoons bacon drippings left in the pan. Cook & stir until onion is tender (3-4 minutes).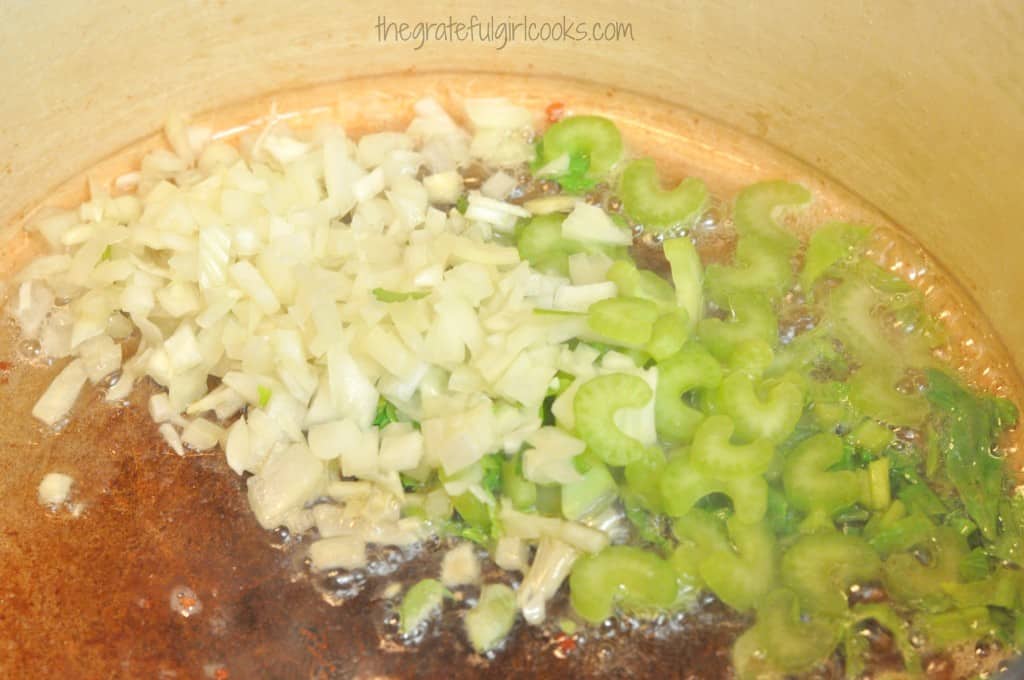 Add 3 Tablespoons flour (this will act as a thickening agent for your soup). Stir to combine, and cook on low heat for a minute or two (this helps to "cook out" the floury taste).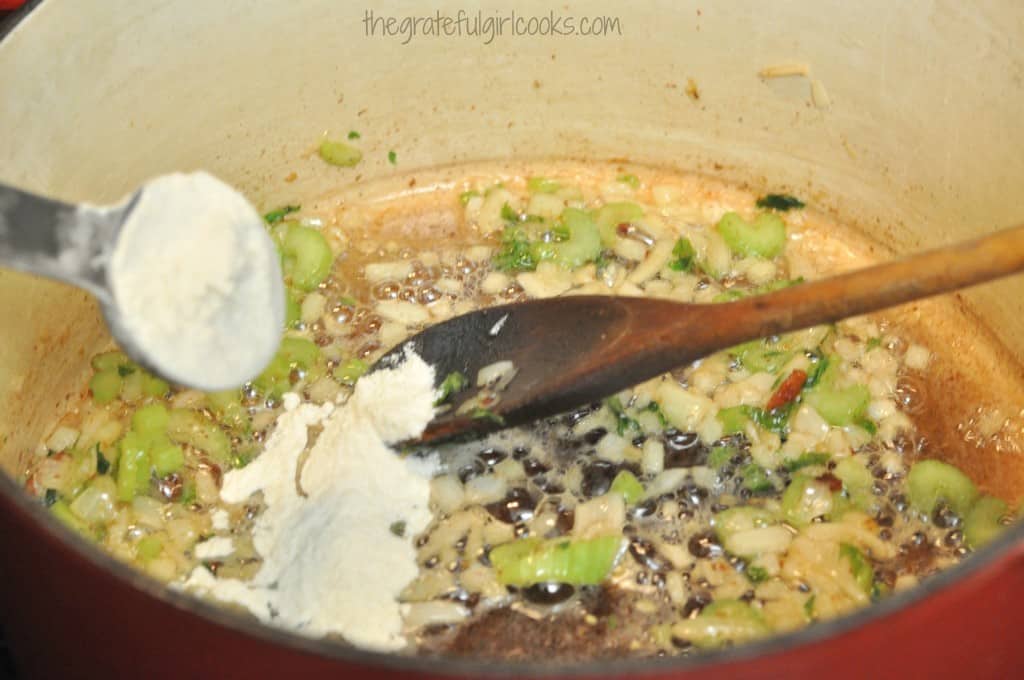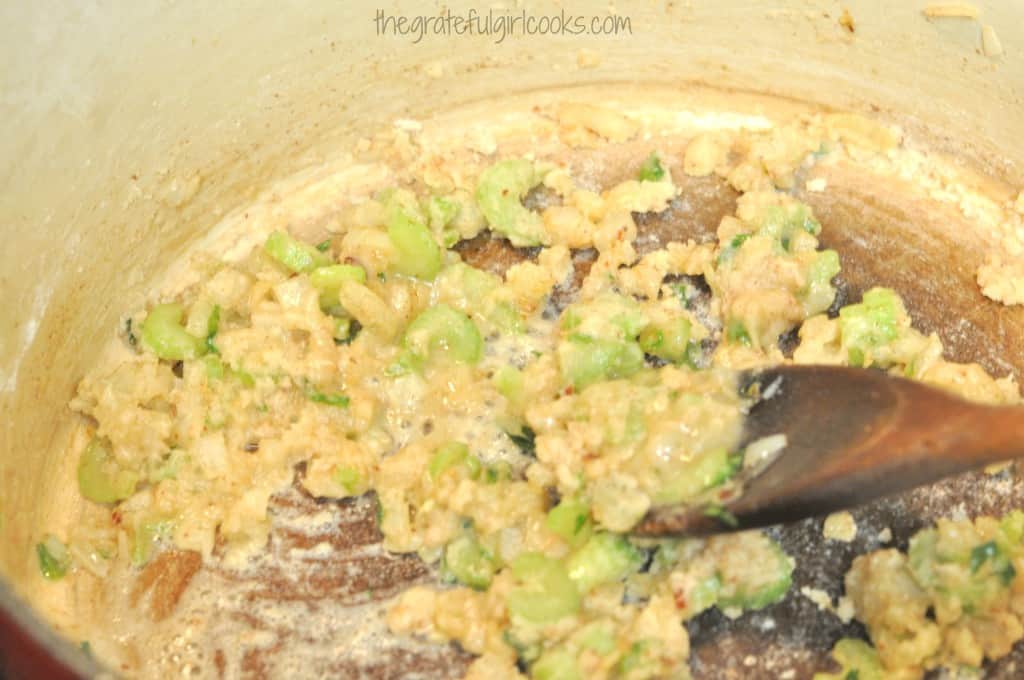 Add milk to pan. Stir well, to combine. Heat to boiling, stirring constantly (scraping bottom of pan, so it doesn't stick). Once it boils, cook for one more minute, stirring constantly. The mixture will thicken as it cooks.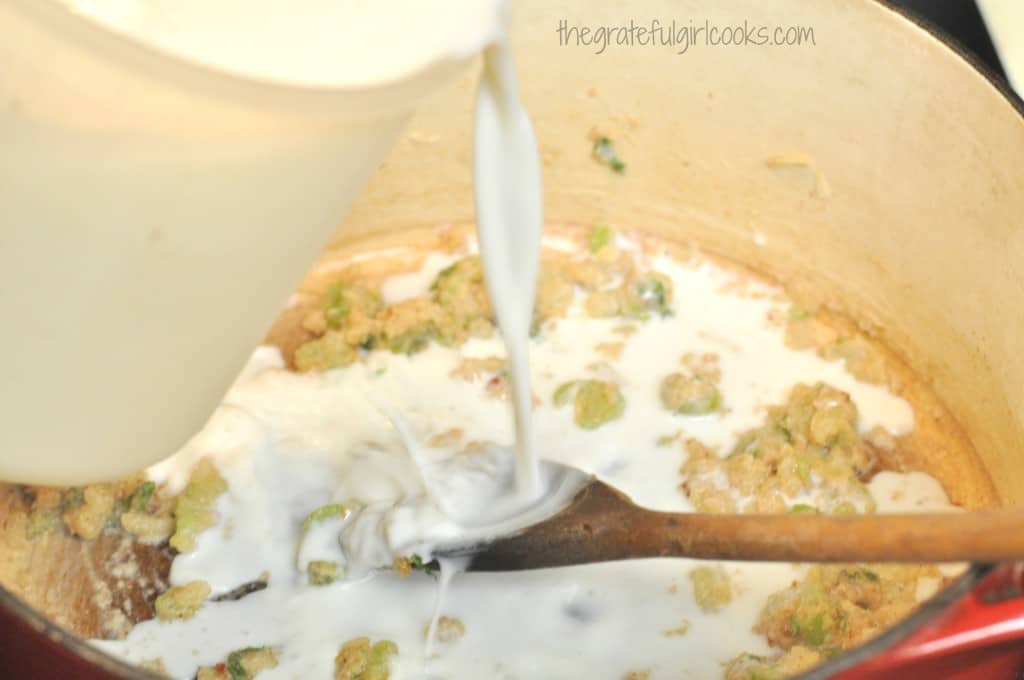 The next step is to add in the cream style corn, potatoes, bacon, salt and pepper. Here is a photo of the kind of potatoes you need for this recipe. They are called new potatoes or whole white potatoes at the grocery store.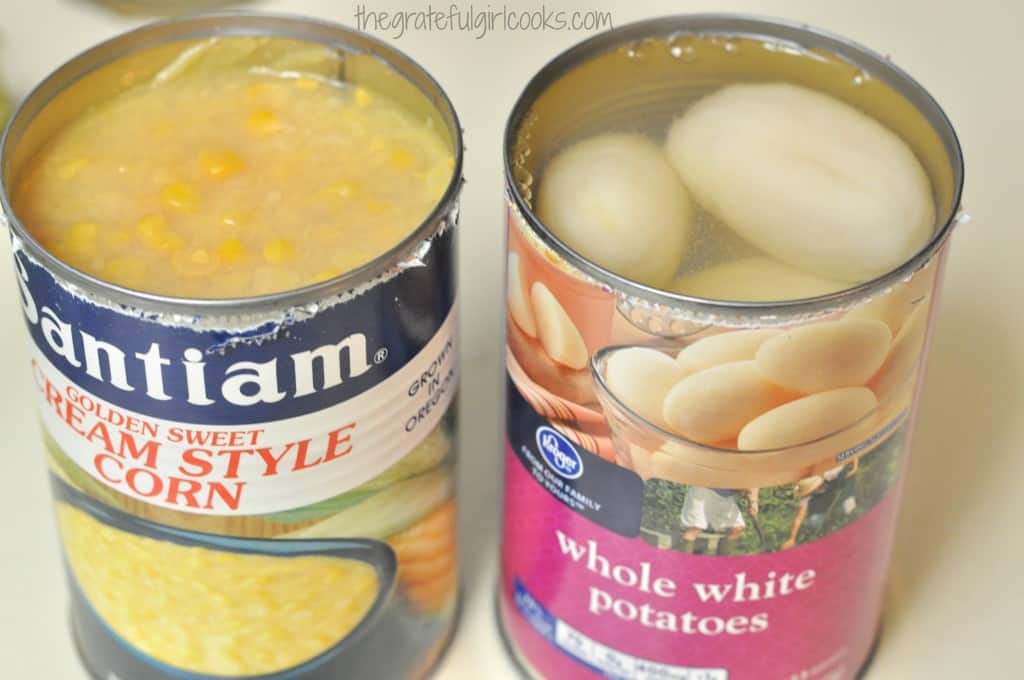 Drain, then dice the potatoes before adding them to soup. I cut them in half length-wise, then in half again lengthwise, then dice.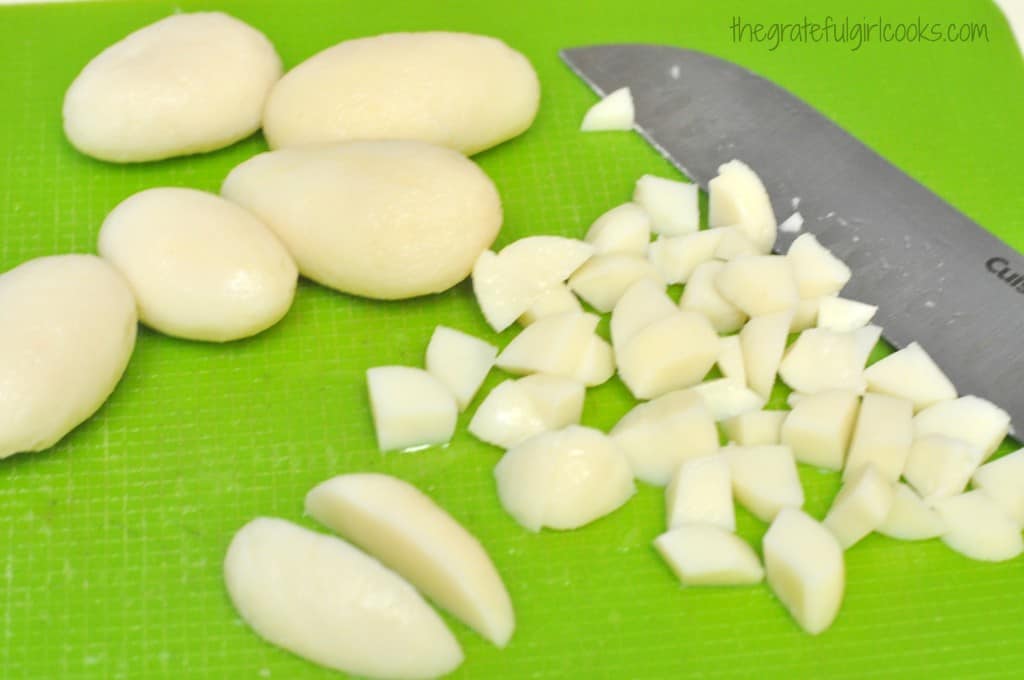 Once potatoes are diced, add in the potatoes, cream style corn, bacon pieces, salt and pepper; stir to combine.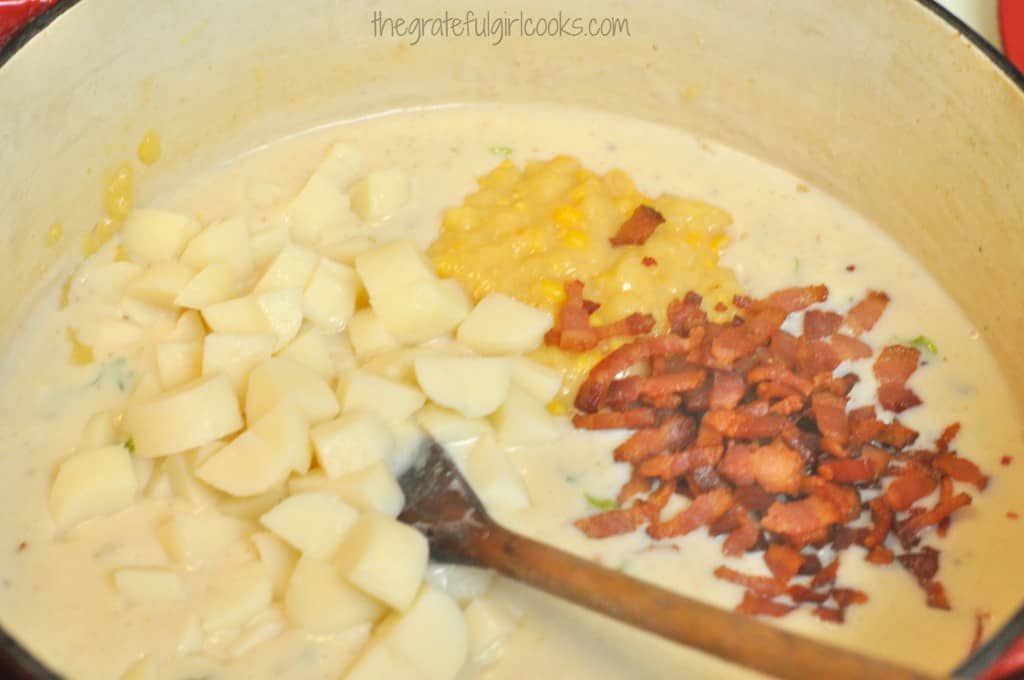 Cook only until heated through. Taste test; add additional salt and pepper to suit your taste.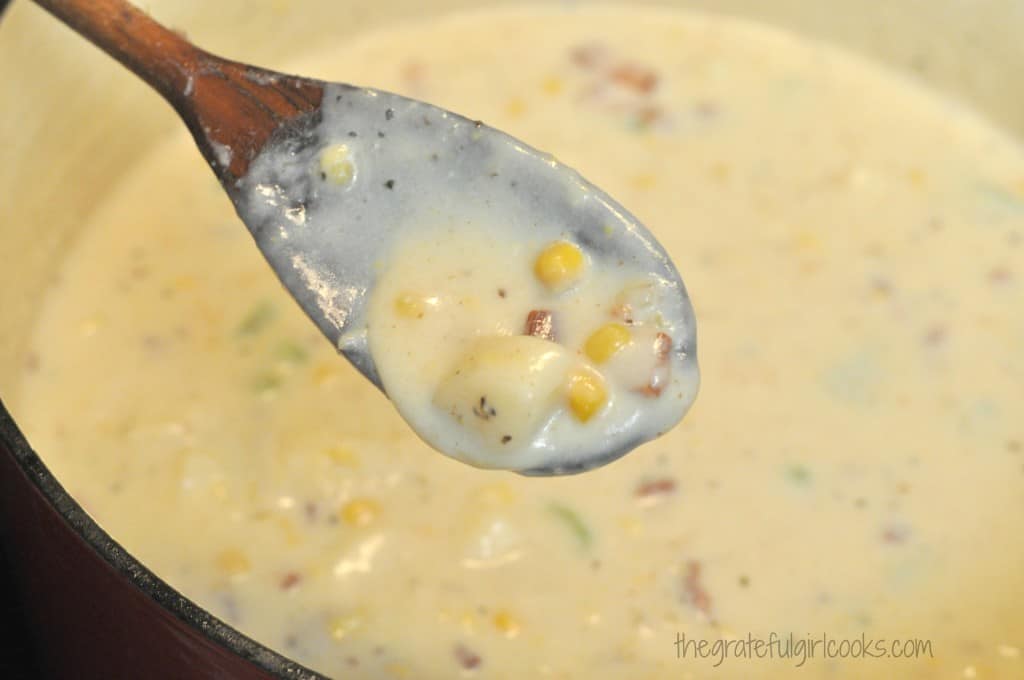 Ladle the soup into bowls (or cups). If you use bowls, it will make 4-5 servings. If you use small mugs or cups, it should make about 6-8 servings.  Garnish with reserved bacon pieces, and chopped celery tops, if desired. Enjoy this hearty, filling soup!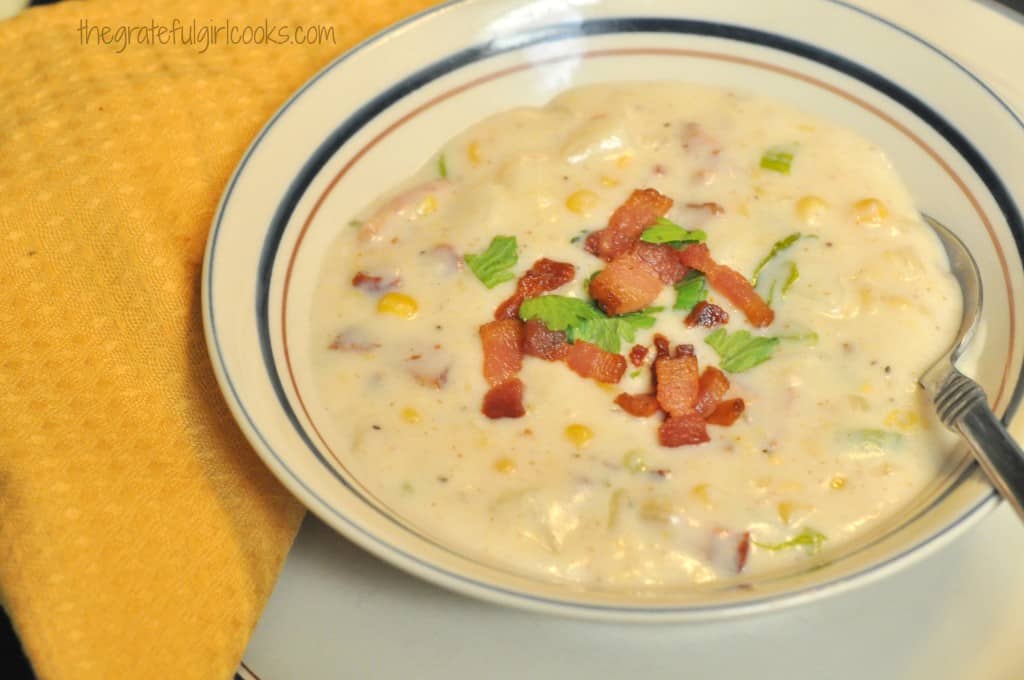 I really hope you will consider making this soup… it is so good for lunch OR dinner, especially on a cold day!  Have a great day, and may God bless and hold you close throughout it.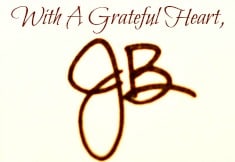 Recipe Source: I got this recipe from my sister-in-law over 30 years ago, written on a 3×5 card. Do not know the original source, however!

Corn, Bacon & Potato Chowder
This simple, comforting chowder features corn, bacon, and new potatoes, and will warm you up on a cold day!
As Prepared By:
JB at The Grateful Girl Cooks!
Ingredients
½ pound bacon (I used 6 thick slices bacon)
½ cup chopped onion
½ cup sliced celery (including the celery tops)
3 Tablespoons flour
4 cups milk
1 can cream style corn
1 can new potatoes (whole white), drained and diced
½ teaspoon salt
¼ teaspoon black pepper
Bacon pieces and celery tops (chopped), for garnish if desired
Directions
In large soup pot, cook bacon until crisp; drain and set aside (save a few bacon pieces for garnish). Leave 3 Tablespoon bacon drippings in pan (discard the rest).
Add onion and celery; cook/stir until onion is tender (3-4 minutes).
Add and blend in flour; cook over low heat for 1-2 minutes, stirring constantly.
Stir in milk, mix well to combine. Heat to boiling, then boil for 1 minute, stirring constantly.
Add in creamed corn, diced potatoes, bacon pieces, salt and pepper to pan. Heat only until heated through. Taste test soup; add additional salt/pepper, if necessary, to suit your taste.
Ladle soup into serving dishes. Garnish with crisp bacon pieces and chopped celery green tops. Serve hot, and enjoy!

Here's one more to pin on your Pinterest boards!

Save
Save
Save