One of the things I love about the crisp and cool weather in Fall is making Potato Soup… Fully Loaded Potato Soup!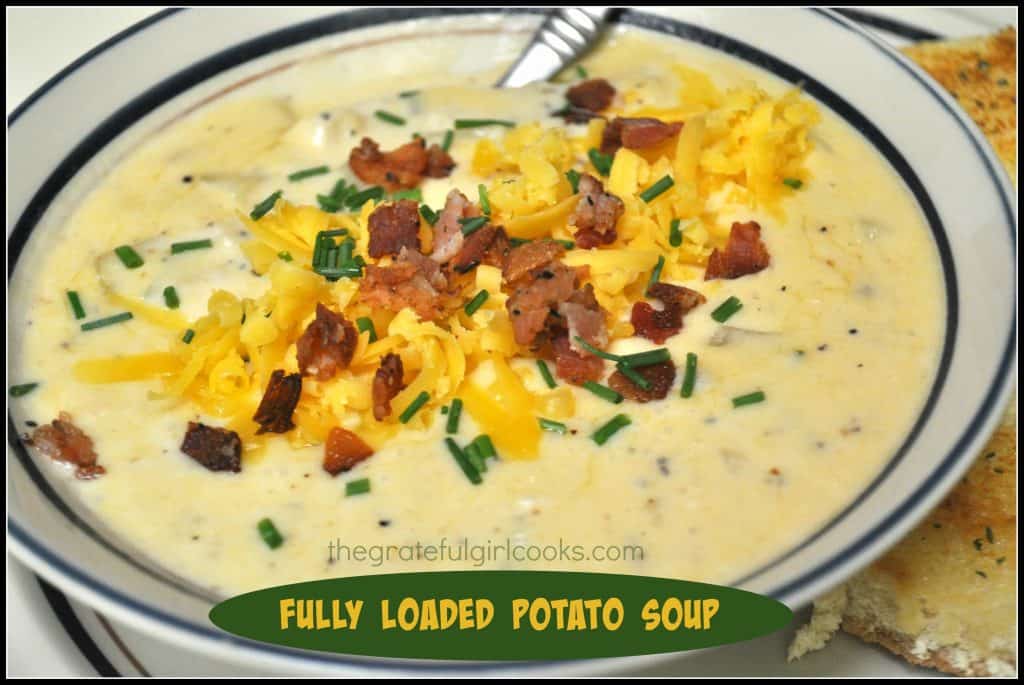 Fully LOADED Potato Soup. Loaded with all the good things you would stuff a baked potato with, given the chance. Bacon, cheese, chives, sour cream… well – you get the picture! A hot bowl of this flavor-packed potato soup on a cold day is just what you need to satisfy a growling stomach…
A couple of years ago I had about 9 ladies from a Bible Study group I was in, over for lunch. I made a big pot of this soup…I didn't use a recipe… just kind of put it all together and it was wonderful! I received several compliments on the soup. My friend, Judy asked me where I got the recipe, and I had to tell her I just made it up as I went along. I couldn't even give her the recipe because I didn't write anything down as I cooked. Epic FAIL.
Sooo… two years later and I have finally remembered to document the making of this delicious and filling soup as I prepared a big batch recently on a rainy, cold, dismal day (aren't those the BEST days for making a big pot of soup?) It's easier than you think to make it… and IT IS YUMMY! Perfect for a cool evening's meal (very filling) and lunch leftovers the next day… and the next day…! Hope you will give this recipe a try… I am confident you will LOVE it!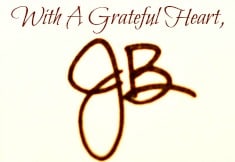 Fully Loaded Potato Soup
Potato soup, filled with bacon, cheese, sour cream and green onions...like a fully stuffed baked potato in SOUP form. Delicious!
As Prepared By:
JB at The Grateful Girl Cooks!
Ingredients
5 large Russet potatoes, cut into 1 inch cubes
3 Tablespoons butter
Salt and Pepper, to taste
2 heaping Tablespoons flour
5 pieces bacon
5 green onion stalks, sliced (green stem and white bulb),
1½ cups grated cheddar cheese (reserve a bit for garnish)
5 cups milk
¾ cup whipping cream
½ cup sour cream
2 Tablespoons chives, chopped (for garnish)
Directions
Cook bacon in skillet. When half way cooked, remove 2 slices. Chop into small pieces and place into a large soup pot. Continue cooking the 3 pieces of bacon remaining in the skillet until crispy. Drain, crumble, and set aside (2 slices will go into the soup later, one will be used for garnish),
Melt 3 Tablespoons butter in the soup pot with the 2 slices of chopped, half-cooked bacon. Add cubed potatoes, and chopped green onions,, and stir to combine. Cook potatoes, stirring frequently for about 7-8 minutes, or until softened slightly.
Generously salt and pepper the potatoes. Sprinkle potatoes with 2 heaping Tablespoons of flour. Stir well to combine..
Add milk to soup pot and stir well. Bring to a boil, then reduce heat to a simmer.
Add whipping cream (do not boil), cheddar cheese, and 2 slices crispy, (chopped) bacon. Stir to combine.
Simmer on low for 30-35 minutes, stirring occasionally. Taste and add additional salt and pepper, if needed.
Right before you serve the soup, add the sour cream and mix well.
Ladle the soup into serving bowls, and garnish with a bit of crumbled bacon, cheddar cheese, and the chopped chives. Enjoy!
Notes

**I usually add 2 slices of halfway cooked bacon to the soup pot to cook with the potatoes for extra flavor, BUT If you prefer, you can cook ALL the bacon until crispy. Add all but one piece to the soup at one time (saving one slice to crumble for garnish!)


Here's one more to pin on your Pinterest boards!

Save
Save
Save
Save