Well, I tried a new bagel recipe this past weekend… Cinnamon Crunch Bagels! Oh my goodness – they were absolutely delicious!!!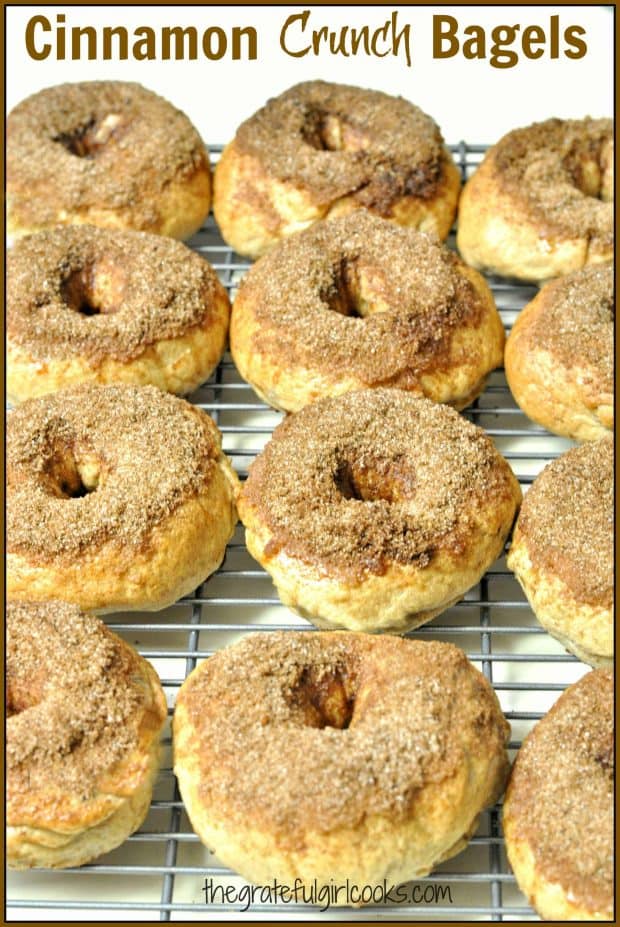 I like to order Cinnamon Crunch Bagels (my favorite!) at Panera Bread, and love the cinnamon-sugar coating on top of the bagels that crisps up as they bake, AND the cinnamon flavor that permeates the bread dough. Then I found this recipe on Pinterest and decided to make my own! I'm so glad I tried this recipe… these "cinnamon-y" bagels are amazing!
I enjoy making bagels. They're easy to prepare, and this recipe make a dozen! I've already made New York Style Blueberry Bagels, Gingerbread Bagels, Cranberry Orange Bagels, Everything Bagels, and Jalapeno Cheese Bagels, so I was excited to try a new variety. And, wow.. these were so good! Basically the process is: dough is mixed, rises, bagels formed, boiled, then baked, and the result is a chewy New York style bagel, for the fraction of the cost of buying them.  Here's how you make them:
Yeast, warm water and brown sugar is added to the bowl of a stand mixer, and rests for 10 minutes to activate the yeast. Once yeast is bubbly, cinnamon, salt and flour are added.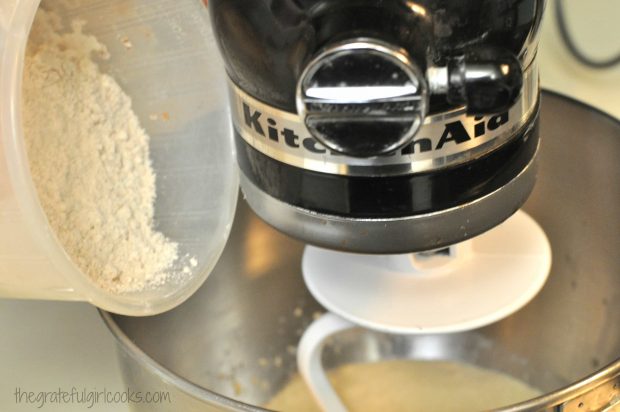 The dough is kneaded (with a dough hook) on low, and additional flour is added slowly. Dough is kneaded for approximately 10 minutes, until it forms a smooth, slightly elastic ball of dough. The dough ball is then placed in a large, greased bowl and turned over to make sure all sides are lightly coated (so it won't dry out). Bowl with dough is covered and left in a warm place to rise for an hour, or until the dough has doubled in size.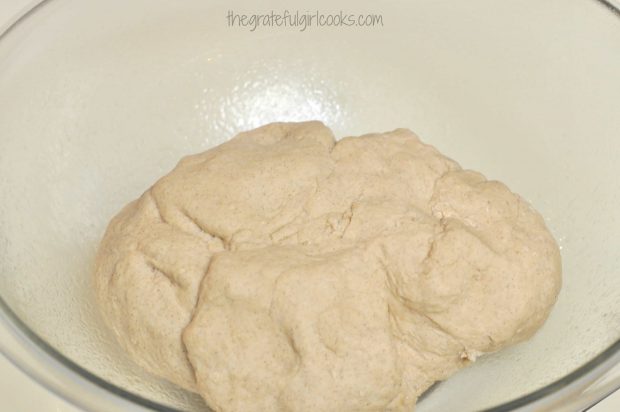 While dough is rising, mix ingredients for the cinnamon sugar topping and set aside. Easy.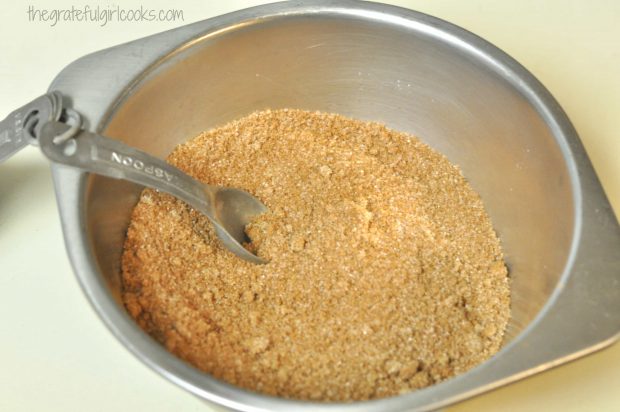 Once the dough has doubled in size, it's ready to go…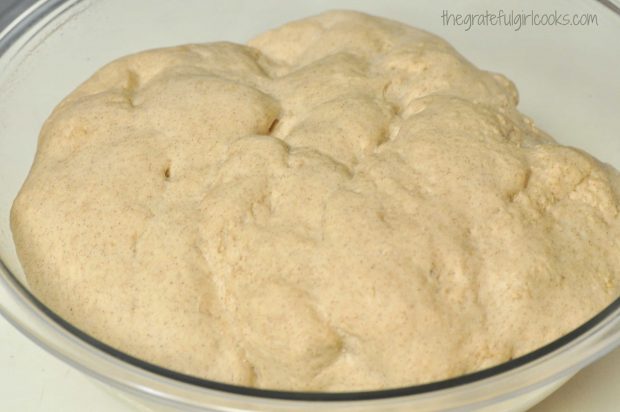 Give the dough a good punch with your fist, which helps "deflate" the dough. "BOOM".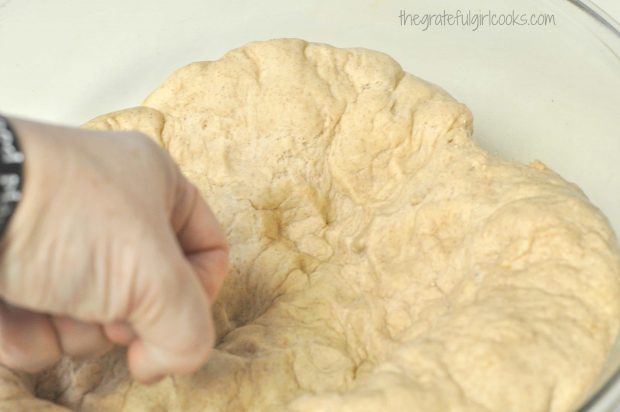 Divide the dough into 12 equal sized dough balls. Smooth the dough by pulling the edges (with your hands) toward the bottom of the dough ball for a more rounded, uniform appearance on top. Place the 12 dough balls on a lightly floured work surface (seam down).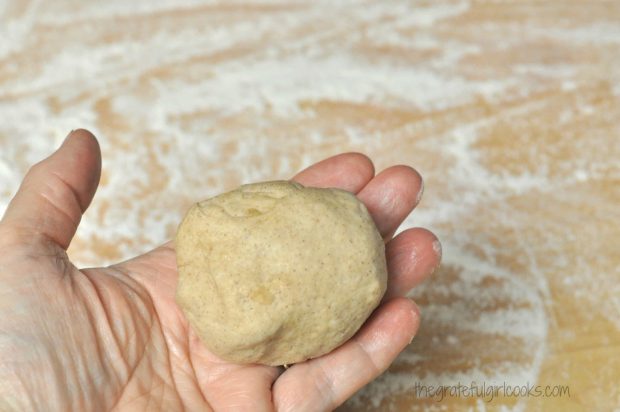 One at a time, use your thumb to make a hole in the center of the dough ball. Open the hole up through the bottom of the dough, and slightly pull on the dough to expand the hole a bit. Repeat process for all 12 bagels. By the way… see all the little specks of cinnamon in dough?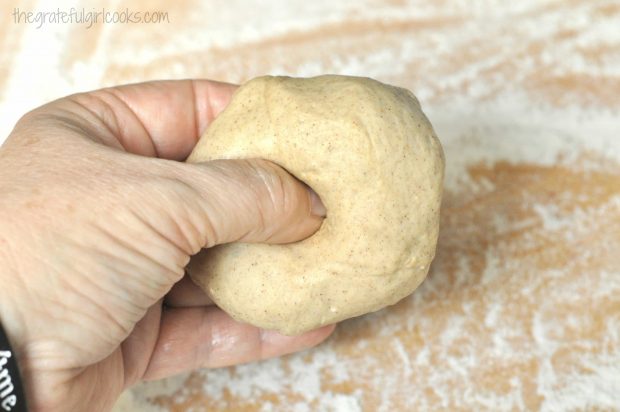 Here they are after all the holes have been formed, so you can see what they will look like. Let the formed bagel dough rest for 10 minutes. **While they are resting, bring a large pan of water to a full boil (this recipe has you add a Tablespoon of brown sugar to the water).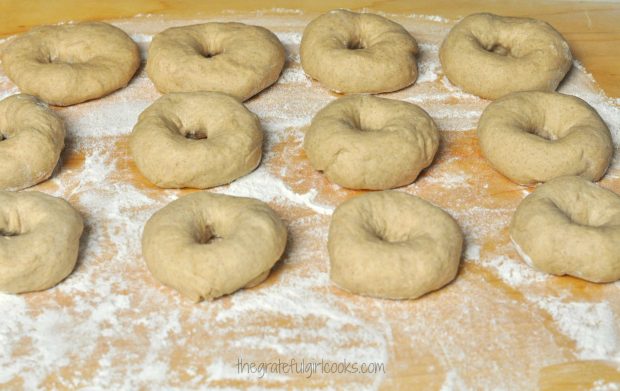 Once the water in pan is boiling, add 2-3 bagels at a time. Boil for 45 seconds, then flip them to the other side and boil other side for additional 45 seconds. I use 2 chopsticks to flip them (one in the middle of hole and one on the outside). Once done, remove bagels with a slotted spoon (to drain), and place on a paper towel to absorb water. Then place bagels seam side down onto a greased baking sheet. Repeat process until all are boiled and on baking sheet.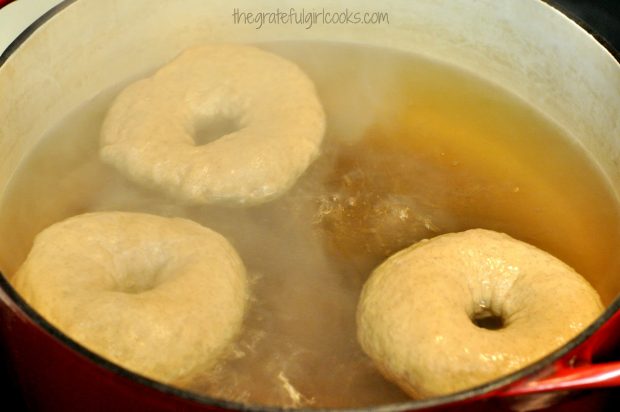 Here are the bagels on the greased baking sheet after boiling. Not too glamorous, right?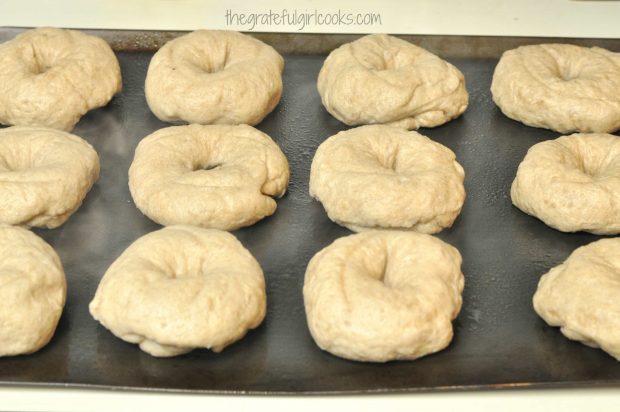 Now grab the topping mixture and evenly sprinkle it over the tops of the bagels. It's a bit messy, because topping will fall onto the baking sheet, but just keep going. Use all the topping mixture!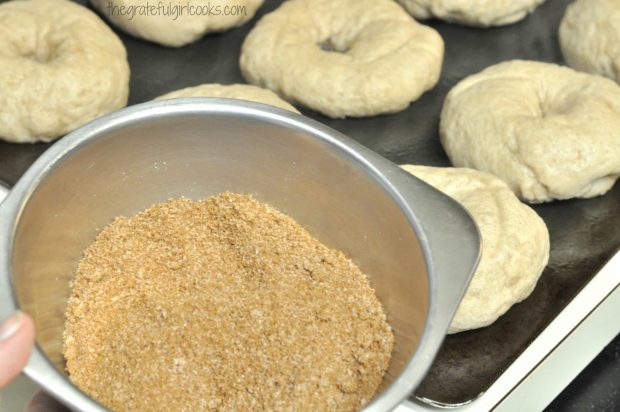 See how much topping is on the baking sheet below? I used a pastry brush to brush as much of it as I could get onto a plate, then simply added it back onto the tops of the bagels.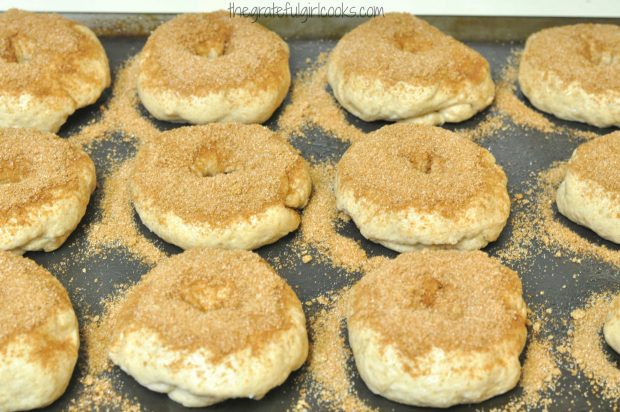 The bagels are baked in a 400 degree oven for 18-20 minutes (mine took a bit longer to get them the golden brown color I desired). Keep an eye on them around the 18 minute mark, and don't hesitate to cook them a few minutes longer until they're a golden brown color.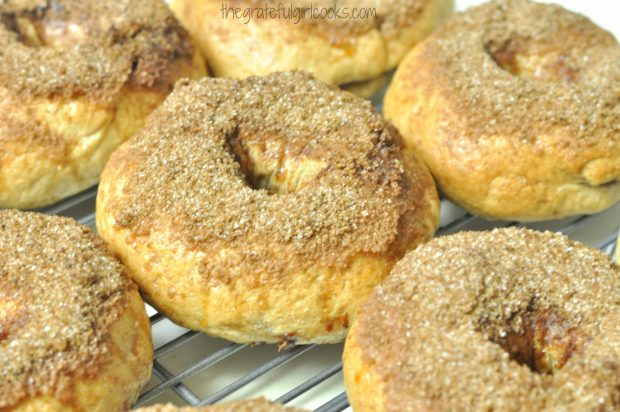 Let the bagels cool on a wire rack. They taste great broiled, with cream cheese! (NOTE: Do NOT put these bagels into a toaster or you will be sorry, as the sugar will melt into the appliance). If you are going to broil them (which is what I do), gently slice them in half with a serrated knife, and place them topping side down on a baking sheet to broil. Know that a bit of the topping will probably crumble or melt a bit when broiling, but no worries… just scoop it right back up onto the bagel once it's done, slap some cream cheese on it… and ENJOY these amazing bagels!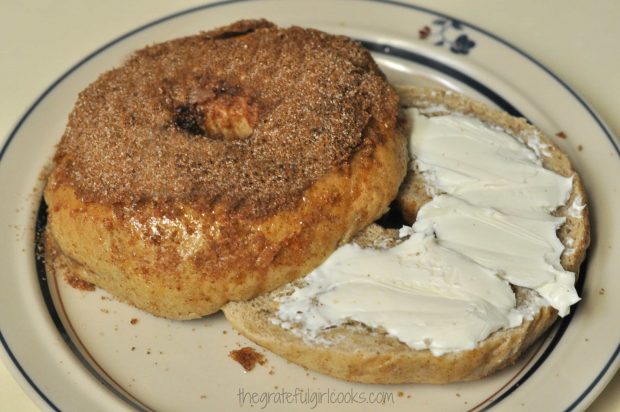 I am thrilled with the way these turned out. They are sooooo GOOD!  I took several bagels and some cream cheese over to my friend Stephanie's home as a surprise, and her family ate them for Valentines Day breakfast (and I heard back from her that they really enjoyed them, as well).  Don't be afraid to try making bagels at home… be FEARLESS!  Bagels are fairly easy and FUN to make, and even better to EAT! Hope you'll give these a try!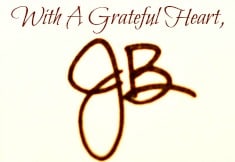 Recipe Source:  http://www.bunsinmyoven.com/2014/03/31/cinnamon-crunch-bagels/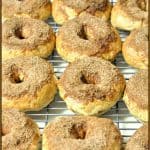 Cinnamon Crunch Bagels
Cinnamon infused New York-style bagels with a cinnamon-sugar crunchy top are on the menu for a tasty breakfast!
Ingredients
For Bagels:
2

teaspoons

active dry yeast

1 1/2

cups

warm water

(110-120 degrees)

1/4

cup

brown sugar

, divided

3

teaspoons

cinnamon

1 1/2

teaspoons

salt

5

cups

all purpose flour
For Topping:
1/4

cup

granulated white sugar

1/4

cup

brown sugar

3

teaspoons

cinnamon
Instructions
Place yeast, warm water and 3 Tablespoons brown sugar into the bowl of a stand mixer. Stir gently, then let rest for 10 minutes for yeast to activate. Yeast should be foamy and bubbly when ready.

Stir in cinnamon, salt, and 2 cups of the all purpose flour. Turn the mixer onto LOW and begin kneading the dough (using the dough hook attachment). Slowly add in the rest of the flour, a little at a time, until the dough begins form a ball. (You may or may not need to use all of the remaining 3 cups cups of the flour-I used it all). Continue to knead the dough on low for approximately 10 minutes or until a dough ball has formed that is both smooth and elastic in texture.

Place the dough into a greased or sprayed large bowl. Flip the dough over to ensure it is coated with the grease or spray, enough to ensure dough doesn't dry out. Cover the bowl with a dish towel or plastic wrap, and set in a warm place. Let dough rise for an hour or until it has doubled in size.

While dough is rising, make the topping by mixing granulated sugar, brown sugar and cinnamon in small bowl. Set aside.

Once dough has doubled in size, punch the dough down; divide evenly into 12 dough balls. Using your thumb, push down into the center of each one, breaking through the bottom. Use your fingers to gently spread the hole a bit more. Repeat process for all 12, then let the bagels rest for 10 minutes on a lightly floured surface.

While bagels are "resting", bring a large pan full of water to a boil. Add the last Tablespoon of brown sugar to the water. Once the bagels have rested and water is boiling, gently place 2-3 bagels at a time into the boiling water. Boil for 45 seconds, then carefully flip each to the other side, and cook for another 45 seconds. Remove bagels, using a slotted spoon. Place on paper towel (to absorb water). Repeat process with remaining bagels. Put all boiled bagels onto a greased baking sheet about 2 inches apart. Evenly distribute the cinnamon sugar topping over the tops of the bagels.

Bake bagels at 400 degrees for 18-20 minutes (or more) until lightly golden brown. Remove to wire rack to cool.
Save
Save