Creamy Potato Leek Soup. Hmmm… never having made it before, I pondered it for awhile before deciding to give this recipe a try (with a slight tweak to the original). I was growing leeks in my garden, but they were not as large as store-bought ones. I used them in the recipe anyway, and was surprised by how delicious this soup was!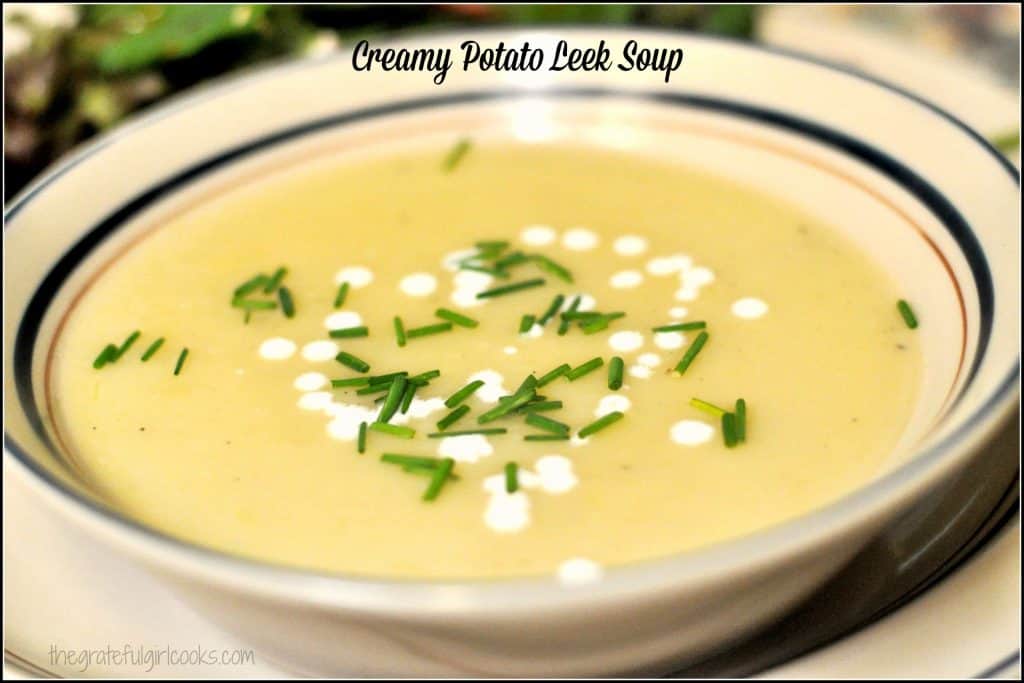 This soup was very easy to make, and my husband and I really enjoyed the taste and creaminess of Yukon Gold potatoes and leeks, cooked in seasoned chicken broth. I played with the original recipe a bit, and added cream to the finished soup for a delicious finish!
Here's how easy this soup is to make:  First, rinse and clean the leeks really well. Trim off the dark green parts of the stem, and the root end. Split the leeks in half, and rinse well, to ensure any grit gets washed out (do not skip this step… you don't want any sand, dirt, etc. from the leeks in your soup, do you?). Dice the leeks. Heat butter (or oil, if substituting) in large saucepan or Dutch oven. Add the diced leeks; cook them for several minutes (5-6) until they soften.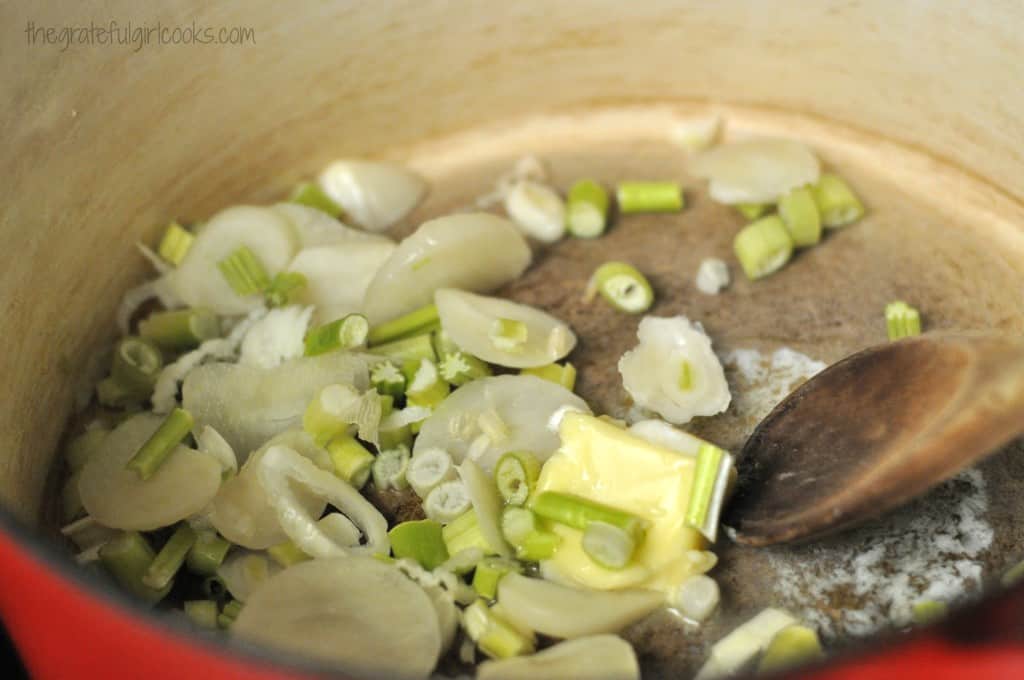 Add potatoes, chicken broth and water. Bring this mixture to a boil. Sprinkle with a little salt and pepper.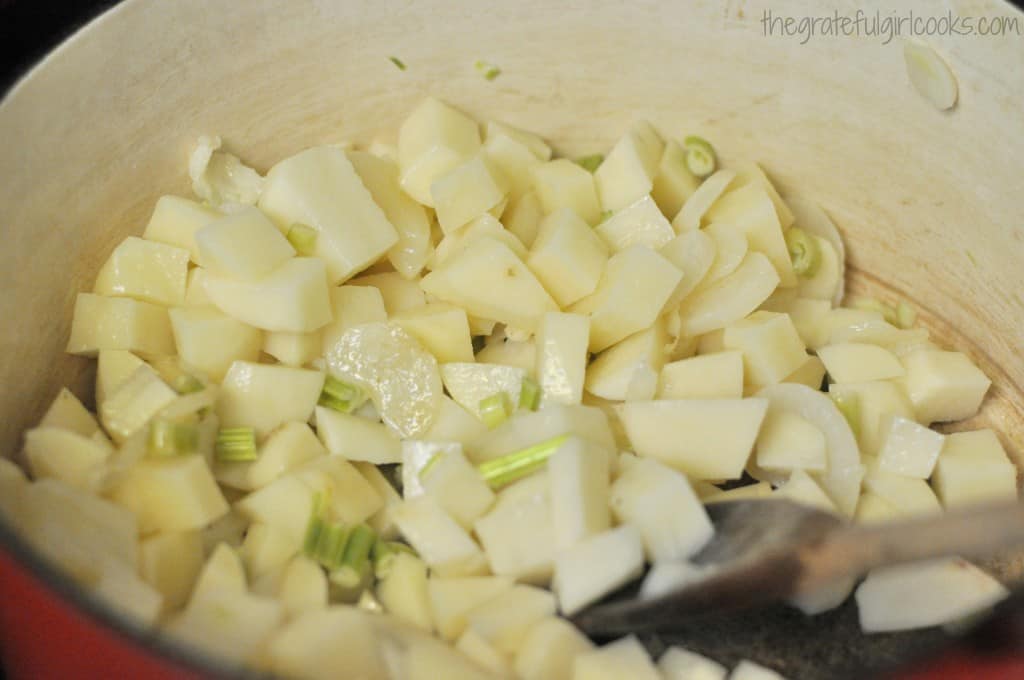 Once the mixture comes to a boil, reduce the heat; let it cook on a low simmer until the potatoes are "fork-tender". Times for this can vary depending on the size potato chunks you used.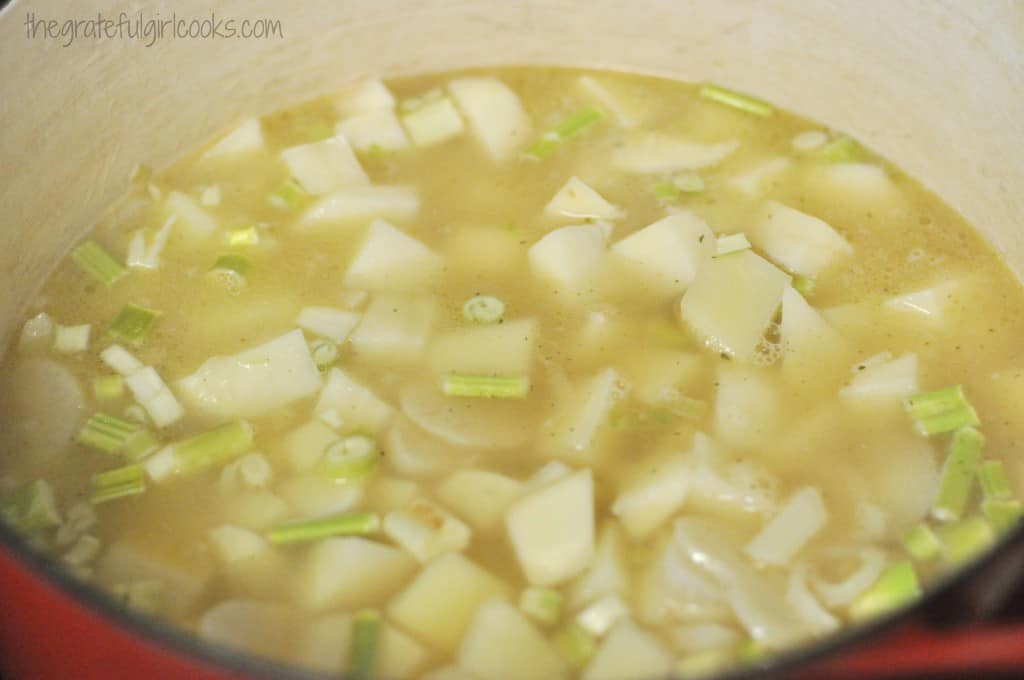 When the potatoes have softened up and are fork-tender, puree the soup. You can use an immersion blender, or can transfer soup in batches to a blender or food processor, to blend until creamy.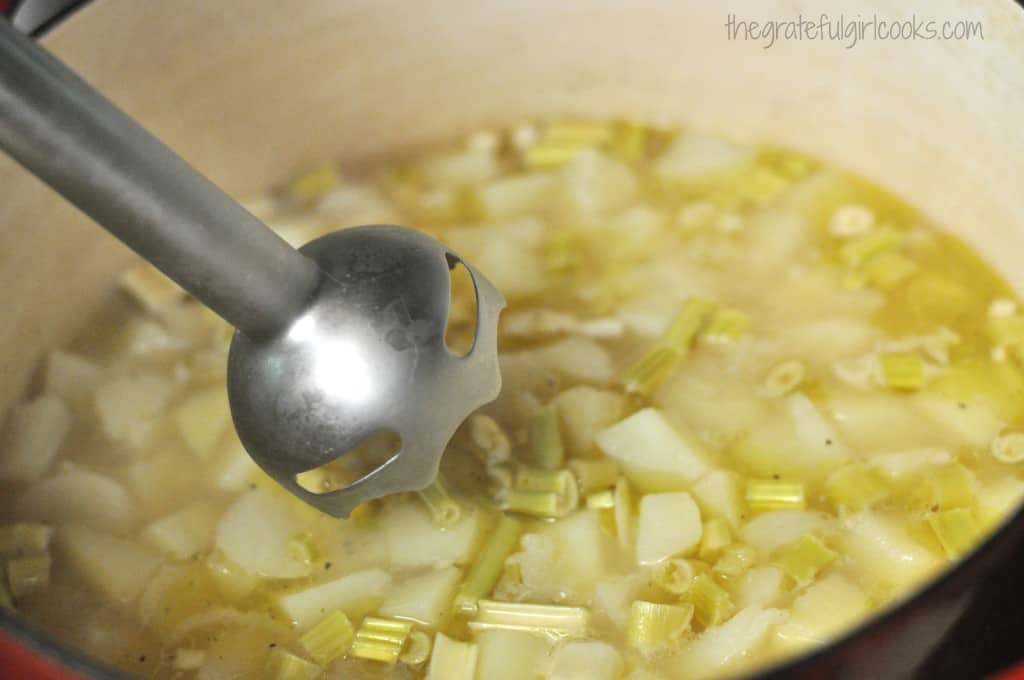 The soup should be thick. Take a taste. Adjust salt and pepper, if necessary, to suit your taste.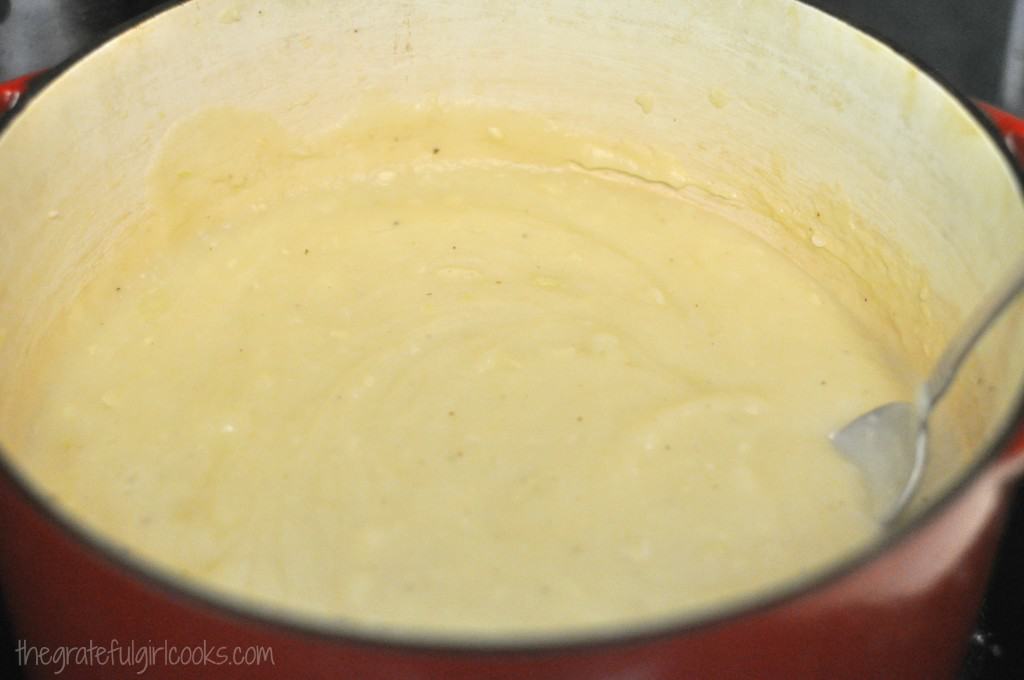 Add in whipping cream. Heat only until hot (but do not boil).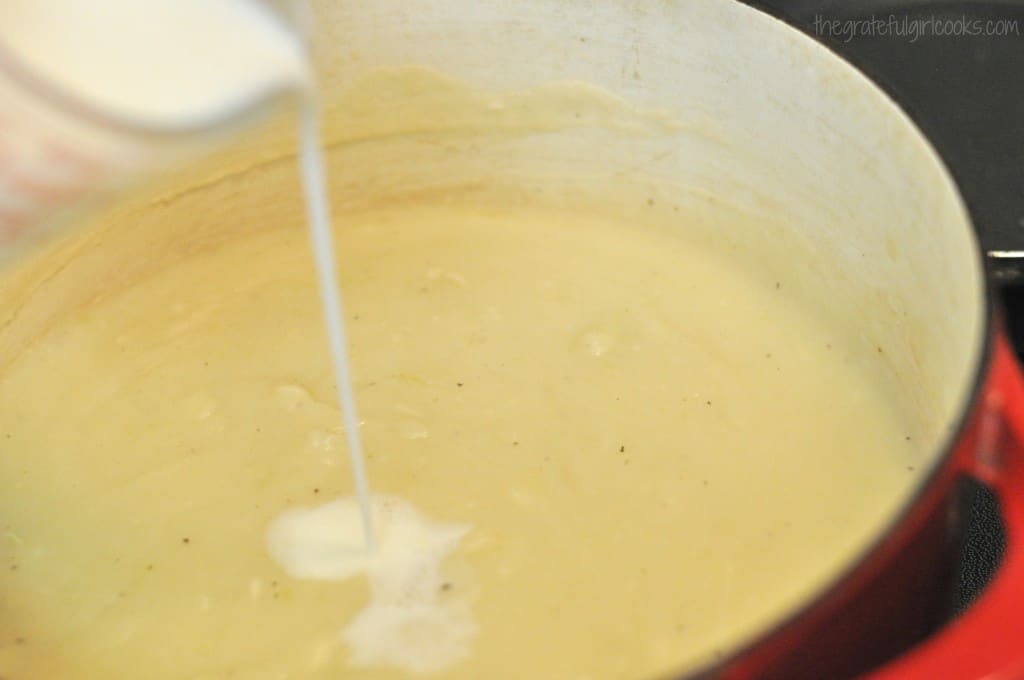 Ladle hot soup into serving bowls. Garnish with chopped chives or fresh parsley, and serve.  If desired, drizzle additional cream on top of soup. Serve with a green salad on the side, and enjoy!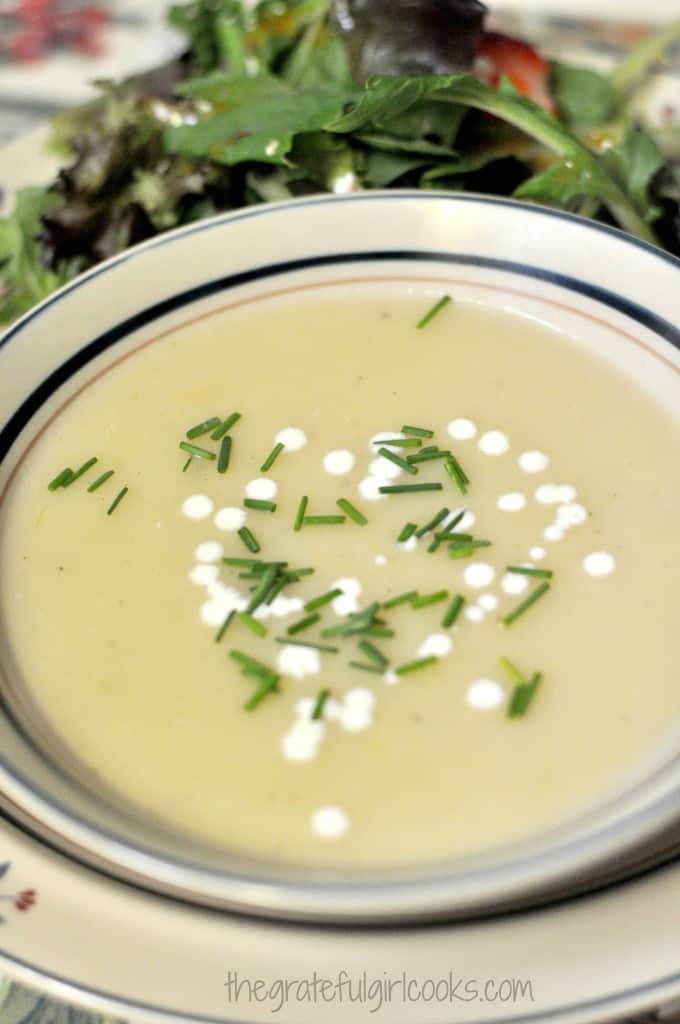 This was a tasty experiment for me, using leeks from our garden for the first time in a recipe. The soup was filling, and absolutely delicious! I will definitely make it again.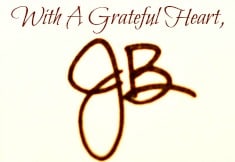 Recipe Adapted From:  http://userealbutter.com/2011/01/06/potato-leek-soup-recipe/

Save
Save