The other day I made a Tuna Avocado Cup for lunch. I really didn't want to make a sandwich (didn't want the bread calories), so I made this instead… and it tasted GREAT! I thought I would post this idea for a quick, filling lunch, to keep the old body "fueled up" on busy days!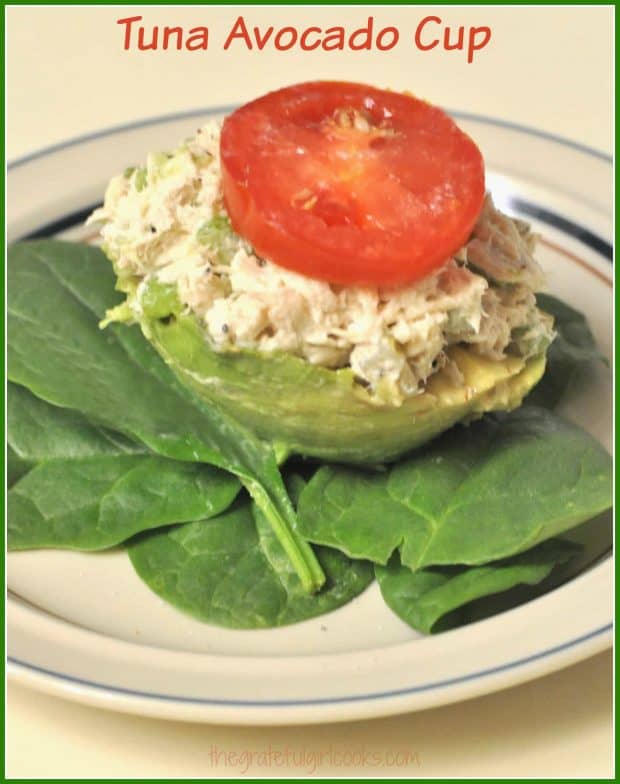 No written recipe is needed for this "quick-and-easy-to-throw-together" lunch.  All you need is some tuna salad (already made up – mine had light mayo, celery & dill pickle), a half an avocado per serving, a slice of tomato, a little salt and pepper to taste, and some lettuce or spinach leaves for the base.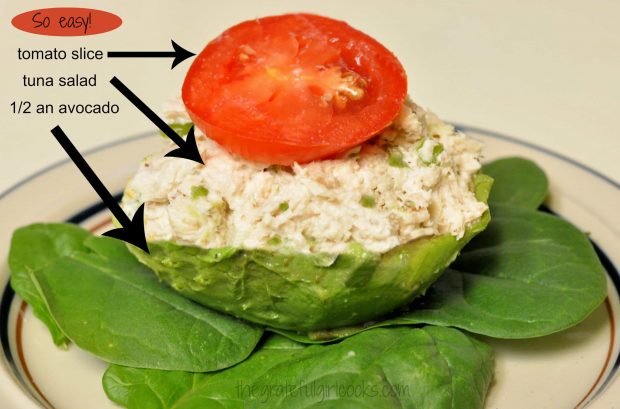 Using a spoon, completely scoop out one half of an avocado  in one piece. Run the spoon around the edges of the avocado and remove it carefully to lettuce or spinach lined plate. Scoop tuna salad into avocado half, mounding it up in the middle. Top with a slice of ripe tomato. Season to taste, with salt and pepper… and boom! Instant lunch! Do you know just how GOOD avocados are for you? Very good.
I used a fork to cut it with, then actually scooped the bite up with spinach leaves which held it together very well. This was a nice, filling nutritious lunch without the calories from using bread. The plus was that it only took a couple minutes from start to finish, which is always a good thing! Thought I would share this easy idea, in the hopes that you might consider trying it, as well! Have a fantastic day, friends.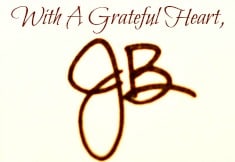 Save
Save
Save