Writing this post made me laugh…my entire life I have despised (I know, harsh words!) tomato soup. Really, really despised it. I am married to a guy who loves it. Go figure! But the truth is… I have come to love the taste of this Creamy Tomato Basil Soup!
Years ago I worked at a school where occasionally they would serve the students and staff grilled cheese sandwiches with a small cup of tomato soup (might have been the famous "canned" stuff ). Word on the street was the soup was good with grilled cheese alongside, but I could never even bring myself to try the soup; I had such an "ugh" factor going on.
Well, fast forward to this past summer – and my little garden was overflowing with fresh basil. I decided to combine my home-grown basil with my deep love for that "tomato-soup-lovin' husband of mine", and find a recipe online that he would enjoy. Here's the one I found…and guess what? I actually tried it and it was fantastic…who knew?
Maybe my taste buds have changed as I've gotten older…or maybe it is the fact that it didn't come sliding (in one gelatinous blob) out of a little red and white labeled can?
All I know is this was EASY and DELICIOUS. Hope you will give it a try!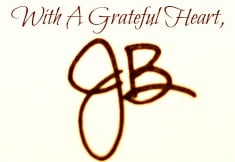 Recipe Source: http://unsophisticook.com/tomato-basil-soup/
Creamy Tomato Basil Soup
Nothing like a hot bowl of soup on a cool day...this creamy tomato basil soup will really hit the spot!
As Prepared By:
JB at The Grateful Girl Cooks!
Ingredients
4 Tablespoons butter
2 brown onions, chopped
4 garlic cloves, minced
2 (28 oz.) cans whole tomatoes
3 cups chicken stock
salt (to taste)
pepper (to taste)
½ cup fresh basil, chopped (plus additional leaves for garnish, if desired)
½ cup heavy whipping cream
Croutons and additional basil (for garnish, if desired)
Directions
In a medium sized pan, saute onions and garlic in butter over medium heat till they are fairly clear (about 4-5 minutes). Don't let the garlic burn!
Add the canned tomatoes (including the juice) and the chicken stock to saucepan. Season the mixture with salt and pepper (to taste).
Bring the tomato mixture to a full boil, then reduce the heat and let it simmer, uncovered, for 10 minutes.
When the tomato mixture has cooked for 10 minutes, remove from heat.
Use an immersion blender to puree. (Don't have one? Me neither. Just transfer the "hot" tomato mixture to a blender or a food processor and puree.
Once the tomato mixture has been pureed, add in the fresh basil and pulse (or blend) a few times to incorporate the basil into the soup.
Return soup to saucepan (or to your serving dish), and whisk in the heavy whipping cream, till blended.
Garnish with croutons and/or basil. ENJOY!
Notes
Recipe Source: http://unsophisticook.com/tomato-basil-soup/
Save
Save