My husband is the "Grill-Master" in our family. He recently grilled these Marinated Pork Chops and Portabella Mushrooms, and the dish was outstanding!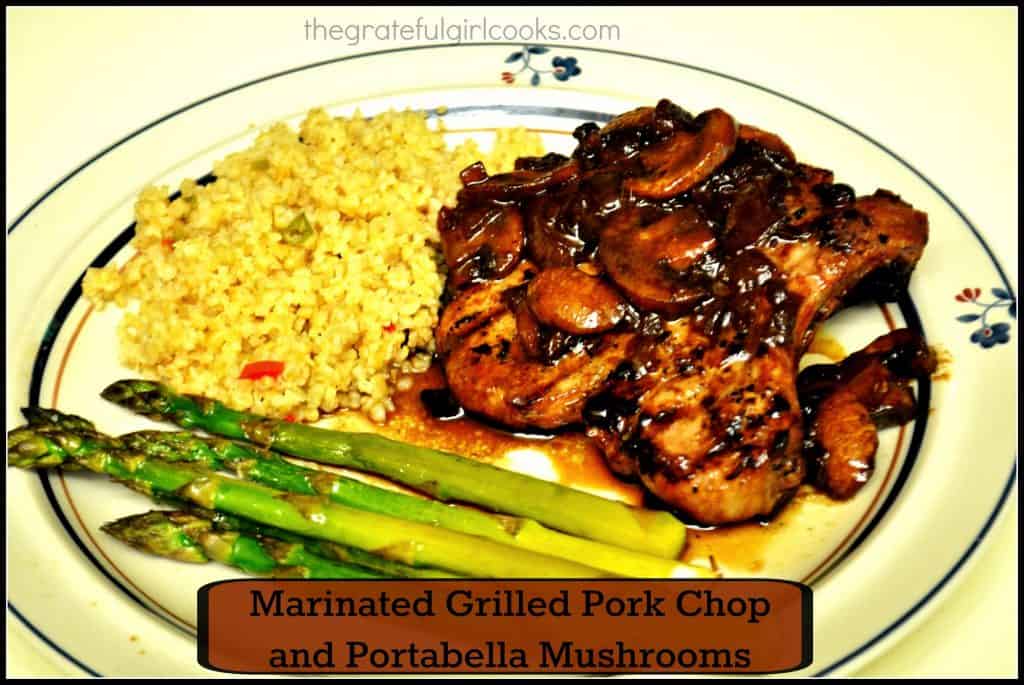 When the weather is decent (in Oregon that means "not raining heavily"), he loves to grill on our Weber BBQ.  He'll stand out there (yes, sometimes even in the rain) with the smoke pouring out of that BBQ into his eyes and permeating his clothes…and grill our dinner! While I love to
prepare
the food, I am so grateful he loves to
GRILL
the food! Yay!
I found this simple marinade recipe for pork chops online; then decided to use half of the marinade for the pork chops, and the other half to make a reduction sauce to saute baby portabella mushrooms in (to top the grilled pork chop with). Yum.  If you don't eat mushrooms, then use the entire marinade for the chops. Fantastic, either way!
Hope you give these yummy pork chops a try…it's a simple and delicious entree!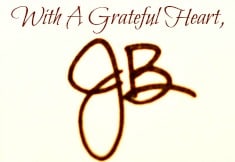 Marinade Recipe adapted from: http://www.cooks.com/recipe/rc9vt5im/marinade-for-grilled-pork-chops.html

Marinated Grilled Pork Chop and Portabella Mushrooms
Marinated grilled pork chops, with portabella mushrooms in a delicious sauce.
As Prepared By:
JB at The Grateful Girl Cooks!
Ingredients
For The Marinade:
1 medium onion, finely chopped
⅓ cup oil
⅓ cup pineapple juice
¼ teaspoon garlic powder
½ cup soy sauce
2 Tablespoons brown sugar
4 large pork chops, bone in
1 package baby portabella mushrooms, sliced
1 Tablespoon butter
Directions
Combine the first 6 ingredients (onion, oil, pineapple juice, garlic powder, soy sauce, and brown sugar) in a bowl. Whisk ingredients until fully blended. Pour HALF of the sauce over the pork chops to marinate. To marinade the chops, I use a gallon sized plastic resealable bag (you can also use a covered pan).
Set aside the remaining ½ of the sauce (to cook the mushrooms in later).
Marinate the chops in the refrigerator for at least 4 hours (overnight is even better), turning several times to make sure the chops are fully coated. Once BBQ is ready to go, grill chops until done, basting occasionally with sauce (from the bag or pan).
While pork chops are cooking, add the reserved marinade (that you set aside earlier) to a skillet. Add the sliced mushrooms and saute on medium low for approximately 5-8 minutes. Sauce should reduce a bit as it cooks. Stir to coat the mushrooms. About a minute or so before the mushrooms are done, add the Tablespoon of butter to the sauce. Stir in and keep the sauce warm.
When pork chops are done, place on serving plates and spoon some of the mushrooms and skillet sauce over the top of each chop. ENJOY!
Notes
Most of the prep time in INACTIVE prep time while the pork is marinating.
Save
Save