Pumpkins, pumpkins, pumpkins… they are EVERYWHERE this time of year! From the front porch (as a decoration), to the kitchen (used in desserts, etc,), pumpkins are a staple of the Fall season. That being said… I really hope you will like this recipe for Pumpkin Cheesecake Snickerdoodles I'm posting today. They are soooo good!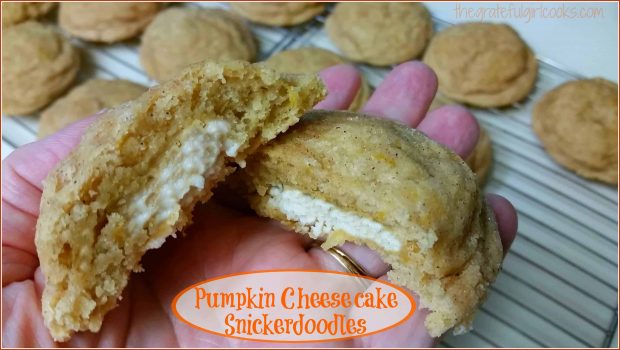 If you like snickerdoodles, chances are you will love these soft "pumpkin-y" cookies, especially with the surprise cheesecake filling in the middle. You can't see the filling from the outside, but one bite into these bad boys, and bam! There it is… and it's good!  I am posting lots of pictures of the "process" of making the cookies, but you need to know that it really doesn't take too long at all to whip up a batch of these delicious treats! Here's how:
First thing I did was mix up the cheesecake filling. I blended cream cheese, sugar and vanilla.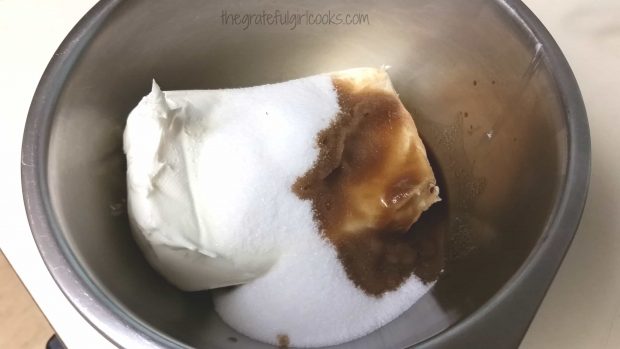 Once the filling was mixed well together, I chilled it for about 45 minutes to firm up again.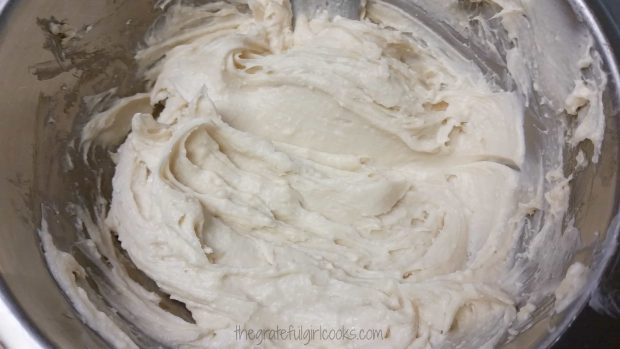 While the cream cheese mixture was chilling, I prepared the cookie dough. In a large bowl, I whisked together flour, baking powder, salt, cinnamon and nutmeg, then set it aside.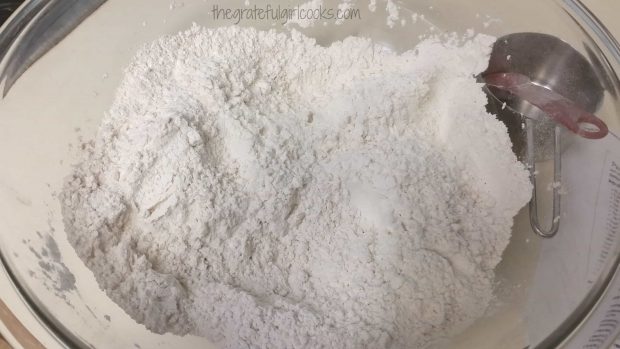 I beat the butter,  granulated and brown sugars together in a mixer for about 3 minutes, then added pumpkin puree, egg and vanilla, then beat it all together.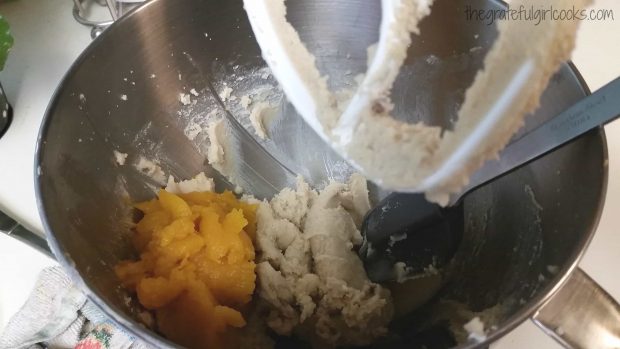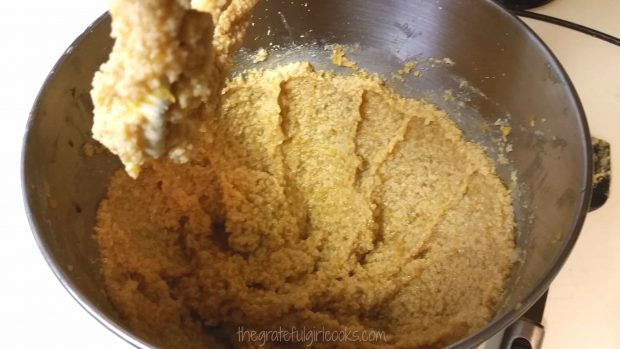 Once they were well blended, I added the flour mixture a little at a time while mixing on low speed.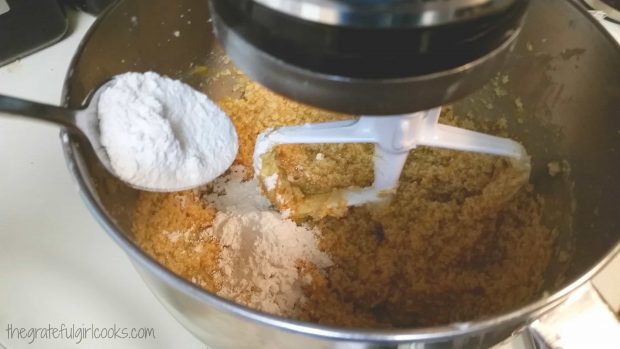 Once the ingredients were totally blended, I covered the dough and chilled it for about 45 minutes in the refrigerator. While the dough (and cream cheese filling) were chilling, I made the cinnamon-sugar coating by combining granulated sugar, cinnamon, ground ginger, and allspice in a small bowl, then set aside.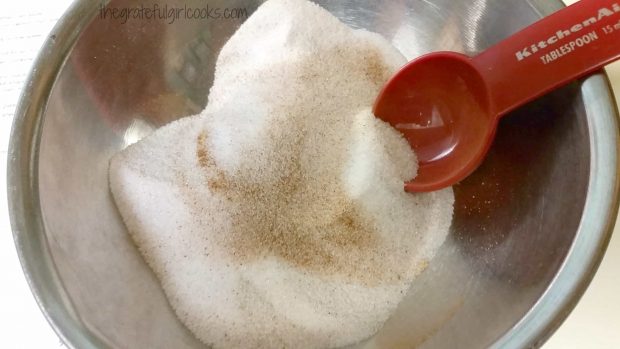 Once the dough and cream cheese filling were completely chilled, here's what I did to "construct" these cookies:  First, I took a Tablespoon of the chilled cookie dough and flattened it out in my left hand. I then put a teaspoon of the cream cheese filling right in the middle of the dough.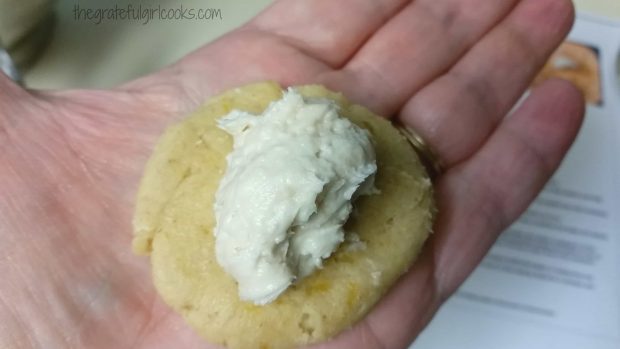 I flattened out another piece of dough (same size), and laid it on top of the cheesecake filling.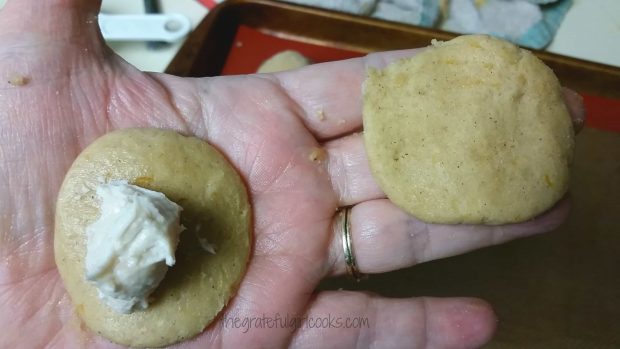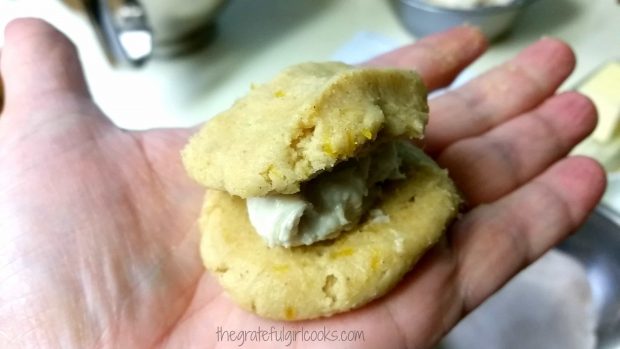 I pinched the sides together carefully by pulling the top piece of dough down around the filling, and carefully sealing all the outside edges together. It can be a bit messy, but keep going, and try not to squish the filling out of the cookie. The picture I took of what it looks like is completely blurry (sorry-I was covered in cookie dough), but you want it sealed all around the edges. After you do the first one, it will be easier. Once the edges are completely sealed, roll the dough "blob" between your two hands to form a ball, then drop it into the bowl of cinnamon-sugar-spice mixture and roll it around to coat it completely.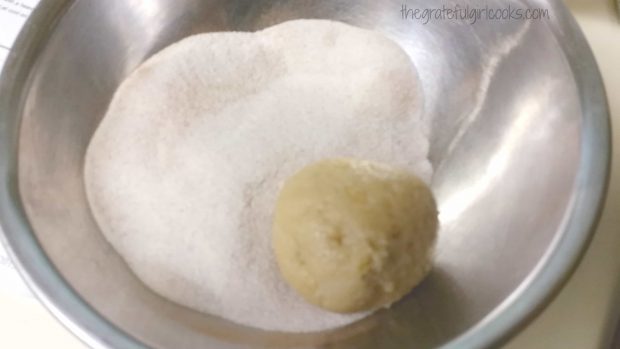 Place the sugar-cinnamon coated dough balls about 2 inches apart onto a baking sheet that is sprayed with non-stick spray OR lined with parchment paper or Silpat mat.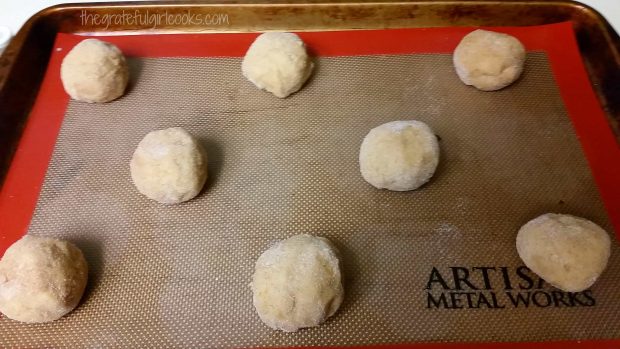 Continue until dough is all gone. Before you bake the cookies, take a heavy bottomed glass and flatten the dough balls down slightly.  Bake the cookies in a pre-heated 350 degree oven for12-15 minutes or so (may take a bit longer depending on how large the cookies are). When done, the tops should be slightly cracked and cookies should be a light golden brown. Remove cookies from oven; let them cool on the baking sheet before removing them to wire racks to cool completely.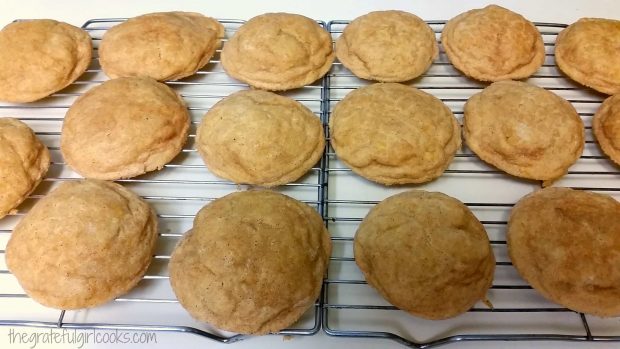 Once they are cooled off, they are ready to be gobbled up (**because of the cheesecake filling, these are at their best eaten at room temp and not warm).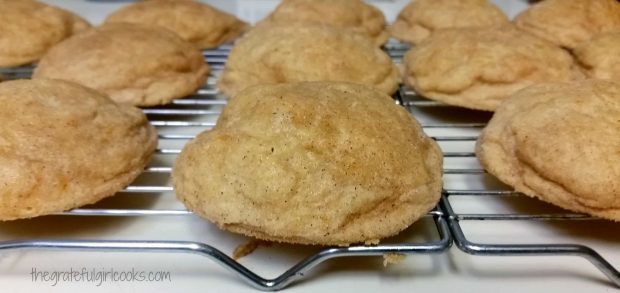 Fall is such a wonderful season. I am always in awe of the beauty around us in the Pacific Northwest. Even our street magnificently displays God's handiwork!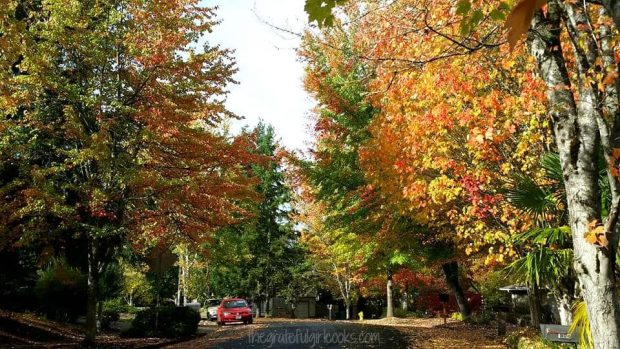 Sure hope you enjoy these cookies… they are a little taste of Fall!!! Have a great day, and may God bless you with reminders of His presence today!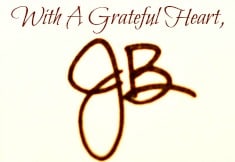 Recipe Source: http://therecipecritic.com/2013/09/pumpkin-cheesecake-snickerdoodles/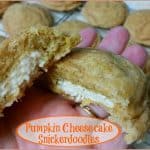 Pumpkin Cheesecake Snickerdoodles
Fall-inspired, Pumpkin Snickerdoodle Cookies, with a cheesecake filling inside that will surprise you!
Ingredients
For Cookie Dough:
3 3/4

cups

all purpose flour

1 1/2

teaspoons

baking powder

1/2

teaspoon

salt

1/2

teaspoon

ground cinnamon

1/4

teaspoon

ground nutmeg

1

cup

butter

, at room temperature

1

cup

granulated sugar

1/2

cup

brown sugar

3/4

cup

pumpkin puree

(NOT pumpkin pie filling)

1

large egg

2

teaspoons

vanilla extract
For cheesecake filling:
8

ounces

cream cheese

, softened

1/4

cup

granulated sugar

2

teaspoons

vanilla extract
For Cinnamon-Sugar Coating:
1/2

cup

granulated sugar

1

teaspoon

ground cinnamon

1/2

teaspoon

ground ginger

A dash of allspice
Instructions
Make the cream cheese filling:
Mix cream cheese, granulated sugar and vanilla together in a small bowl. Cover bowl; refrigerate for 45 minutes.
Make the cookie dough:
Whisk the flour, baking powder, salt, cinnamon and nutmeg together in a large bowl. Set aside.

Using an electric mixer or stand mixer, completely beat the butter, granulated and brown sugars together until fully blended and fluffy (about 2-3 minutes).

Add the pumpkin puree, egg, and vanilla extract. Mix until blended.

Turn mixer to low speed and add the flour mixture a little at a time until fully blended. Once blended, cover the bowl and refrigerate the dough for about 45 minutes.

Preheat your oven to 350 degrees. Spray baking sheets with non-stick spray OR line them with parchment paper or a Silpat baking mat.

Make Cinnamon-Sugar Coating:

In a small bowl, blend together the granulated sugar, cinnamon, ground ginger and allspice. Set aside.
Make cookies:
Scoop a Tablespoon of cookie dough and flatten it in your hand (like a pancake). Spoon a teaspoon full of cheesecake filling onto the center of the flattened dough. Make another pancake shaped piece of dough, and put it on top of the cheesecake filling. Seal the edges of the two together, by pinching the edges together and sealing in the cheesecake filling. Once edges are sealed together, roll the dough between both hands into a ball.

Place each dough ball, one at a time into the cinnamon-sugar spice mixture. Roll, to fully cover the dough ball with the cinnamon-sugar. Place dough ball onto prepared baking sheets, about 2 inches apart. Once all dough balls are formed and on baking sheets, flatten each cookie by pressing gently down on the top of each cookie with a heavy bottomed glass.

Bake the cookies at 350 degrees for 10-15 minutes (keep an eye on them- cooking time will depend on just how large you make these cookies!). Mine took 15 minutes, plus a little more. When done, the cookies will be slightly cracked on top, and will be light golden brown in color. Let the cookies cool on the baking sheets for 5 minutes, then remove them carefully to a wire rack to cool completely. Cookies are best when completely at room temperature.
Recipe Notes
Prep time includes refrigeration time.
Save
Save
Save