I hated meatloaf as a kid. Really, really hated it. Then I married a guy (almost 38 years ago) who happened to LIKE meatloaf (the horror of it all!) Several years after we married I found this recipe in a church cookbook, and because I loved him, I cooked it for him. Guess what? It is REALLY GOOD MEATLOAF!!!! I actually found a meatloaf that I LOVE!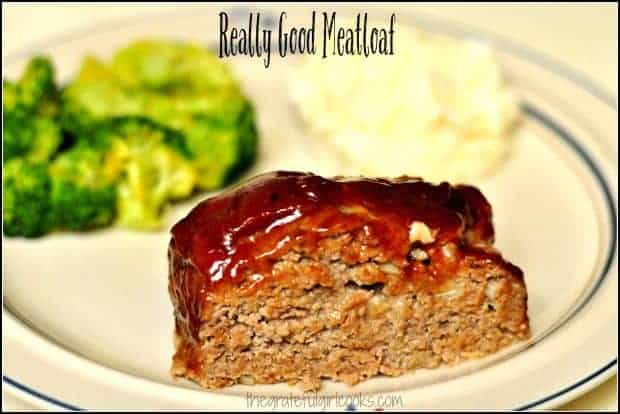 And that, my friends, is why I have given it the dubious title of "Really GOOD Meatloaf". End of story. Seriously, this meatloaf is really good, and is completely EASY and inexpensive to make, which is always a plus in my book! Here's what you do:
In a large bowl, combine the ingredients for the meatloaf. (It is always interesting to me that one of the seasonings used is POULTRY SEASONING. What? On BEEF? Yep, you got that right. Poultry seasoning contains sage, rosemary, basil, celery seed, oregano, marjoram and thyme, so you can see how that adds to the flavor of this meatloaf). Mix all the ingredients together. (Now that wasn't too hard, was it?) Trust me, the whole meatloaf only takes about 10 minutes prep time!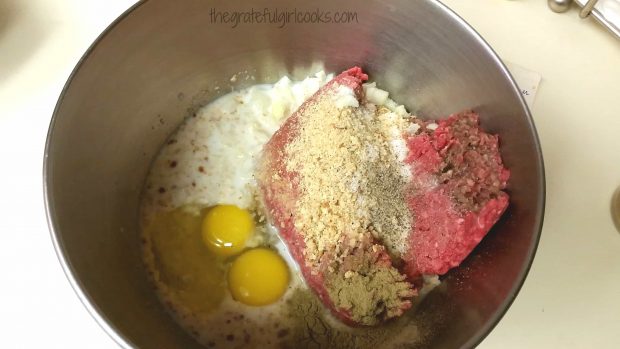 Place a piece of parchment paper on a baking sheet, and form the meat mixture into a loaf shape on top of the parchment.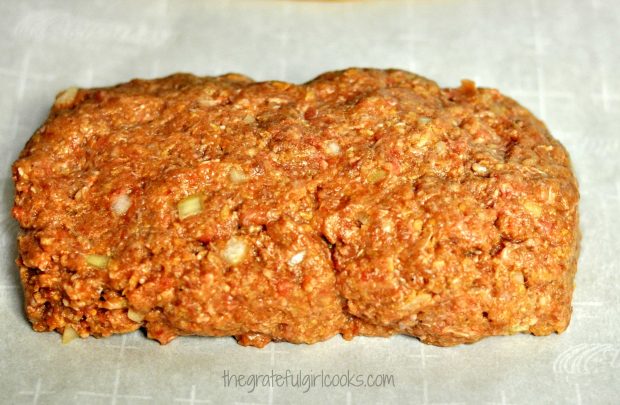 Place the meatloaf into a 350 degree oven for 30 minutes. While it bakes, prepare the sauce that will go on top of the meatloaf. Mix it up, and it's ready (told you this was EASY).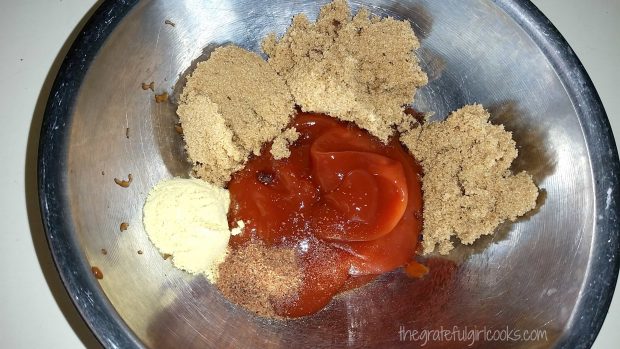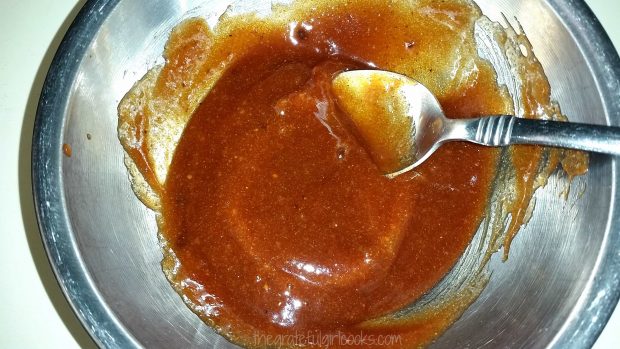 After the meatloaf has cooked for 30 minutes, remove it from the oven and quickly spoon the sauce all over the top and sides of the meatloaf, then place meatloaf back in the oven and continue cooking for another 30 minutes.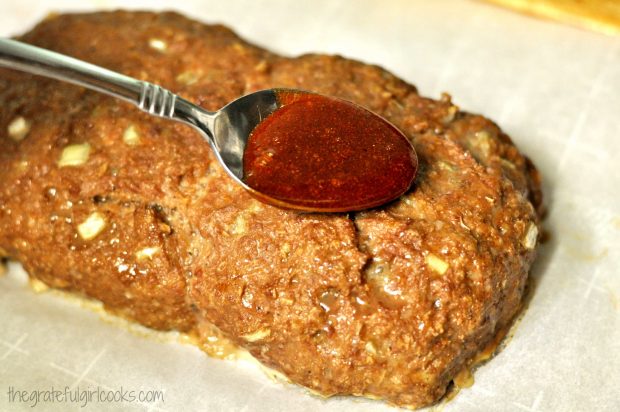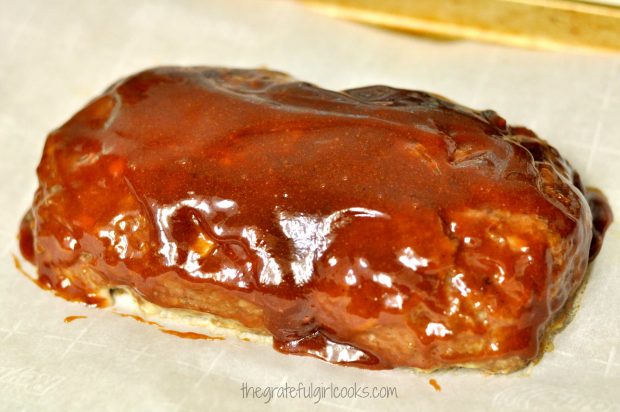 Once the meatloaf is done (after the additional 30 minutes of cooking time), remove it from the oven.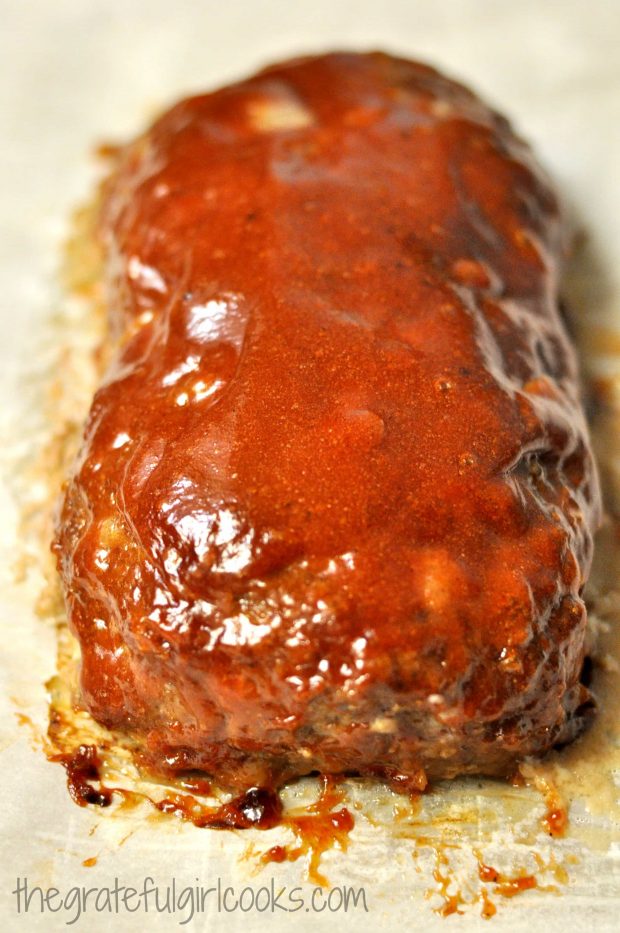 Cut it into slices (either 4 or 6, depending on the serving size you want). Here's a peek at the inside of the meatloaf.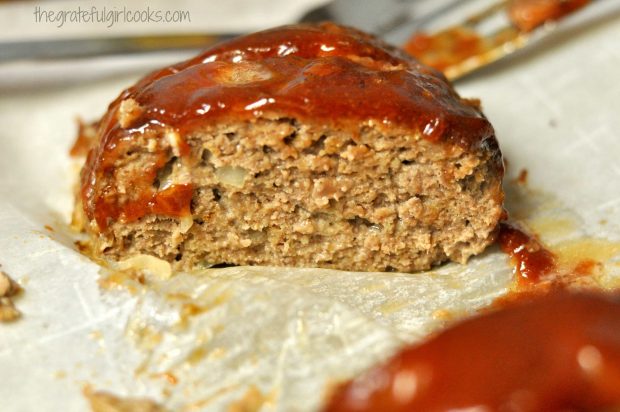 My husband and I usually have the meatloaf with a side of mashed potatoes and a veggie. That's it! Slice yourself a piece, and enjoy the delicious sauce and wonderful meatloaf! EASY, EASY, EASY… and it tastes quite good, too. Sure hope you'll give this meatloaf a try!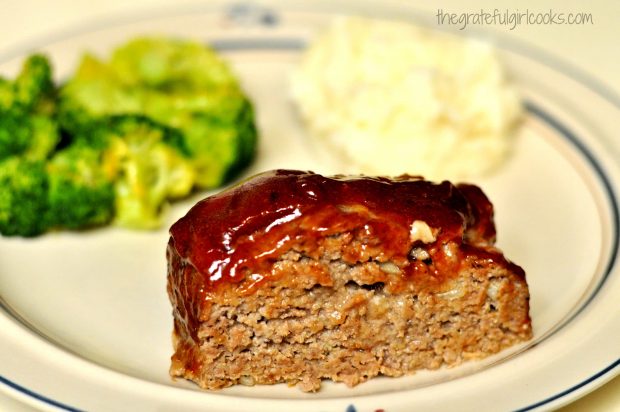 I've been making meatloaf using this recipe for over 20 years now, and really enjoy it! That HAS to be some sort of a Christmas miracle (wink, wink)!  Have a great week, and God bless you!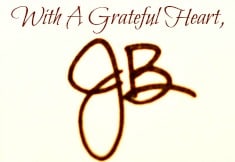 Recipe Source: Mrs. Gordon Rasmussen, Monte Vista Chapel Ladies Cookbook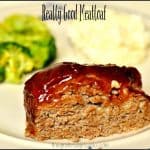 Really Good Meatloaf
Easy to make, inexpensive and delicious, this Really Good Meatloaf is just that... Really Good!
Ingredients
For The Meatloaf:
2/3

cup

dry bread crumbs or crushed crackers

(I prefer bread crumbs)

1

cup

milk

1 1/2

pounds

ground beef

2

eggs

1/4

cup

chopped brown onion

1

teaspoon

salt

1/4

teaspoon

black pepper

1

teaspoon

poultry seasoning

(YES... poultry seasoning!)
For The Sauce:
3

Tablespoons

brown sugar

1/4

cup

ketchup

1/4

teaspoon

ground nutmeg

1

teaspoon

dry mustard powder
Instructions
Mix all meatloaf ingredients together in a large mixing bowl.

Place a piece of parchment paper on a baking sheet (with edges).

Place the meat mixture onto the middle of the parchment paper and shape into a loaf.

Bake at 350 degrees for 30 minutes. While it is baking, mix up the sauce ingredients in a small bowl.

After 30 minutes, remove meatloaf from oven; spread the sauce completely over the top and sides of the loaf. Put the meatloaf back into the oven and continue baking for an additional 30 minutes. (Meatloaf will cook for a total of 60 minutes).

When done, remove from oven, slice and serve (4-6 servings, depending on portion size). Enjoy!
Here's one more to pin on your Pinterest boards!

Save
Save
Save