Anyone out there love a good Southwestern kick to their chicken? I sure do, which is why this Santa Fe Chicken tasted fantastic! This easy recipe features baked seasoned chicken breasts, a crushed tortilla chip coating, covered in salsa and Monterey Pepper Jack cheese!

The recipe is very simple to prepare. I used two large chicken breasts and cut them horizontally in half, which gave me 4 thin chicken breasts, for 4 servings! I loved the flavor of the finished chicken, and I hope you will, too! Here's how you prepare this simple recipe:
First, preheat your oven to 400 degrees F.  Finely crush tortilla chips in your food processor (or crush in a sealable plastic storage bag, using a rolling pin or mallet to crumble). This will be the coating for the chicken, so you want it to be in small pieces.  Place crumbs on a dinner plate. Set aside.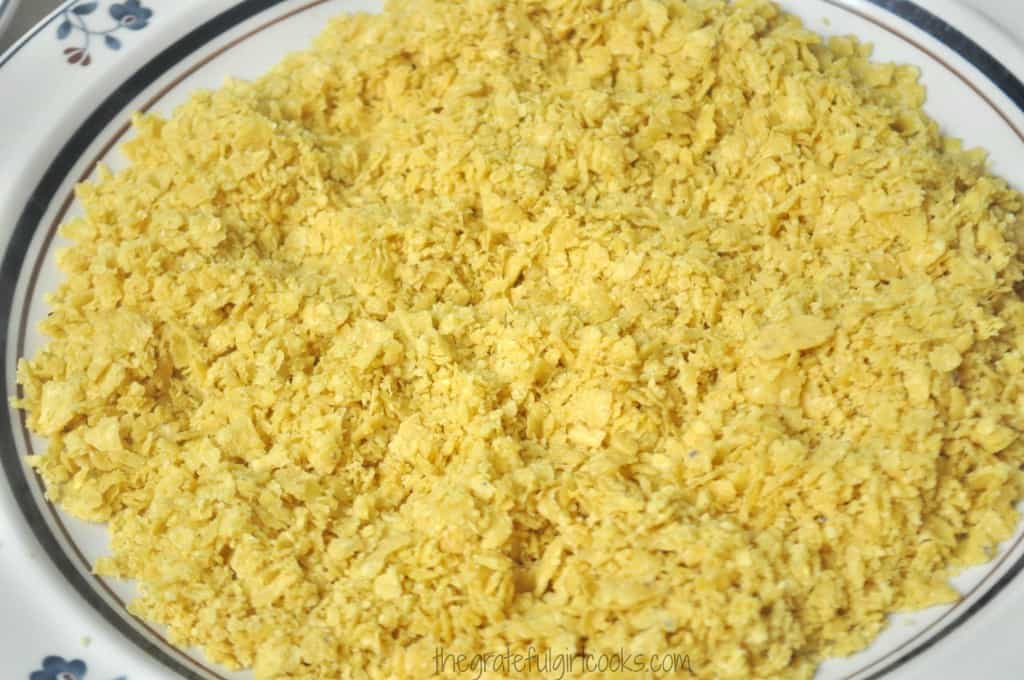 Season the chicken breasts with salt, pepper, and a light sprinkling of cumin and garlic powder. If using whole chicken breasts, be sure to pound out the chicken with a mallet until it is about 1/4-1/2 inch thick, If using large breasts as I did, slice them horizontally in half (then no need to pound them).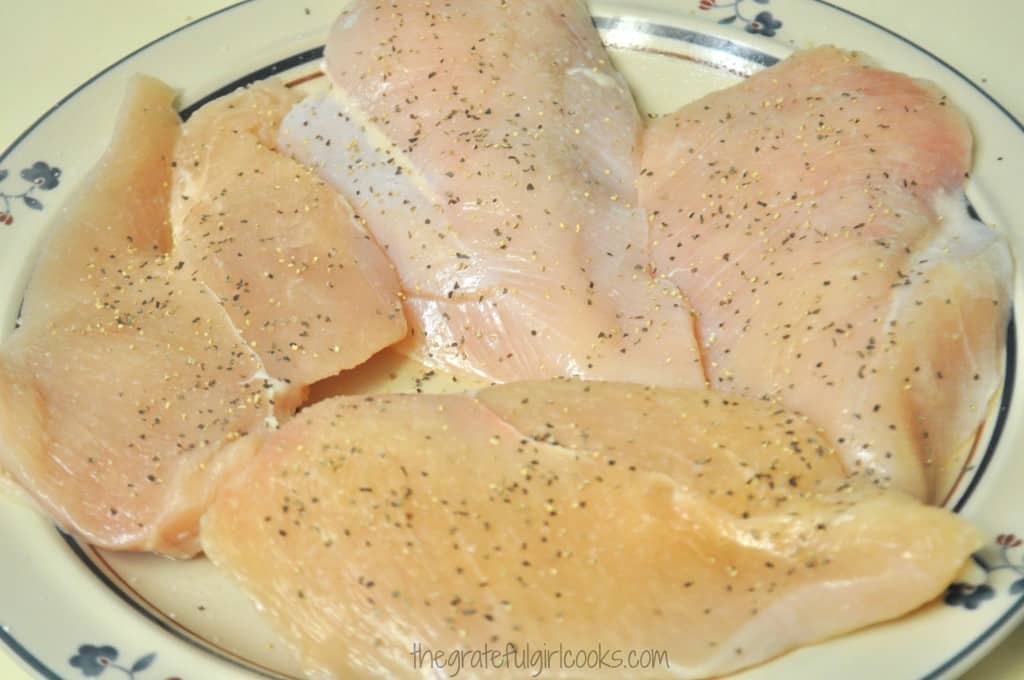 Coat each piece of chicken on both sides with mayonnaise (I know… weird, right? Yet the mayo helps keep the chicken very moist as it bakes! I was using my homemade mayonnaise, which is why it has a slight yellow hue).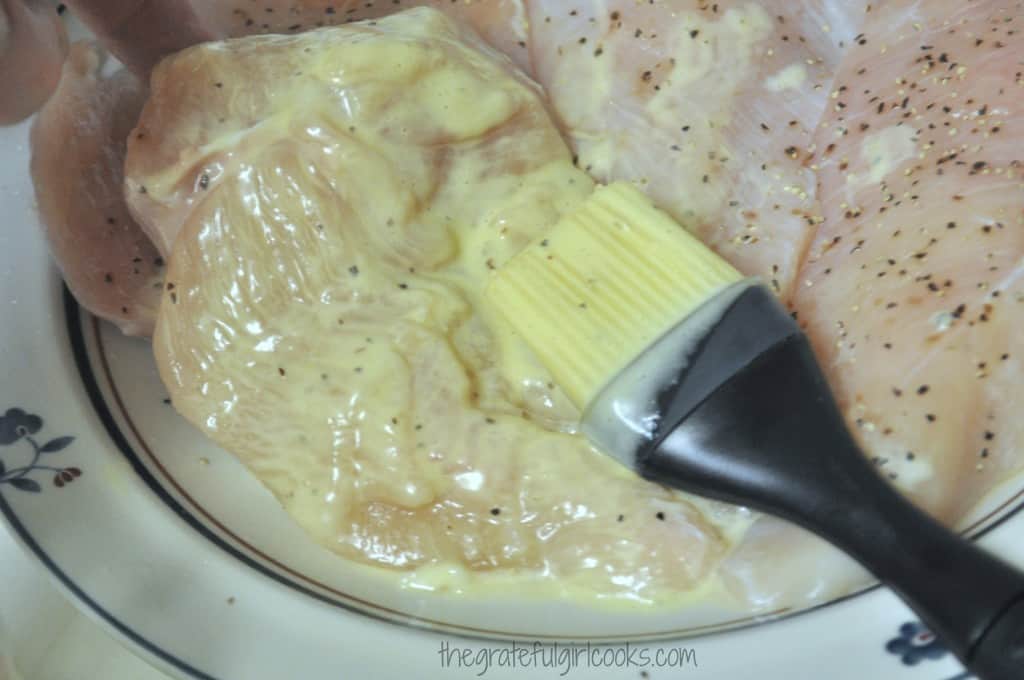 Dredge each piece of chicken in the tortilla chip crumbs on BOTH sides. Use your fingers to help pack down the crumbs, if necessary.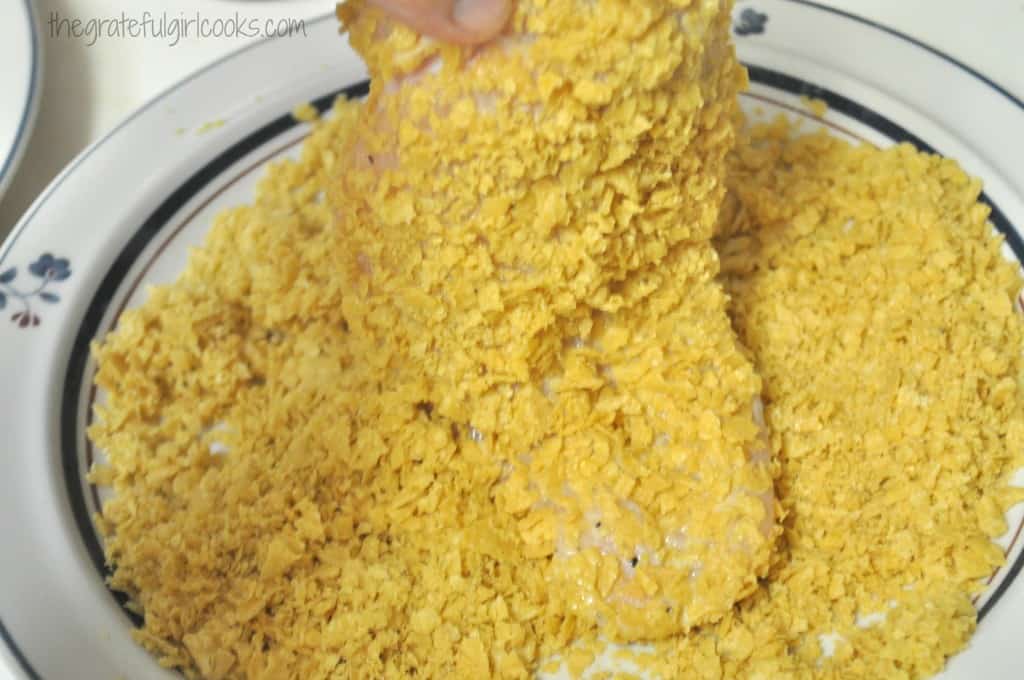 Spray a casserole dish with non stick spray, then place the coated chicken breasts in the pan.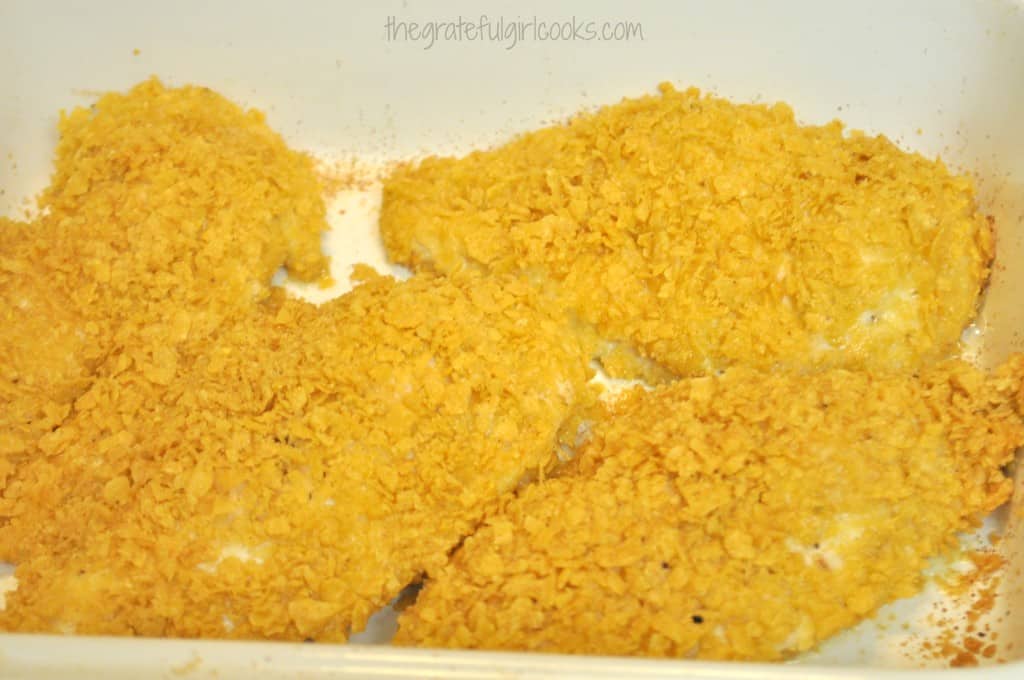 Bake the chicken, uncovered, at 400 degrees for 20-25 minutes (or until chicken reaches internal temperature of 165 degrees). I baked mine for 25 minutes. When done, remove pan from oven. Top each piece of chicken with salsa. I used the homemade salsa I canned last summer!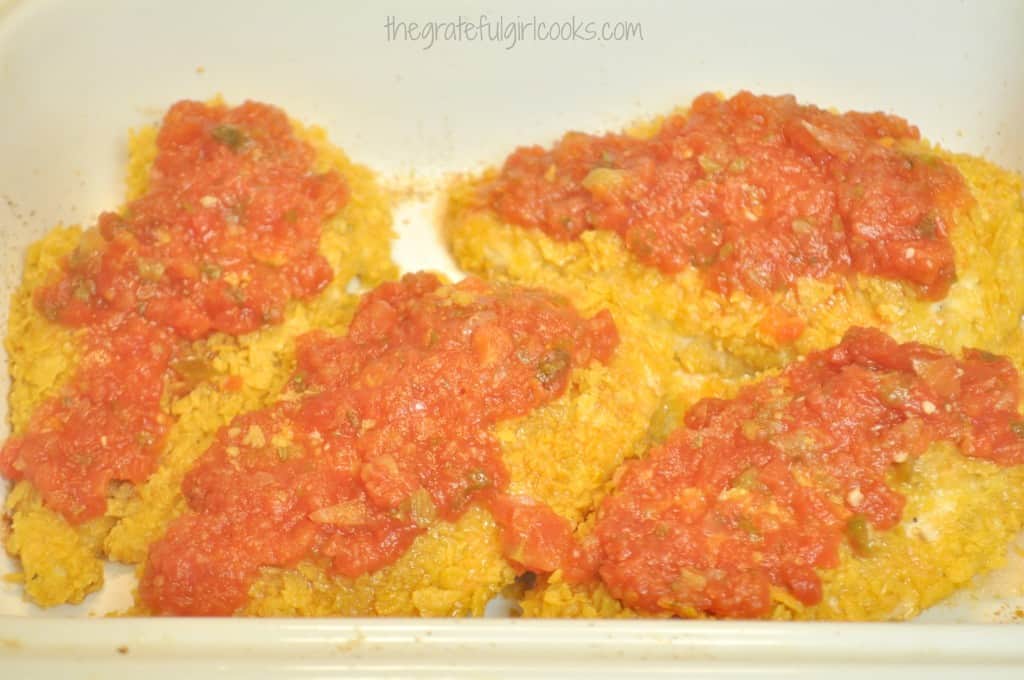 Sprinkle the grated Monterey Pepper Jack cheese on top of the salsa. Place the chicken back into the oven and continue cooking for 5 more minutes (until the cheese is melted).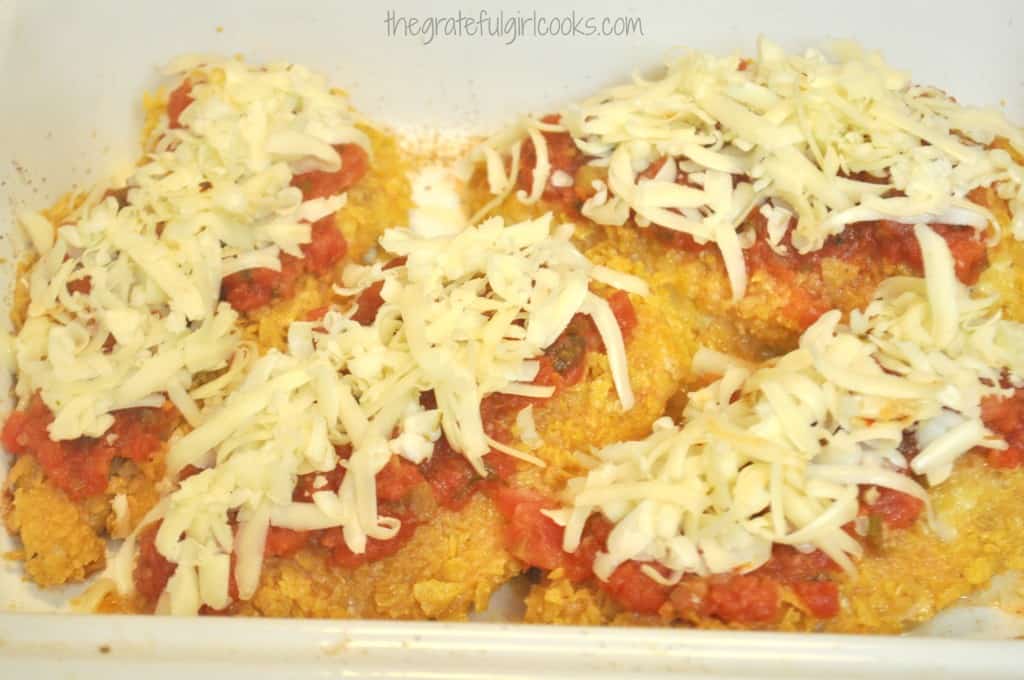 This is how it looked, right out of the oven. (I think it looks like a Tex-Mex version of Chicken Parmigiana)!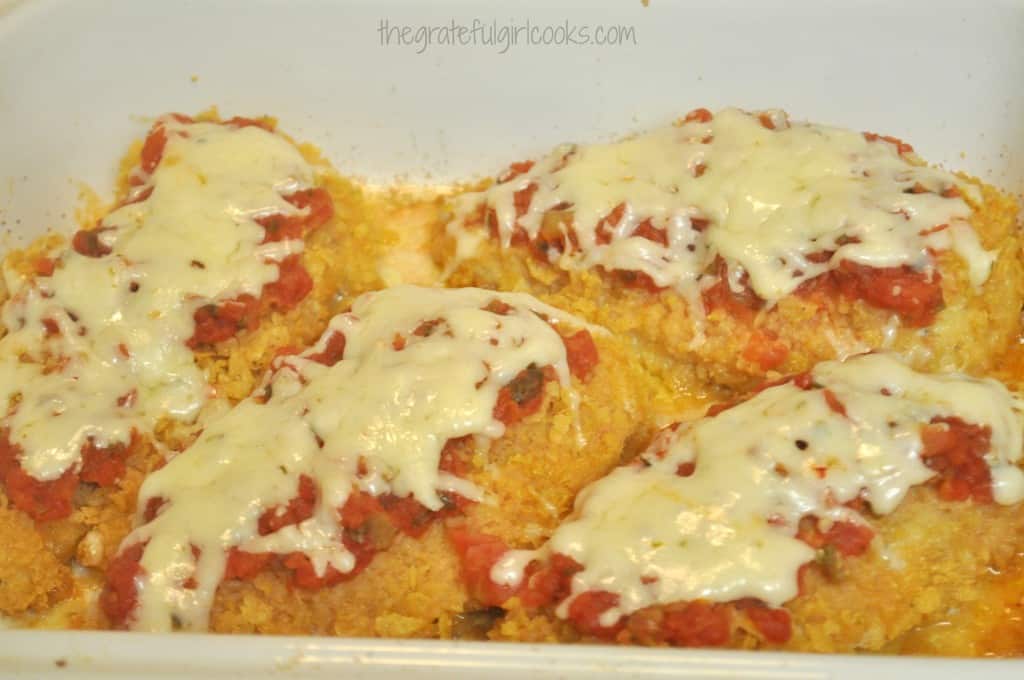 To serve, garnish each piece of chicken with a couple slices fresh avocado, and some chopped cilantro.  Garnishing the dish is optional, but it adds additional flavor AND beautiful color!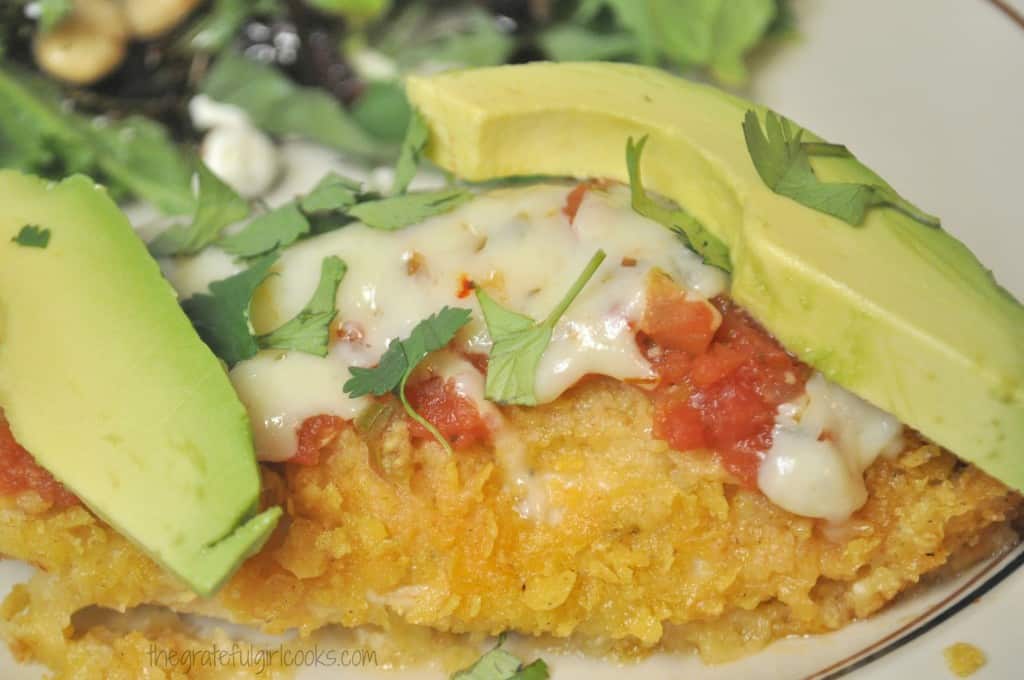 That's it! See how easy it is to whip up this delicious dinner for 4? I really believe you will love the Tex-Mex flavor (and the amazing tortilla chip crust) on these baked chicken breasts! Sure hope you will give them a try… I KNOW I will be making these again!
Have a wonderful day, and may you KNOW today just how much you are loved by the One who created you! May God bless you in all you do today…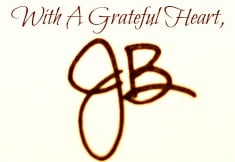 Recipe Adapted From:  http://www.cinnamonspiceandeverythingnice.com/santa-fe-baked-chicken/

Save