Do you like Mexican food? Our family sure does! Occasionally we go OUT for Mexican food, which always includes a big basket of tortilla chips (or two) and salsa to munch on before dinner is served. Well… I found this recipe for The Pioneer Woman's (Ree Drummond) Restaurant-Style Salsa on line, and adapted it for canning! It's SOOOO good!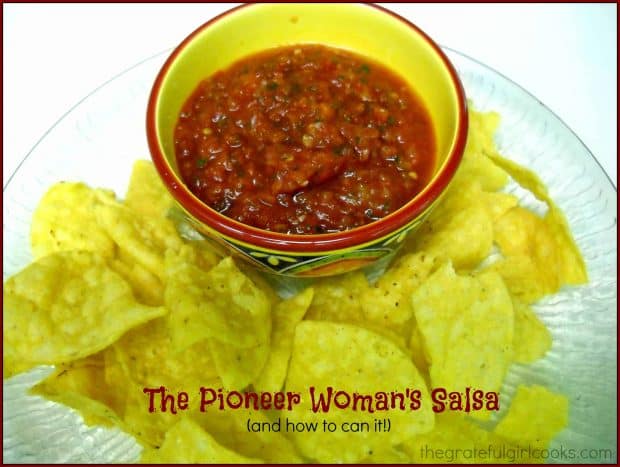 The thing I like the most about making this salsa is that I can make it (and can it) any time of the year. The recipe calls for canned tomatoes, which is kind of nice, because we all know the very best ripe tomatoes are available during our summer months. But what if you want to make or can great salsa in the middle of January? (those grocery store tomatoes are kinda gross at times!) Well, with this awesome recipe you can make wonderful restaurant-style salsa (and can it!!!) any month of the year!
I made this salsa and canned it for the first time last July. We saved some to eat "fresh", and I canned the rest. I was able to can about 10 jars of the salsa (Note: I DOUBLED this recipe)… and last month (March 2015), we ate the last of our canned salsa. Each time we opened a jar, the salsa tasted just as good as the day I made it… and I didn't have to buy salsa for 8 months! YeeHaw and Awesome!
If you are not going to can it, you need to know that this recipe makes a large quantity, AND is as easy as putting all the ingredients into a food processor or blender and pulsing until fully mixed. Adjust seasonings to taste, and refrigerate salsa for an hour before serving. That's how easy it is! Here's what you do to make this:
Get the ingredients together. Prep the onion and jalapeno according to instructions.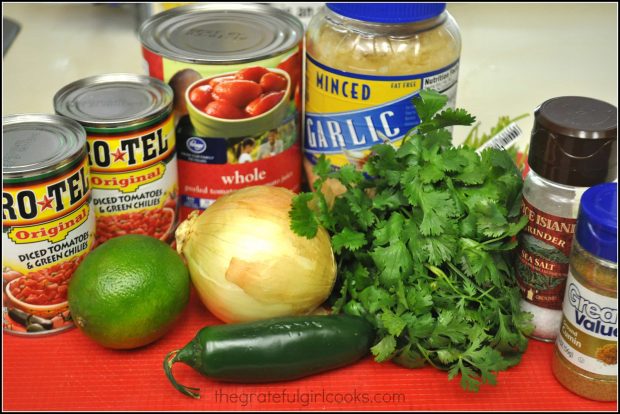 Place all ingredients in a large food processor or blender (you may have to prepare this in batches, and then mix all together in a large bowl or pot).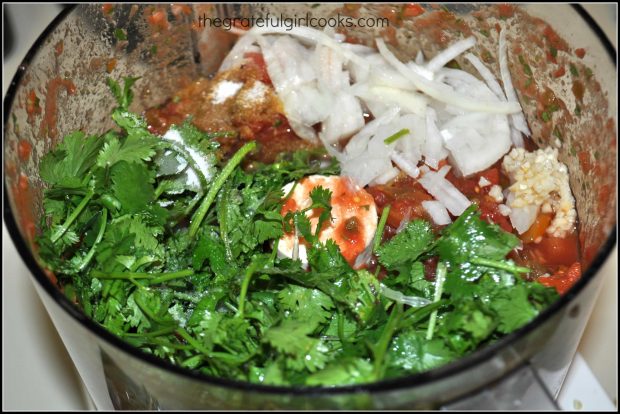 Pulse or blend until salsa becomes the consistency you prefer. Taste the salsa, and adjust the seasonings to suit your taste.  If you are NOT canning this, then cover the salsa and refrigerate it for one hour before serving with a ginormous bowl of tortilla chips. That's it!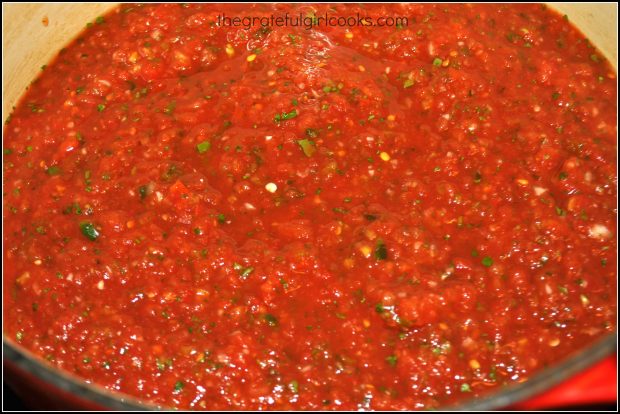 If you are going to can and preserve the salsa, prepare 5 half-pint jars (or 10 if you are doubling the recipe) by washing jars in hot soapy water, rinse, drain, then keep warm ( I place the clean jars on dish towel on a baking sheet in a 250 degree oven for 20 minutes before heating the salsa up for canning).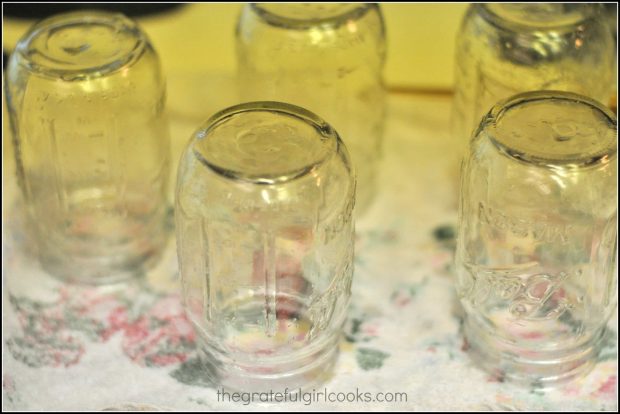 I heated up water in my canner while preparing the salsa and jars for canning. I brought the salsa to a boil, then I reduced the heat to a gentle boil for 5 minutes, stirring frequently. While this was cooking, I put my jar's flat lids into simmering hot water for a 4-5 minutes. Then I ladled the hot salsa into the hot jars per canning instructions.
The salsa jars were canned in a boiling water bath for 15 minutes (per instructions below). Once the jars had sealed and rested on the counter for 24 hours, I placed them in my pantry to await our next chips and salsa craving!!!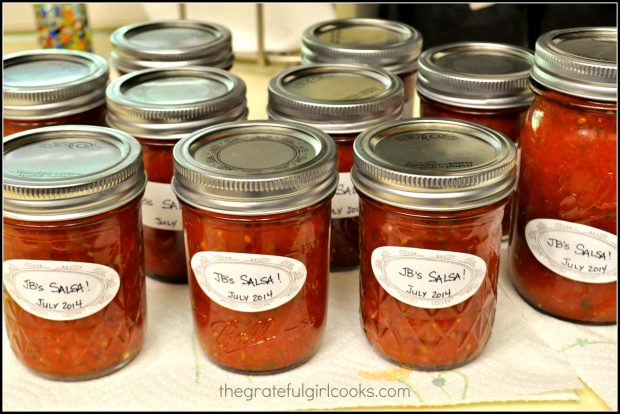 Hope you will give this wonderful restaurant-style salsa a try… we sure have enjoyed having salsa available to us year-round, with only a couple of steps in to our pantry to get it!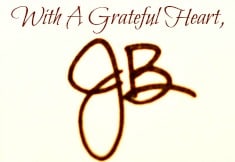 Recipe Source: http://thepioneerwoman.com/cooking/2010/01/restaurant-style-salsa/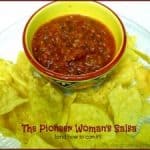 The Pioneer Woman's Salsa (and how to can it!)
Here's a great recipe for delicious restaurant-style salsa from The Pioneer Woman; recipe includes instructions for canning it for long term storage, as well!
Category:
Appetizer, Canning
Servings
:
40
ounces (approx. 5 half-pint jars)
Calories Per Serving
:
4
kcal
Ingredients
1

large can

(28 ounces) whole tomatoes with juice

2

cans

(10 ounces each) Rotel tomatoes (these are diced tomatoes w/ green chiles)

1/4

cup

chopped brown onion

1

clove

garlic

, minced

1

whole jalapeno

(quartered, sliced thin, seeds and all)

1/4

teaspoon

granulated sugar

1/4

teaspoon

salt

1/4

teaspoon

ground cumin

1/2

cup

fresh cilantro

(or more, to suit your taste)

the juice from 1/2 of a large lime
Instructions
To make basic salsa:
Place all ingredients into a large food processor or blender (may have to process in batches). Pulse (or blend) until you reach the desired consistency you prefer. Taste the salsa; add more seasonings to suit your taste. If not canning this, refrigerate (covered) for 1 hour, then serve with tortilla chips.
If canning:
Fill canner or large, deep soup pot (with metal rack on bottom) over half full with water. Bring to a simmer over medium heat.

Prepare salsa according to above directions. Place salsa in a separate large cooking pot.

Wash canning jars in hot, soapy water. rinse well; drain. I put the clean jars on a dish towel on a baking sheet in a preheated 250 degree oven for about 25 minutes to heat up.

Once jars are heated, bring salsa to a boil, then reduce heat and simmer/low boil for 5 minutes. While this is cooking, place the jar lids in separate saucepan, cover with water and simmer over medium heat (do not boil) for 4-5 minutes. (Keep lids hot until ready to use).

Work with one jar at a time: Insert funnel into mouth of jar. Ladle the hot salsa into hot jar. Leave 1/2 inch headspace from the top of the jar to the salsa. Slide a non-metallic utensil (plastic knife or rubber spatula work well) into salsa 2-3 times to remove air bubbles. Re-adjust headspace, if necessary, by adding more salsa (only if needed for 1/2 inch headspace).

Wipe rims and threads of jars with a damp cloth so no sauce or food particles remain (food particles left on rim could cause jars to not seal). Place lid on jar (I use a magnetic utensil). Place screw band on jar. Tighten to fingertip tight (do not over-tighten). Place filled jar onto rack in canner. Repeat process until all jars are filled.

Once all jars are in canner, adjust the water level until it covers the tops of the jars by at least one inch. Cover canner with lid; bring water to full rolling boil over high heat. Once water is boiling HARD, start the timing (15 minutes) for processing the salsa. Keep up the rolling boil throughout the cooking process. Process half-pint jars for 15 minutes.

At end of processing time, turn the heat off. Remove the canner lid. Let the jars cool in the canner for 5 minutes before removing with tongs.

Lift jars out of canner carefully. do not tilt them (water on lids will evaporate). Place the jars upright on a dish towel on counter (where they can be undisturbed) for 24 hours to cool down. Within an hour or so, you should hear a "ping" sound as the jars seal. After 24 hours, check to make sure all jars have sealed, remove band from jar, wipe clean, then place in pantry for long term storage.
Recipe Notes
For the sake of the recipe instructions, the prep and cooking time is for making the salsa only.
If you are going to can the salsa, obviously the processing time indicated in recipe instructions will also be involved.
If making this in pint jars, the processing time is 15 minutes in a water bath canner. Making this recipe in half-pint jars yields approx. 5 jars. I DOUBLED the recipe easily, and was able to can 10 half-pint jars.
Nutrition Facts
The Pioneer Woman's Salsa (and how to can it!)
Amount Per Serving (1 Tablespoon)
Calories 4
% Daily Value*
Sodium 21mg 1%
Potassium 43mg 1%
Total Carbohydrates 1g 0%
* Percent Daily Values are based on a 2000 calorie diet.
Save
Save