As I write this post, I am still savoring the memory of the delicious Southwest Steak Salad with Avocado & Cilantro Dressing my husband and I enjoyed for dinner last evening! It was absolutely delicious… no, really… it was seriously GOOD!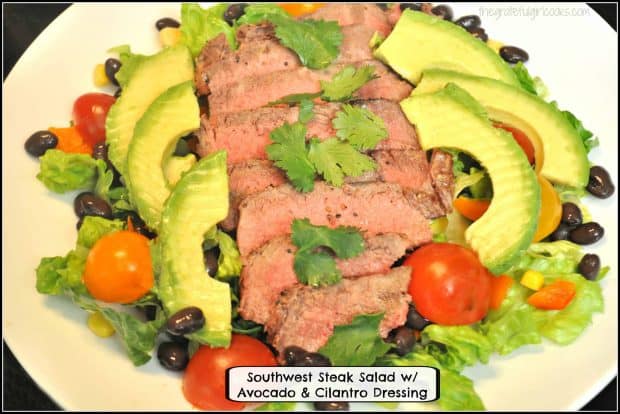 We had some leftover steak we had grilled and I decided to see what I could do with it. I found a recipe on Pinterest that sounded great, so gave it a try, and let me tell you… it was a fantastic main course salad.Romaine lettuce, thin slices of grilled steak, black beans, corn, sweet cherry tomatoes, and an absolutely amazing Avocado & Cilantro Salad Dressing that makes the salad PERFECT in Southwestern flavor!  THANK YOU to Krista, at Joyful Healthy Eats for this delicious recipe! I encourage you to check out her blog!
I used grilled steak this time… next time I'm going to try using some grilled chicken breasts. Either would be fantastic in this salad! Whatever you use, steak or chicken, JUST MAKE SURE TO MAKE THE SALAD DRESSING… it is amazing (and healthy, too, since it uses avocado as the main creamy ingredient… get those "healthy" fats in).
So… here's how you make the salad. Grill your steak or chicken. Thinly slice it when finished. Set aside. Make the salad dressing by combining the dressing ingredients (avocado, cilantro, lime juice, red wine vinegar, olive oil, cumin and red pepper flakes). Blend it until smooth and creamy (if necessary, add just a touch more oil and red wine vinegar if too thick).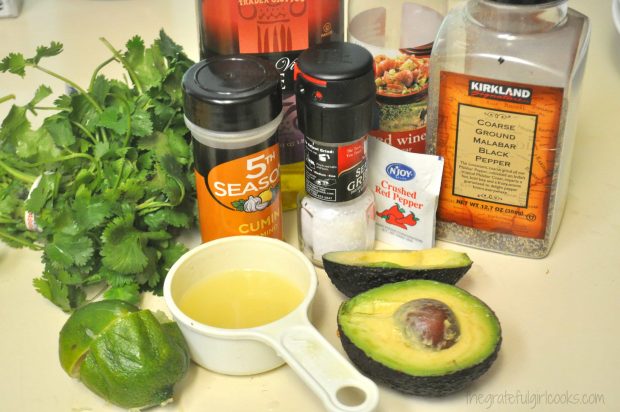 This is what it looked like right after removing it from my blender. Thick and creamy, and yummy! (I could eat it by the spoonful, but that's an entirely different story!  Let's NOT go there).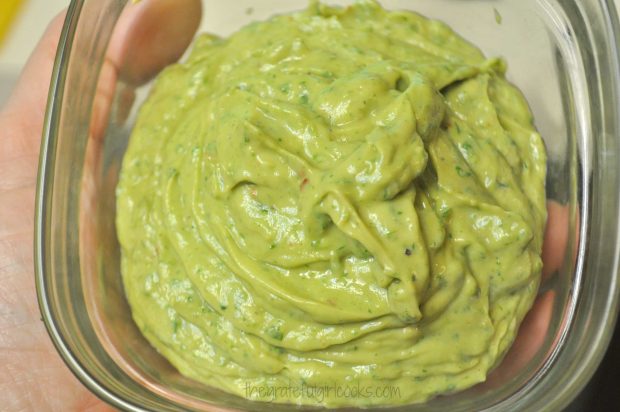 Assemble the salad ingredients (romaine lettuce, orange bell peppers, corn, and black beans) in a serving bowl or on a plate.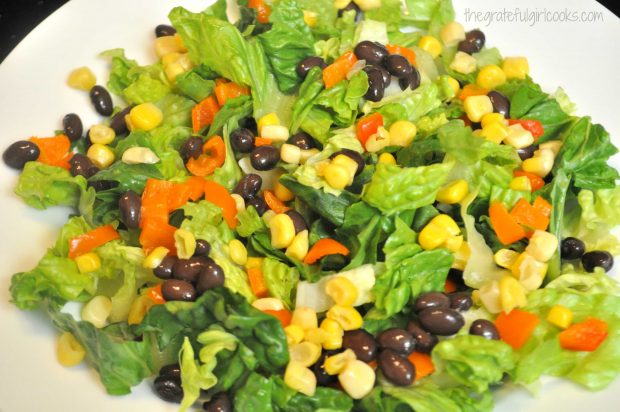 Add warm, thin slices of steak (or chicken), cherry tomatoes (halved), and garnish with some slices of avocado and cilantro leaves.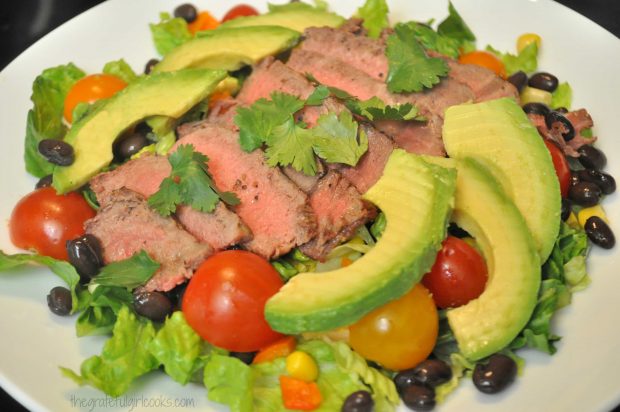 Spoon a big dollop of the salad dressing on top. Give it a big stir to combine, and dig in! You're gonna LOVE this salad's amazing Southwest flavors!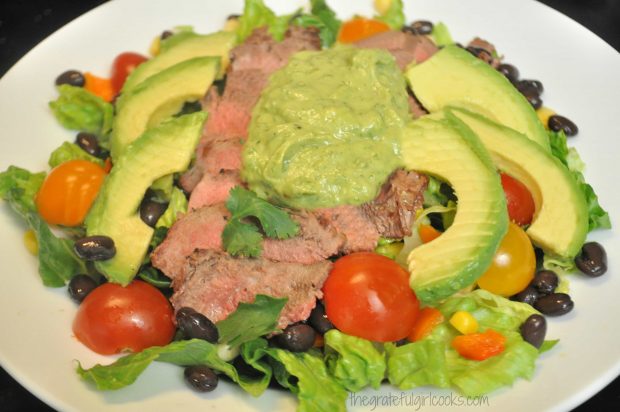 Really hope you will give this salad a try… we really enjoyed it, and were quite full afterwards!  Have a great day… and remember… Be Kind. Everyone is facing a battle of some kind and YOU might be the one person to brighten their entire day!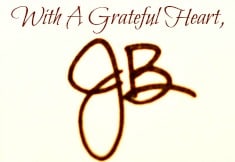 Recipe Source:  http://www.joyfulhealthyeats.com/southwestern-steak-salad-with-cilantro-avocado-dressing/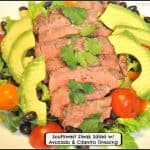 Southwest Steak Salad w/ Avocado & Cilantro Dressing
Delicious and filling, this main course steak salad and salad dressing features great Southwestern flavor!
Category:
Main Course Salad
Servings
:
2
large servings
Ingredients
For Salad Dressing:
1

avocado

1

cup

fresh cilantro

, chopped

1/4

cup

fresh lime juice

1

Tablespoon

red wine vinegar

1

Tablespoon

olive oil

1/4

teaspoon

red pepper flakes

1/4

teaspoon

cumin

Salt and Pepper

, to taste
For Salad:
Ribeye steak

(or grilled chicken breast), grilled (with salt/pepper or Montreal seasoning), thinly sliced

1

head Romaine lettuce

, chopped

1/2

cup

corn

(canned, drained)

1/2

cup

black beans

(canned, drained)

1/2

cup

orange bell pepper

, diced

1/2

avocado

, peeled and thinly sliced (for garnish)

cilantro leaves

(chopped, for garnish)
Instructions
Prepare Salad Dressing:
Prepare salad dressing by placing all ingredients except salt and pepper into a blender. Blend very well, until it is very smooth and creamy. Season with salt and pepper, to taste. (If it is too thick, you can thin it a bit by adding a tiny bit more olive oil and red wine vinegar). Set aside.
Prepare Salad:
Place chopped lettuce onto serving plate. Top lettuce with corn and black beans; top this with orange bell peppers, thin slices of steak or chicken breast (quantity is your choice), cherry tomato halves. Garnish with chopped cilantro. Top with a large dollop of the salad dressing.

Serve, and enjoy this great salad!
Recipe Notes
Note: Didn't add a cooking time, as it varies between steak or chicken. I used leftover grilled steak, so the prep time was minimal.
Save
Save