It's EASY to make your own homemade mayonnaise from scratch, to use on sandwiches, or in other dishes, using only a few simple household ingredients!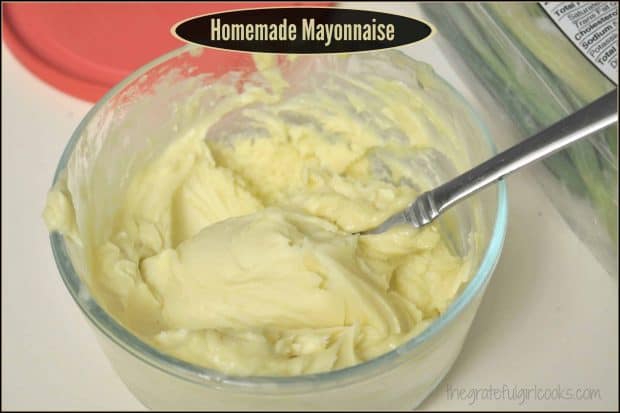 I was in the middle of cooking last week and ran out of mayonnaise. Normally I'd run to the store, but was taking care of our sick dog Bailey, (just diagnosed with Stage 4 cancer – sigh…) and I didn't want to leave her alone, so instead… I made Homemade Mayonnaise!
Problem solved… and it was really EASY! Have you ever made homemade mayonnaise from scratch before? I never had, before making it recently, and I was pleasantly surprised with the results.
Here's what you do to make your own, with a few simple household ingredients:
Scroll Down For A Printable Recipe Card At The Bottom Of The Page
How To Make Homemade Mayonnaise From Scratch
Whisk egg yolk, yellow mustard, sea salt, and sugar together in a mixing bowl. I bet you won't even break a sweat doing this… right?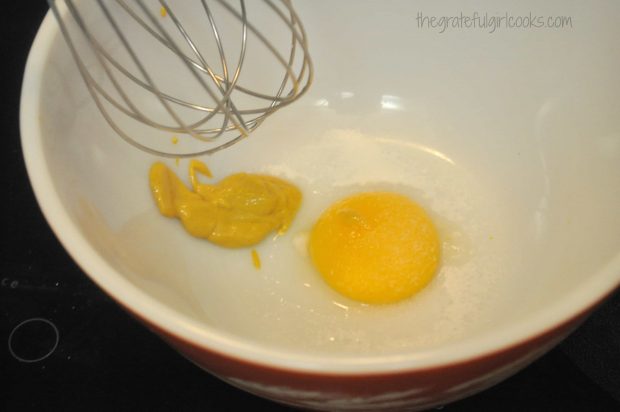 In a separate (small) bowl, stir vinegar and lemon juice together. Slowly pour half of the vinegar/lemon mixture into the egg mixture in a steady, thin stream, while whisking continuously.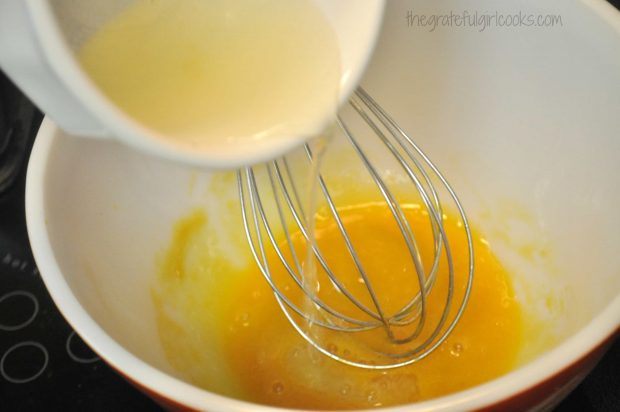 Whisk briskly, until the ingredients have been fully combined.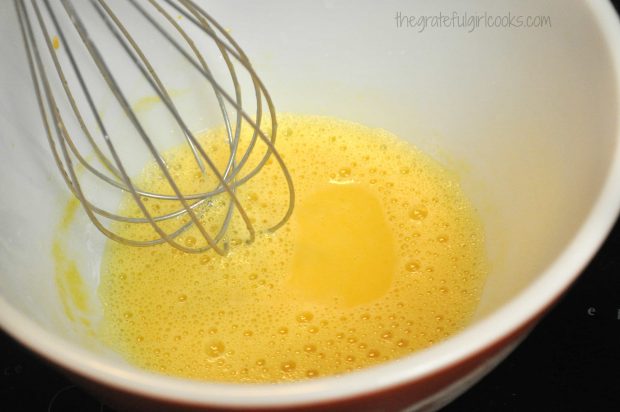 Important Step – Go Slowly!
Add half of the oil in a slow steady stream, while whisking constantly. Don't rush this step, because it is very important to the success of this recipe.
Maintain a slow and steady stream of oil, while you briskly whisk the oil in. When you've whisked in half of the oil, stop and set the oil aside.
Now whisk in the remaining half of the vinegar/lemon mixture. Once that is blended in, finish whisking in the rest of the oil (thin, slow stream).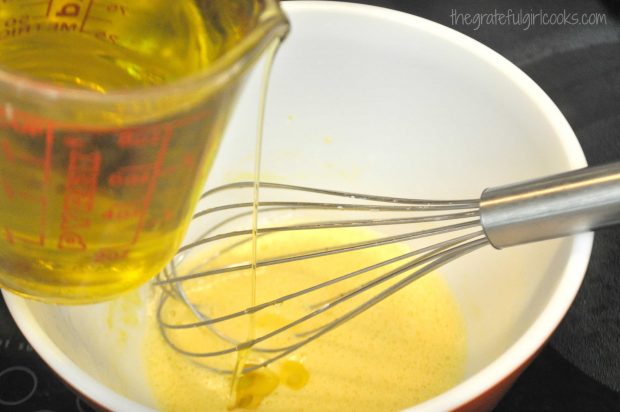 At this point, the mayonnaise mixture will be a bit lighter in color and will have thickened up quite a bit.
Let the homemade mayonnaise sit at room temperature for about an hour, then transfer it to an airtight container with a lid.
Chill the homemade mayonnaise at least 2-3 hours before using, for the best results. The mayonnaise will thicken even more as it chills.
Store the container of homemade mayonnaise in the refrigerator for up to a week.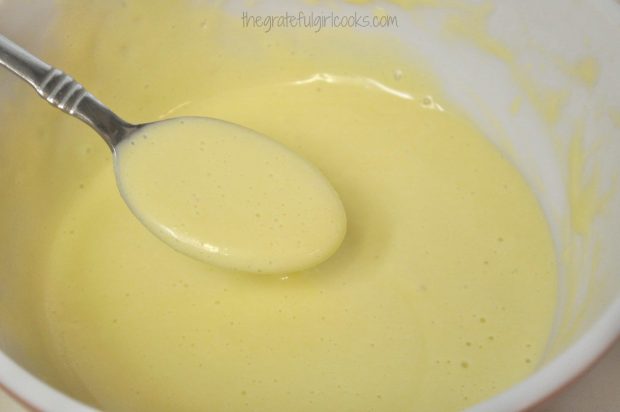 When Ready To Use Your Homemade Mayonnaise
After being refrigerated for several hours, you will notice how much thicker the homemade mayonnaise has become.
When you are ready to use it, give it a really good stir before spreading it, or adding it to a dish.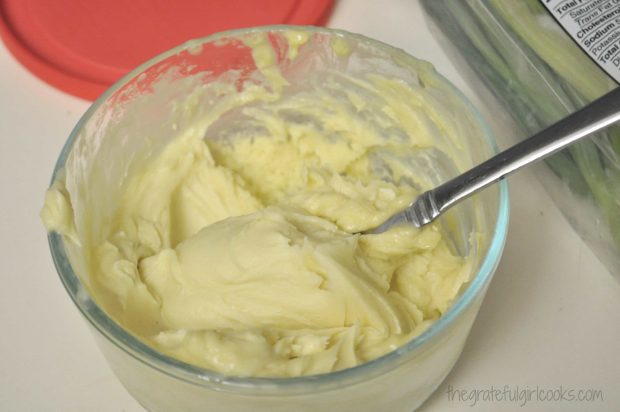 It spreads well, and tastes like MAYO! Go figure! And just think… YOU made it all by yourself! That has to be some kind of Christmas miracle, right?
Many Uses For Your Homemade Mayonnaise
I used this homemade mayonnaise on some sandwiches, a chicken dish I cooked (Santa Fe Chicken), and in some homemade Potato Salad I made for a Memorial Day BBQ!
This condiment was PERFECT, used in each of those dishes! Hope you'll try making this simple pantry staple!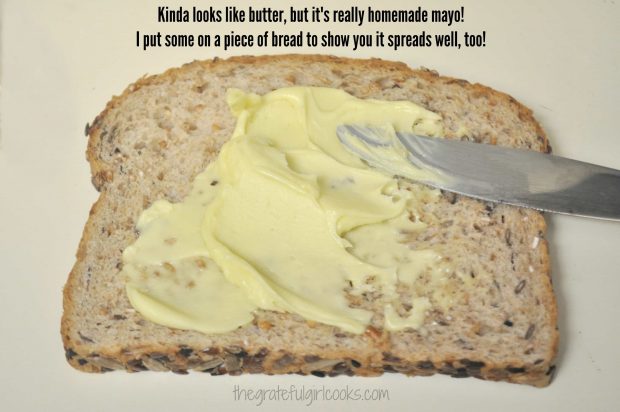 Now if you're ever stranded on a desert island with all the ingredients AND a whisk (it COULD happen, right?), now you can have homemade mayonnaise, too!
How's THAT for your encouraging thought for the day! Thanks for stopping by. Have a great day, and come back soon.
Looking For More CONDIMENT Or SAUCE Recipes?
You can find ALL of my recipes in the Recipe Index, which is located at the top of the page. I have some delicious condiment and sauce recipes to make from scratch, including:
Want More Recipes? Get My FREE Newsletter!
I publish a newsletter 2 times per month (1st and 15th) with lots of recipes, tips, etc..
Would you like to join our growing list of subscribers?
There is a Newsletter subscription box on the top right (or bottom) of each blog post, depending on the device you use.
You can submit your e-mail address there, to be added to my mailing list.
Find Me On Social Media:
Facebook page: The Grateful Girl Cooks!
Pinterest: The Grateful Girl Cooks!
Instagram: jbatthegratefulgirlcooks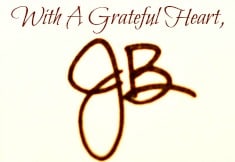 Recipe Source: http://www.browneyedbaker.com/homemade-mayonnaise-recipe/#more-33784
↓↓ PRINTABLE RECIPE BELOW ↓↓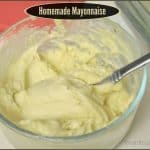 Homemade Mayonnaise
It's EASY to make your own homemade mayonnaise from scratch, to use on sandwiches, or in other dishes, using only a few simple household ingredients!
Keyword:
homemade mayonnaise
Servings
:
16
Tablespoons (1 heaping cup)
Calories Per Serving
:
16
kcal
Ingredients
1

large

egg yolk

1

teaspoon

prepared yellow mustard

1/2

teaspoon

sea salt

2

pinches

granulated sugar

(optional, but I used it)

1

Tablespoon

white wine vinegar

(apple cider vinegar or rice wine vinegar can be substituted)

2

teaspoons

fresh lemon juice

1

cup

light olive oil
Instructions
Whisk egg yolk, mustard, salt and sugar together in mixing bowl.

In separate bowl, combine vinegar and lemon juice. Slowly pour HALF of the vinegar/lemon mixture in a steady stream into the egg mix, making sure to whisk briskly until completely combined.

Slowly add HALF of the olive oil in a thin, steady stream, while whisking quite briskly. Once you're added half of the olive oil, set oil aside.

Continue slowly streaming in the remaining vinegar/lemon mixture, whisking briskly while adding.

Now stream in the rest of the olive oil, whisking continuously the entire time you pour it in.

Once all ingredients have been completely blended together, let the mayonnaise sit at room temperature on the counter for about an hour. After that time is up, cover the container and place in the refrigerator. Mayonnaise will keep for about a week in the refrigerator.

When ready to use, just give it a quick stir, and you're ready to go! Enjoy!
Recipe Notes
If you are pregnant, I suggest using pasteurized eggs for this recipe.
Nutrition Facts
Homemade Mayonnaise
Amount Per Serving (1 Tablespoon)
Calories 16
Calories from Fat 9
% Daily Value*
Fat 1g2%
Cholesterol 12mg4%
Sodium 76mg3%
Vitamin A 15IU0%
Vitamin C 0.2mg0%
Calcium 1mg0%
* Percent Daily Values are based on a 2000 calorie diet.
Here's one more to pin on your Pinterest boards!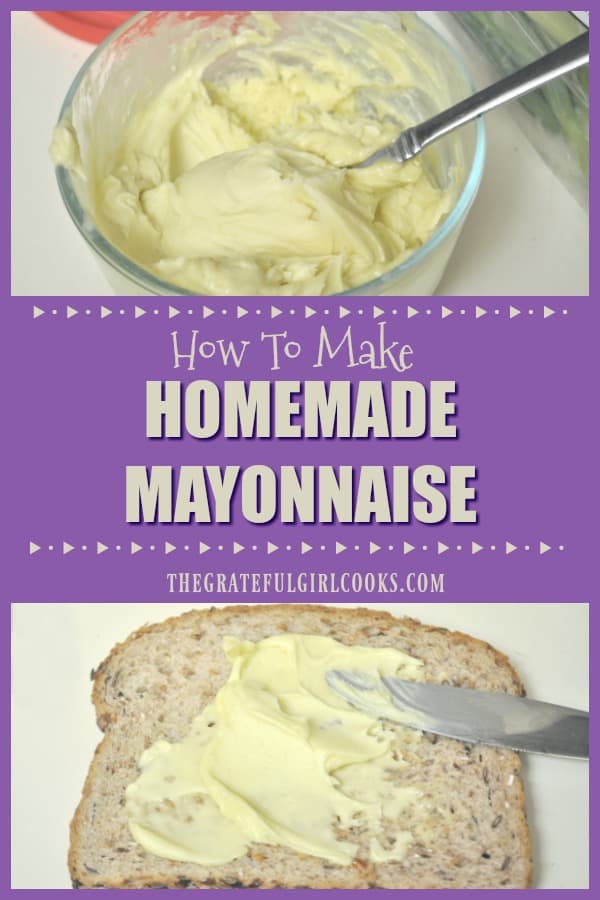 Save
Save