Sweet and just a little tart, this Rhubarb-Orange Jam is a perfect combo to enjoy on toast or muffins! Canning instructions for long term storage are included with recipe.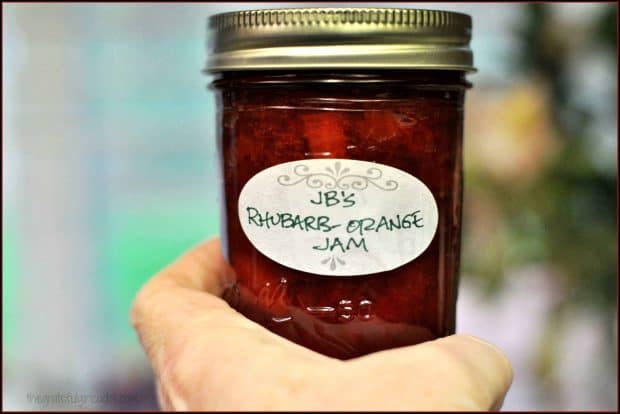 Last year I ordered the newest edition of "The Ball Blue Book – Guide To Preserving", and had fun looking at recipes and getting ideas for jams.
The first recipe I used from the book was for Rhubarb-Orange Jam, and boy, was I was surprised at just how GOOD it tastes!
Scroll Down For A Printable Recipe Card At The Bottom Of The Page
How Much Jam Will this Recipe Yield?
This recipe will yield enough jam for about 7 half-pint jars, so I have plenty for our pantry and a few to give to friends! Talk about simple – this recipe only has 4 ingredients… rhubarb, oranges, sugar, and pectin. If you've made jam and canned it before, it is pretty "textbook" jam making.
This rhubarb-orange jam is really delicious! A cool thing for me was being able to use rhubarb grown in our own backyard garden to make this jam!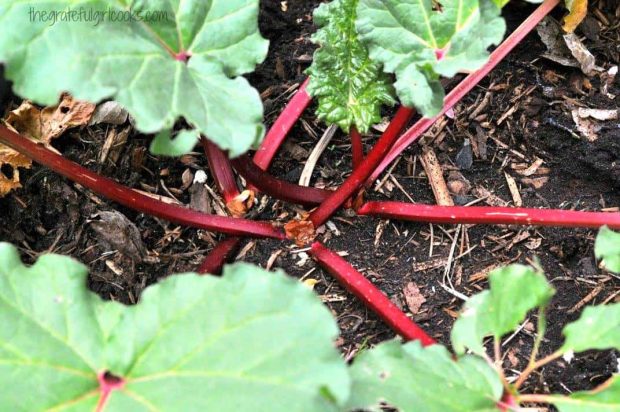 Can I Make Rhubarb-Orange Jam If I Will NOT Be Canning IT?
The answer is YES. However, if storing in the refrigerator, the jam will have a much shorter "life" than processed and canned jam.
If you are NOT going to be canning the jam, make sure to store the jam in a sealed container(s) in the refrigerator. The recipe makes approximately 7 half pint jars of jam, so you will have a LOT of jam to eat! That's about 112 TABLESPOONS of rhubarb-orange jam!
You can also put this delicious jam (not processed for long term storage) in half-pint jars and give to friends or family, with instructions directing them to keep in the fridge, and use soon. The "unprocessed or un-canned" jars will NOT be shelf stable for long term storage.
If You Are Going To Can The Rhubarb-Orange Jam
I recommend following all basic USDA guidelines for canning, as a matter of precaution. This includes sterilizing the jars and flat lids that you will be using.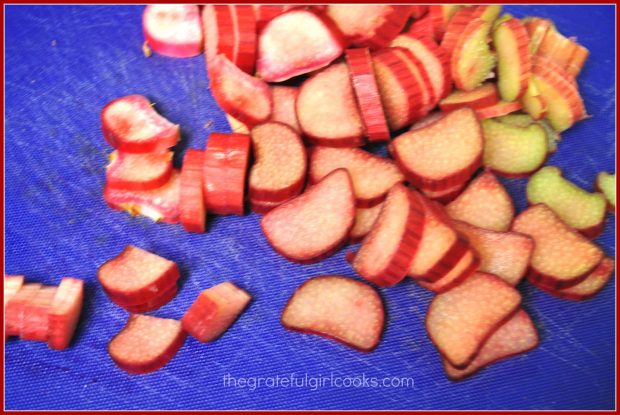 Processing Jars Of Rhubarb-Orange Jam
This jam is easily made in a water bath canner. After pre-cooking the rhubarb, oranges, sugar and pectin, the rhubarb-orange jam is carefully ladled into hot, sterilized half-pint canning jars.
The jars are filled, wiped clean, and secured with a flat lid and screw band. Filled jars of rhubarb-orange jam are then placed on an elevated rack and covered with simmering water in the canner.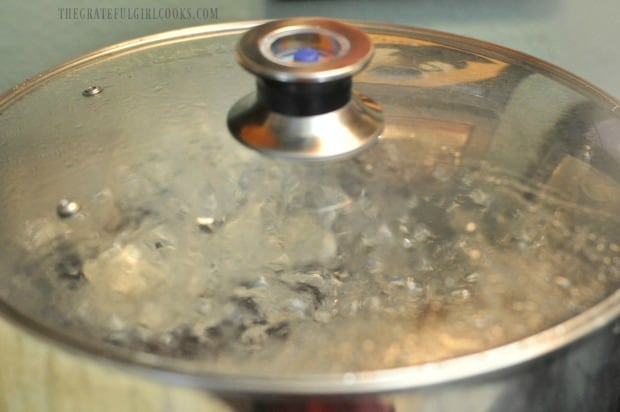 This jam is processed for 10 minutes in the water bath canner. When done, the hot jars are carefully removed, and they are left undisturbed, overnight, to cool completely.
Once cooled, the jars of rhubarb-orange jam are then wiped clean of any sticky residue from the canning process.
The only thing left to do is label the jars, and place them in the pantry, for long term storage.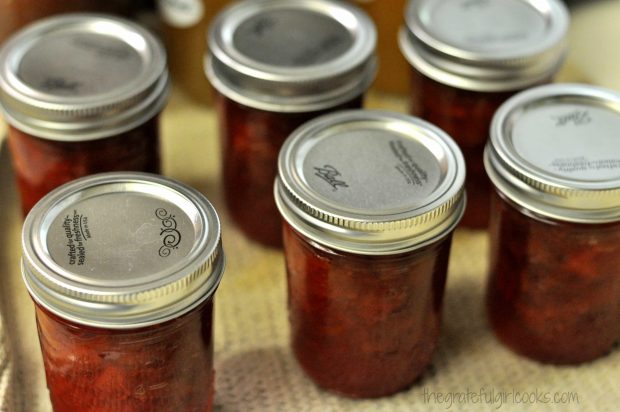 Rhubarb and orange flavors present in this jam are very delightful! A little burst of citrus from the orange zest and juice nicely compliments the slightly tart flavor of the rhubarb.
The rhubarb-orange jam will provide a delicious topping for your toast and muffins, etc. If you have canned it for long term storage, you can pull a shelf-stable jar of this yummy jam out of the pantry any time you want!
I hope you consider trying this recipe for rhubarb-orange jam… and trust you will enjoy it! Have a fantastic day, and please come back again soon.
Looking For More JAM Recipes?
You can find all of my jam recipes in the Recipe Index, located at the top of the page. A few family favorites include:
Want More Recipes? Get My FREE Newsletter!
I publish a newsletter 2 times per month (1st and 15th) with lots of recipes, tips, etc..
Would you like to join our growing list of subscribers?
There is a Newsletter subscription box on the top right (or bottom) of each blog post, depending on the device you use.
You can submit your e-mail address there, to be added to my mailing list.
Find Me On Social Media:
Facebook page: The Grateful Girl Cooks!
Pinterest: The Grateful Girl Cooks!
Instagram: jbatthegratefulgirlcooks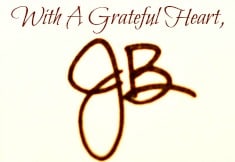 Recipe Source: "Ball Blue Book – Guide To Preserving", copyright 2014, Hearthmark, LLC (dba Jarden Home Brands), page 54.
↓↓ PRINTABLE RECIPE BELOW ↓↓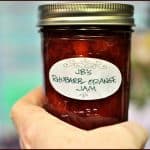 Rhubarb-Orange Jam
Sweet and just a little tart, this Rhubarb-Orange Jam is a perfect combo to enjoy on toast or muffins!
Category:
Jam / Canning and Preserving
Keyword:
rhubarb-orange jam
Servings
:
112
Tablespoons (approx. 7 half-pint jars)
Calories Per Serving
:
47
kcal
Ingredients
2 1/2

pounds

fresh rhubarb

(between 10 and 18 stalks, depending on size)

2-3

medium navel oranges

6

Tablespoons

Ball Classic Powdered Pectin

6

cups

granulated sugar
Instructions
Prep The Fruit:
Prep the rhubarb and oranges. Wash and drain rhubarb, then cut off the leafy tops and the root ends from the rhubarb stalks. Discard. Slice rhubarb into 1/2 inch chunks. Rinse oranges. Cut them in half and take out the seeds. Juice the oranges (you will need 1 cup of fresh squeezed orange juice) Remove the peel from one of the orange halves. Remove the white part (pith) from the peel. Slice the peel into very thin little pieces.
Cook The Jam:
Place the chopped rhubarb, fresh squeezed orange juice and orange peel slivers in a large saucepan. Cover the pan, and cook on a low simmer for about 3 minutes (the rhubarb should be tender when done). Stir in 6 Tablespoons of pectin powder, and stir until fully mixed. Turn the heat up to medium-high, and cook jam mixture until it comes to a boil. Once it reaches a full boil, add the sugar to the pan all at once, stirring well, until the sugar dissolves. Continue cooking the jam until the mixture reaches a FULL ROLLING BOIL (meaning it continues to boil even when stirring). Boil this for 1 minute. stirring constantly while boiling. After one minute, remove the pan from the heat. Use a spoon to skim off any foam that has appeared on top of the jam mixture (and discard).
Fill the Hot Canning Jars:
Canning jars should be sterilized and preheated before filling. Ladle hot jam mixture into your prepared, hot canning jars. Leave 1/4 inch headspace for each jar. Remove any air bubbles by running a plastic utensil down through jam. Completely wipe the jar rim clean. Put the jar lid and ring on jar. Tighten lid to fingertip tight. Place jars on rack in hot water bath canner over simmering water (180 degree F). Repeat with remaining jars.
To Process Jam:
Make sure jars are on rack in simmering water. Water should cover the top of the jars by an inch. (Add boiling water to pan if necessary to completely cover tops of jars). Turn the heat to medium-high. Put a lid on the canner and bring it to a rolling boil. Once boiling, process jars (1/2 pint) for 10 minutes. Turn the heat off and take the lid off the pan. Let the jars sit in pan for 5 minutes to slightly cool. Remove jars from canner (don't try to re-tighten the lids if they have loosened up). Let the jars cool on a dish towel on the counter for 12 hours (don't put hot jars right onto countertop). You should hear each jar "ping" as it seals. Check jars for secure seal after they have cooled for 12 hours. Label jars and store.
Nutrition Facts
Rhubarb-Orange Jam
Amount Per Serving (1 Tablespoon)
Calories 47
% Daily Value*
Sodium 2mg0%
Potassium 33mg1%
Carbohydrates 12g4%
Vitamin A 15IU0%
Vitamin C 2.1mg3%
Calcium 10mg1%
Iron 0.1mg1%
* Percent Daily Values are based on a 2000 calorie diet.
Here's one more to pin on your Pinterest boards!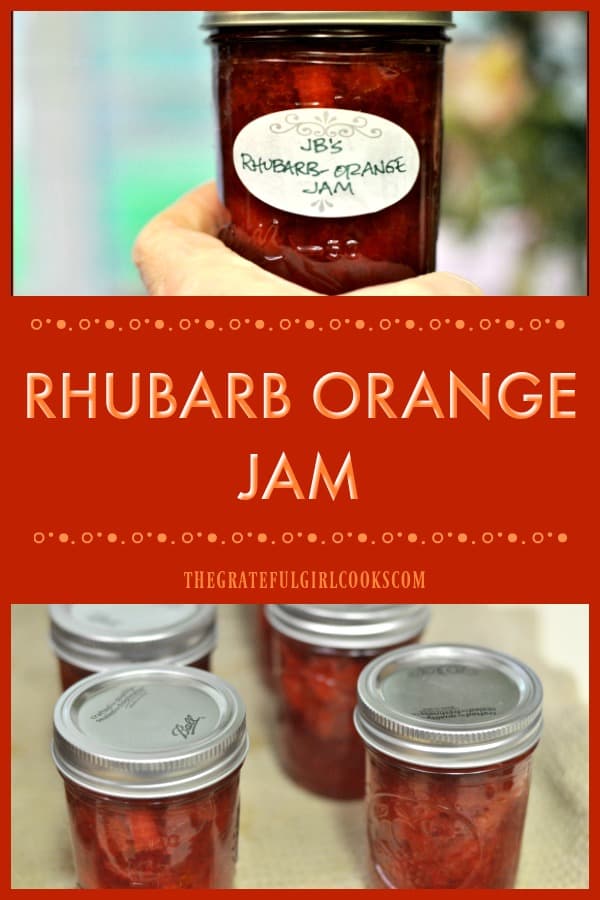 Save
Save
Save
Save