A few years ago I was searching for a dessert featuring watermelon, for a "Watermelon-Themed" dinner party we attended. All the courses prepared for the dinner had to include watermelon!  One of the desserts I brought was this amazing Tropical Watermelon Sorbet with Lime Semifreddo!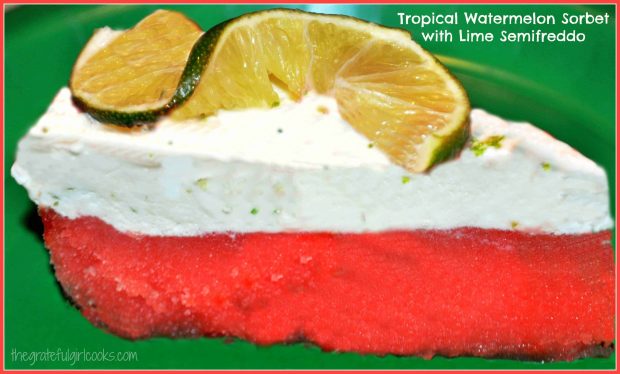 I created this frozen treat by using a recipe for watermelon sorbet (from Giada DeLaurentiis of the Food Network), and combining it with another recipe (from Serious Eats) I wanted to try for Lime Semifreddo.
I only took the ONE picture (which is a TOTAL bummer), but the instructions below will get you from Point A to Point B with no problem. Basically what I did was make the sorbet and freeze it in a cake pan. Then I made the lime semifreddo, and spread it on top of the sorbet, then froze them both together. At serving time, I cut the frozen dessert into pie shaped wedges, and served it with a twist of fresh lime on top.
The tropical watermelon sorbet gets it's flavor from watermelon, pineapple juice, lime juice and ginger ale. It's wonderful! If you've never heard of semifreddo before (neither had I BEFORE making this), you will LOVE it! Think ice cream on steroids. "Semifreddo" is Italian, and means "half-cold". Because of the air and sugar in it, the semifreddo maintains a soft, creamy texture even after being frozen (it will never get rock hard like ice cream does in the freezer – YAY!). The lime flavor is magnificent in this semifreddo…light and fresh-tasting! Put the two together, and you've got a spectacular, refreshing, frozen dessert!
The combination of the two recipes into one was a great pairing of summertime flavors (in my humble opinion!  Seriously DELICIOUS, COLD, AND REFRESHINGLY LIGHT on a hot summer's night! I really hope you will give this frozen dessert a try. It's best if you make it the day before you want to serve it, so that everything freezes well together.
Don't let the length of the prep time stop you from trying this. The sorbet actually only takes a few minutes to make, and the semifreddo can be made in under half an hour. Most of the prep time is inactive "waiting for the stuff to freeze" time. Enjoy!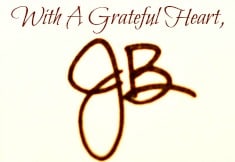 Recipe Source for Tropical Watermelon Sorbet: http://www.foodnetwork.com/recipes/giada-de-laurentiis/tropical-watermelon-sorbet-recipe.html
Recipe Source for Lime Semifreddo: http://www.seriouseats.com/recipes/2011/04/lime-semifreddo-with-pretzel-crust-recipe.html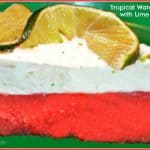 Tropical Watermelon Sorbet With Lime Semifreddo
This "tropical tasting" frozen dessert featuring watermelon, pineapple, and lime is PERFECT on a hot summer's night!
Ingredients
For the Tropical Watermelon Sorbet:
1

(2 pound) piece seedless watermelon (fruit cut into 1 inch pieces for a yield of 3 1/2 cups)

1

(6 ounce) can pineapple juice, chilled well

3/4

cup

ginger ale

, chilled well

1/3

cup

fresh lime juice

(approximately 3 large limes)

1/2

cup

Grenadine syrup

(I used Rose's)
For the Lime Semifreddo:
1

(14 ounce) can sweetened condensed milk

1/2

cup

fresh lime juice

(approx. 4 limes)

2

teaspoons

finely grated lime zest

1

cup

granulated sugar

1/4

cup

water

2

Tablespoons

light corn syrup

4

large egg whites

(at room temperature)

1/4

teaspoon

salt
Instructions
Make the watermelon sorbet first: Combine the chilled watermelon pieces, pineapple juice, ginger ale, lime juice, and grenadine syrup in a blender (may have to work in batches). Blend until smooth. Pour mixture into an ice cream maker; freeze, according to your manufacturer's instructions. (between 25 and 30 minutes). I spooned the frozen sorbet out of the ice cream machine into a round 9 inch cake pan. Spread the sorbet out to level it out. Cover, and freeze until solid. (I froze mine for several hours before adding the semifreddo to the top of it.

Make the Lime Semifreddo (after the sorbet has frozen for several hours):

In a medium bowl, whisk the sweetened condensed milk, lime juice and finely grated lime zest until mixture is smooth. Set bowl aside.

In a medium sized, heavy-duty saucepan, place the granulated sugar, water, and corn syrup. Stir well, to combine. Heat this mixture on medium-low until sugar is dissolved. Then increase the heat to medium-high; Bring the syrup to a boil, continue boiling and stirring (occasionally) until the mixture registers 240 degrees F on a candy thermometer (this will take between 8 and 10 minutes)

While the syrup is boiling, beat the room temperature egg whites and salt with an electric mixer (with a whisk attachment) on medium speed for about a minute. Increase mixer speed to medium-high; whisk the egg whites until soft peaks form (about 2-3 minutes)

When the egg whites are at soft peak stage (and with mixer running at medium-high speed), SLOWLY drizzle the corn syrup mixture to the egg whites. Continue mixing for about 7 minutes more. When ready, the outside of the mixing bowl should be cool to the touch, and the egg whites will be thick and glossy looking.

Mix about 1/3 of the meringue mixture (with electric beaters) into the bowl of reserved lime mixture. FOLD IN THE REMAINING MERINGUE, with a rubber spatula until well blended.

Remove watermelon sorbet from freezer. Evenly spread the lime semifreddo over the entire surface of the sorbet. Cover loosely with plastic wrap. Place pan back into freezer, and freeze for at least 8 hours.

When ready to serve, remove plastic wrap, and carefully slice into pie shaped wedges, and place onto serving plates. Garnish with a twist of fresh lime, and serve! Enjoy!
Recipe Notes
***Please note that the long prep time for this recipe really is how long the dessert will be frozen. Most of this is inactive prep time. The sorbet only takes a few minutes to prepare; the lime semifreddo can be made in about half an hour.
Save
Save
Save