A couple of nights ago I made Baked Parmesan Chicken for dinner.  I didn't use a recipe, but just made it up as I went along.  Sometimes experimenting is the way I find a recipe to keep. The chicken took only 5 minutes to prep, then it baked in the oven while I didn't even give it another thought (how rude of me…). How easy is that?  It was DELICIOUS.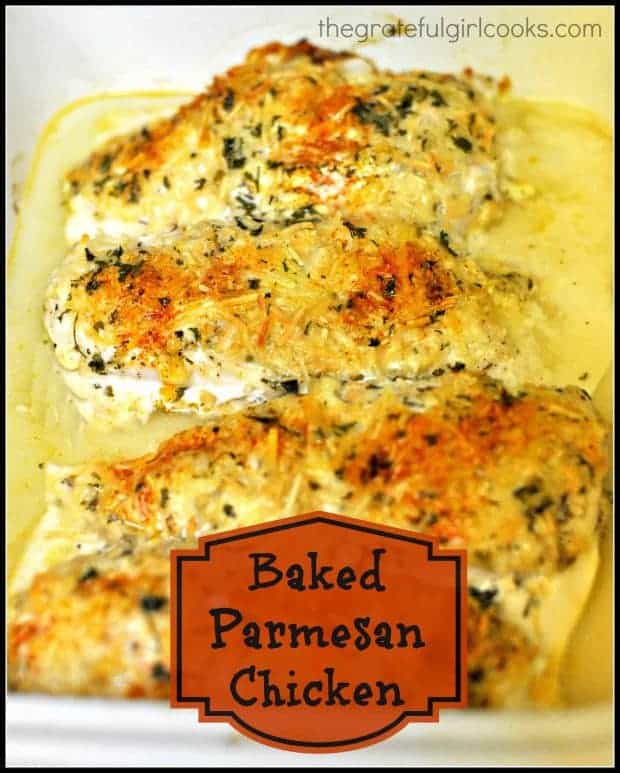 Talk about an easy dinner… whoa!! It tasted GREAT! It was one of those nights where we seriously considered "just having a bowl of cereal for dinner". I had thawed some chicken breasts, but both my husband and I were so exhausted at dinner time after a long work day, we just wanted something "simple".  I ended up deciding to just throw the chicken breasts in the oven and let them bake… figured we needed the protein more than we needed a bowl of cereal… haha!
Anyways, the chicken turned out wonderful! I based the "recipe" (if you can call it that!) on an old recipe I have that uses mayonnaise as one of the ingredients in a wonderful dinner bread. Sounds weird, huh? But wait – it's amazing! (Here's the original recipe: Italian Biscuit Flat Bread)  So for this dish I went with what I thought would taste good on chicken, and poof… dinner was served, and we really liked it! Hope you will give it a try!
Here's how to make this dish:  Chicken breasts are lightly seasoned with salt, pepper, Italian seasoning, garlic powder, and thyme.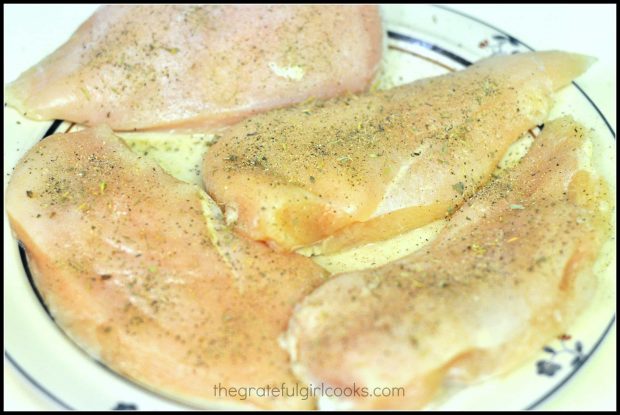 Believe it or not, mayonnaise is spread over the entire top surface of the chicken (trust me… it works!)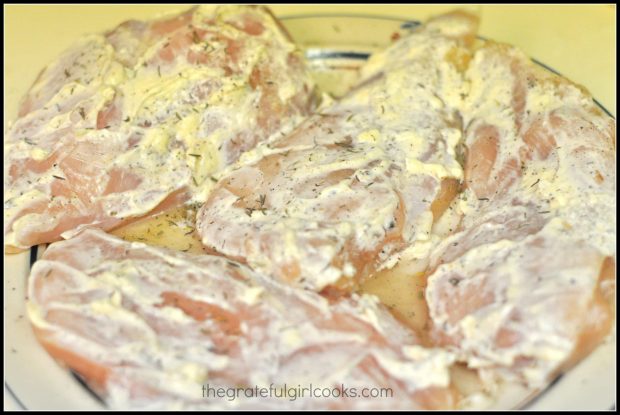 Cover the top of the chicken with grated Parmesan cheese, then sprinkle with paprika and parsley. Throw it in the ol' oven at this point!  SEE HOW EASY THE PREP WAS?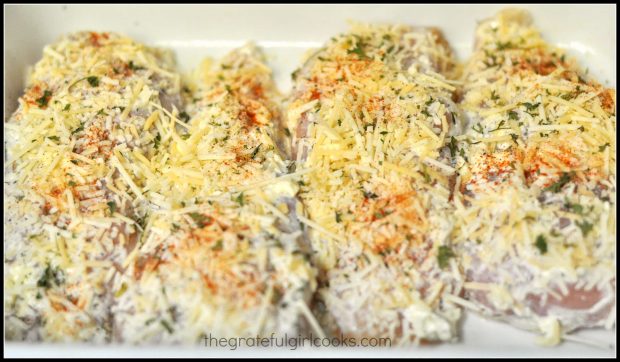 Bake, uncovered at 350 degrees for 45 minutes.  This is how it looks when it comes out of the oven.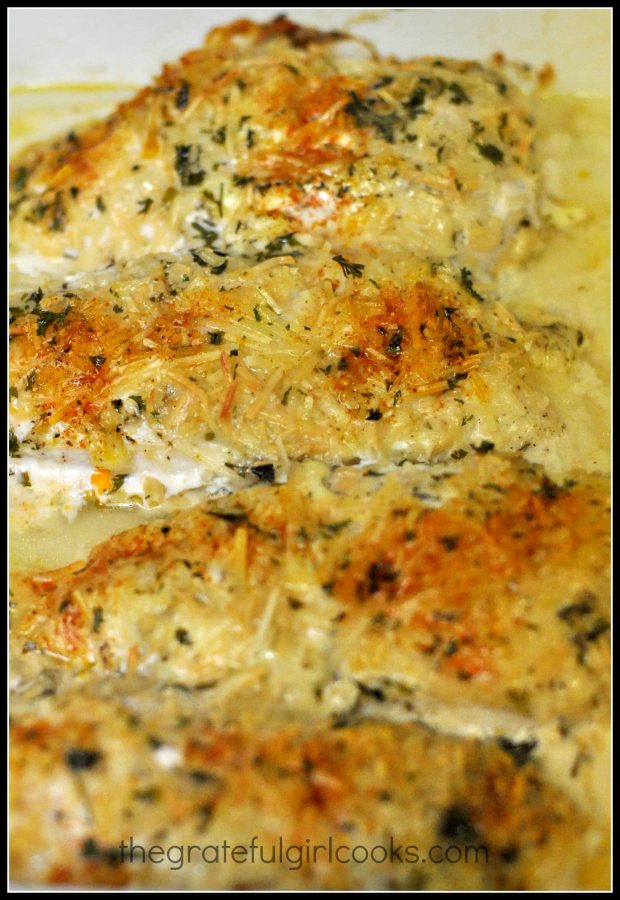 And that's it!!! One of the easiest recipes I know of!  The best part? It tastes GOOD… AND you can make the other side dishes while the chicken is baking. EASY PEASY!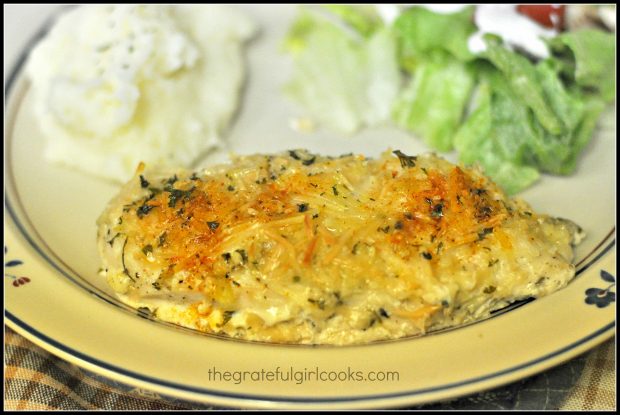 Hope you will give this recipe a try. It's so easy and will save you LOTS of time fixing a yummy dinner your family will enjoy! Have a great day!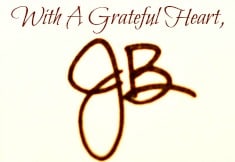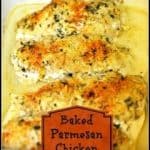 Baked Parmesan Chicken
Delicious entree, featuring baked chicken, flavored with Parmesan cheese, garlic, Italian seasoning, etc.
Calories Per Serving
:
211
kcal
Ingredients
4

chicken breasts

, boneless, skinless

1

dash

Salt and pepper

(to season chicken)

1

dash

Italian seasoning

(to season chicken)

1

dash

Garlic powder

(to season chicken)

1

dash

Thyme

(dried - to season chicken)

4

teaspoons

mayonnaise

1/2

cup

Grated Parmesan cheese

1

dash

Paprika

(for garnish)

1

dash

Dried Parsley

(for garnish)
Instructions
Preheat oven to 350 degrees. Spray a baking pan with non-stick spray.

Sprinkle the chicken breasts with salt, pepper, Italian seasoning, and dried thyme. (Don't need to measure, just season the meat with a good sprinkling of each of the spices.)

Spread 1 teaspoon mayonnaise over the entire top surface of each chicken breast, to cover.

Sprinkle the top of each chicken breast with the Parmesan cheese shreds (to cover the mayonnaise). Press down the cheese if necessary, to adhere it to the mayo.

Place chicken breasts into a baking pan. Bake chicken, uncovered, at 350 degrees for 45 minutes. Remove from oven. Sprinkle top of each chicken breast with paprika and dried parsley. Serve, and enjoy!
Nutrition Facts
Baked Parmesan Chicken
Amount Per Serving (1 piece)
Calories 211
Calories from Fat 81
% Daily Value*
Total Fat 9g 14%
Cholesterol 85mg 28%
Sodium 358mg 15%
Potassium 433mg 12%
Protein 28g 56%
* Percent Daily Values are based on a 2000 calorie diet.
Here's one more to pin on your Pinterest boards!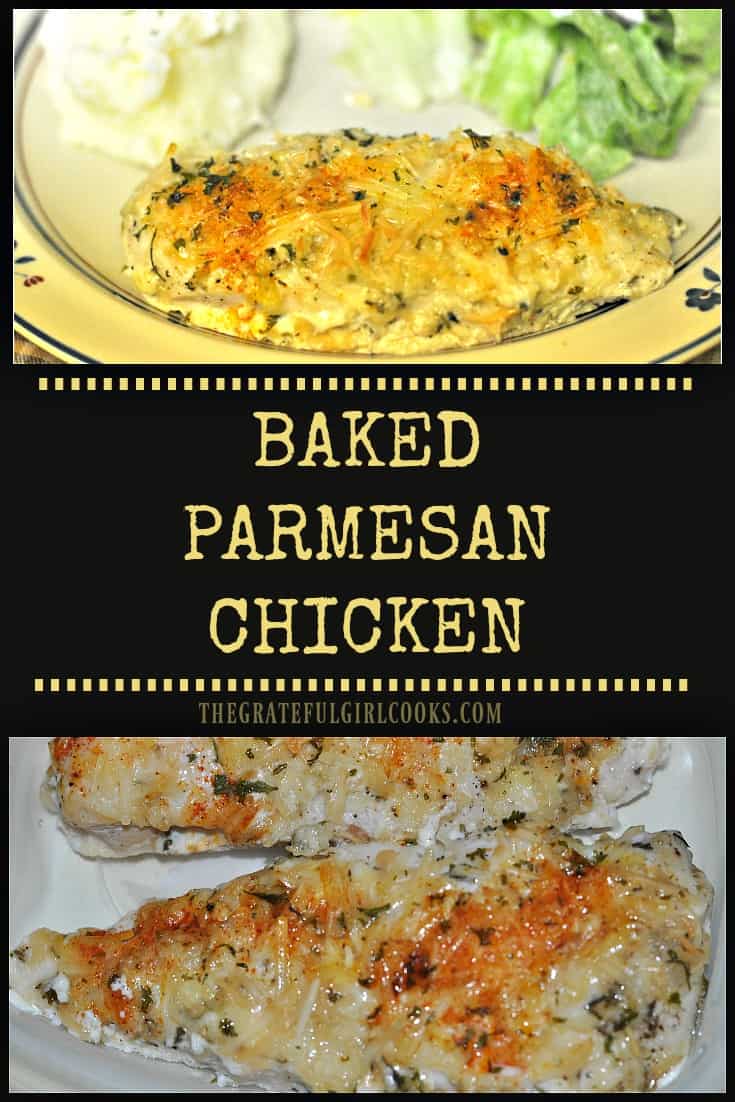 Save