My husband LOVES wedge salads. I think they are his favorite salad. Ever.  When we have the opportunity to eat "out", he will almost always order a wedge salad if it's on the menu, to go with his meal. I, on the other hand, have NEVER ordered a wedge salad OR made a wedge salad for that matter… until now.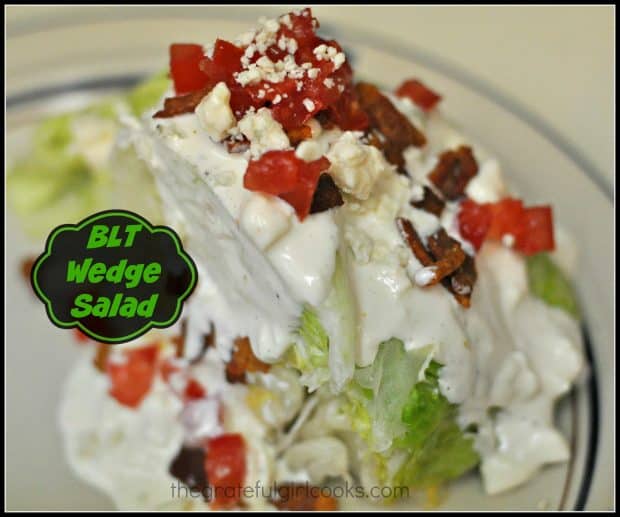 My husband had hinted around that "we" should try making one at home (you know, the proverbial "we"). I wasn't convinced I would even like it, but because I love my guy so much, I hunted around for recipes, and decided on this one that is similar to the wedge salads on the menu at Morton's Steak House. I made a couple little tweaks in the recipe, and fixed these last week with our dinner. And guess what? I loved it!
Who knew that a really cold quarter head of lettuce, covered with a delicious homemade dressing, chopped tomatoes, crisp bacon crumbles and chunks of blue cheese could be so good? We liked the salad and dressing so much that the following evening all we had for dinner was another BLT Wedge Salad! Nothing else… just the salad! (Can you tell we liked it?)
Hope you'll give this one a try. It's yummy!
First you make the salad dressing by whisking together mayonnaise and sour cream. Then buttermilk , seasoning salt, Worcestershire sauce, minced garlic, and black pepper is added.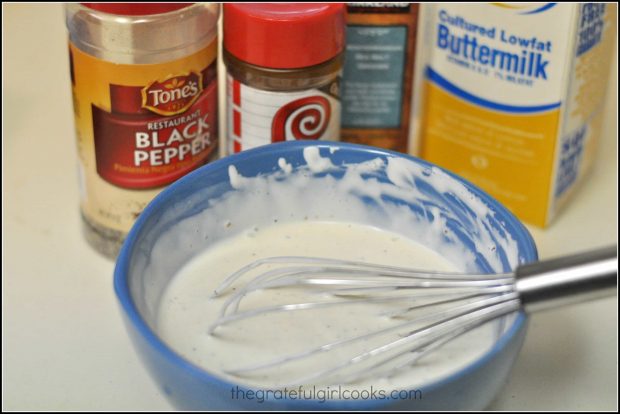 Gently fold in the crumbled blue cheese. Once blue cheese is folded in, salad dressing is refrigerated for several hours for the flavors to fully develop.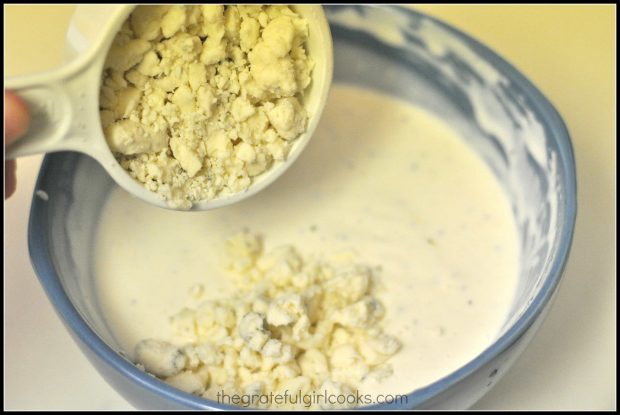 Chop and de-seed (as much as possible) 1-2 large Roma tomatoes.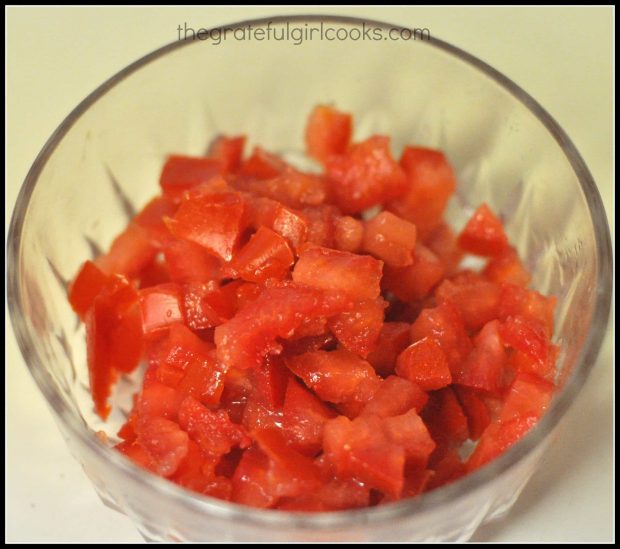 Cook bacon pieces until crisp. I like to cut up the bacon before cooking…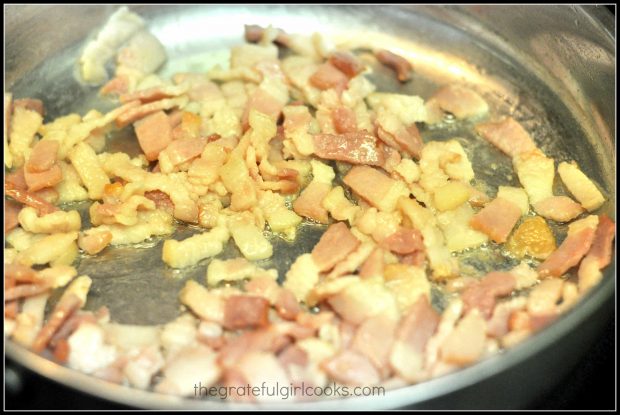 Cook the bacon until crisp. Drain and set aside.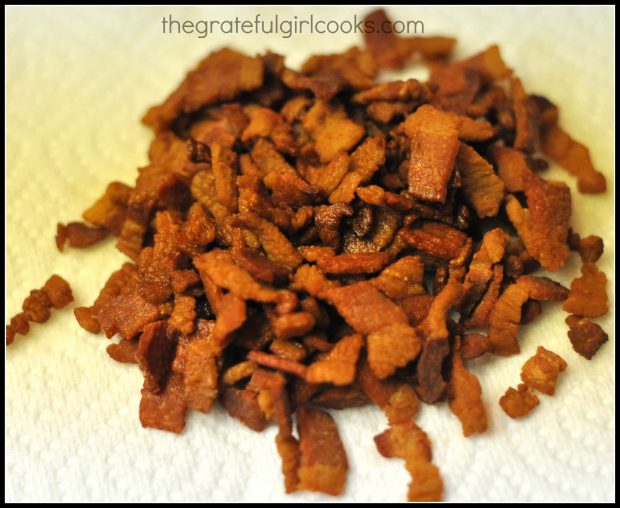 Make sure the iceberg lettuce is really cold. When ready to serve, take the core of the lettuce head out by holding the lettuce firmly and smacking the core (on the bottom) onto the kitchen counter. The core should be easy to remove after this. Cut the lettuce head, from top to bottom in half, then cut each half again. Place one entire lettuce wedge onto serving plate, drizzle with salad dressing, then top with chopped tomatoes, crumbled blue cheese and bacon crumbles.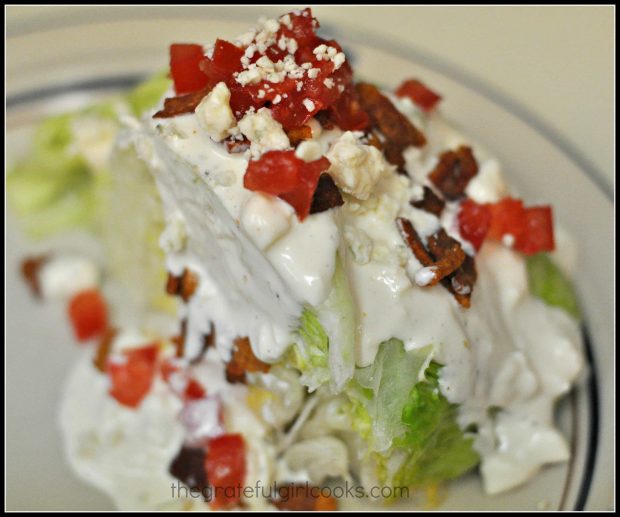 Enjoy!
Recipe Adapted From: http://pattycakescooking.blogspot.com.au/2012/01/mortons-steak-house-iceberg-blue-cheese.html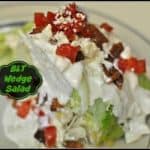 BLT Wedge Salad
Classic wedge salad with bacon, iceberg lettuce, blue cheese, and chopped tomatoes drizzled with a homemade creamy blue cheese dressing.
Calories Per Serving
:
605
kcal
Ingredients
For the Sauce:
1

cup

real mayonnaise

1/2

cup

, plus 1 Tablespoon sour cream

2

Tablespoons

buttermilk

(more if needed, for desired consistency)

1/4

teaspoon

Worcestershire sauce

3/4

teaspoon

minced garlic

1/4

teaspoon

seasoning salt

Salt and pepper

(to taste)

1/2

cup

crumbled blue cheese
For salad:
1

head iceberg lettuce

(very cold)

6

slices

bacon

, cooked crisp and crumbled

1-2

Roma tomatoes

, chopped and de-seeded as much as possible
Instructions
Make the sauce several hours before assembling salad. Whisk the mayonnaise and sour cream together in a medium sized bowl. Add the buttermilk, Worcestershire sauce, garlic, and seasoning salt to this mixture. Mix well to combine. Season the dressing with salt and pepper. Gently fold in the blue cheese crumbles and stir to combine. Cover with plastic wrap and refrigerate for several hours (or even better- overnight!) until ready to serve.

When ready to serve, take completely chilled lettuce out of refrigerator. Pull off any discolored outer leaves. Remove core by hitting the lettuce (core side down) onto kitchen counter to loosen up the core. Remove the core, and discard.

Slice the lettuce into 4 wedges, slicing from the top of the lettuce to the bottom. Place a completely cold lettuce wedge onto each serving plate. Spoon the dressing over the top of the wedge, and allow the dressing to overflow and run down the side.

Sprinkle the top of the wedge with crumbled bacon bits, chopped tomatoes, and additional blue cheese crumbles. Serve and enjoy!
Recipe Notes
The key to this salad is having the lettuce wedges be extremely COLD. You can cut the lettuce wedges and then refrigerate them for several hours, if desired. I even put our lettuce wedges in our freezer for 10 minutes right before serving, to get them even colder.
Nutrition Facts
BLT Wedge Salad
Amount Per Serving (1 wedge)
Calories 605
Calories from Fat 540
% Daily Value*
Total Fat 60g 92%
Cholesterol 58mg 19%
Sodium 980mg 41%
Potassium 356mg 10%
Total Carbohydrates 6g 2%
Protein 9g 18%
* Percent Daily Values are based on a 2000 calorie diet.
Here's one more to pin on your Pinterest boards!

Save
Save