Looking for a quick, delicious and easy weeknight dinner? How about making a batch of Chili Spaghetti? It's a slight twist on traditional spaghetti, as it has Mexican-inspired flavors!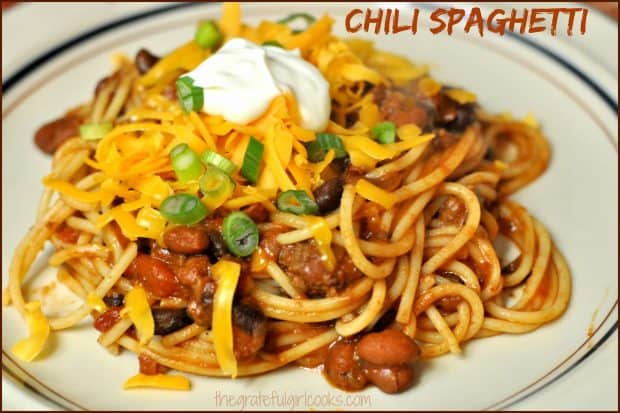 When you really think about it, traditional spaghetti has tomatoes, meat, tomato sauce, onions, garlic and cheese (Parmesan). Well- guess what? Many of those same ingredients are found in Chili, but with a completely different set of spices. So why NOT make a Mexican-inspired spaghetti, right? Right.
It's so very easy, and it surprisingly tastes so very good! It is very filling, and full of flavor. My hubby and I love having this occasionally. If you are more into "regular" spaghetti, be sure and try my recipes for Easy Spaghetti Sauce with Italian Sausage or Easy Meatballs for Spaghetti.
I make my Mom's recipe for homemade chili (http://www.thegratefulgirlcooks.com/moms-old-fashioned-chili/), so I always seem to have some extra in the freezer. I use that for this recipe, but for crying out loud… if you don't have homemade, just buy some good quality chili (meat and beans) to make this EASY!
Prepare spaghetti according to package directions. While it is cooking, heat up the chili in a large skillet. About a minute or so before the spaghetti is done, ladle out about 1/4 cup pasta water (this has starch in it), and stir it into the chili. Drain pasta and add it to the skillet with the chili in it. Continue to cook for a couple minutes until well coated and pasta is fully cooked.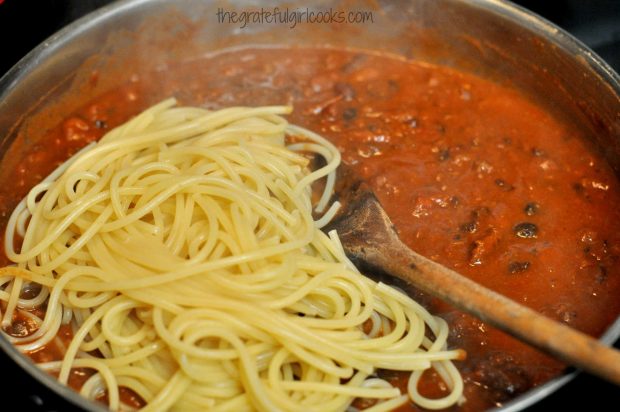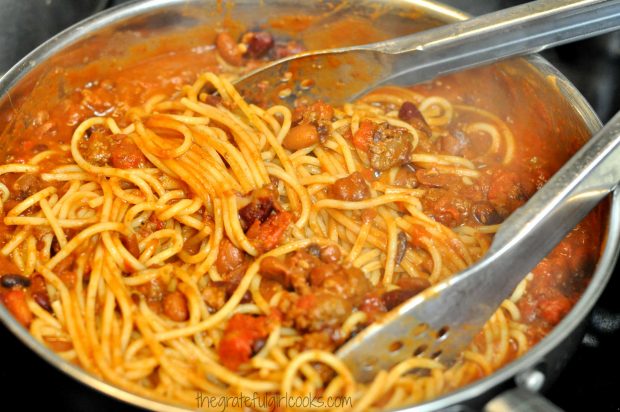 When done, place the pasta onto individual serving plates. Spoon a little leftover chili from pan onto pasta. Garnish with some grated cheddar cheese, sliced green onions and a dollop of sour cream. Serve piping hot, and enjoy!
Note** If you are using store bought chili, the key is making sure you have enough chili to completely coat the spaghetti, and have some extra to spoon on top when you plate it!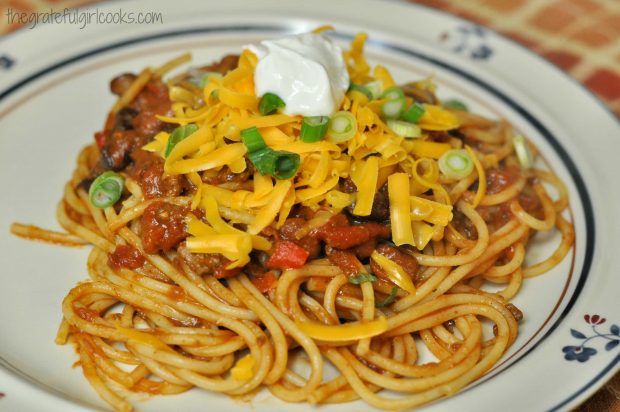 No recipe needed (unless you want to enjoy my recipe for "Mom's Old-Fashioned Chili")… see how easy that is?  Sure hope you will give this a try. It is very easy to "throw together" on a busy day!
Have a great weekend, friends.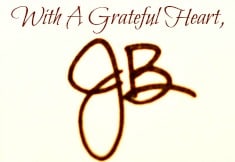 Here's one more to pin on your Pinterest boards!

Save
Save