Looking for a quick and easy pasta dinner with a Mexican twist? How about making a batch of Chili Spaghetti, with chili, green onions, cheese and sour cream?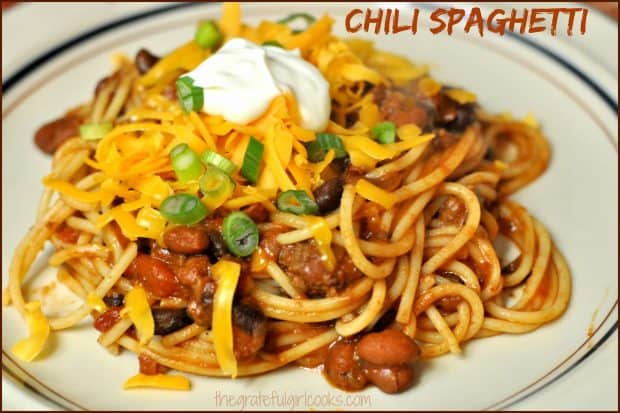 When you really think about it, traditional spaghetti has tomatoes, meat, tomato sauce, onions, garlic and cheese (Parmesan). It's a straight up, not too hard ITALIAN-INSPIRED meal to prepare. Well- guess what? Many of those same ingredients are found in Chili (homemade or purchased), but with a completely different spices. So why NOT make a MEXICAN-INSPIRED spaghetti meal, right? Right.
If you enjoy chili, and you enjoy spaghetti, read on! This easy meal will be a perfect combo meal for you! Making chili spaghetti is super simple, and it tastes so very good! The pasta dish is very filling, and full of flavor. My hubby and I love having this meal occasionally. If you are more into "regular" spaghetti, be sure and check out my recipes for Easy Spaghetti Sauce with Italian Sausage or Easy Meatballs for Spaghetti.
I make my Mom's recipe for homemade chili so I always seem to have some extra in the freezer. I use that for this recipe, but for crying out loud… if you don't have homemade, just buy some good quality chili (meat and beans) to make this EASY!
How To Make Chili Spaghetti
Prepare pasta according to package directions. While the spaghetti noodles are cooking, heat up the chili in a large skillet. A couple minutes before the spaghetti has finished cooking, ladle out about 1/4 cup pasta water (this has starch in it), and stir it into the chili.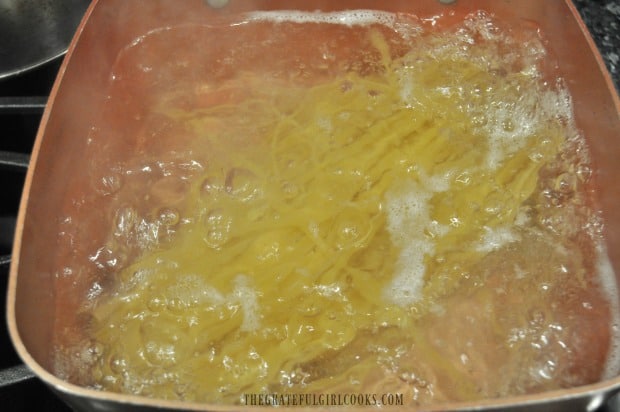 Remove pasta from pan about one minute before it is done. Drain pasta well without rinsing, then add it to the skillet with the chili in it. Stir well or use tongs, to fully combine the chili and the spaghetti noodles.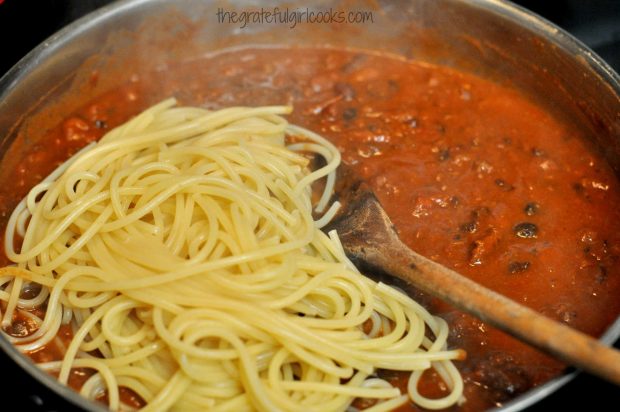 Continue to cook the chili spaghetti for a couple minutes until well coated and pasta is fully cooked through.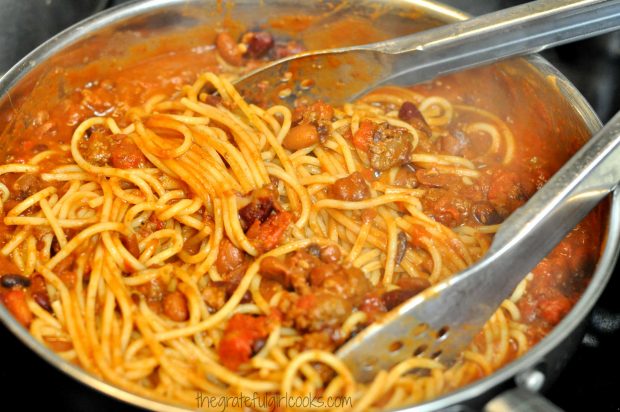 Serving Chili Spaghetti
When done, transfer the pasta onto individual serving plates. Spoon a little leftover chili from pan onto pasta. Garnish the spaghetti chili with grated cheddar cheese, sliced green onions and a dollop of sour cream. Serve piping hot, and enjoy!
Note** If you are using store bought canned chili, be sure you have enough chili in the skillet to completely coat the spaghetti! You will also need to have some extra chili in the skillet to spoon on top of the pasta when you plate it!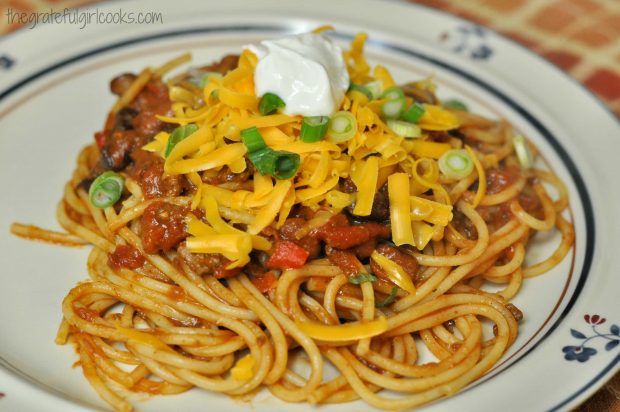 No recipe is really needed for chili spaghetti. IT'S WAY TOO EASY! Sure hope you will give this a try. It is a very easy meal to "throw together" on a busy day, when you are pressed for time, and the family is starving! Have a great weekend, friends. May you find moments of love, laughter, peace, and great JOY!
Looking For More PASTA Recipes?
You can find ALL of my recipes in the Recipe Index, located at the top of the page. I have lots of pasta recipes, including:
Interested In More Recipes?
Thank you for visiting this website. I appreciate you using some of your valuable time to do so. If you're interested, I publish a newsletter 2 times per month (1st and 15th) with all the latest recipes, and other fun info. I would be honored to have you join our growing list of subscribers, so you never miss a great recipe!
There is a Newsletter subscription box on the top right side (or bottom) of each blog post, depending on the device you use, where you can easily submit your e-mail address (only) to be included in my mailing list.
You Can Also Find Me On Social Media:
Facebook page: The Grateful Girl Cooks!
Pinterest: The Grateful Girl Cooks!
Instagram: jbatthegratefulgirlcooks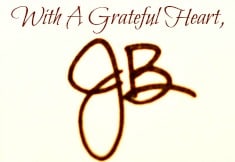 Here's one more to pin on your Pinterest boards!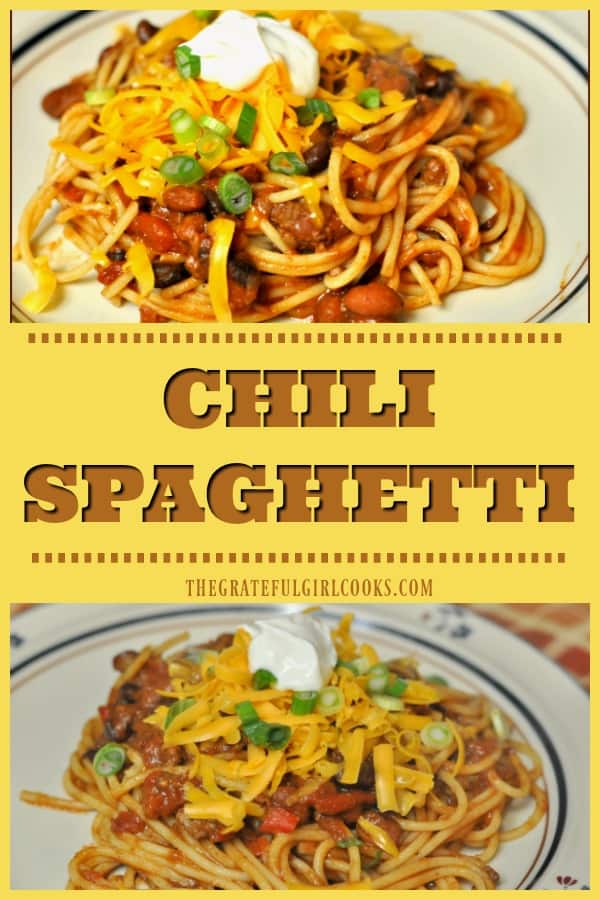 Save
Save