Chocolate Pecan Pie Bars… for the win! These delicious treats, with a chewy chocolate and pecan pie filling on a shortbread crust, will be a big hit at your next potluck, family dinner, or get together! Have mercy… the recipe makes 2 dozen of these decadent goodies!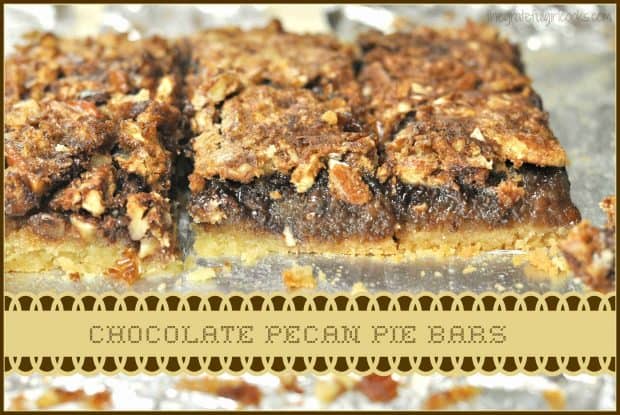 Here's how you make these fabulous dessert bars:
Before starting, preheat oven to 350 degrees. Mix together the crust ingredients. You can use either a mixer on medium speed OR a pastry blender. Mix ingredients until crumbly.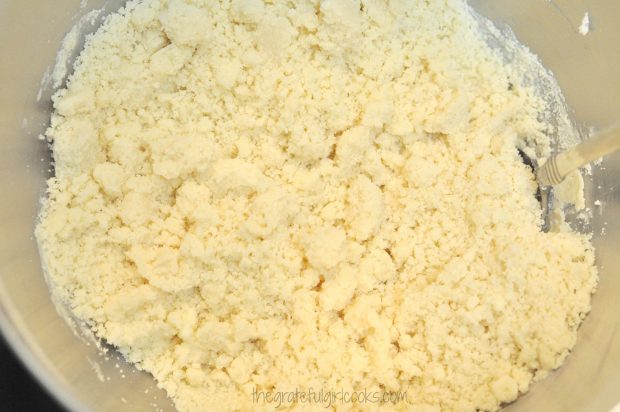 Line a 9×13 baking pan with aluminum foil, making sure the edges completely overlap all sides of the pan. You will need the edges to lift out the bars from the pan after baking. Spray foil (bottom and sides) with non-stick cooking spray. Pour crust mixture into prepared pan.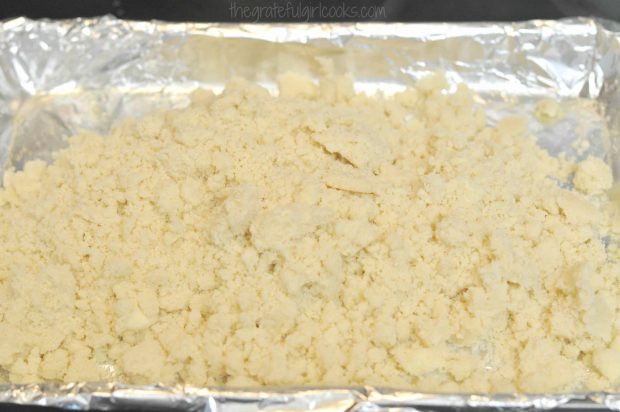 Press the crumb mixture evenly into pan to form solid crust on bottom. Bake in a preheated 350 degree oven for 20 minutes.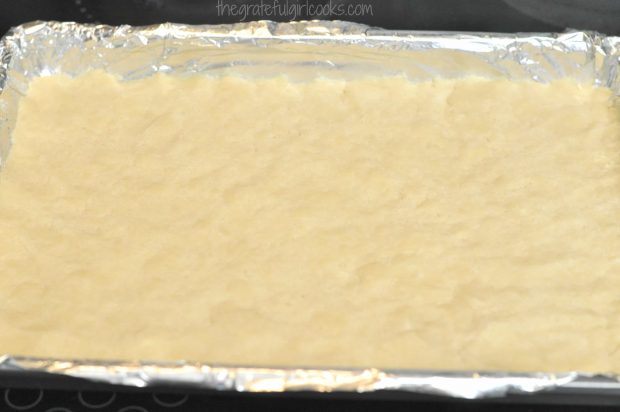 This is what it looked like right out of the oven.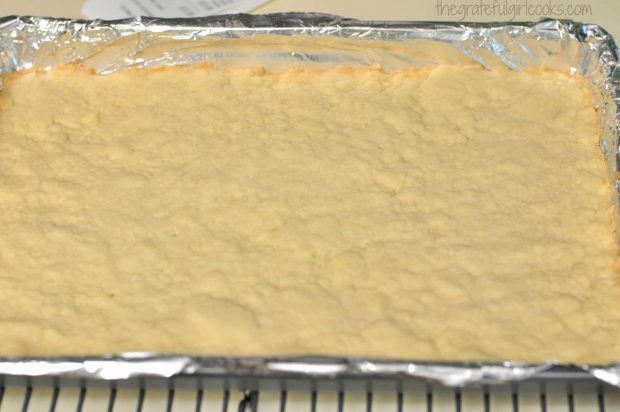 While the crust is baking, heat corn syrup and chocolate chips in medium pan on LOW heat. Do NOT fully melt chocolate chips. You only want to heat it until the chocolate is almost melted. Immediately remove pan from heat.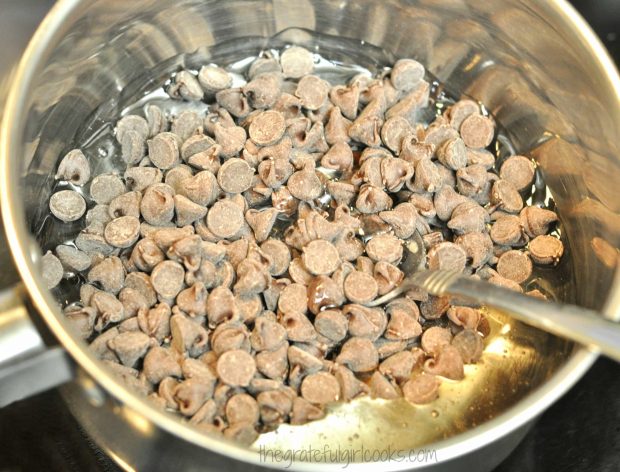 This is what it looked like when I removed pan from heat. Chocolate is NOT fully melted.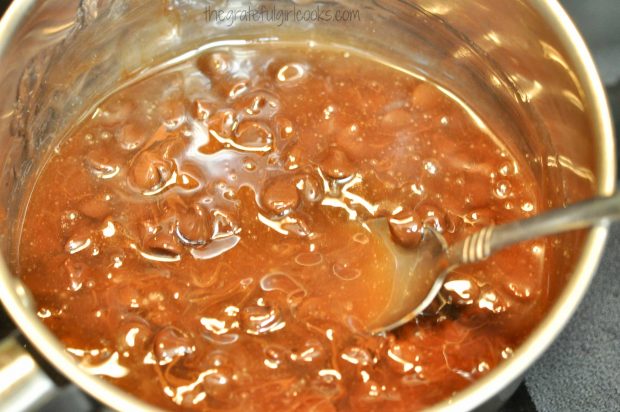 In a separate bowl, mix together granulated sugar, eggs, and the almond and vanilla extracts. Add this to the (slightly cooled) chocolate mixture, whisking continuously as you add it.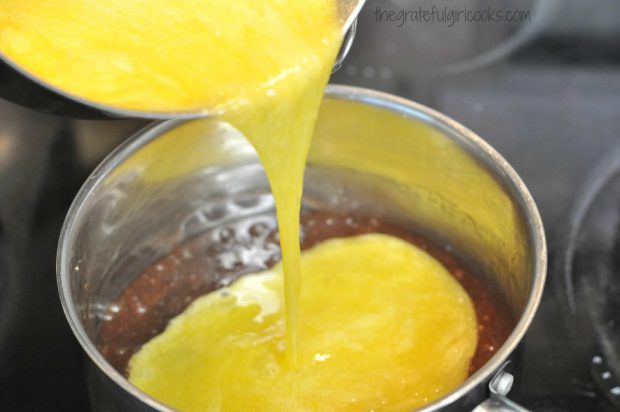 Stir in the chopped pecans.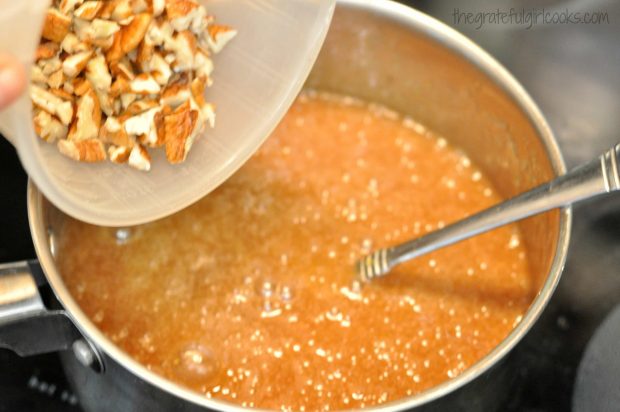 Pour the mixture on top of the cooked crust. Spread filling out evenly over surface of crust.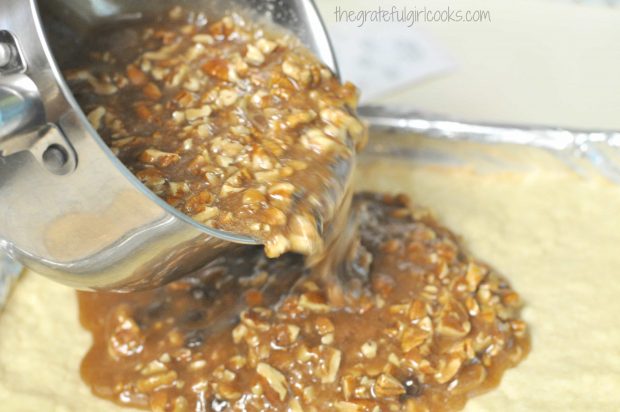 Mix up the topping ingredients (brown sugar, cinnamon, butter and chopped pecans) in a small bowl. Sprinkle evenly over the top of the filling mixture.  Put pan back into the oven and continue baking for 35 minutes. When done, the outside edges of the bars will be firm, but the middle of the pan will be slightly soft (and will firm up as they cool off).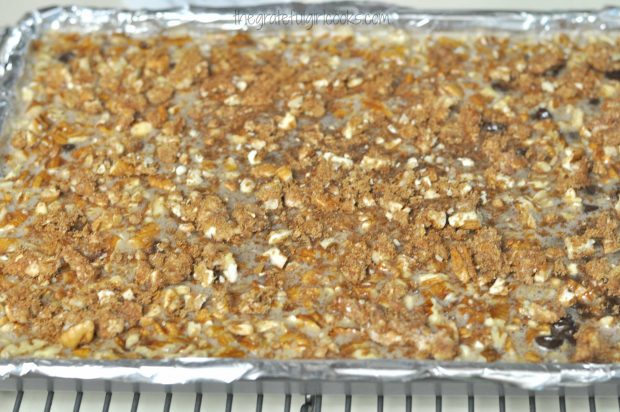 This is what they looked like when I took them out of the oven. Remove pan from oven; place pan on wire rack.  Let bars cool completely while still in the pan.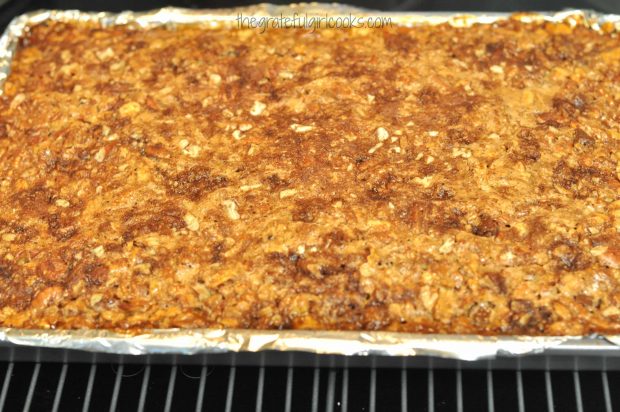 Once cool, carefully lift entire pan of bars out of dish using the foil to easily lift up and out of pan.  Peel away the sides of the foil from the bars. I then used a pizza cutter to cut the cooled dessert into 24 bars.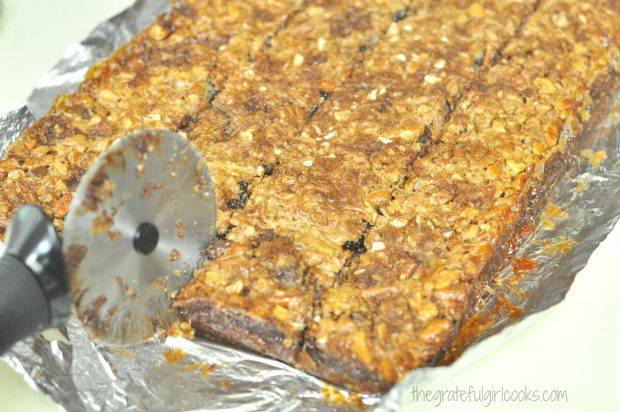 They sure look good, don't they? Well… guess what? THEY ARE FANTASTIC! Chewy, chocolatey pecan pie goodness right there, folks!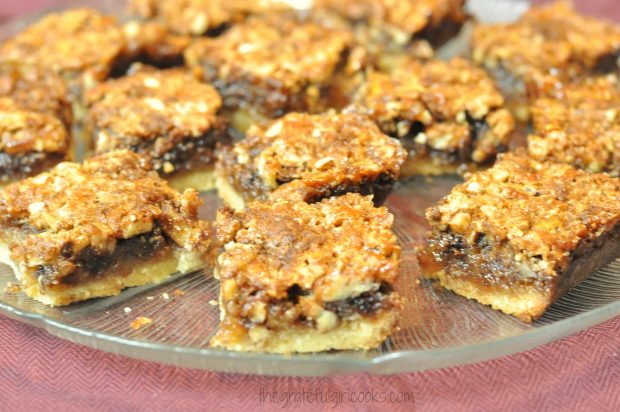 I gave some away to friends AND took some to a potluck we attended, but did manage to taste a sample. Boy are they good!!!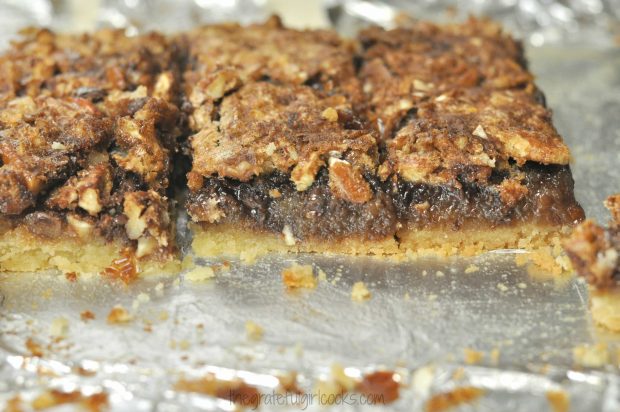 Hope you'll consider making these sweet dessert bars. I know I will make them again, for sure!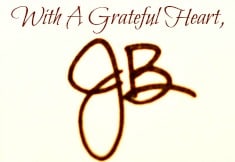 Recipe Source: http://www.spendwithpennies.com/chocolate-pecan-pie-bars/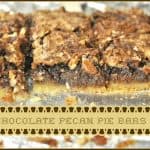 Chocolate Pecan Pie Bars
These chewy, chocolate and pecan pie filled dessert bars will be a big hit any time you make them!
Ingredients
For crust:
1

cup

butter

, softened (not melted)

2

cups

flour

1/3

cup

granulated sugar

1/4

teaspoon

salt
For Filling:
1 1/2

cups

corn syrup

(Karo)

8

ounces

semi-sweet chocolate

1

cup

granulated sugar

4

eggs

1/2

teaspoon

almond extract

1

teaspoon

vanilla extract

2

cups

chopped pecans
For Topping:
2

Tablespoons

brown sugar

1/2

teaspoon

cinnamon

1

Tablespoon

butter

1/2

cup

chopped pecans
Instructions
Before beginning, preheat your oven to 350 degrees. Line a 9x13 baking dish with aluminum foil, being sure to leave foil hanging over the edges of pan. (You will use the overhanging foil to lift bars out of dish when done). Spray the foil generously with a cooking spray (sides and bottom of foil covered pan).

Mix crust ingredients with electric mixer (on medium) or pastry blender until crumbly. Pour crumbs into foil-lined and sprayed pan, then press the crumbs firmly into the bottom of dish to form crust.

Bake crust at 350 degrees for 20 minutes. Remove.

While crust is baking, make filling. Put corn syrup and chocolate into a saucepan. Heat it on LOW only until the chocolate is ALMOST melted (don't let it melt all the way!). Remove pan from heat.

In separate bowl, mix sugar, eggs and vanilla and almond extracts. Slowly add this to the warm (not hot) chocolate mixture, WHISKING THE ENTIRE TIME YOU ARE ADDING EGG MIXTURE.

Fold chopped pecans into filling. Pour pecan filling over baked crust. Evenly distribute.

Mix together Topping (I used a fork to mix-it will be crumbly). Sprinkle topping over the top.

Put pan back into the oven, and continue cooking for 35 minutes longer, or until the edges of the dessert are firm (and the center is slightly soft). Remove pan from oven. Set pan on wire rack and cool completely. Once dessert is completely room temp., carefully lift out the entire pan of dessert using the foil overhangs. Peel away foil from sides. Cut into 24 bars. I used a pizza cutter! Enjoy!
Here's one more to pin on your Pinterest boards!

Save
Save
Save
Save