Crispy on the outside, and brimming with ham, red & green peppers, cheddar cheese, and red onion, these yummy Loaded Hash Browns – Waffle Style are cooked in the old trusty waffle maker!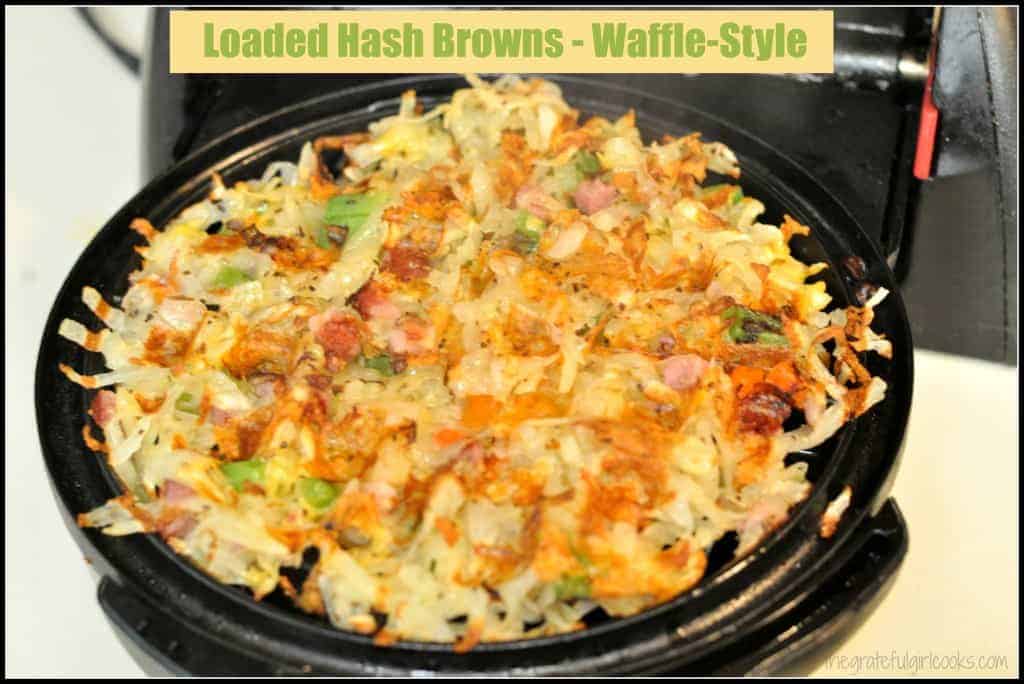 I'd seen photos of hash browns cooked in waffle irons before, but decided to put my own spin on them. I LOVE to make fully loaded hash browns (I mean… "seriously love"), so decided to give it the old "college try" and make my own version in our waffle iron. Oh my goodness… they were delicious. And crunchy! Here's how to make them:
Prep the ingredients before starting. Chop red & green peppers, ham and red onion, grate cheese and generously oil, then preheat waffle iron. Having all this done ahead is a GOOD thing.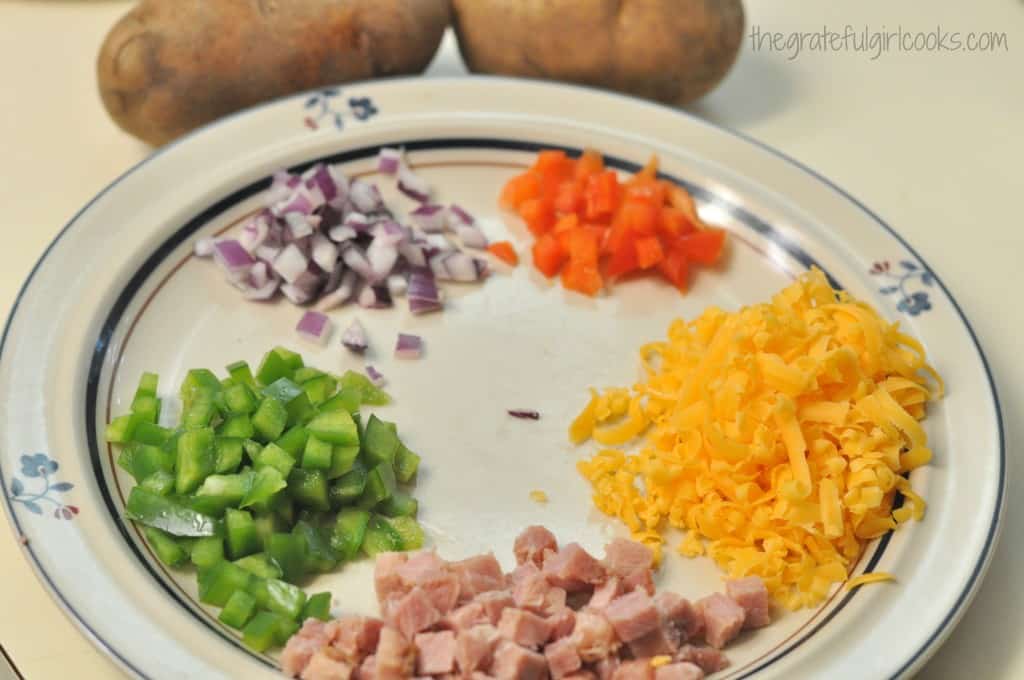 For the potato part… peel, then grate 2 medium potatoes.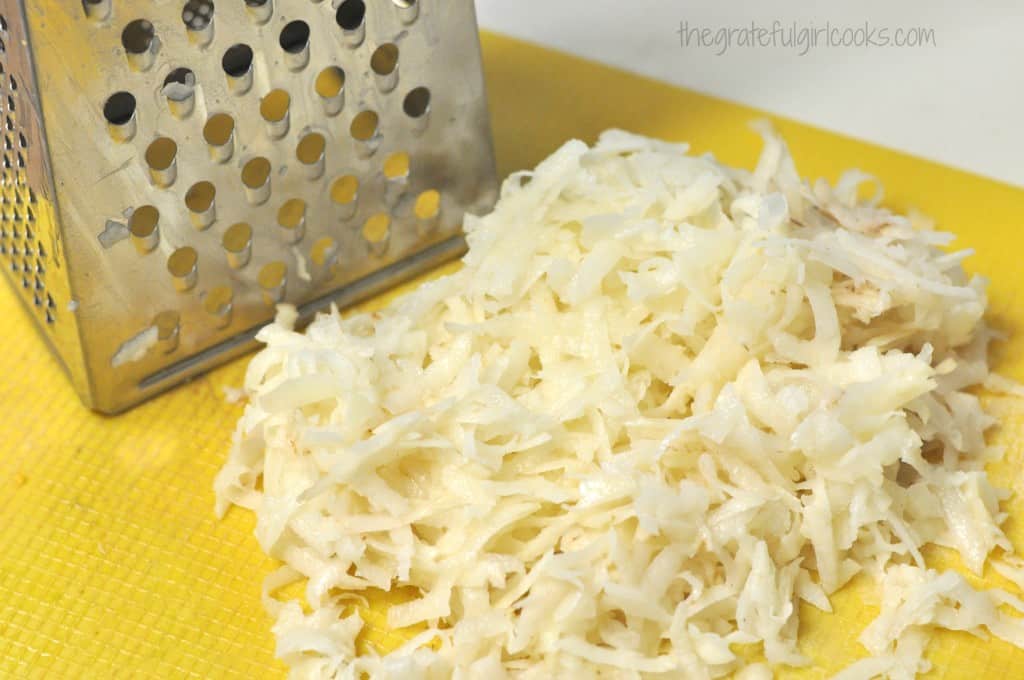 Now here's the really important part. You want to get as much moisture out of the grated potatoes as possible. The drier the potatoes are, the crispier the hash browns will be.  I like to use a clean dish towel. I place the potatoes in it, the roll it up and twist ends and continue to press and  absorb as much moisture onto the towel as possible. (When done, the potatoes should be a LOT drier (and the towel will be ready for the washing machine… just sayin').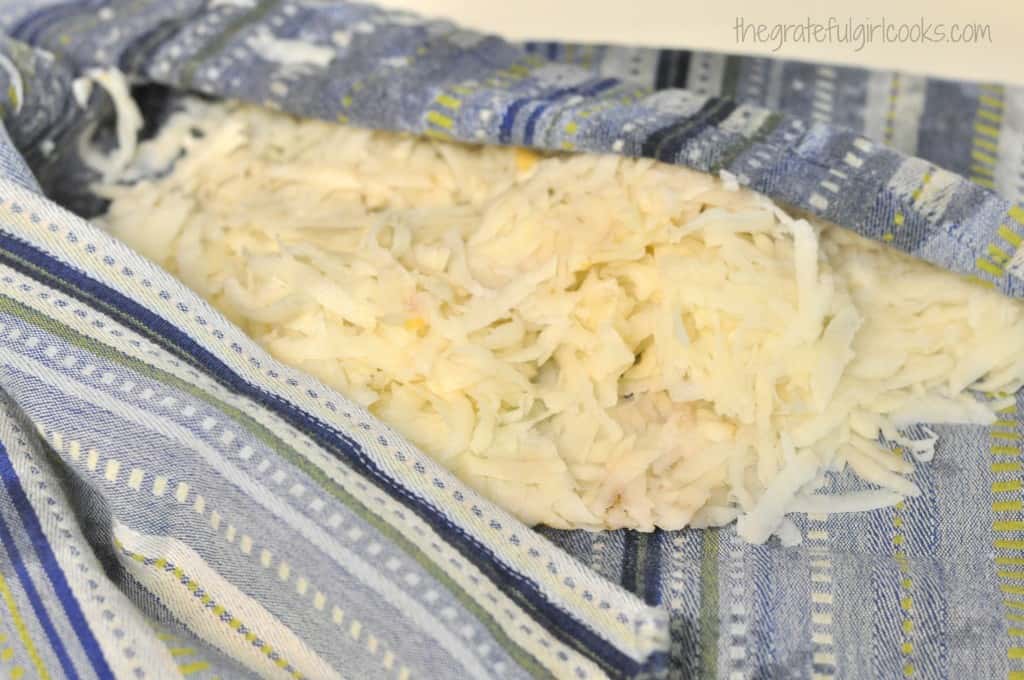 Mix the potatoes with the peppers, ham, cheese and onion. Add melted butter, generously salt and pepper mixture and stir together to combine.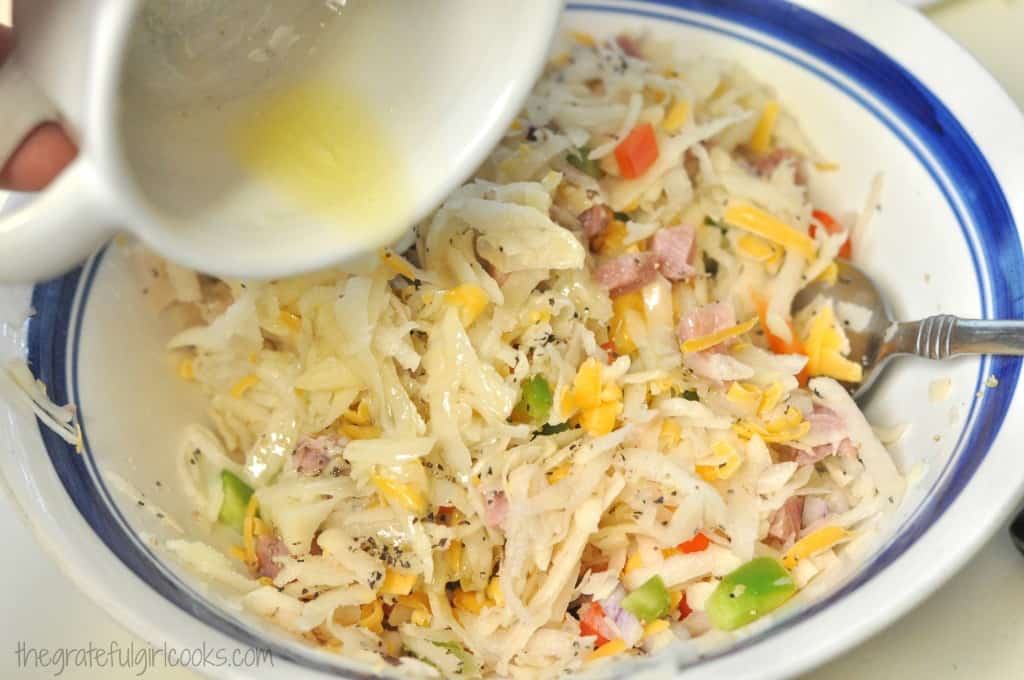 This is what you will be looking at, once mixed. This was enough for two waffles (4 servings).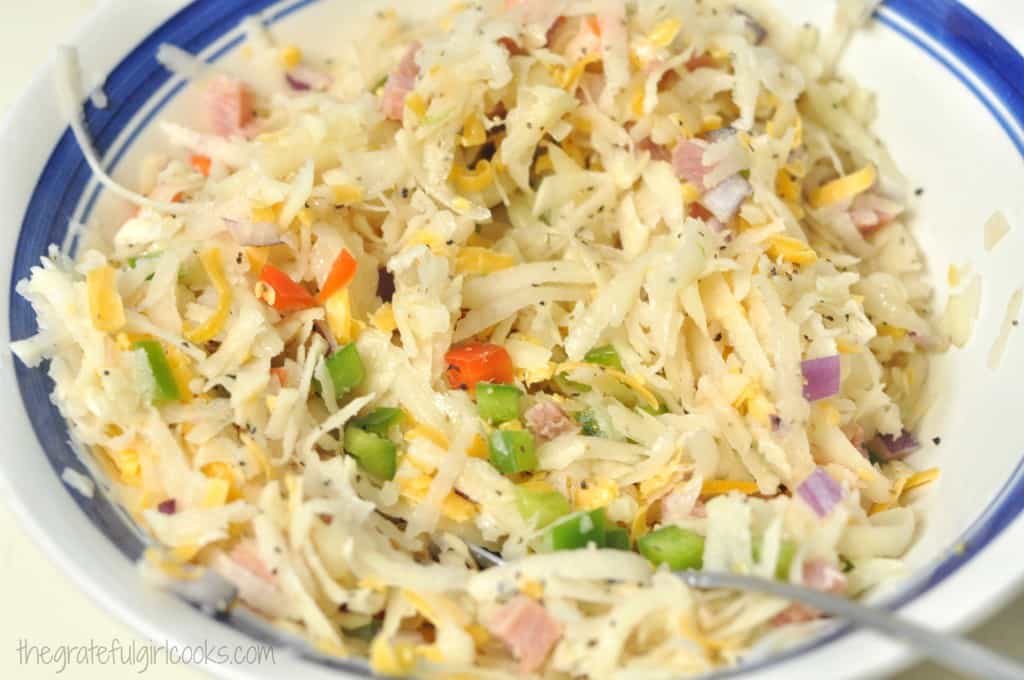 Make sure waffle iron is heavily oiled and PREHEATED before beginning to cook. Add half of the potato mixture to the waffle iron. Press down lid, and cook for approximately 7-10 minutes. Halfway through cooking, press down hard on the lid to really seal in those potatoes (and help them crisp up). Check the potatoes at about 6 minutes. You want them to be very crispy and golden brown on the outside, yet cooked through. Times may vary per appliance.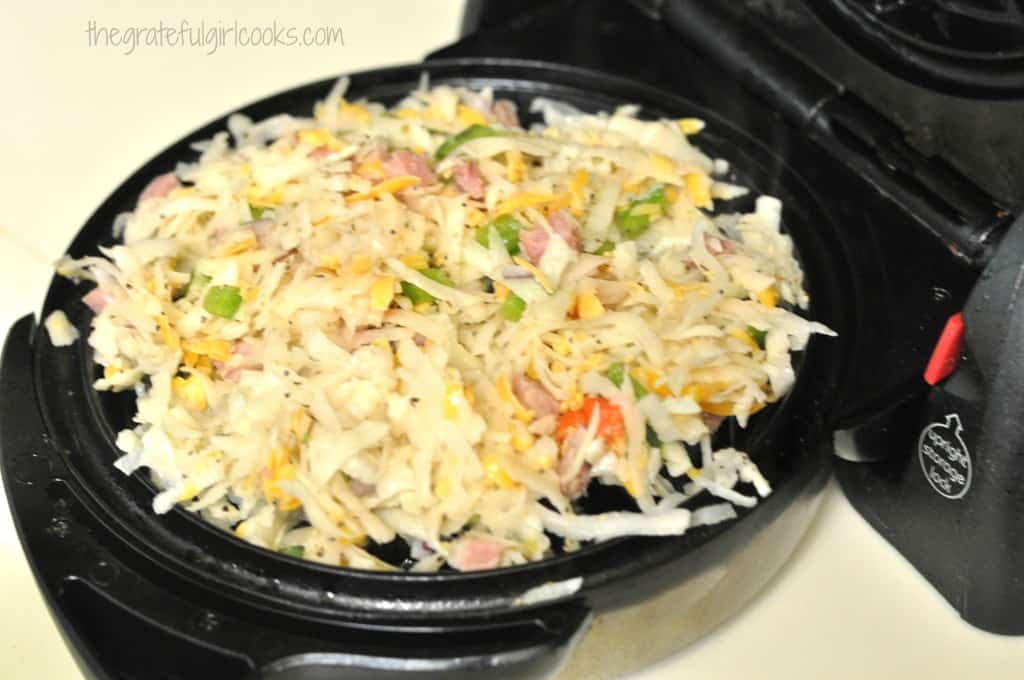 When done, remove hash browns from waffle iron and divide between serving plates. Here's one serving, after a quick toss with a fork.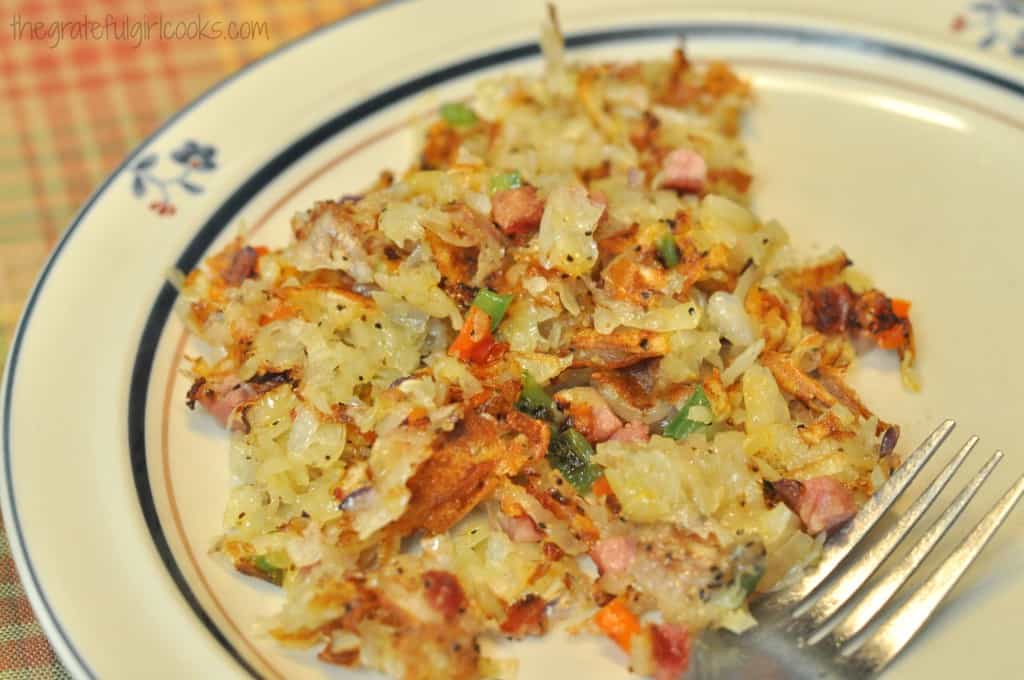 These loaded hash browns – waffle style are delicious! Cooking them in a waffle iron takes some of the pressure off pan frying; while they are happily cooking away and minding their own business in the waffle iron, your hands are free to make eggs or other side dishes to go with them, for a hearty morning breakfast!
Hope you'll try these hash browns… and enjoy putting the old family waffle iron to good use!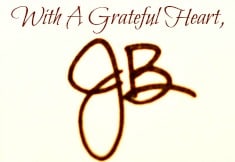 Save
Save
Save