Do you buy rice pilaf from a box on the grocery store shelf? What if I told you it's VERY easy to make your own and it tastes FANTASTIC?!!! That's right… this Easy Homemade Rice Pilaf is my latest recipe "find" and it is amazing. Seriously GOOD.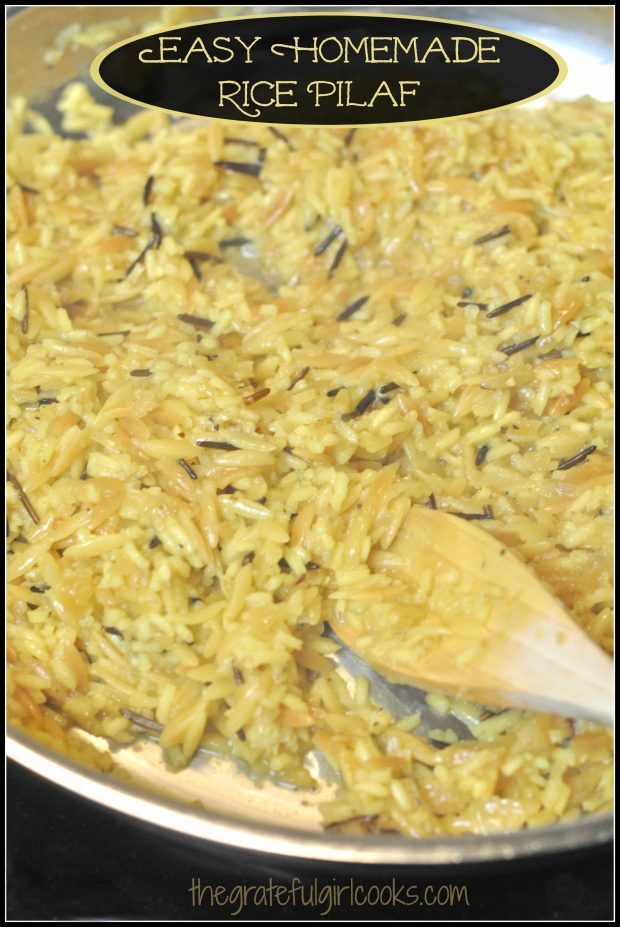 I love rice pilaf, and have been buying boxes of it ("The San Francisco Treat" – wink, wink) for years and years… until I found this recipe. It is delicious, and very easy to prepare… and now it is my "go to" rice pilaf recipe.
Here's how easy it is to make this great side dish:
Melt 2 Tablespoons butter in a medium-sized  skillet. Add in the orzo pasta and black wild rice; cook  on medium-low heat until the orzo becomes golden brown in color.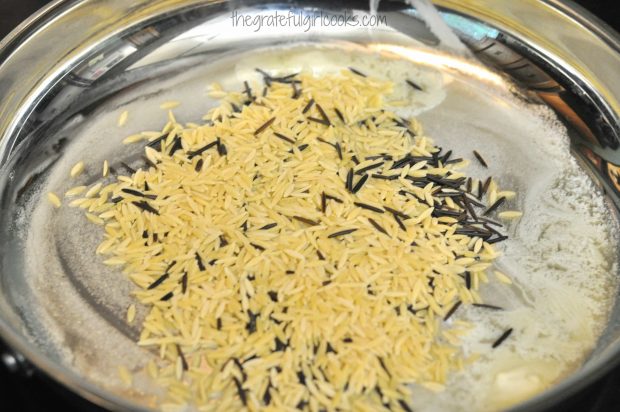 Add the diced onions and continue cooking until the onions have softened and become translucent in color. Add minced garlic and cook for an additional minute.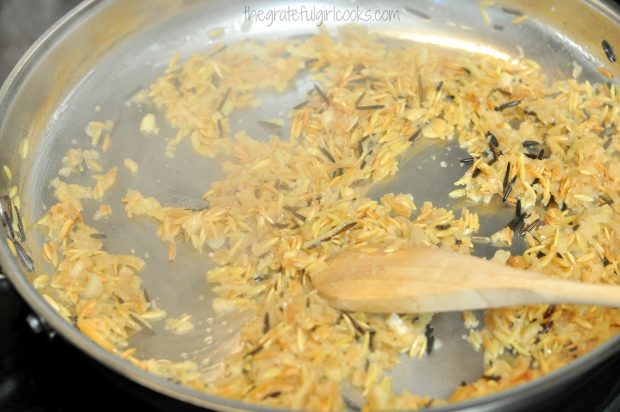 Add rice, salt and pepper, turmeric and chicken broth to the skillet. Stir to combine.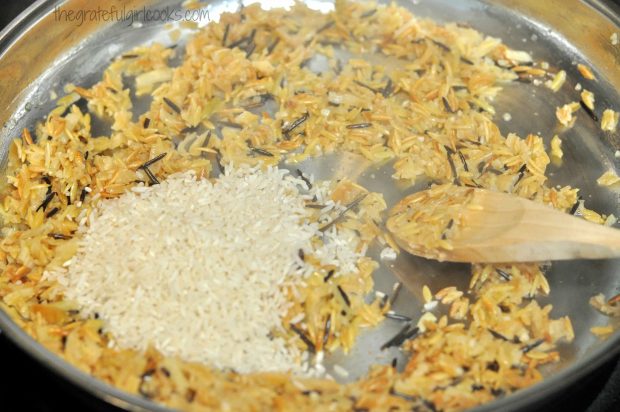 Bring the mixture to a boil, while stirring often. Once the liquid is boiling, reduce the heat to Low. Put a cover/lid on the skillet. Continue to cook rice for 25-30 minutes. *Note: I checked the rice at 25 minutes… rice was almost done, but not all the way, so I added just a touch of water, gave it a stir, then cooked it for another 5 minutes so I could be sure rice was done.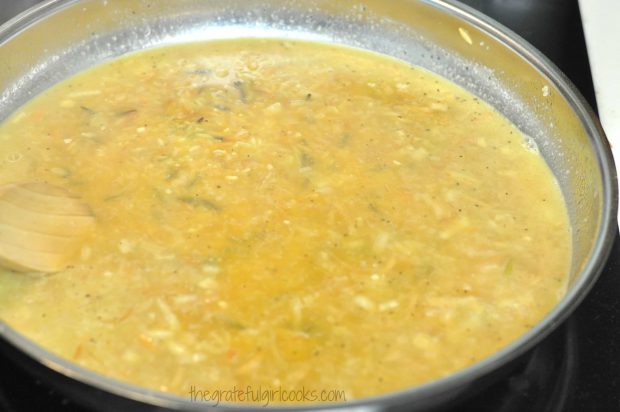 Here it is when done. The rice will be soft (and the little bit of black wild rice will have a touch of firmness). It looks very similar to what you get from a boxed mix (but I honestly think it tasted better).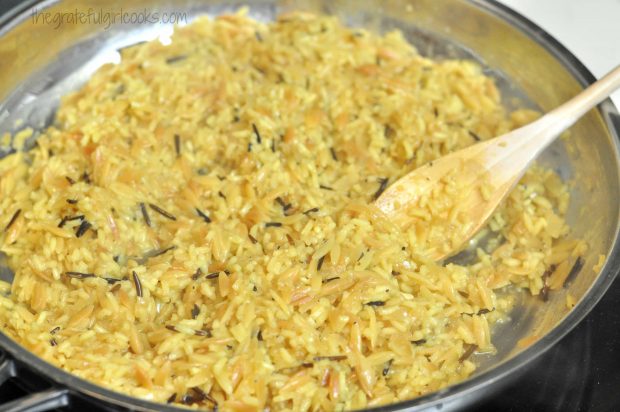 When rice is done, remove skillet from heat. Take the lid off the skillet. Let the rice stand (uncovered) for a couple minutes, then fluff it up using a fork, and serve!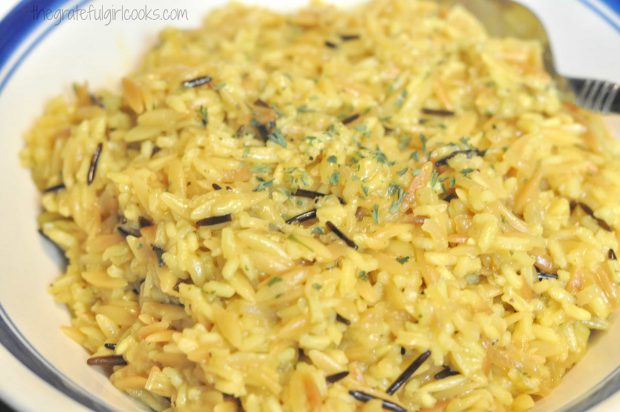 I served the rice pilaf as an accompaniment to a chicken dinner I made recently (Rosemary Chicken With Caramelized Onion Wine Sauce). I have also used it as a side dish for seafood, with great results. It is a perfect side dish for beef, poultry, pork or seafood, and in my book, you can't beat that! The leftovers were incredible, too (with a good stir and a quick heat up in the microwave!).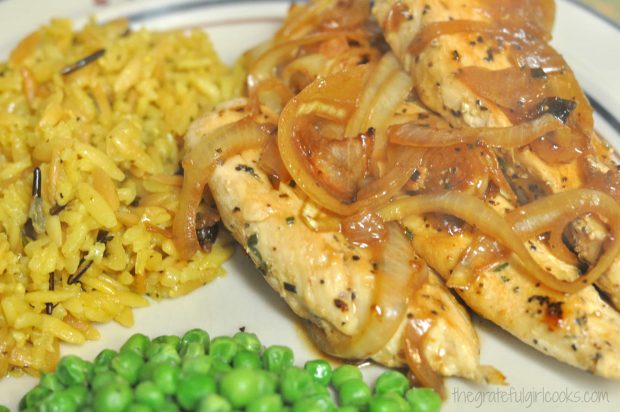 I really hope you will give this delicious rice pilaf a try. We LOVE it, and it's now been added to our regular rotation. I love being able to make rice pilaf from scratch, and not having to run to the grocery store for a boxed mix every time I want to serve this great side dish.
Have a great day!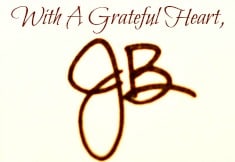 Recipe Adapted From:  http://www.favfamilyrecipes.com/stovetop-rice-pilaf-with-orzo.html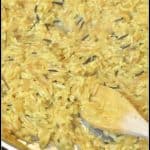 Easy Homemade Rice Pilaf
This easy to prepare rice pilaf is the perfect accompaniment to beef, poultry, pork and seafood.
Ingredients
2

Tablespoons

butter

1/2

cup

orzo

1/2

medium brown onion

, diced

2

cloves

garlic

, minced

1/2

cup

white rice

1

Tablespoon

black wild rice

Salt and pepper

, to taste

1/8

teaspoon

turmeric

(a spice, gives the rice it's yellow color & it's good for you!)

2

cups

chicken broth
Instructions
Melt butter in medium skillet. Add orzo and black wild rice; cook on medium heat, stirring occasionally until the orzo is golden brown in color (about 5 minutes).

Add diced onion and cook until onions soften and are translucent. Add minced garlic; cook for one minute, stirring often.

Add white rice, salt and pepper, turmeric, and chicken broth. Stir to combine.

Cook mixture until the liquid comes to a boil. Reduce the heat to Low, put a lid on the skillet. Continue simmering the rice for 25 minutes. When done, the rice will be softened, and the liquid will be absorbed.

*Test the rice at the 25 minute mark. If the rice is in need of a bit more cooking (but most liquid is absorbed already), add just a touch more water, and cook for another 5 minutes. The black wild rice will still be a bit firmer than the rest of the rice... (that's okay).

When rice is done, remove the skillet from the heat. Take off lid, and let it stand for a couple minutes. Fluff the rice with a fork, and serve. Enjoy!
Here's one more to pin on your Pinterest boards!

Save
Save
Save
Save
Save