A few nights ago I made this Farfalle Pasta with Arugula and Sun-Dried Tomatoes for our dinner. I found the recipe on Pinterest, and noticed the original recipe was from celebrity chef, Mario Batali (from the TV Show "The Chew". It sounded good, so I decided to give it a try.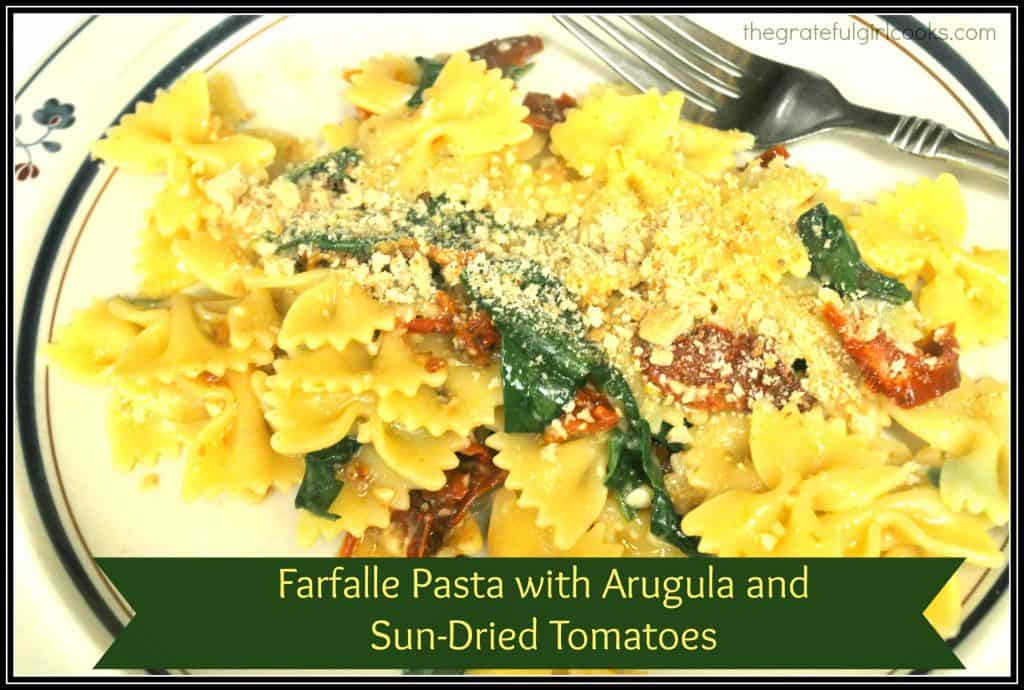 I was happy that two of the main ingredients in the dish were sun-dried tomatoes and arugula. Hmmm…how convenient! Last Fall I dehydrated some of the yummy tomatoes from my garden, and still had some nestled in a jar of olive oil. I am growing arugula in my garden this year, so out to the garden I went to gather the amount needed for this recipe.
The original recipe called for spaghettini pasta, but I decided to go with Farfalle (bow-tie pasta), just because I had it in my pantry… just as simple as that! I made a couple of minor tweaks to the original recipe to suit our taste, then prepared it for dinner! It was really quite good (and TOTALLY easy to make!). My husband and I loved that this is not a "heavy" pasta dish (AKA "Gut-Bomb"), loaded down with thick sauces. The concentrated flavor of sun-dried tomatoes, paired with the slightly "peppery" taste of the arugula, a touch of white wine, a little Parmesan cheese, etc. makes this a great entree!
Here's how to make this dish: Get your ingredients prepped before beginning. Arugula from the garden. Check. Sun-Dried Tomatoes in oil. check. Minced garlic. Check.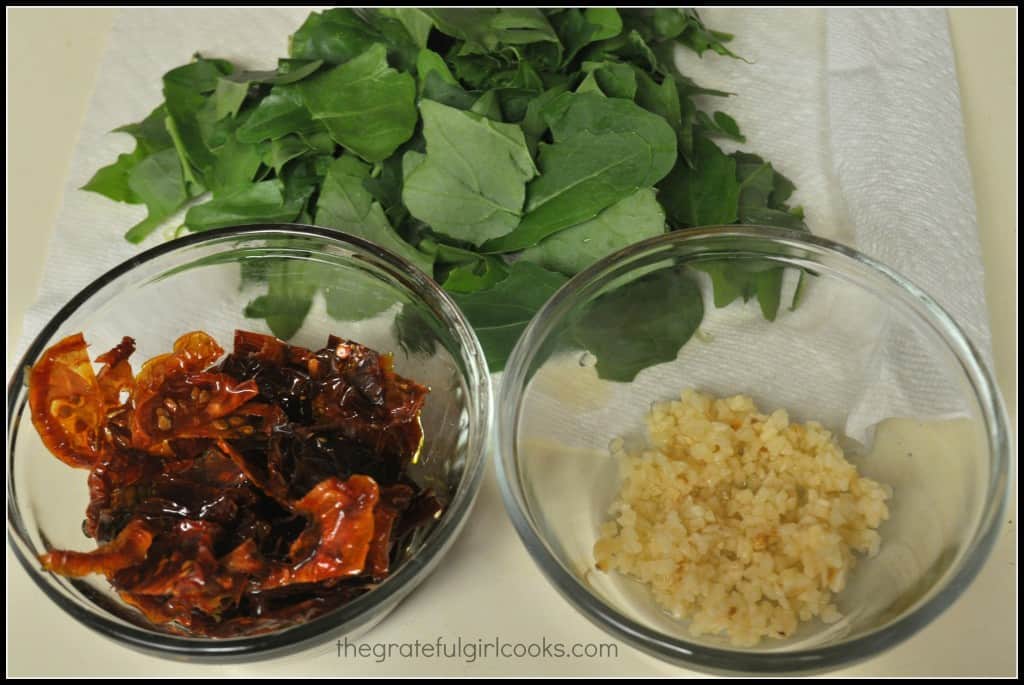 Gently cook the garlic…smells pretty good in the ol' kitchen right now!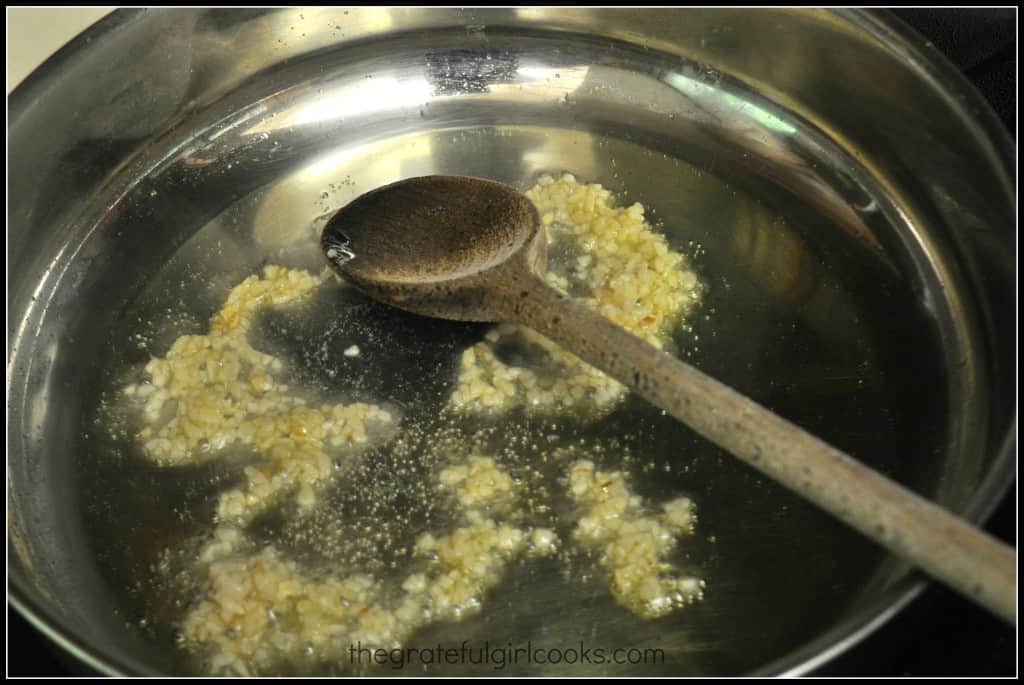 Time to add the sun-dried tomatoes and some red chili flakes to the garlic…gee, that wasn't too hard (snicker, snicker).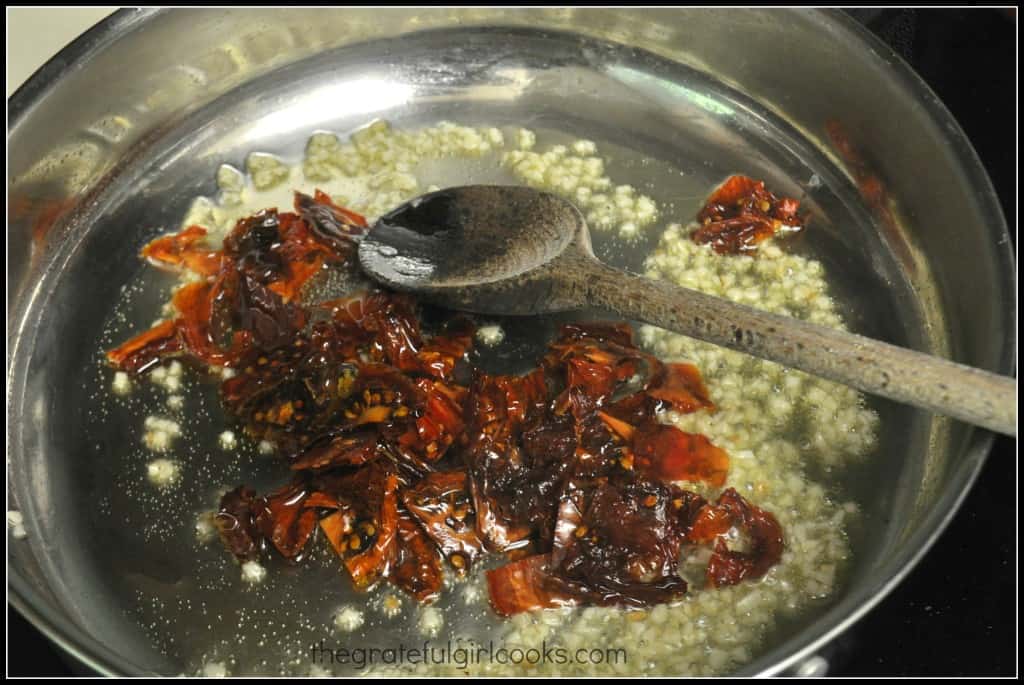 Into the skillet goes some white wine and some of the starchy pasta water…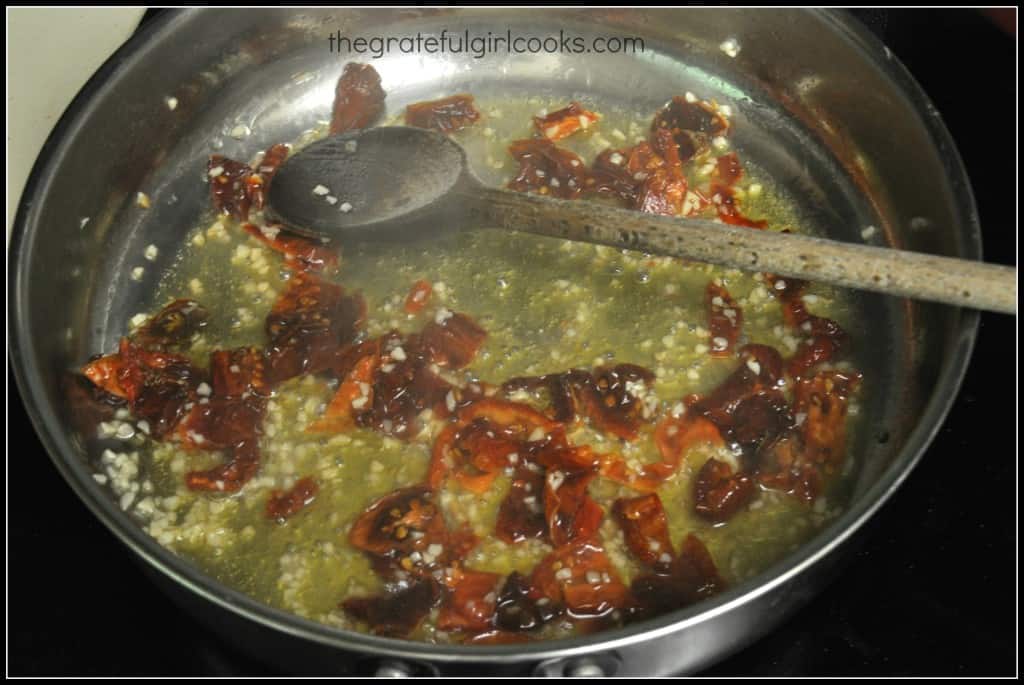 Add the al dente cooked pasta and the arugula to the tomato mixture. Pretty, huh?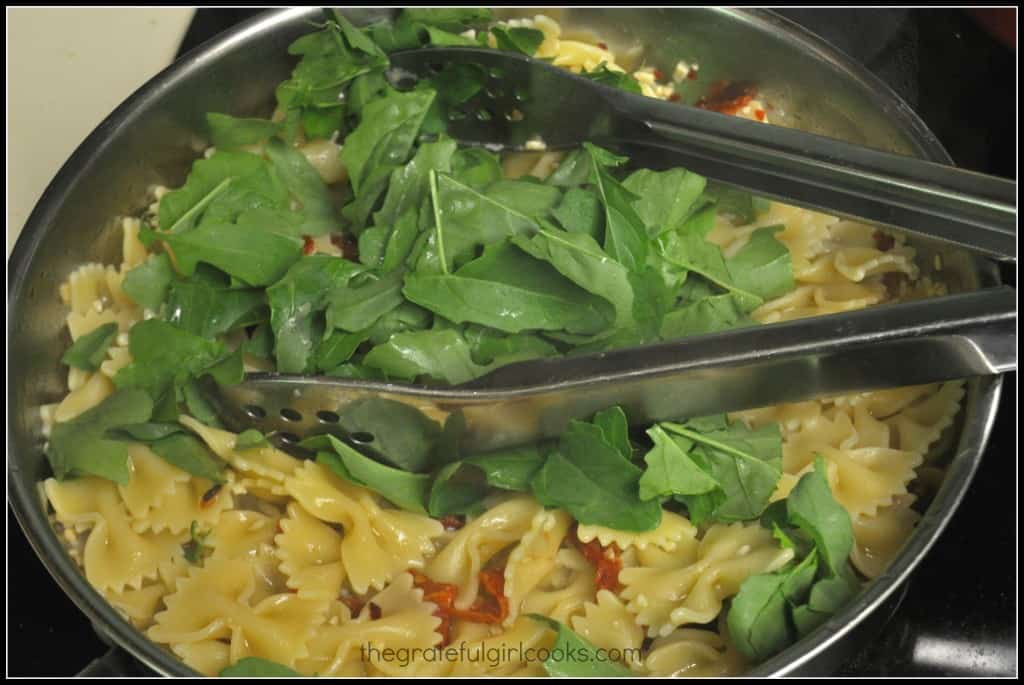 Top it off with some Parmesan cheese, bread crumbs and a little extra salt, to taste…now it's REALLY smelling good in the ol' kitchen!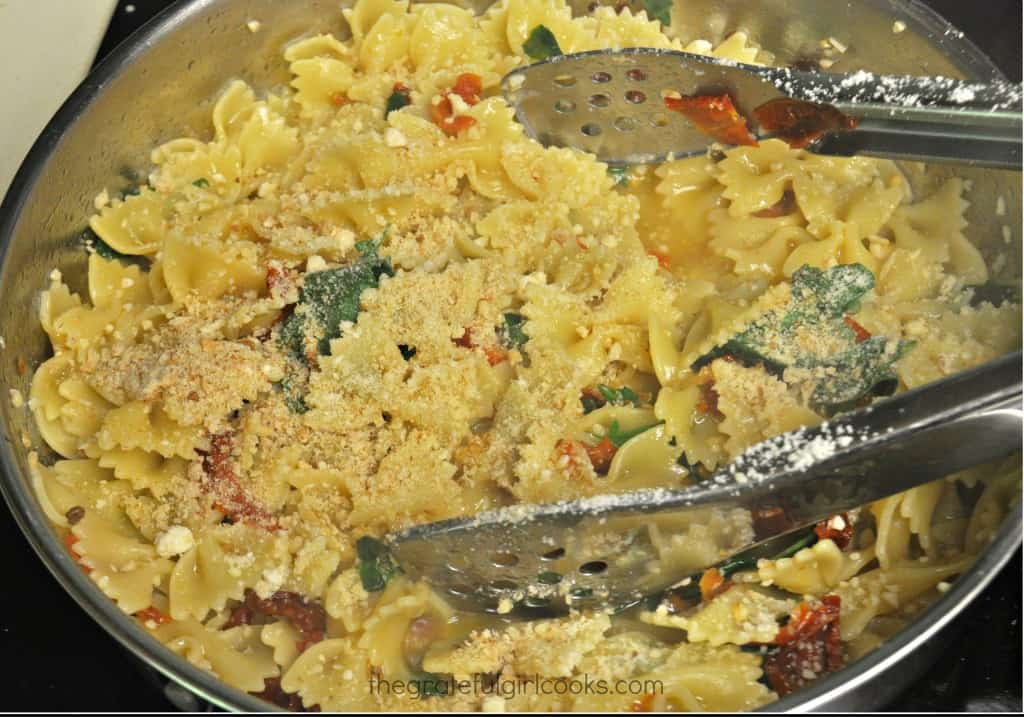 Divide pasta evenly between serving plates, garnish each with extra bread crumbs and Parmesan cheese, and serve. Easy Peasy.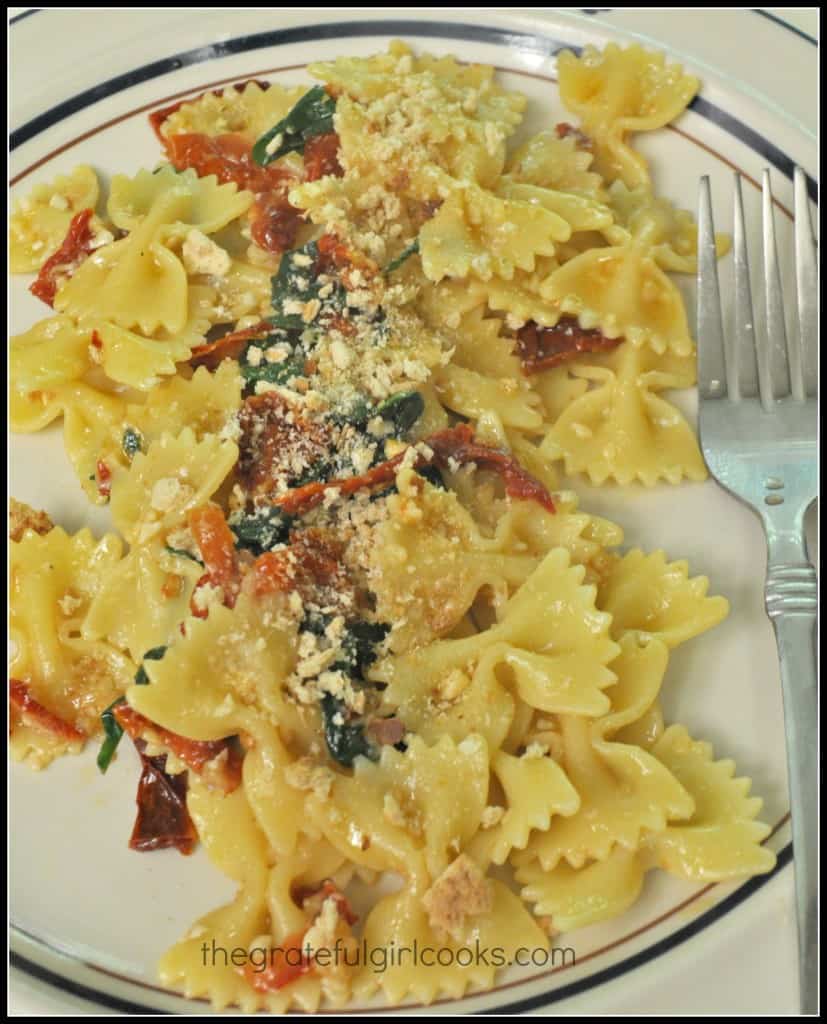 See? That wasn't very hard to make, was it? And trust me… it tastes GOOD!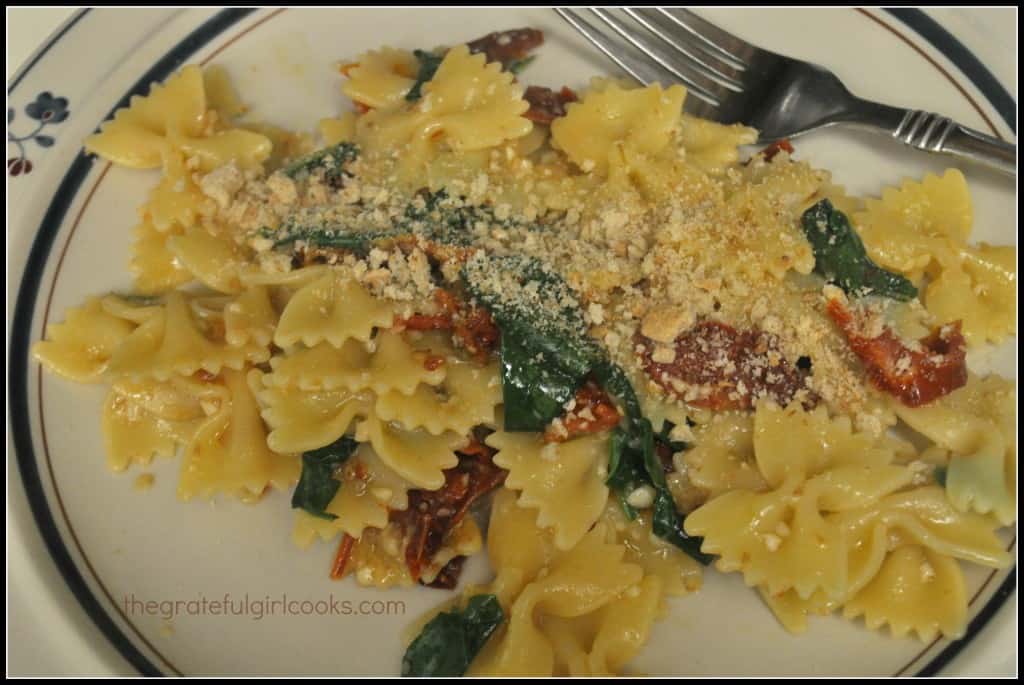 Hope you enjoy this meal!  I enjoyed the simplicity involved with making dish, and was pleasantly surprised how much flavor was in every bite! I hope you'll give it a try when you want to get dinner on the table in a shot amount of time! The recipe serves 4, so there's plenty for everyone!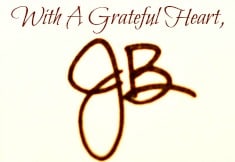 Recipe Adapted From: http://abc.go.com/shows/the-chew/recipes/Mario-Batali-Spaghettini-Sun-Dried-Tomatoes-Arugula

Save
Save