Who wants Glazed Chocolate Doughnuts? Me, Me, Me…Every now and then I just can't help myself…I want a doughnut! Now I know all about how "unhealthy" they are, but truth is, sometimes I just want a doughnut! The End.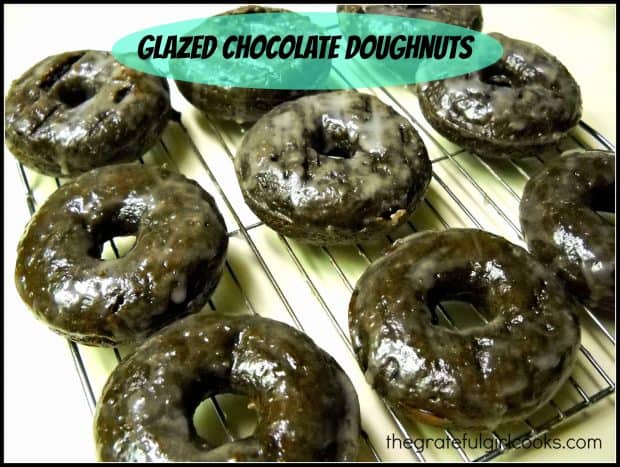 Last year I bought an inexpensive doughnut pan on Amazon for about $7.50 (with a gift card I received for my birthday…SCORE!). The doughnut pan was not too expensive, but it gave me the option of BAKING doughnuts instead of FRYING them, (Just doing my part to reduce a few calories…you're welcome!)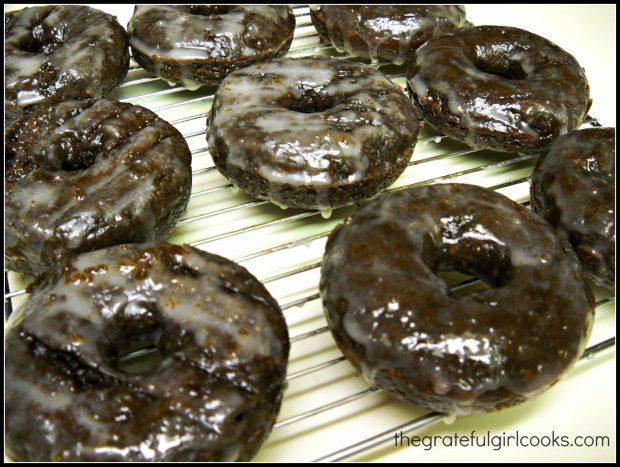 I found a very simple and delicious chocolate doughnut recipe on Pinterest (where else?), thanks to Karly at Buns In My Oven, and made some of these doughnuts to stare at…I mean wolf down. These doughnuts were chocolatey and delicious.
Added benefit? I saved money by making them myself and was quite proud I didn't have to put on an evening gown and pumps to run down to the doughnut shop or our grocery store to buy them when the mood struck. This recipe makes 10 doughnuts, so I made them in 2 batches (since my doughnut pan only has 6 spots). I hope you will give these a try.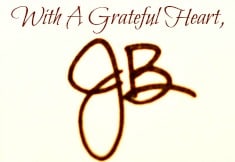 Recipe Source: http://www.bunsinmyoven.com/2013/04/01/glazed-chocolate-donuts/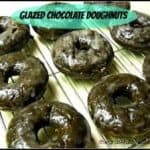 Glazed Chocolate Doughnuts
These baked and glazed chocolate donuts will totally satisfy that doughnut craving...
Ingredients
For the doughnuts:
1

cup

all purpose flour

1/2

cup

granulated sugar

1/4

cup

cocoa powder

1/4

cup

mini chocolate chips

(Optional)

1/2

teaspoon

baking soda

1/2

teaspoon

vanilla extract

1

egg

6

Tablespoons

sour cream

1/4

cup

milk

1/4

cup

vegetable oil
For the glaze:
1 1/2

cups

powdered sugar

6

Tablespoons

milk

1

teaspoon

vanilla extract
Instructions
Preheat the oven to 375 degrees.

Make the doughnuts: In a medium sized bowl, mix the flour, sugar, cocoa, chocolate chips, and baking soda together.

In another bowl, beat the vanilla, egg, sour cream, milk, and oil until well incorporated.

Add the wet ingredients to the bowl of dry ingredients. Stir only until combined.

Spoon the batter into a greased doughnut pan. Fill each "well" about 3/4 of the way.

Bake doughnuts at 375 degrees for 8 minutes, or until the top of the doughnut springs back when touched.

Remove doughnut pan from oven when done, and let the doughnuts cool IN THE PAN before you remove them to coat with glaze.

Make The Glaze: Mix the powdered sugar, milk and vanilla in a small pan over low heat. Mix well to combine.

Remove the pan from the heat.

Carefully hold the doughnut and "dunk" it in the glaze to coat it; set glazed doughnut on a wire rack to let the glaze harden. Enjoy!

If using 1 doughnut pan, repeat process with remaining doughnut batter.
Save
Save