Look at this Grilled THAI Peanut Butter & Jelly Sandwich. What kind of crazy, weird sandwich is that anyways? A REALLY GOOD ONE.  YES. It's really THAT good…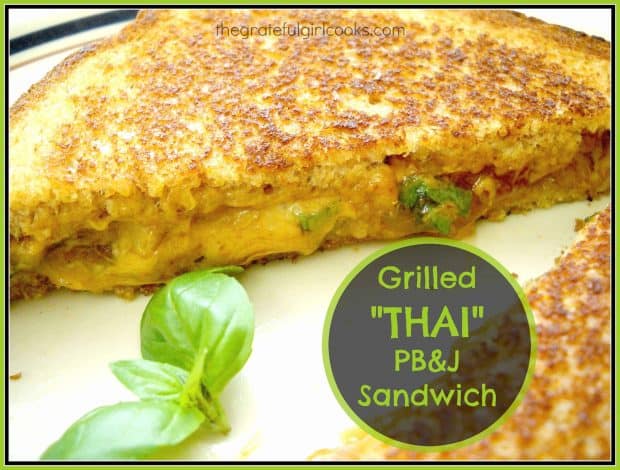 The first I ever heard of such a crazy sounding sandwich was when my sister Joni (who was visiting from California) ordered one at our local Farmer's Market last summer. Truth is, It sounded horrible to me… UNTIL she forced me to try a bite of her sandwich. GULP…
May I just tell you truthfully that it was absolutely 100% AMAZING!!!!! That's right… you heard me. Who ever would have believed that an ordinary old PB&J sandwich could go from "normal" to "over the top" just by adding a few…interesting…Thai-inspired ingredients! So I decided to try and make it myself in the comfort of my own kitchen and… WINNER! We have a WINNER!
Here's the cast of characters: Peanut Butter, Orange Marmalade, Curry Powder, Sriracha Sauce, and fresh Basil. I know…weird, huh? Sounds like some Thai flavor combos going on.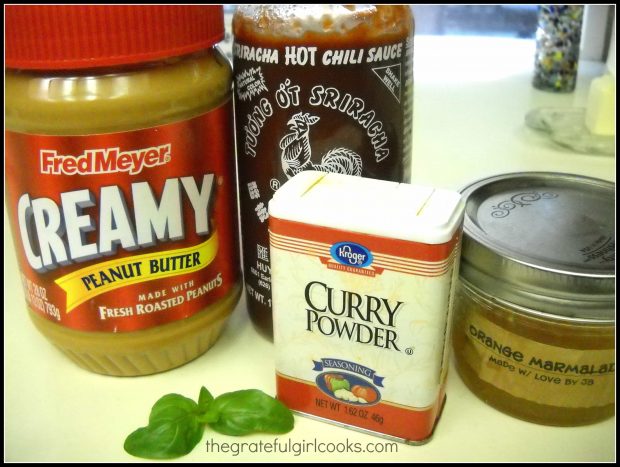 Crazy, huh? But trust me, this is an absolutely delicious "Gourmet Grown Up Version" of the traditional PB&J Sandwich that you will LOVE if you like Thai flavors. You just have to try this at least once. This is definitely NOT YOUR MAMA'S PB&J sandwich!!!!
Making it is super easy (the pictures aren't glamorous – how do you class up a PB&J?):
First spread one piece of bread with butter on one side, then coat the other side with peanut butter. Spread on some of the sriracha sauce. Place butter side down in medium hot skillet.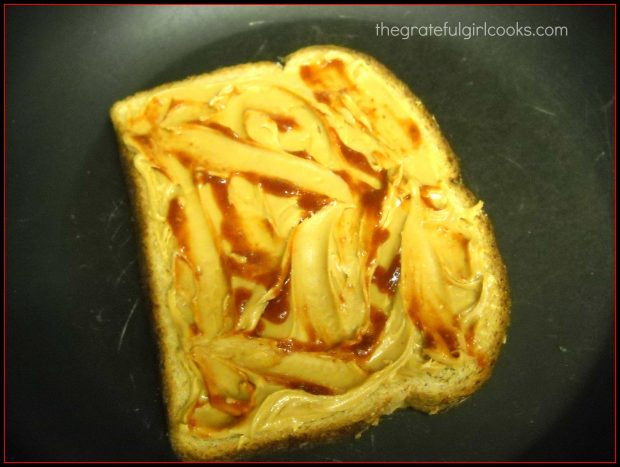 Lightly sprinkle on some curry powder. I never measure it. Be careful to sprinkle lightly. You don't need a lot.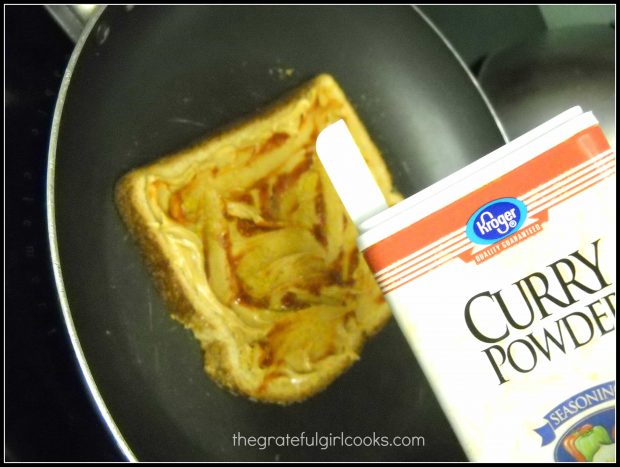 Roll up a couple of large fresh basil leaves into a tight roll like this…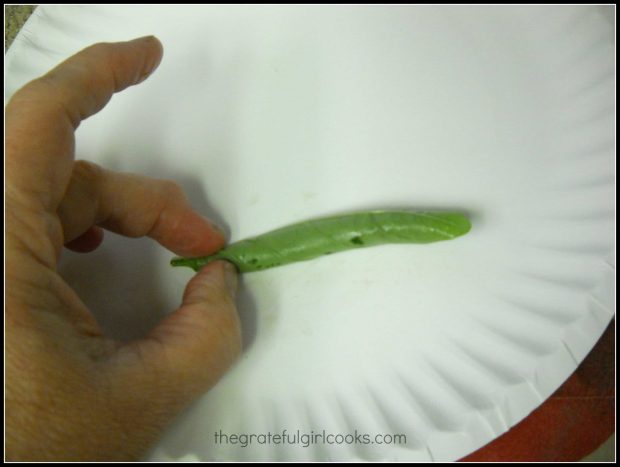 Then slice the basil thinly like this….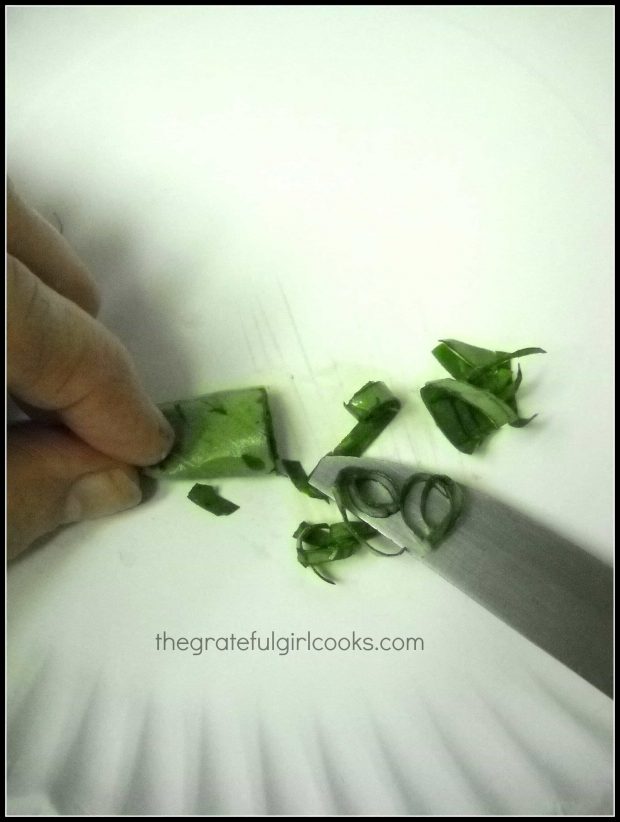 Evenly sprinkle the basil over the peanut butter side. Spread a layer of orange marmalade over the basil. This pic shows the marmalade halfway spread on the sandwich. Spread the entire piece of bread with marmalade.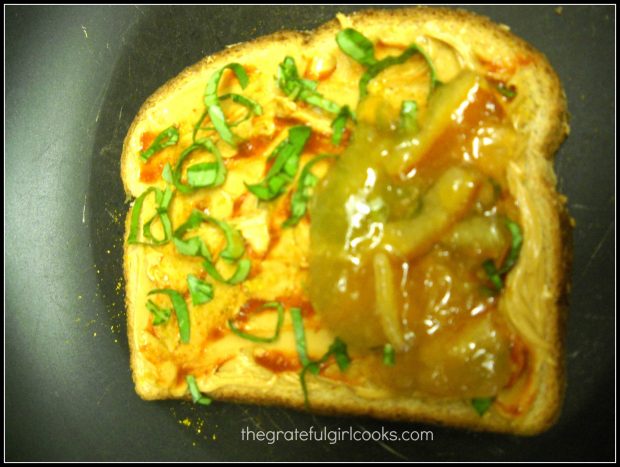 Butter one side of the second piece of bread and place on top of the sandwich. Grill sandwich on both sides (just like you would a grilled cheese sandwich).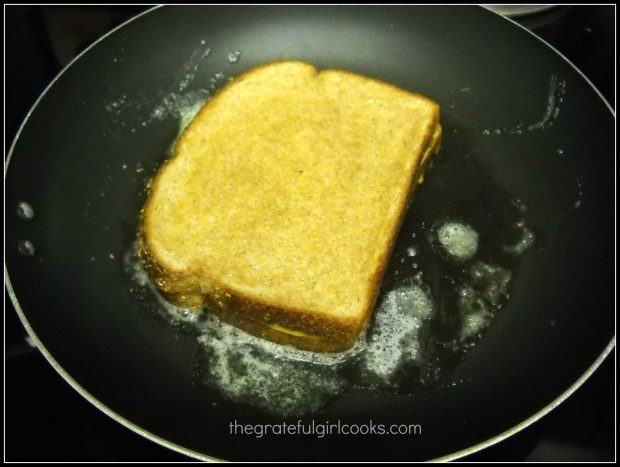 Grill until both sides are toasted and golden brown. Remove from skillet to serving plate.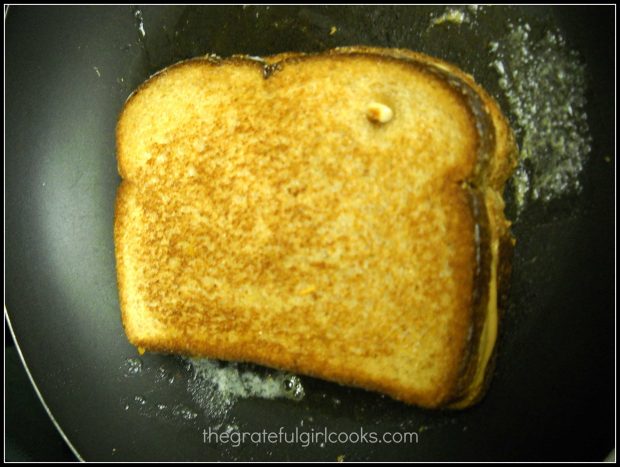 Slice sandwich diagonally across to form two triangles. Yes, it might be a bit messy…but that's great, because the sandwich is so GOOD!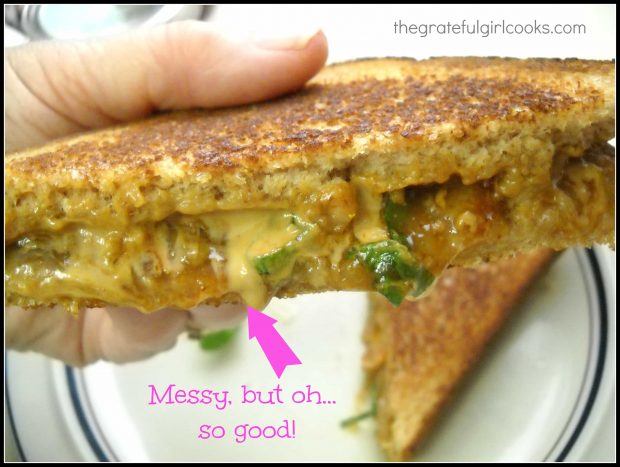 It's still hard to believe that this crazy sounding sandwich is so amazingly GOOD, but it's true! I've made this sandwich at least ten times since I took that first tentative bite, and it never fails to be ridiculously delicious! I hope you will give it a try. Enjoy!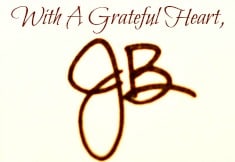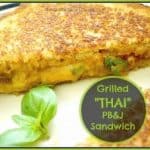 Grilled "THAI" PB&J Sandwich
A delicious Thai-inspired grown up gourmet version of the classic PB&J sandwich
Ingredients
2

slices

good quality bread

butter

(to spread on one side of each piece of bread)

peanut butter (enough to cover one piece of bread

orange marmalade

(enough to cover one slice of bread)

1/2 - 1

teaspoon

sriracha sauce

(hot chile sauce found in Asian section of grocery store)

curry powder

(I don't measure...just light sprinkle over one side of bread)

2

large

, fresh basil leaves
Instructions
Spread one side of one piece of bread with butter. Place butter side down in skillet.

Spread peanut butter on top of the slice of bread in skillet to cover.

Spread sriracha sauce over the peanut butter evenly.

Lightly sprinkle with curry powder.

Roll and slice the fresh basil leaves. Sprinkle evenly over peanut butter.

Carefully spread orange marmalade over sliced basil leaves.

Butter one side of the second piece of bread. Put on top of marmalade, butter side up.

Grill sandwich on medium heat, turning during cooking. Grill until each side is toasted and golden brown. Remove hot sandwich to serving plate. Cut on the diagonal, and serve! Enjoy!
Save
Save
Save