When my husband and I were newlyweds (over 36 years ago) he decided to cook dinner for us one evening. He made Hawaiian Meatballs and Rice, with pineapple chunks, red and green bell peppers in a sweet and sour sauce. It was love at first sight.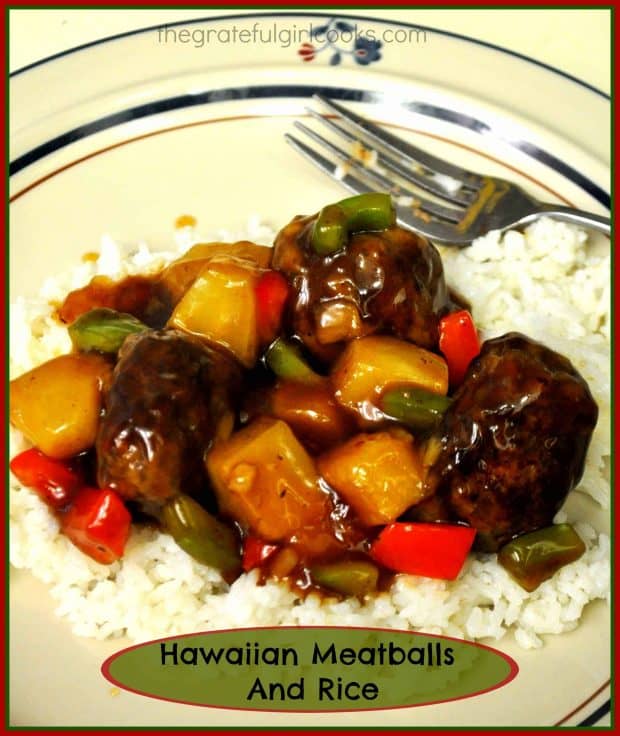 This is the recipe he used…needless to say I was impressed with his "culinary skills" and by the fact that he prepared a delicious meal for us. Ah…young love!
Well…fast forward to many, many years later, and we STILL have this meal for dinner occasionally. And I still love him, but now I am the one who cooks our meals. Neither of us remember where he found the original recipe, so I dig through my recipe box , pull out my trusty handwritten 3×5 index card I wrote down the recipe on ages ago… and off I go into the kitchen.
We had these meatballs and rice two nights ago… so delicious! The sweet and sour sauce that coats the meatballs, along with the green and red peppers and pineapple is fantastic! It really is a quick and easy recipe to make. Tip: It would be very easy to pre-cook the meatballs and pre-make the sauce (throw them both in the refrigerator); then throwing this recipe together at the end of a long day would be a snap.  Here's how to make them:
Drain pineapple, reserving the juice.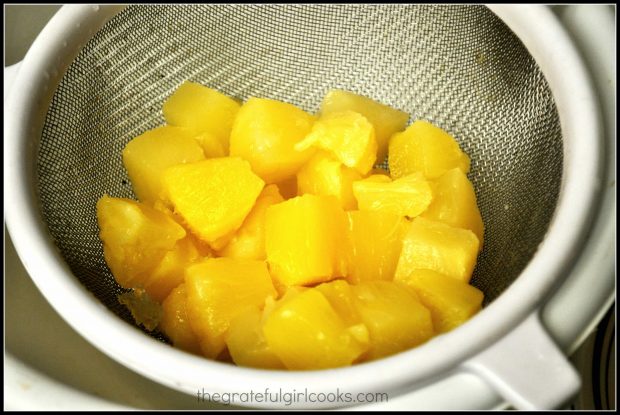 Mix up the stir fry sauce… easy!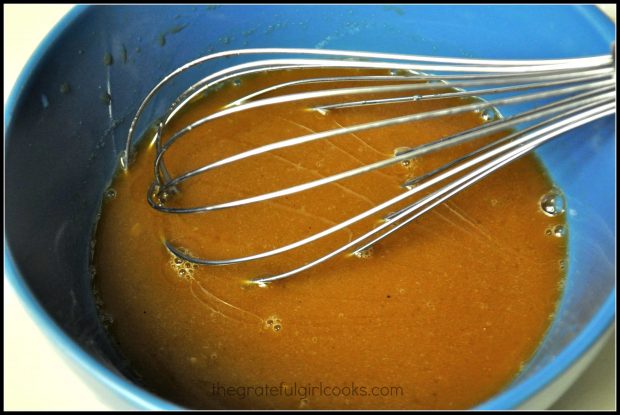 Chop up the bell peppers; set aside with the pineapple chunks.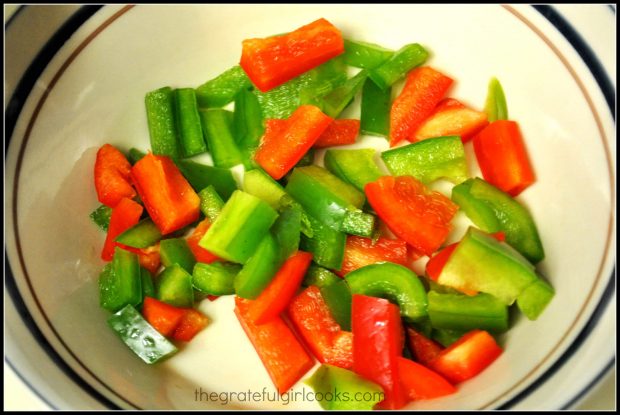 Mix up the meatball ingredients; form into 2″ meatballs.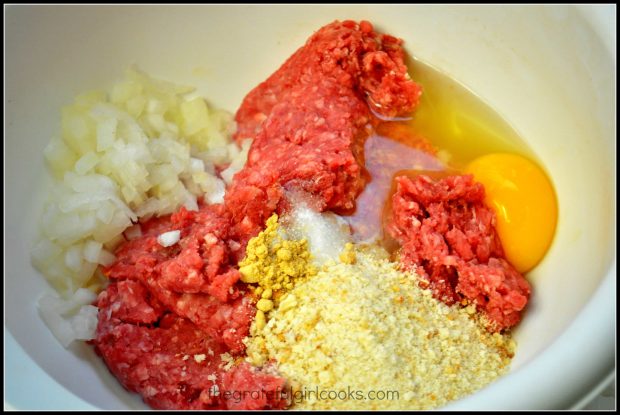 Brown the meatballs on all sides…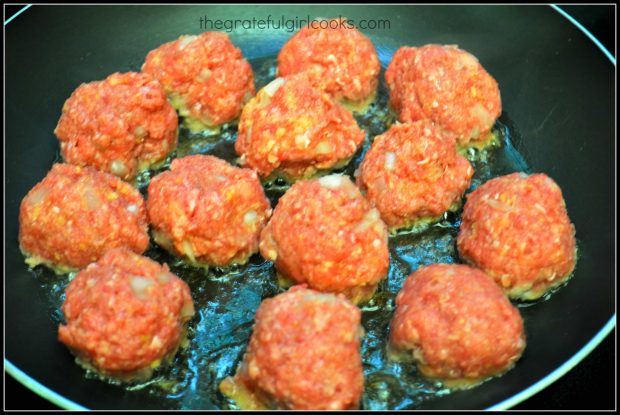 Remove cooked meatballs from skillet; drain on paper towels.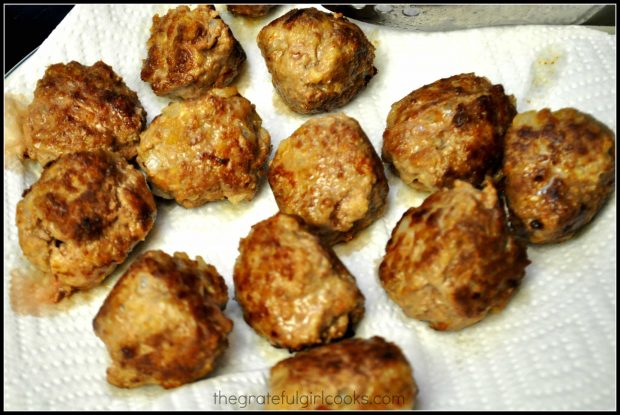 Add the stir fry sauce to skillet and heat till it thickens…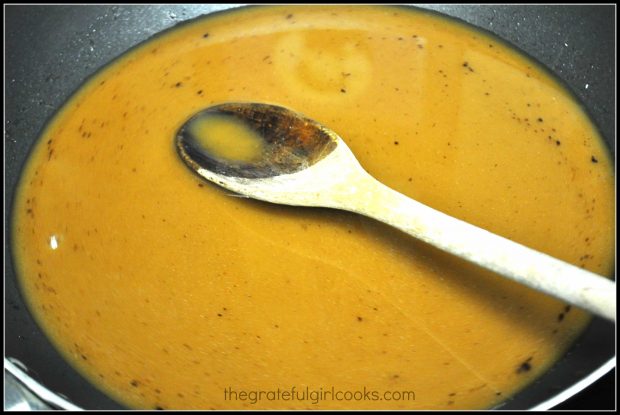 Add the bell peppers and pineapple to the thickened sauce…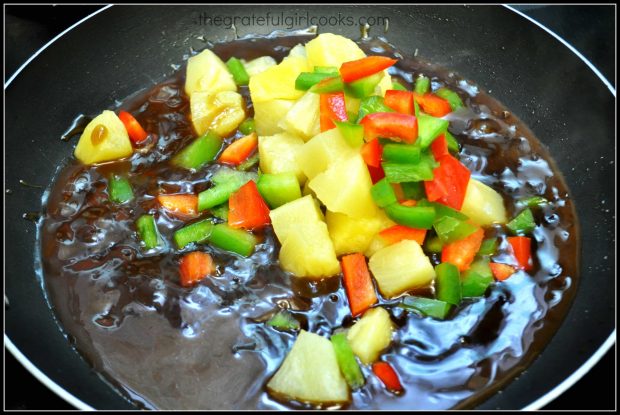 Add the meatballs back into the skillet. Cook only until heated through…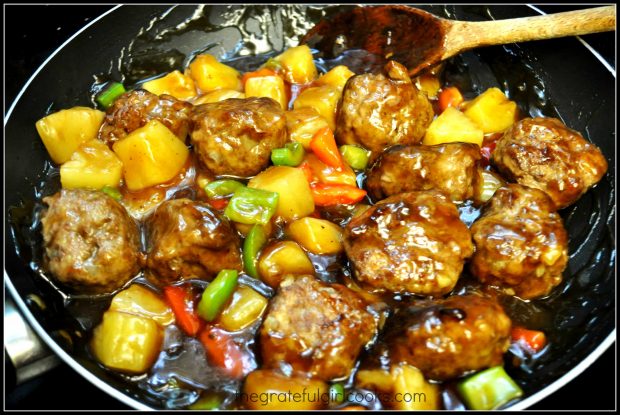 Serve on top of a bed of rice… enjoy these delicious meatballs!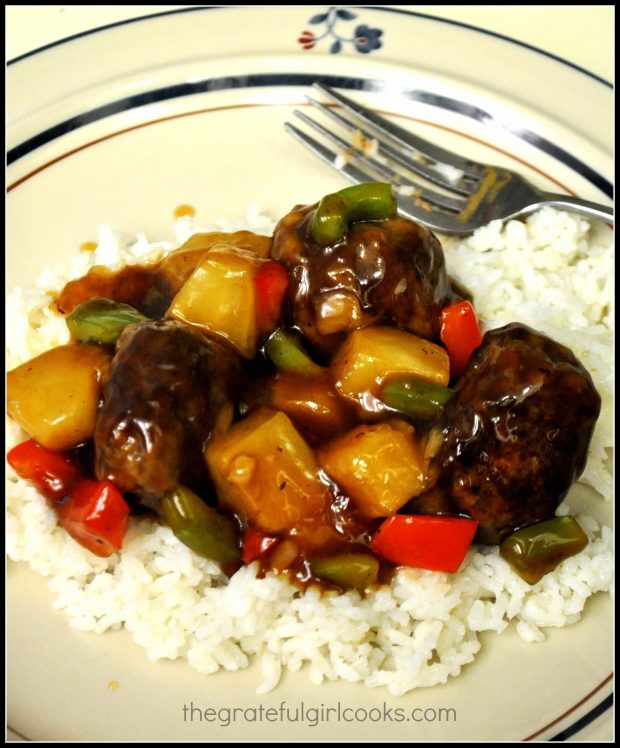 Sure hope you will give these delicious meatballs a try in your own kitchen. They are absolutely delicious!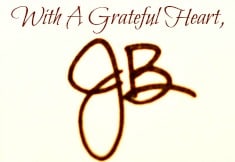 Original Recipe Source: unknown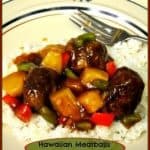 Hawaiian Meatballs & Rice
Tender meatballs, cooked with peppers and pineapple, in a delicious sweet/sour sauce.
Ingredients
For the meatballs:
1 1/2

lbs.

ground beef

1/3

cup

bread crumbs

1/3

cup

onion

, finely chopped

1

egg

1 1/2

teaspoons

salt

1/4

teaspoon

ground ginger

1/4

cup

milk

1

Tablespoon

shortening or oil

(for browning meatballs)
For the sauce:
2

Tablespoons

cornstarch

1/2

cup

brown sugar

1 - 13

oz

can pineapple chunks

(drain the chunks over a bowl-save the pineapple juice!!)

1/4

cup

white vinegar

1

Tablespoon

soy sauce

1/8

teaspoon

ground ginger

1/2

cup

chopped green pepper

(I usually mix red and green peppers - the colors are nice in the sauce!)

*OPTIONAL* Original recipe also calls for 1 small can mandarin oranges.
Instructions
Make the sauce: Drain the pineapple, reserving juice (set pineapple chunks aside). In a small bowl, whisk the cornstarch and brown sugar together. Add the pineapple juice, vinegar, ground ginger, and soy sauce to the brown sugar mixture. Stir until smooth. Set bowl aside.

Chop the red and green peppers and set aside (with the pineapple chunks).

Make the meatballs: In a large bowl, mix the ground beef, bread crumbs, chopped onion, egg, salt, ginger and milk until thoroughly blended (I use a fork to mix). Using your hands, shape the mixture into meatballs (approx. 12-15 -2" meatballs). In a large skillet, heat the shortening (or oil) on medium heat. When skillet is very hot, carefully add the meatballs, one at a time. Cook the meatballs, making sure you keep them turned so that all sides brown. When fully cooked (5-6 minutes), remove the meatballs from pan and place on paper towel lined plate to absorb any grease. Keep the meatballs warm.

Drain the oil from the skillet after removing meatballs. Wipe skillet with paper towel to remove any small leftover "crumbles". Over medium heat, add the sauce mixture to the skillet. Cook, stirring constantly until it thickens and boils for 1 minute. Add the peppers, then the meatballs back into the skillet; gently stir until meatballs are evenly coated with sauce.

Cook only until heated through (just a minute or two). Remove from heat.

Serve meatballs and sauce on top of rice. ENJOY!
Save
Save