Yesterday morning I made homemade blueberry pancakes for my husband and I for breakfast. Um…yeah. They were FANTASTIC!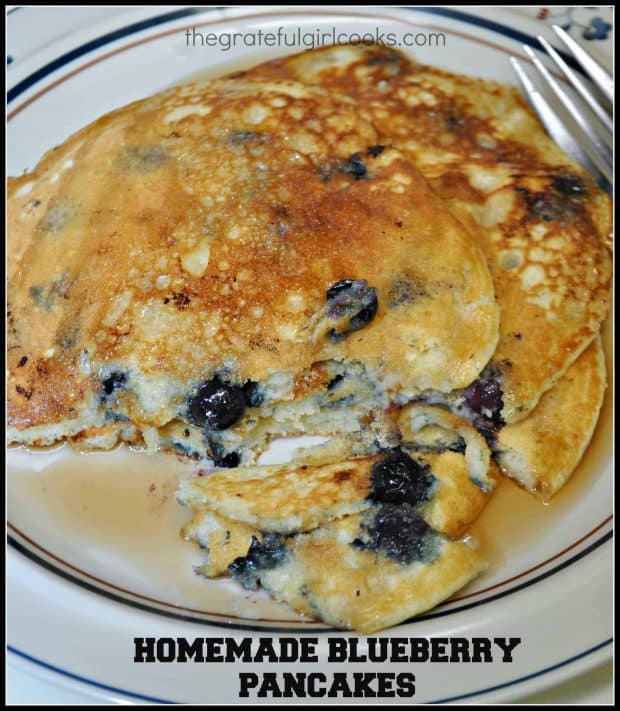 Blueberry pancakes. From scratch. Real handpicked blueberries. And oh, my goodness…they were so good! I picked 15 pounds of blueberries last summer and froze a bunch of them, so all I had to do was grab some out of our freezer and once again, enjoy the fruits of my labor (picking them in the hot Oregon sunshine last summer!)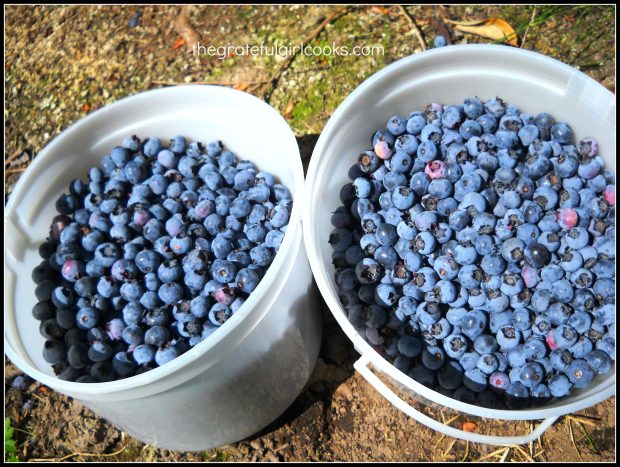 I was searching Pinterest for some new recipes to try that sounded good, and I stumbled upon this recipe for blueberry pancakes, made from scratch, and decided to give it a try. I'd made blueberry pancakes before where you just toss in blueberries to a packaged pancake mix, but making them from scratch sounded much better to me. It was easy!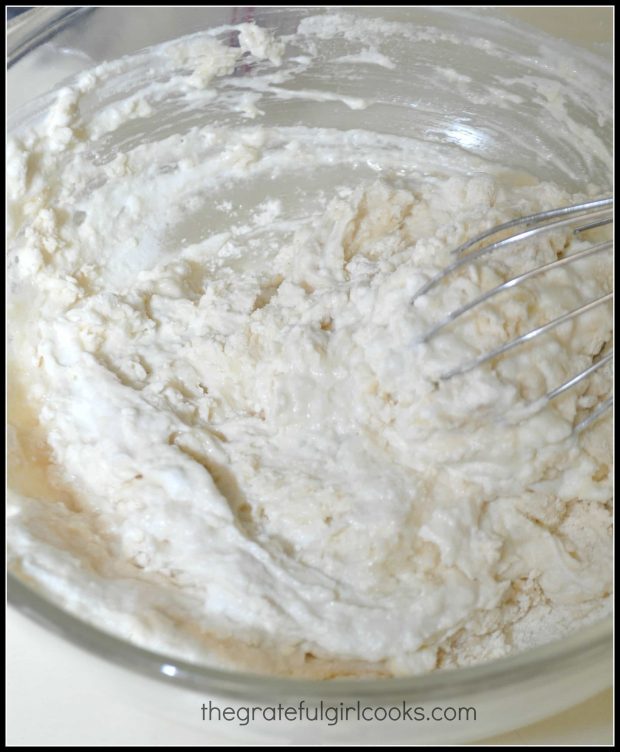 The batter was easy to make…low on sugar and high on plain Greek yogurt (for some extra protein, right? wink wink).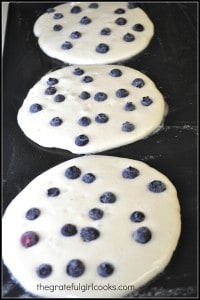 Throw in some delicious blueberries as you are cooking the pancakes…cook till done and voila! Homemade blueberry pancakes, without all the chemicals, etc. you would find in a purchased pancake mix, and easy to prepare, also! These pancakes taste delicious and are filled with great blueberry flavor! I hope you will give these a try!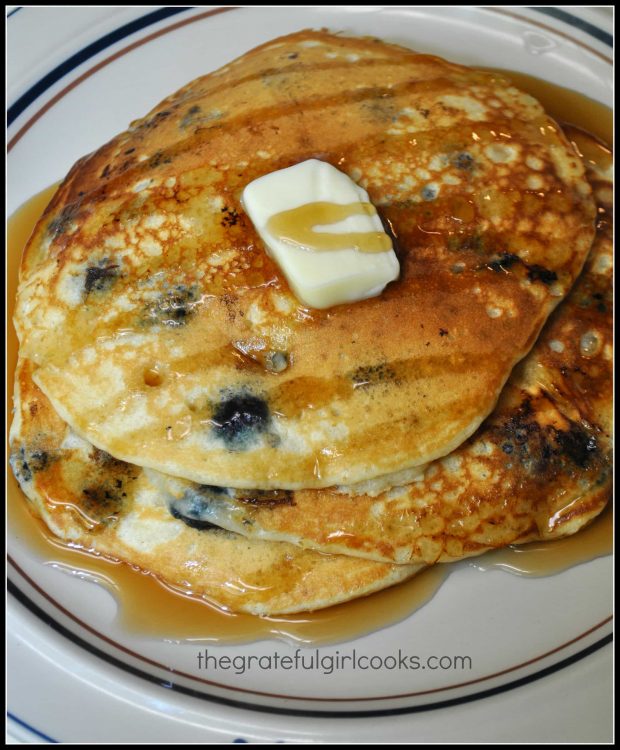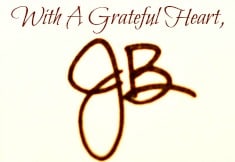 Recipe Source: http://www.heathersfrenchpress.com/2013/07/the-best-buttermilk-blueberry-pancakes-using-greek-yogurt.html#more-1289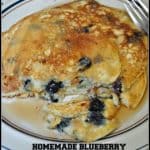 Homemade Blueberry Pancakes
Delicious, homemade blueberry pancakes using Greek yogurt. Bursting with flavor...perfect treat for breakfast!
Servings
:
8
large pancakes
Ingredients
1 1/4

cup

all purpose flour

3

Tablespoons

granulated sugar

1 1/2

teaspoons

baking powder

1/2

teaspoon

baking soda

1/2

teaspoon

salt

2

Tablespoons

butter

, melted

1

egg

1

teaspoon

vanilla extract

1/2

cup

milk

1

cup

plain Greek yogurt

1

cup

blueberries

(I used frozen blueberries, right out of the freezer)
Instructions
In a medium sized bowl, whisk the dry ingredients (flour, sugar, baking powder, baking soda, salt).

Whisk the milk and yogurt into the dry ingredients. Whisk until batter is smooth and no lumps are present.

Stir in the melted butter, egg and vanilla. Mix until well incorporated.

Heat a skillet or electric griddle to 275 degrees (a low temp for cooking pancakes)

Lightly spray or butter the griddle or skillet.

Pour pancake batter in 1/3 cup increments onto hot griddle. Spread a bit to create the size pancake you want.

Sprinkle blueberries on top of each pancake.

Cook pancakes about 4 minutes on each side (this is longer than when you use a commercial mix, but it IS the proper time for these to ensure the middle of the pancake is "set".

When beautifully browned and done, remove pancakes to serving plate, and serve with additional blueberries and powdered sugar or syrup. Enjoy!
Here's one more to pin on your Pinterest boards!

Save
Save
Save
Save