As a kid growing up, one of my favorite occasional "treats" was when my Mom would make our family chocolate chip pancakes. We ALL loved them!  I've made them for my family for many years, but when I stumbled upon this recipe for PUMPKIN Chocolate Chip Pancakes, I knew I had to make these…stat!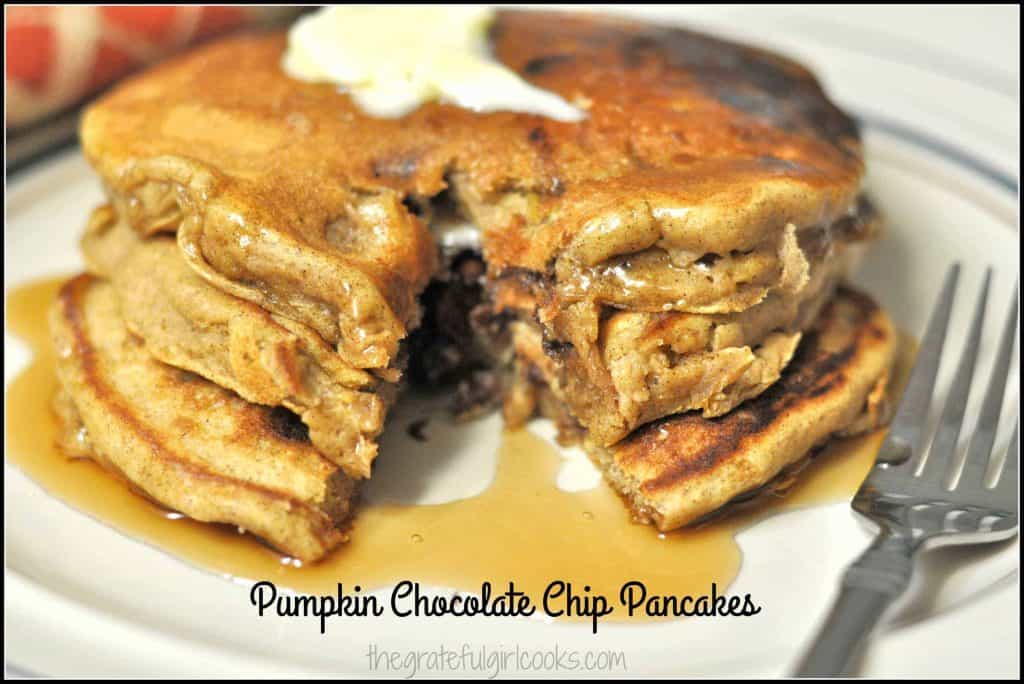 This past week I made Pumpkin Spice Latte Biscotti, and had some leftover pumpkin puree in the fridge… (conveniently the exact amount I needed for this recipe). So, into the kitchen I went to make this breakfast! The recipe was very simple to prepare (only took 5 minutes to prep), and the "from scratch" pancakes are delicious! The taste of pumpkin, cinnamon, allspice, and chocolate chips are amazing in these pancakes! Yes, they are a bit sweet, but I figured since we only have pancakes occasionally, it wouldn't be TOO bad.
Here's how you whip up a batch of these delicious pumpkin chocolate chip pancakes:
In a large bowl, stir together flour, baking powder, baking soda, cinnamon, allspice and semi-sweet chocolate chips. (Bet you didn't even break into a sweat…)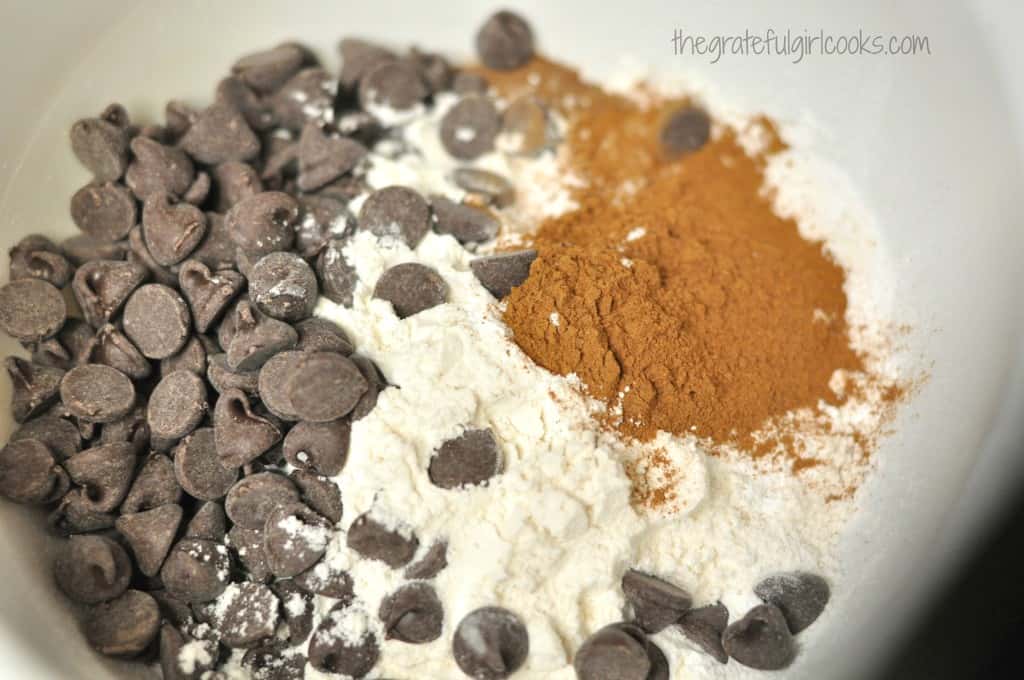 In a separate bowl, stir the brown sugar, egg, vanilla, pumpkin puree, and oil together until fully combined.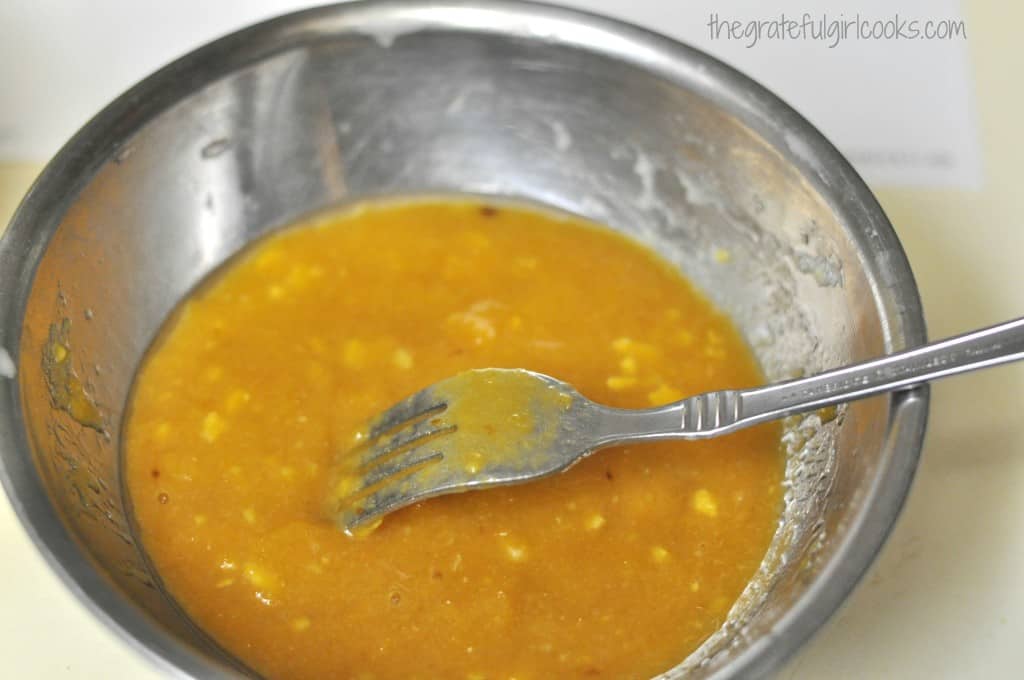 Stir in the buttermilk and blend well.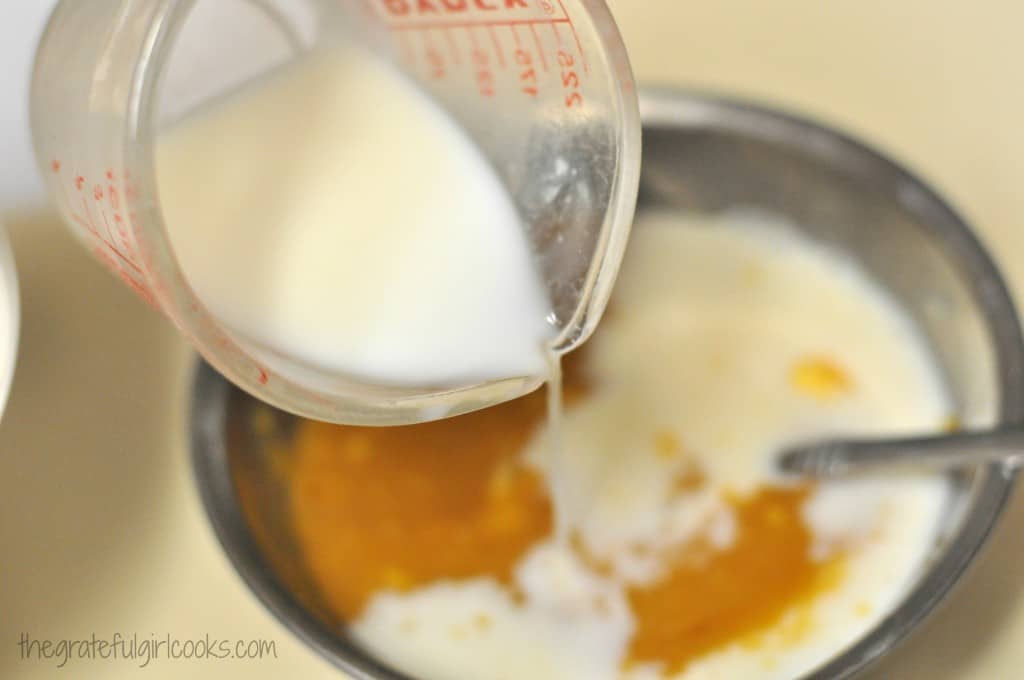 Add the wet ingredients to the dry ingredients and stir well, until mixture is fully blended. Do not overstir.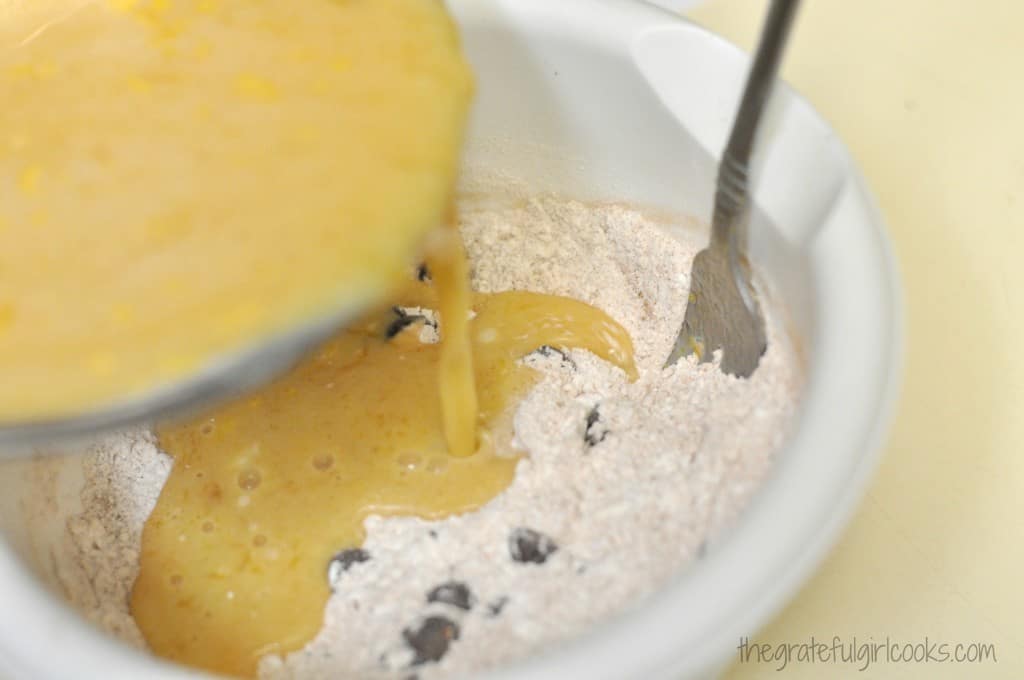 Pour pancake batter onto a pre-heated griddle (350 degrees) or large skillet (heated on medium-high) that has been sprayed with a non-stick spray or a little oil. Cook pancakes about 3 minutes or until little air bubbles form on top of the batter.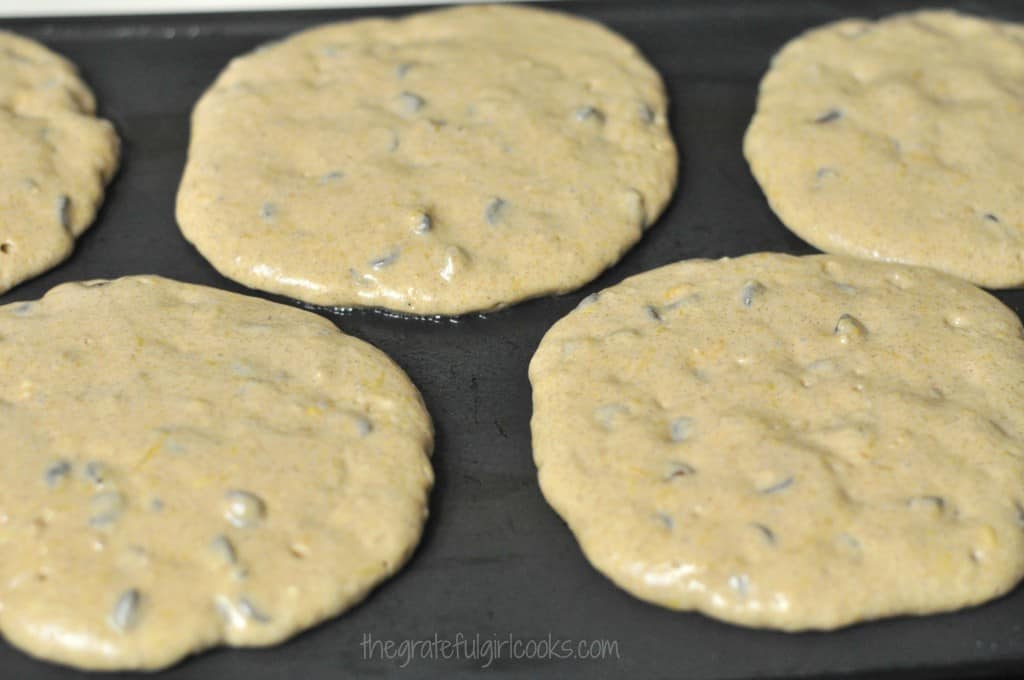 Carefully flip the pancakes over and continue cooking other side for 2-3 minutes.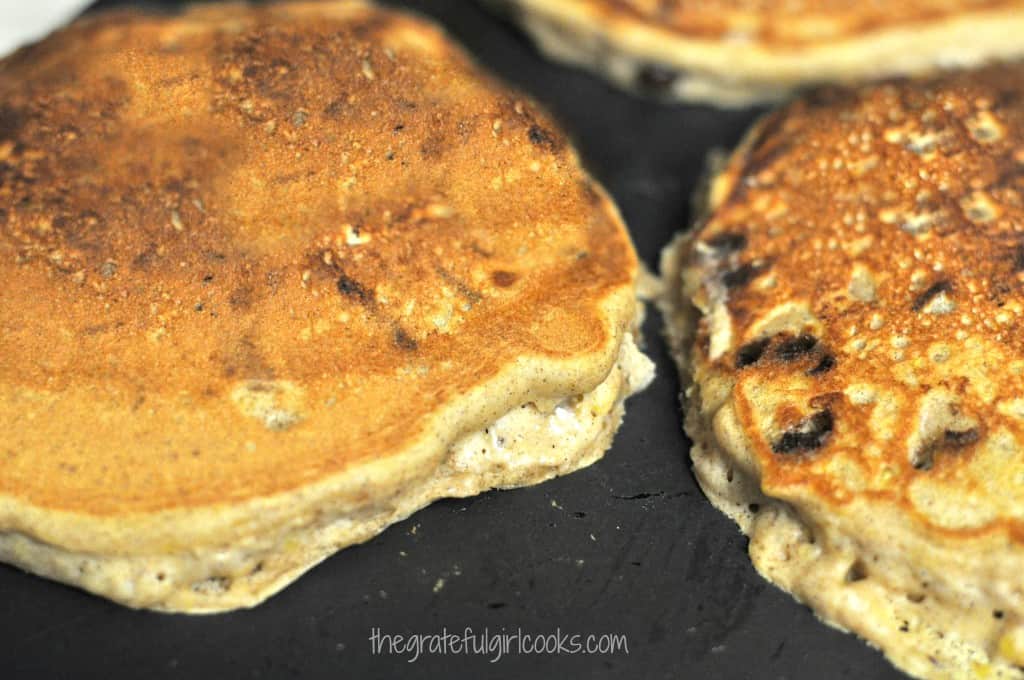 When done, serve immediately with some butter and maple syrup, and ENJOY!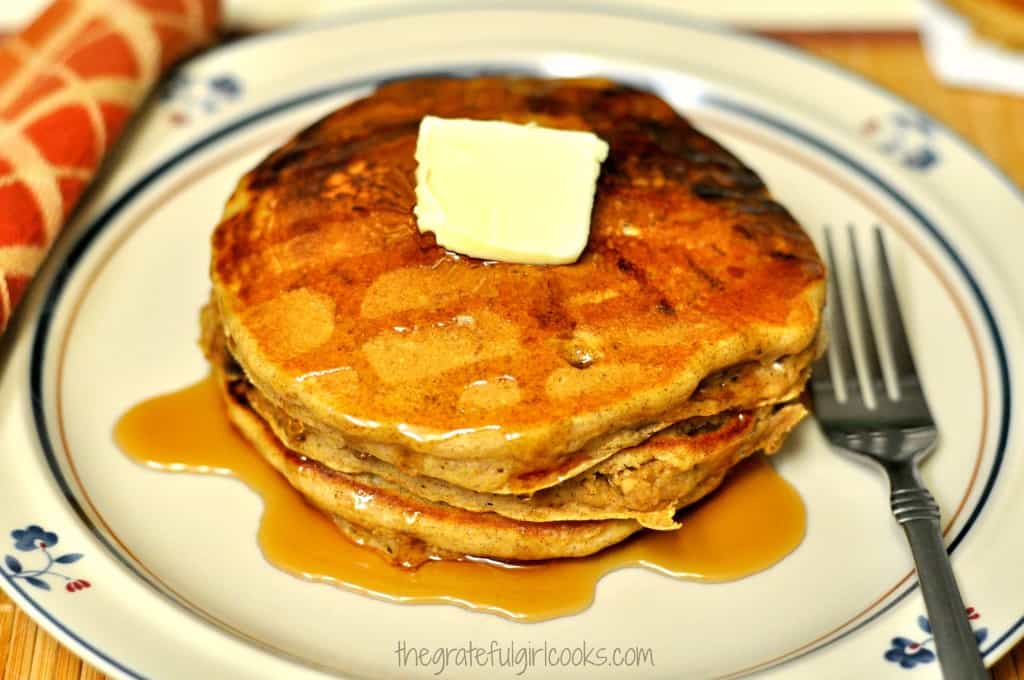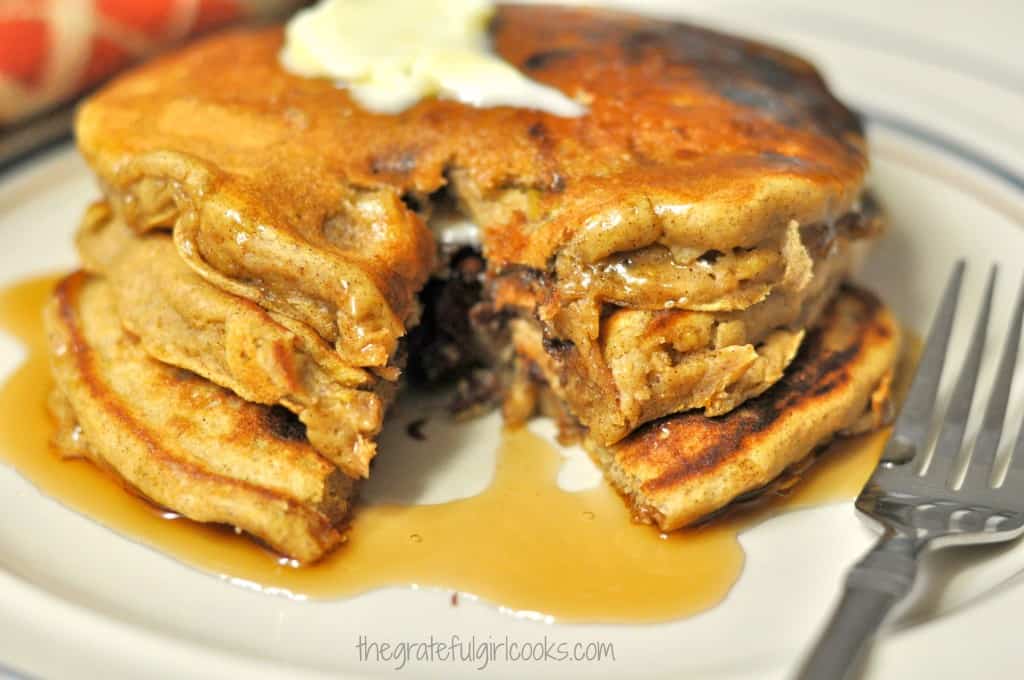 I saved you a bite, but only ONE. You're welcome!  Here you go… isn't that delicious?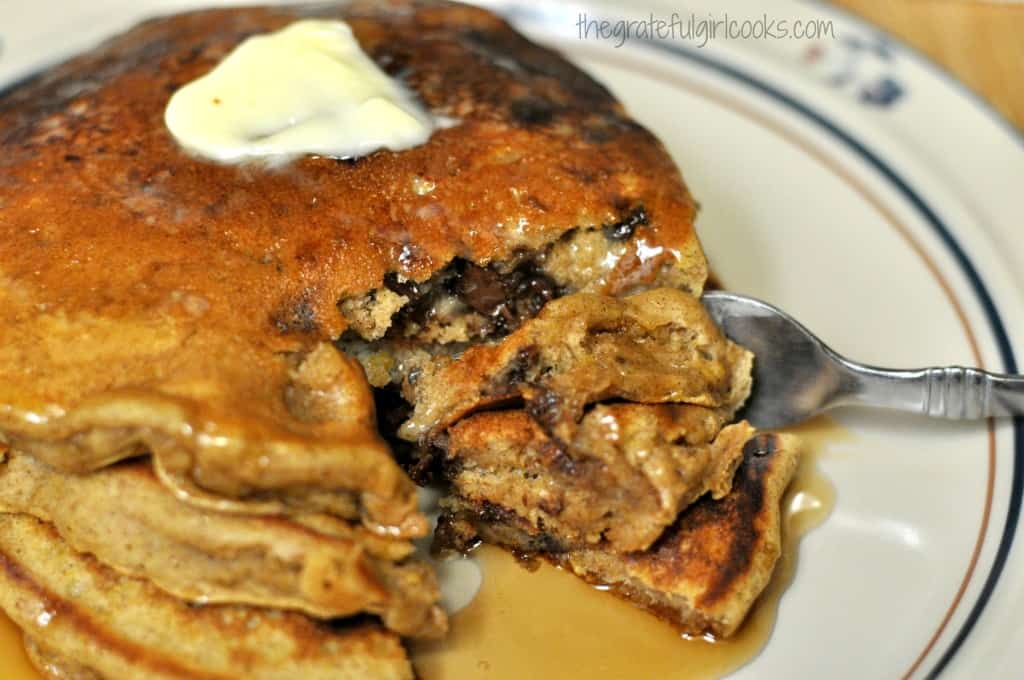 Hope you will these scrumptious pancakes a try. I think you will really enjoy them. (I made half a recipe and it made 5 good sized pancakes). The full recipe (shown below in printable form) yields approximately 10-12 pancakes.
Have a great day, friends. Make every moment count for good!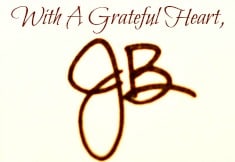 Recipe Source: Erin, at http://dinnersdishesanddesserts.com/pumpkin-chocolate-chip-pancakes/

Pumpkin Chocolate Chip Pancakes
Enjoy an amazing taste of Fall with these delicious Pumpkin and Chocolate Chip filled pancakes! YUM!
As Prepared By:
JB at The Grateful Girl Cooks!
Ingredients
2 cups all purpose flour
2 teaspoons baking powder
1 teaspoon baking soda
2 teaspoon cinnamon
½ teaspoon allspice
1 cup semi-sweet chocolate chips
¼ cup brown sugar
1 egg
1 teaspoon vanilla extract
1 cup pumpkin puree (not pumpkin pie mix)
3 Tablespoons vegetable or canola oil
1½ cups buttermilk (*see notes)
non-stick spray or a bit of oil (used to grease griddle or skillet)
Directions
In a large bowl, whisk together the all purpose flour, baking powder, baking soda, cinnamon, allspice and the chocolate chips. Set aside.
In another bowl, blend together the brown sugar, egg, vanilla extract, pumpkin puree and oil. Mix well, then add in the buttermilk, stirring well.
Add the wet ingredients to the dry ingredients. Stir until combined, but do not over stir.
Spray a griddle or large skillet with non-stick spray or lightly grease with oil.
Preheat grill to 350 degrees or heat skillet on medium-high. When hot, pour batter for pancakes onto griddle. Cook for about 3 minutes, or until tiny air bubbles begin to form on top of each pancake. Carefully flip the pancakes over, and continue cooking for another 2-3 minutes.
Serve pancakes hot, and top with a dollop of butter and some maple syrup. Enjoy!
Notes

If you do not have buttermilk, you can easily make your own (I did this for the pancakes): Place 1½ Tablespoons white vinegar in a large measuring cup. Add milk up to the 1½ cup level. Stir. Let it sit for 5 minutes, then use it in the recipe as indicated. It is a perfect substitution!!!


Here's one more to pin on your Pinterest boards!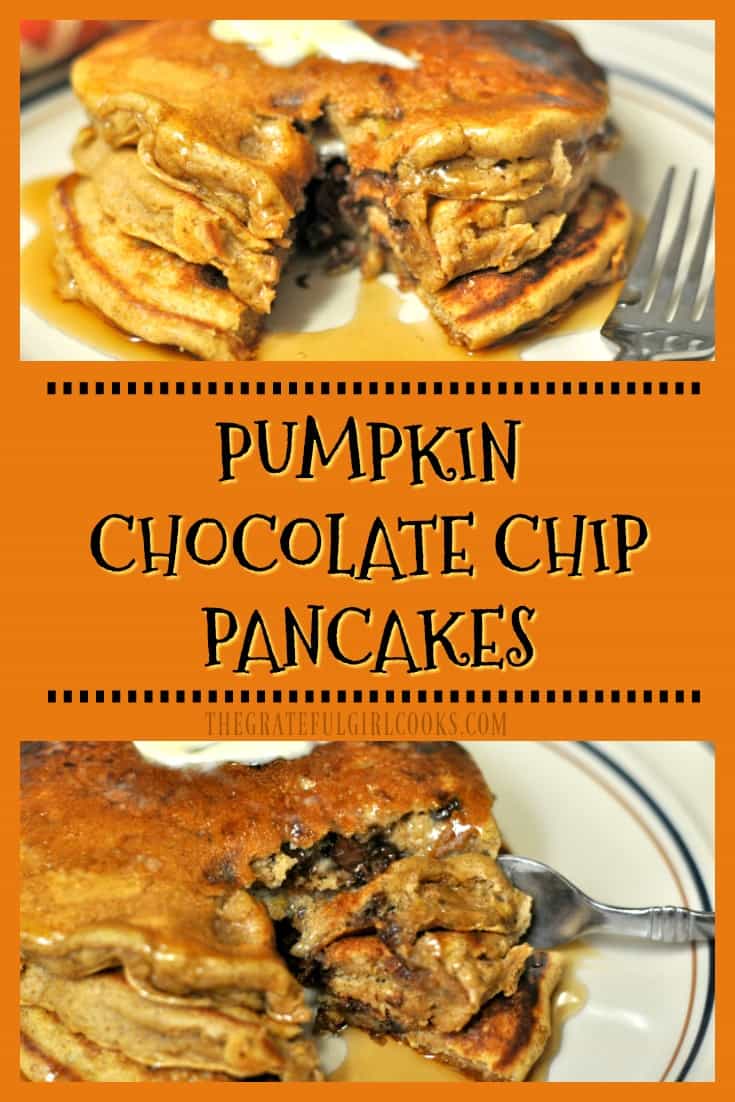 Save
Save