A few days ago I was scanning Pinterest and came upon a recipe for Honey Garlic Chicken (for crock pot). The recipe caught my eye because it looked so good AND it was SO EASY!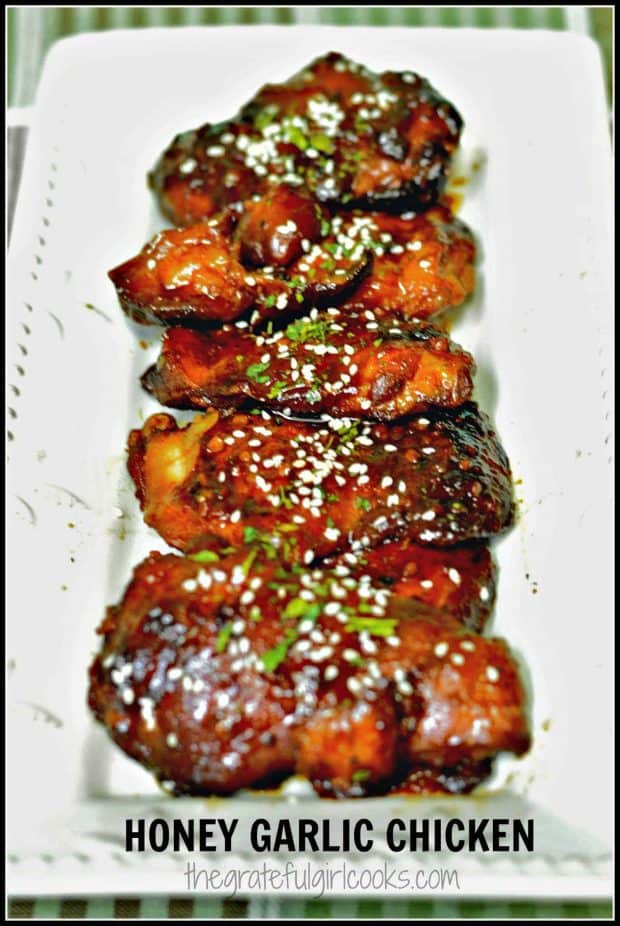 Seriously…how ridiculously easy is it to mix up the sauce, pour it over some chicken in a crock pot, set the timer and walk away? As I am always on the lookout for an easy, yet tasty dish, I decided to give the recipe a try… and guess what?  THE CHICKEN IS CRAZY EASY AND DELICIOUS… and it took all of about 10 minutes to prep. I LOVE those kind of meals!!
I prepared the sauce (boy is it good!), poured it over the chicken around lunch time and turned on the crock pot, and by 6:00 pm, my husband and I had a fantastic dinner waiting for us. The smell of the chicken as it cooked was amazing. I really couldn't wait for this meal to be done, so I could try it.
This chicken recipe is PERFECT for anyone who has a busy day and doesn't want to take a lot of time preparing dinner. Throw the recipe together in 10 minutes or less, throw it in a crock pot, turn it on, then walk away, and do whatever you want until it is done! Bam! Fantastic, delicious dinner… just like that! Here's what you do:
Mix up the sauce (garlic, honey, ketchup, soy sauce, oregano, and parsley). EASY.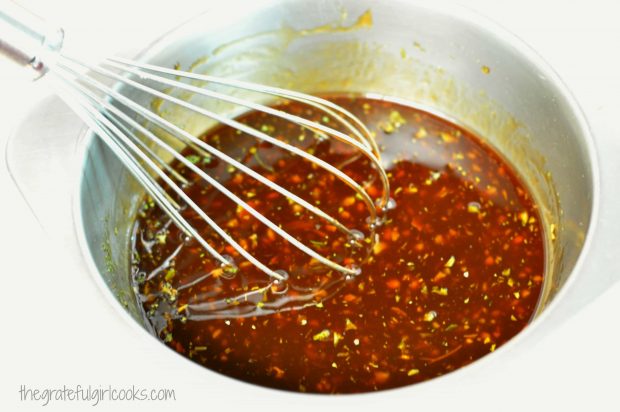 Place 6 boneless, skinless chicken thighs in the bottom of a crock pot. Try NOT to break a sweat doing this, (ha ha)!!!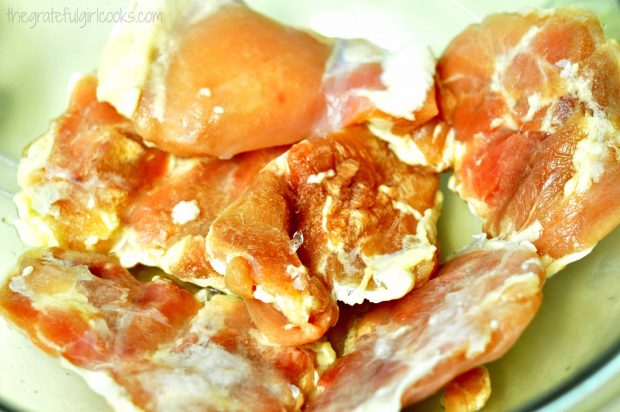 Pour the sauce over the chicken, turning to coat all pieces.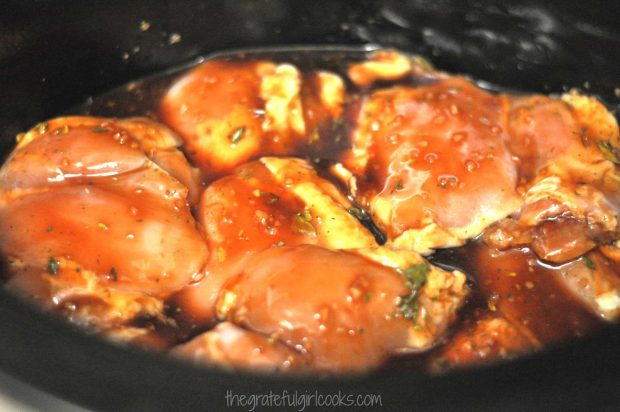 Cook on LOW for 6-7 hours or on HIGH for 4-5 hours. I cooked mine on high. Here's what they looked like when I took a peek about 3 hours in…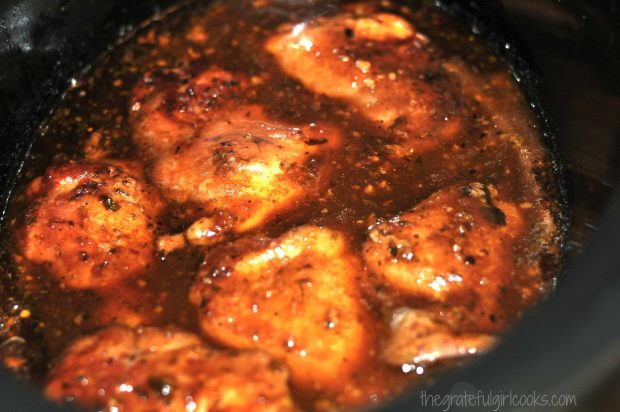 When chicken is done, remove it to a serving plate, spoon some of the sauce over the chicken, then sprinkle with toasted sesame seeds and some parsley, and serve. The chicken is so tender, and the sauce is so delicious, you won't believe it! I served it with some rice and broccoli on the side.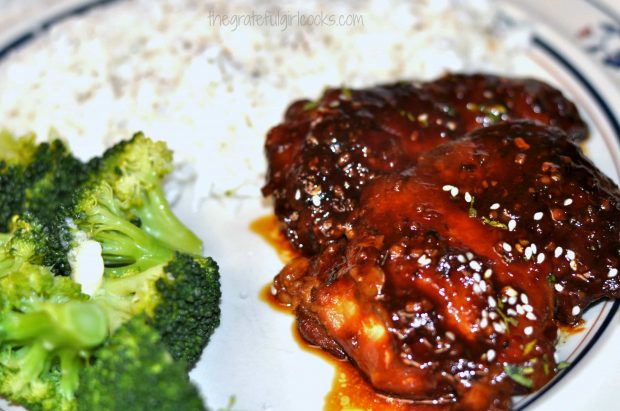 Sure hope you will give this easy recipe a try. My husband and I loved this meal, and it was a real time saver, so I will definitely be making this again! Have a great day!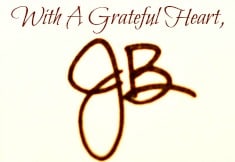 Recipe Source: http://diethood.com/crock-pot-honey-garlic-chicken/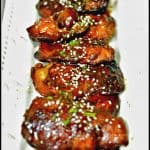 Honey Garlic Chicken (For Crock Pot)
Easy and DELICIOUS slow cooker recipe for chicken in a honey and garlic sauce.
Ingredients
4-6

boneless

, skinless chicken thighs

4

garlic cloves

, minced

1/3

cup

honey

1/2

cup

ketchup

1/2

cup

soy sauce

(low sodium or regular)

1/2

teaspoon

dried oregano

2

Tablespoons

dried parsley

1/2

Tablespoon

toasted sesame seeds
Instructions
Make the sauce by combining garlic, honey, ketchup, soy sauce, oregano and parsley in a small mixing bowl. Mix until thoroughly combined.

Place the thawed chicken thighs on the bottom of a crock pot.

Pour the sauce over the chicken, turning to ensure all sides of chicken are coated with sauce.

Put the lid on crock pot; cook on LOW for 6-7 hours OR cook on HIGH for 4-5 hours.

When chicken is done cooking, transfer the chicken to a serving platter or to individual serving plates. Spoon some of the extra sauce over the chicken.

Garnish each piece of chicken with sesame seeds and a little parsley.

Serve, and enjoy!
Save
Save