Warm up with a mug of "easy-to-make" hot spiced apple cider! It's a delicious "family-friendly" drink to serve at any gathering or holiday!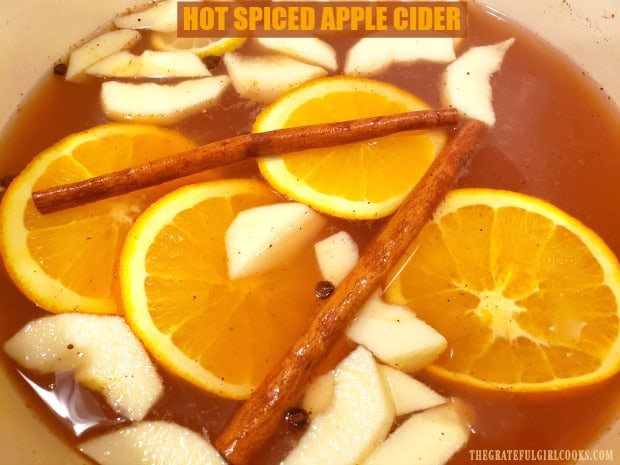 For about 10 years, I annually hosted several Christmas parties in our home, some with over 100 in attendance, and another cookie exchange with anywhere between 10 and 20 co-workers. The desserts changed each year, but one treat I always made was a huge pot of Hot Spiced Apple Cider.
The first time I made it, I experimented with the ingredients (writing them down). It was such a hit, I made it the same way after that! I would cook a large double batch and leave it simmering on the stove, so guests could ladle up a steaming hot cup of spiced cider whenever they wanted.
Wow… the smell was amazing in our kitchen from the cinnamon sticks and other spices in that big old pot of hot apple cider. It was a popular spot in our kitchen. Today I want to show you how easy it is to prepare scrumptious hot spiced apple cider, whether it is for a small gathering with family OR a large group of friends. Here's how:
Scroll Down For A Printable Recipe Card At The Bottom Of The Page
Apple Juice or Apple Cider?
For this recipe I recommend using apple CIDER, as opposed to apple juice. Typically (in the U.S.), commercial apple juice is heavily filtered to remove all the pulp from the apples used. When using apple cider, you tend to have a much more dense apple flavor.
Cider is made with crushed or mashed up apples. This mixture is then hard-pressed (through cloth or commercial filters), which allows a little bit more of the flavor-filled pulp to remain in the "juice", before it is pasteurized.
*My tip: If you only have apple juice… just go ahead and use it, but if you can, get apple cider (that's the best tasting), to make hot spiced apple cider.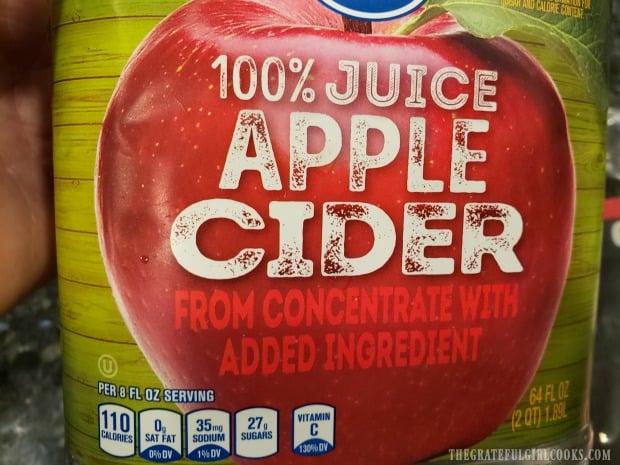 Making Hot Spiced Apple Cider Is EASY
Making this delicious apple cider is very simple! Pour a 64 ounce bottle of apple cider into a large stockpot (or Dutch oven). Add some orange juice, cranberry juice, sliced lemon and oranges, and a peeled/sliced apple to the apple cider. Throw in whole allspice, ground cloves, nutmeg and 2 whole cinnamon sticks to the pan. You can find whole cinnamon sticks online, in craft stores, and many grocery stores.
Stir to combine all the ingredients, and then turn the heat to low under the pan. Let the hot spiced apple cider simmer for 30 minutes or more uncovered, on LOW heat, so the flavors have a chance to "marry" and develop. Your kitchen should begin to smell quite nice as the cider cooks, and you can see just how easy it is to make! The recipe, as written, will make approximately 8-9 servings, and can easily be doubled.
Serving Hot Spiced Apple Cider
Once the cider has simmered for 30 minutes or more (and is steamin' hot), ladle the liquid into serving mugs. It will be perfect just the way it is, but if you want to "garnish" the drink, add an orange or lemon wedge to the rim of the mug. You can even toss in a few raw cranberries and/or a cinnamon stick, if you want (it's totally optional).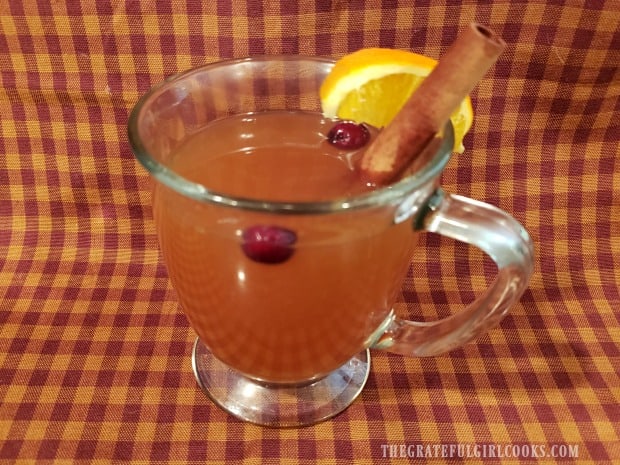 The cider should be served HOT, and I'm confident you will enjoy the warm, cinnamon, citrus and spice flavors in each cup. It's a yummy taste of Fall, and is a traditional beverage in our home.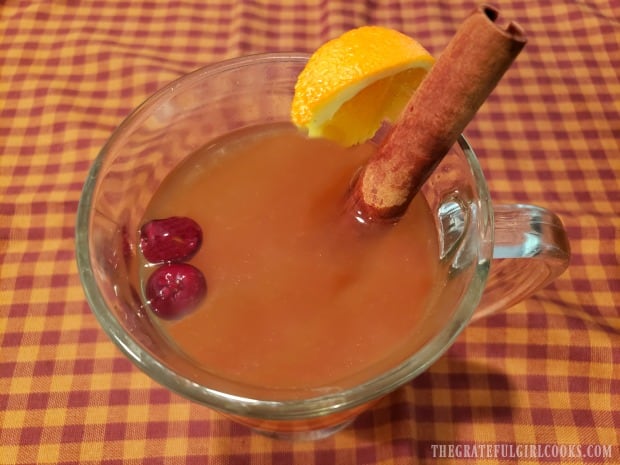 I hope you enjoy this simple beverage! For me, it just screams "FALL". If you have leftovers, let the cider cool completely. Strain out the spices, citrus, cinnamon sticks, etc., and pour the leftover cider back into the bottle. Store in refrigerator safely for 3-4 days. Reheat leftover cider in the microwave, or in a pan on the stovetop.
Have a great day, friends. Thank you for stopping by, and I truly hope you will come back again soon.
Looking For A Few More Hot "Family-Friendly" Beverages?
You can find all of my beverage recipes in the Recipe Index, located at the top of the page. I have a few "family-friendly HOT beverages, including:
Interested In More Recipes?
Thank you for visiting this website. I appreciate you using some of your valuable time to do so. If you're interested, I publish a newsletter 2 times per month (1st and 15th) with all the latest recipes, and other fun info. I would be honored to have you join our growing list of subscribers, so you never miss a great recipe!
There is a Newsletter subscription box on the top right side (or bottom) of each blog post, depending on the device you use, where you can easily submit your e-mail address (only) to be included in my mailing list.
You Can Also Find Me On Social Media:
Facebook page: The Grateful Girl Cooks!
Pinterest: The Grateful Girl Cooks!
Instagram: jbatthegratefulgirlcooks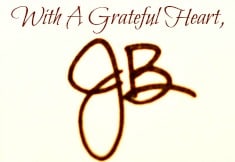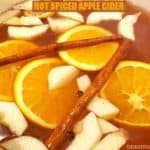 Hot Spiced Apple Cider
Warm up with a mug of "easy-to-make" hot spiced apple cider! It's a delicious "family-friendly" drink to serve at any gathering or holiday!
Keyword:
spiced apple cider
Servings
:
8
(1 cup servings)
Calories Per Serving
:
119
kcal
Ingredients
64

ounces

apple cider

½

cup

orange juice

½

cup

cranberry juice

1

medium

apple (any variety)

, peeled, seeded, thinly sliced

1

medium

orange

, thinly sliced (leave peel ON)

1

small

lemon

, thinly sliced (leave peel ON)

2

cinnamon sticks

8-10

pieces

whole allspice

¼

teaspoon

ground cloves

, can substitute 4-5 whole cloves

¼

teaspoon

ground nutmeg
Instructions
Place all ingredients in a large stock pot or Dutch oven. Stir to combine.

Cook on LOW heat (uncovered) for 30 minutes (or more) to allow flavors to fully develop. Once hot, ladle into mugs and serve. Garnish mugs of cider with fresh cranberries, orange or lemon wedges, or a cinnamon stick, if desired.

**Storing leftover cider? Strain out spices, citrus etc. Let cool to room temp. Pour liquid back into apple cider bottle, cover, and refrigerate for up to 3-4 days. Microwave or heat on stovetop to re-heat. Enjoy.
Recipe Notes
Note: The caloric content is based on the calories from apple cider, orange and cranberry juices, as all other ingredients are used for flavoring, and not consumption.
Nutrition Facts
Hot Spiced Apple Cider
Amount Per Serving (1 cup)
Calories 119
Calories from Fat 9
% Daily Value*
Fat 1g2%
Sodium 10mg0%
Potassium 272mg8%
Carbohydrates 29g10%
Protein 1g2%
Vitamin A 38IU1%
Vitamin C 11mg13%
Calcium 21mg2%
Iron 1mg6%
* Percent Daily Values are based on a 2000 calorie diet.
Here's one more to pin on your Pinterest boards!