Do you enjoy cold, fresh fruit smoothies? We sure do at our house! Recently for lunch I made a Triple Berry Banana Smoothie, which included blended frozen raspberries, blueberries, and blackberries with a banana, orange juice, Greek yogurt and spinach! It was DELICIOUS!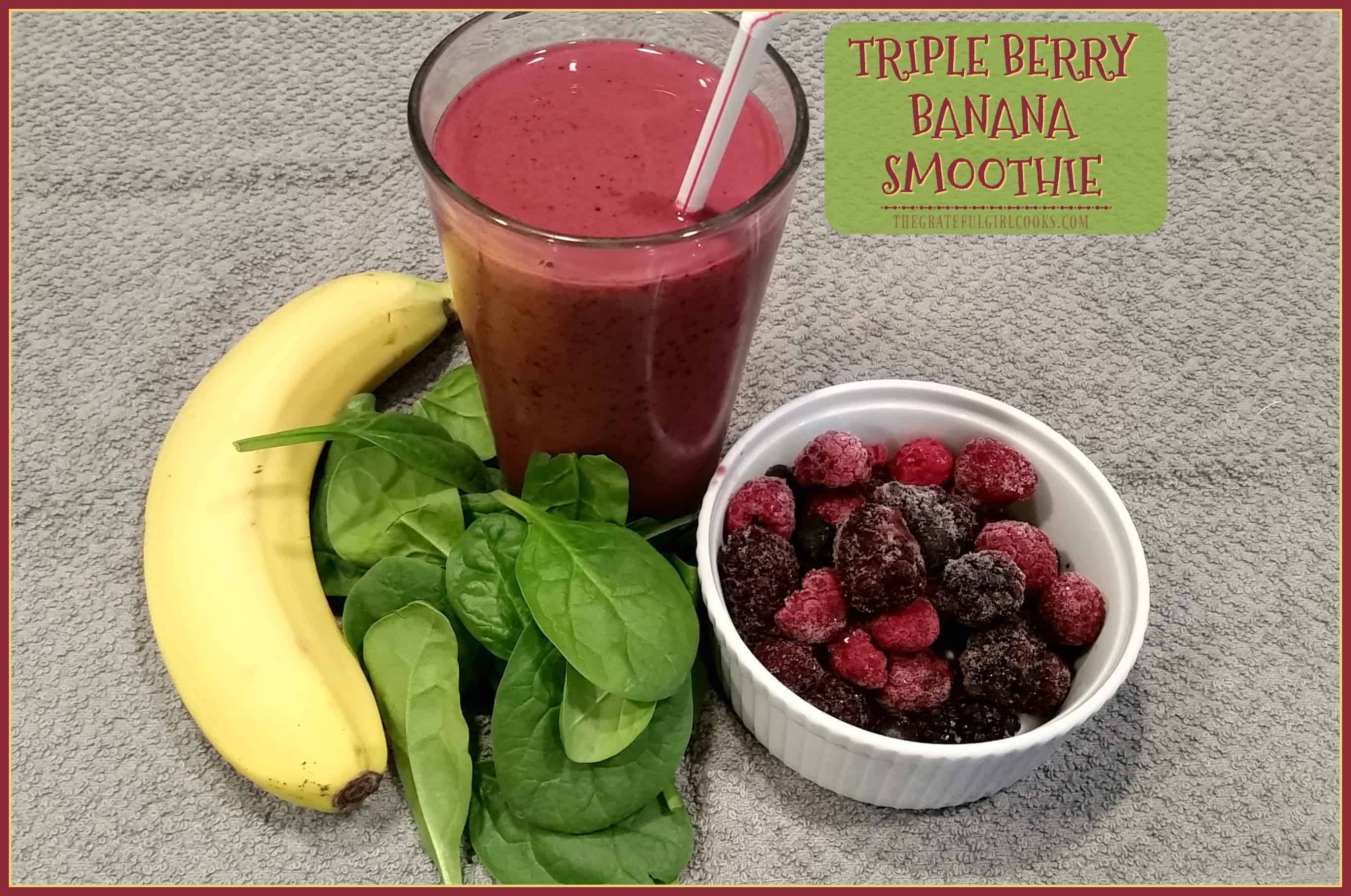 Here in the Portland, Oregon area, we've been experiencing many days with temperatures in the low 30's this Winter. I realize that sounds like a "heat wave" to others experiencing absolutely frigid temps, heavy snowfall and blizzard conditions, BUT… it still was COLD. So in spite of everything my brain told me NOT to do on a freezing cold day, I made a really COLD fruit smoothie for lunch… ha ha! And guess what? IT WAS WONDERFUL!
The smoothie couldn't be easier to make!  Here are the cast of characters… frozen berries (3 kinds- blueberry, blackberry and raspberry, bought in a fruit medley bag at Costco), non-fat plain Greek yogurt (a good source of protein), a handful of fresh baby spinach (trust me- the kids will NEVER know there's a veggie in there!), a banana, and a small amount of orange juice.
All the ingredients are placed into a blender and mixed until it is smooth! That's it!  There is enough to make 2 (8 ounce) smoothies, or 4 little smoothies (for the kids). By using frozen berries there is no need to add ice to make the smoothie cold (which can possibly water down the drink).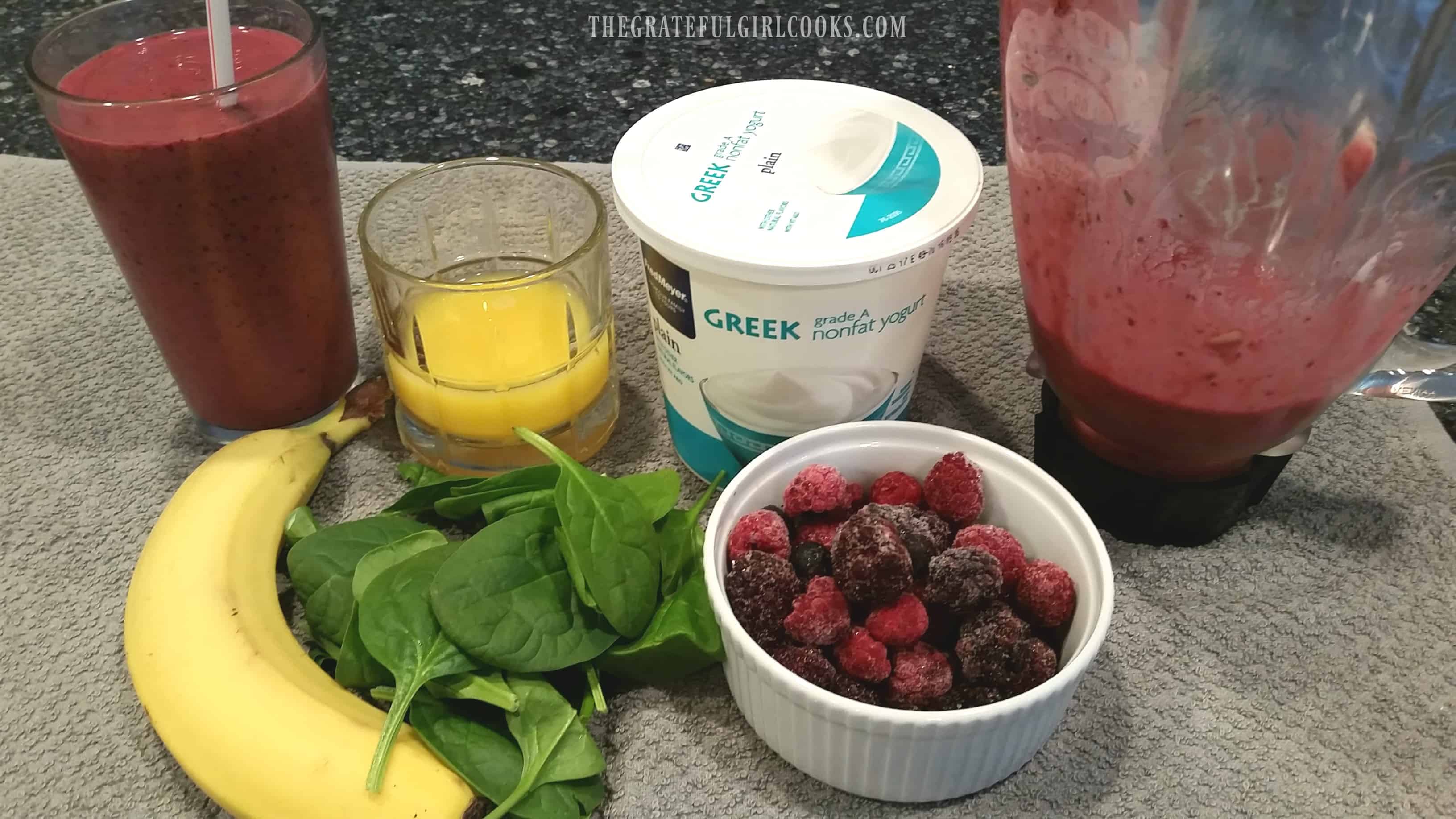 If you are a lover of fruit smoothies, I would also recommend checking out my recipes for Orange Julius (copycat), Blueberry, Banana and Kale Smoothie, or the delicious Super Creamy Chocolate Peanut Butter Smoothie! They all taste wonderful, and are very easy to prepare!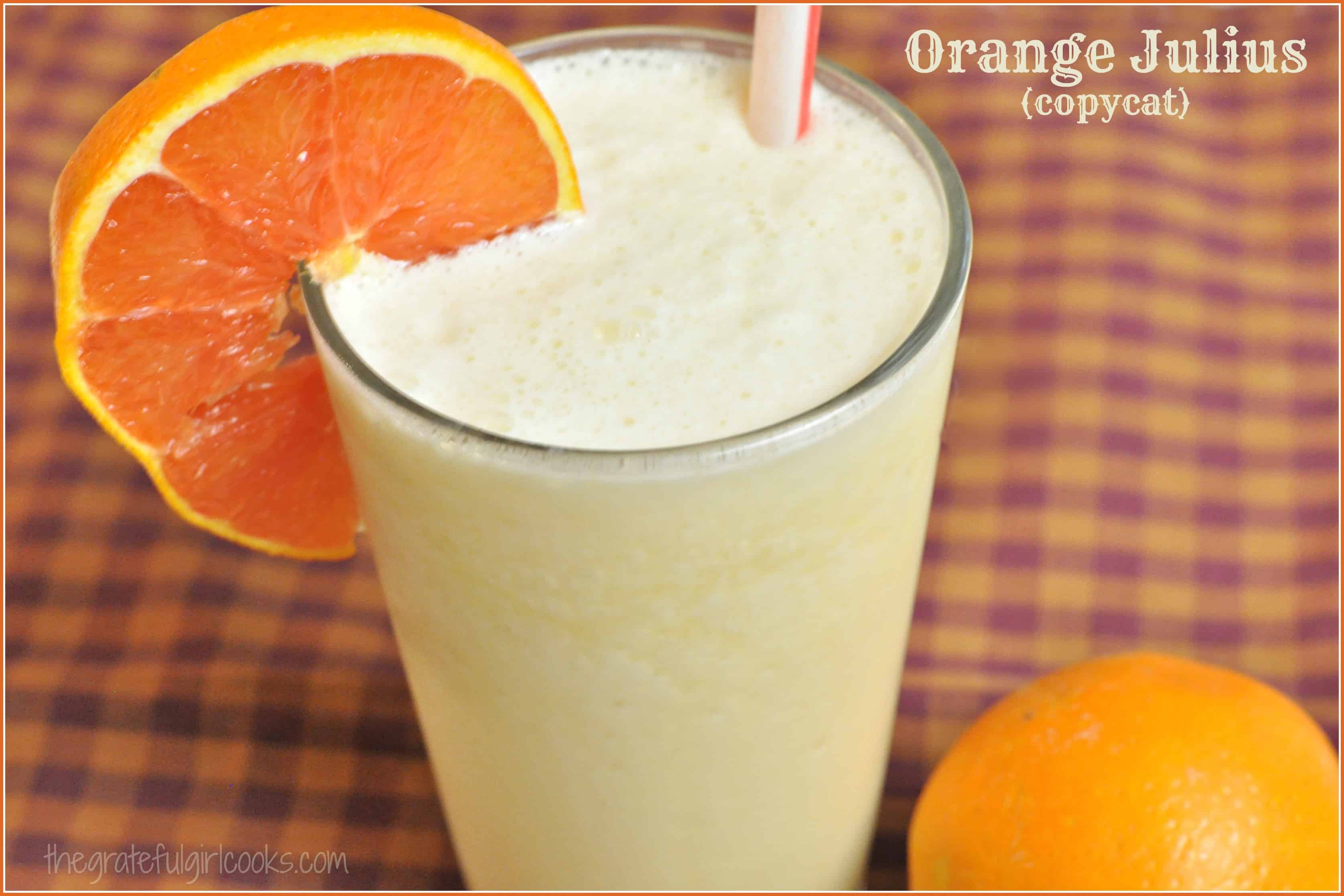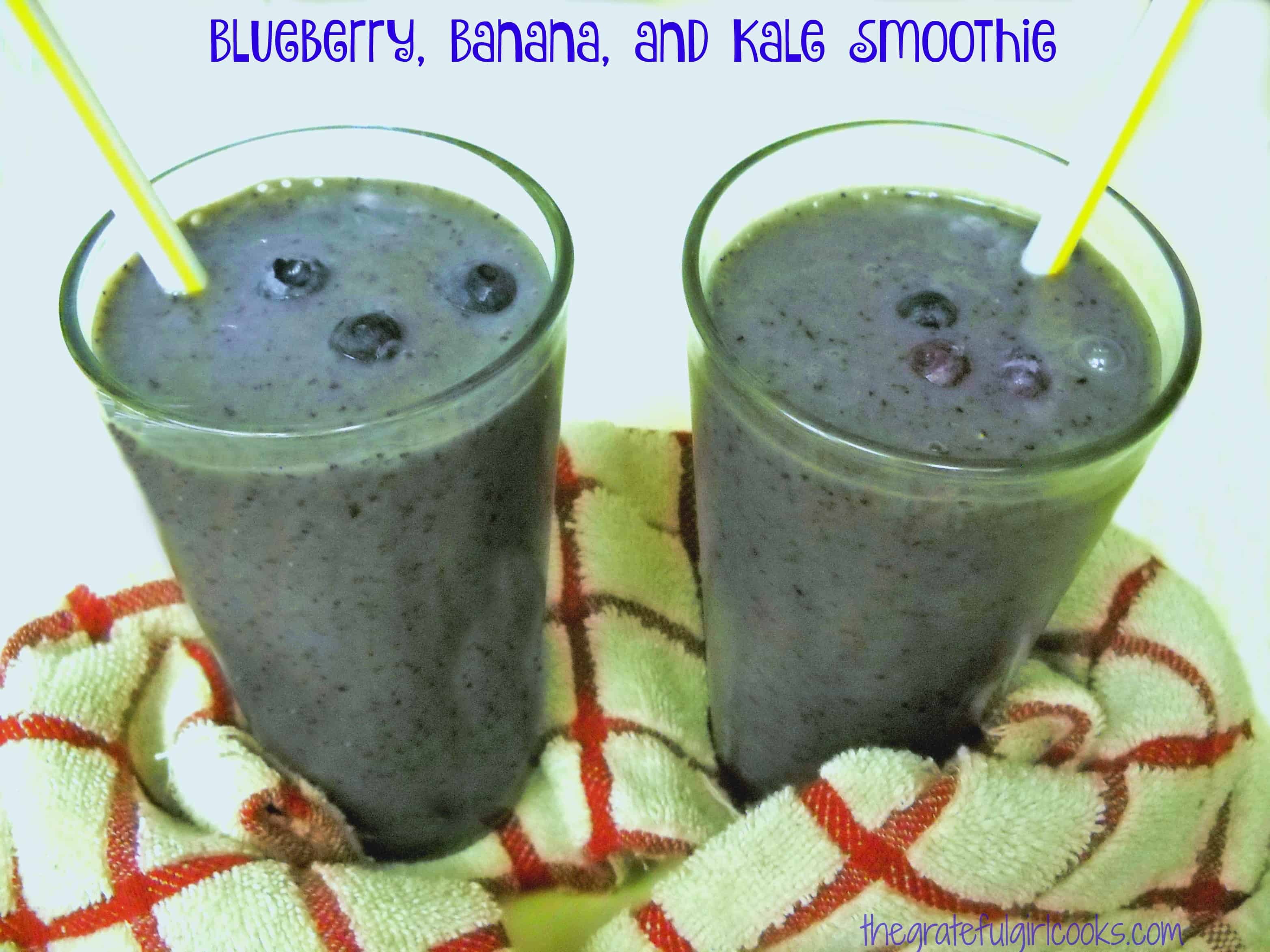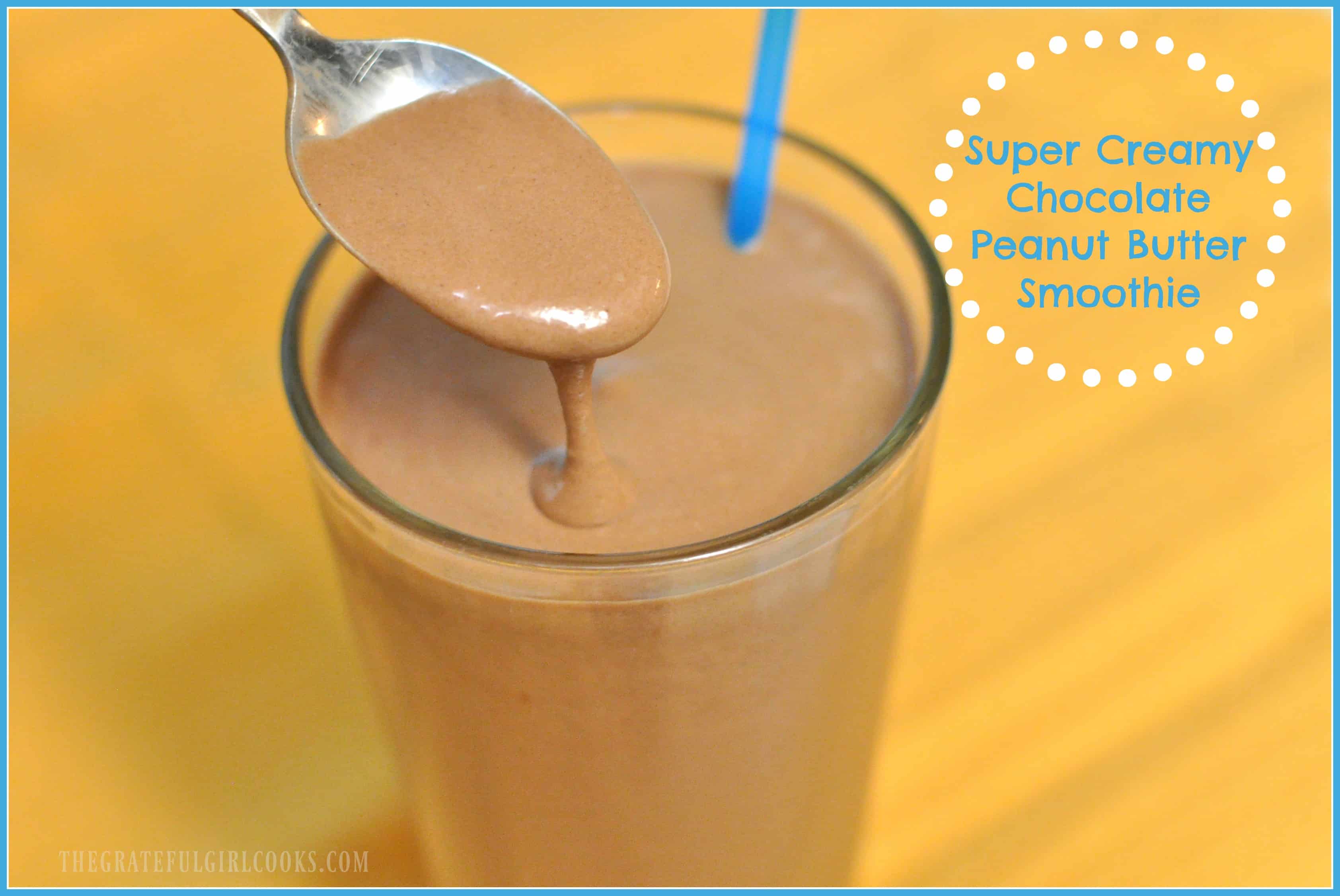 But for now… back to THIS incredible tasting drink! Once it is well blended, pour yourself a great big glass full… and ENJOY this yummy, filling beverage! The best part is that it only takes a couple minutes to make, tastes GREAT, and is nice and cold from those frozen berries! Lip-smackin' good!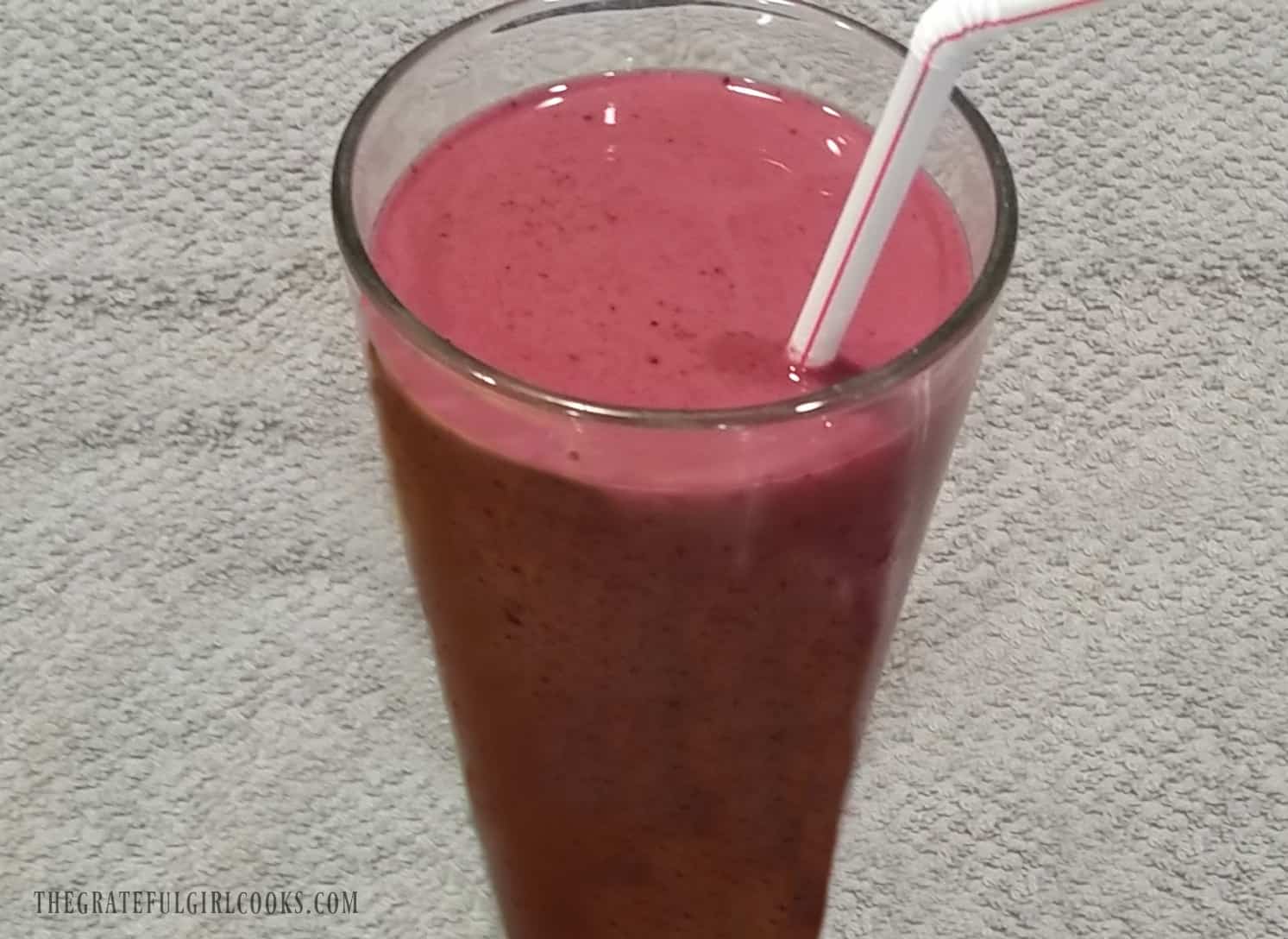 Hope you enjoy it! We sure did! The recipe is easily doubled, and can be easily adapted to use other berries you may enjoy.  It was a very light lunch for me that day, but it left me filling full and satisfied.  Have a wonderful day!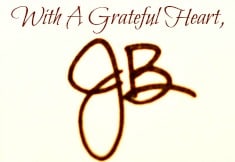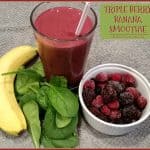 Triple Berry Banana Smoothie
This cold and satisfying fruit smoothie featuring a medley of fresh and frozen fruit, orange juice, Greek yogurt and spinach is a wonderful quick meal on the go!
Servings
:
2
(8 ounce) servings
Ingredients
2

cups

frozen berry medley

(blueberries, blackberries, raspberries)

1

large banana

1

large handful fresh baby spinach leaves

(approx. 1½ cups)

3

heaping Tablespoons non-fat Greek yogurt

1/2

cup

orange juice

(I used commercially prepared)
Instructions
Place all ingredients in blender. Make sure berries (or banana) are frozen before adding. By using frozen fruit, you avoid having to add ice cubes to the drink to make it cold, which can water it down.

Process ingredients until well blended and smooth.

Pour into glasses and serve!
Recipe Notes
Recipe yields approximately 2 (8 ounce) servings) or 4 (1/2 cup) servings.
Here's one more to pin on your Pinterest boards!