Nothing like a great piece of Italian Sausage and Spinach Quiche to satisfy your hunger pangs, right? I think it's going to be a great day!  It's a great day to make a Quiche!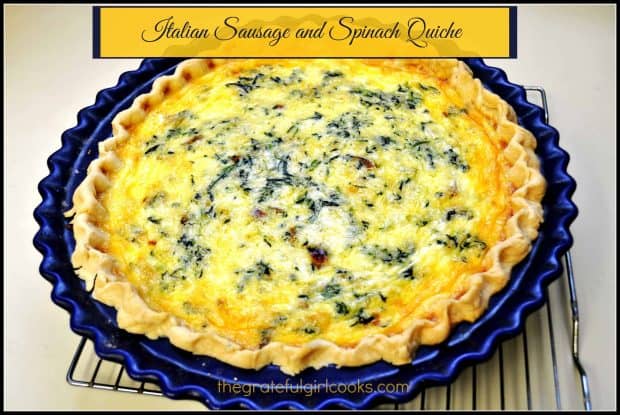 I woke up this morning with such peace and anticipation about what God will bring into my life today. I am so grateful He has proved Himself over and over through the years to be completely worthy of my trust and whole heart. "I lift up my eyes to the hills – where does my help come from? My help comes from the Lord, the Maker of heaven and earth". (Psalm 121:1-2). I sure do love that Bible verse.
Sometimes I feel like having "breakfast" for dinner. Do you ever feel that way? Yesterday I asked my husband for his input on choices for dinner. One of the ideas I gave him was quiche, but I really didn't think (i.e. never dreamed) he would choose this option. But he did! He constantly surprises me. Hmmm… breakfast for dinner (I know some think of quiche as a lunch entree, but for us it's been a breakfast option). This sounded like a good plan to me.
So… in the afternoon I checked out the ol' refrigerator to see what my options were. I also found my old "faithful, tried and true" Quiche Lorraine recipe (handwritten on a 3×5 card), that I've used for over 25 years, but since I didn't have any bacon or Swiss cheese in the fridge (bummer!), I decided to experiment with my original recipe a bit and make a quiche with what I DID have! This monumental decision was influenced by the fact that 1) I was sick, 2) I remembered my car battery had died (again…ugh) during our recent snowstorm and 3) my husband was away working on inspections for the afternoon. I knew I wasn't going to be headed to the grocery store any time soon. So…being the determined woman I am, I decided to make our quiche with Italian sausage, Parmesan and mozzarella cheeses, and spinach. Sounded promising…I mean, really…how bad could THAT be? Right?
Success! It turned out to be quite delicious. Our oldest son, the same one who asked me a few weeks ago to teach him how to make quiche since he was craving it, but our schedules never came together, happened to drop by after work. He was surprised we were having quiche for dinner. I was pleasantly surprised and thrilled to have an extra mouth to feed. Perfect! It was wonderful to have him join us. We really enjoyed the quiche, and even had seconds (yep…it WAS good)!  I promised him I would put the recipe on my blog so he could make one, also! So here ya go, Michael…this one's for YOU! Hope you enjoy it! Love, Mom.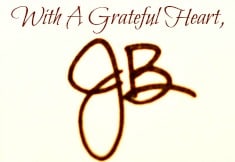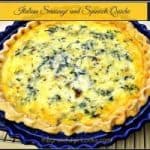 Italian Sausage and Spinach Quiche
This Italian sausage and spinach filled quiche is sure to please, whether for breakfast, lunch or dinner!
Ingredients
1

unbaked deep dish pie crust

(make sure it is a deep-dish crust/pan)

2

mild Italian sausage links

, sliced 1/2 " thin, then quartered (**slice while sausage is still partly frozen...makes it so much easier to slice. You can also remove sausage casing and crumble the sausage, if you prefer!)

1/3

cup

onion

, finely chopped

1

teaspoon

minced garlic

1/3

cup

shredded mozzarella cheese

1/2

cup

shredded Parmesan cheese

(the real stuff)

2

Tablespoons

grated Kraft Parmesan cheese

1/2

box frozen chopped spinach

(thawed, cooked according to pkg. and drained well)

2

cups

heavy whipping cream

4

large eggs

1/4

teaspoon

granulated sugar

1/8

teaspoon

cayenne pepper

3/4

teaspoon

salt

1/4

teaspoon

garlic powder

small pinch of red pepper flakes

(optional)
Instructions
Preheat oven to 425 degrees. While oven is preheating, cook the Italian sausage and onion in a non-stick skillet, till completely cooked through. (5-10 minutes approx.). Drain grease.

In a separate saucepan, cook the spinach per pkg. instructions. Remove from heat, and drain really well to get excess moisture out. Add the cooked/drained spinach and the minced garlic to the skillet with sausage/onion mixture and mix well. Cook for an additional 1-2 minutes.

Prepare the unbaked pie shell by piercing shell with the tines of a fork - (this is to prevent the crust from creating air pockets and puffing up too much while baking)

Add cooked sausage, mozzarella and Parmesan cheese, garlic, onions, and spinach to the unbaked, prepared pie crust.

In a separate bowl, whisk together whipping cream, eggs, sugar, cayenne pepper, salt, and red pepper flakes, until well blended.

Pour egg mixture on top of the sausage/spinach/cheese mixture in pie crust. Gently mix ingredients together (I use a fork-be careful not to mix too hard or you will damage the crust. Just enough to blend the ingredients evenly together!)

Carefully put quiche into the preheated 425 degree oven. Don't spill it!

Bake at 425 degrees for 15 minutes, then reduce heat to 300 degrees and bake for an additional 35-40 minutes. (quiche is done when a knife comes out clean).

Remove quiche pan to a wire rack. Let it cool a bit, slice, serve... and enjoy!
Save
Save
Save