Last summer I canned lots of food to store in our pantry, including this Italian-Style Tomato Sauce, which used a lot of Roma tomatoes from our backyard garden!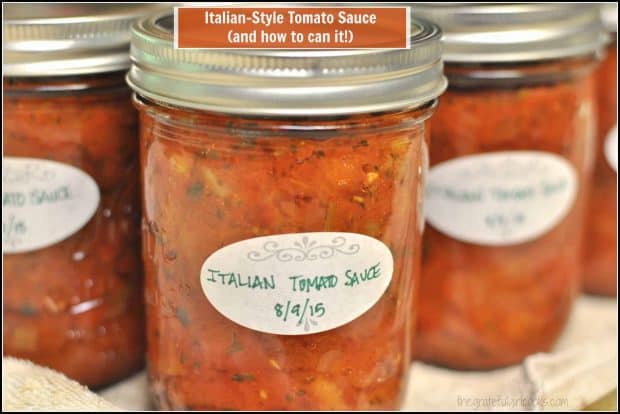 The sauce was fairly easy to can, using a water bath canner.  The recipe from my "Ball Complete Book of Home Preserving" was tested scientifically so that it can be safely processed in a water bath (as opposed to a pressure canner).  As long as you don't alter the ingredients or quantities of ingredients used (because that might end up with an unsafe product), it is safe to water bath process this sauce.  It's been great to have extra jars of this delicious tomato sauce in my pantry for last minute pasta sauces, soup recipes, etc. When reheating the sauce from the pantry to use in your favorite recipes, add a bit of olive oil to give it additional flavor.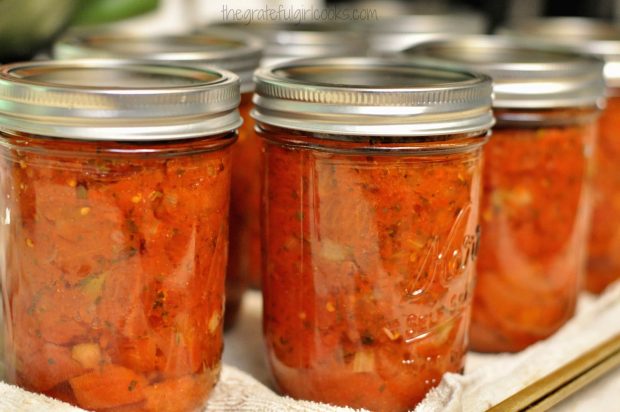 The finished sauce has a nice Italian-style taste, due to the flavorful Roma tomatoes, minced garlic, onion, celery, carrot, and hot pepper flakes, so it can be used in a variety of recipes.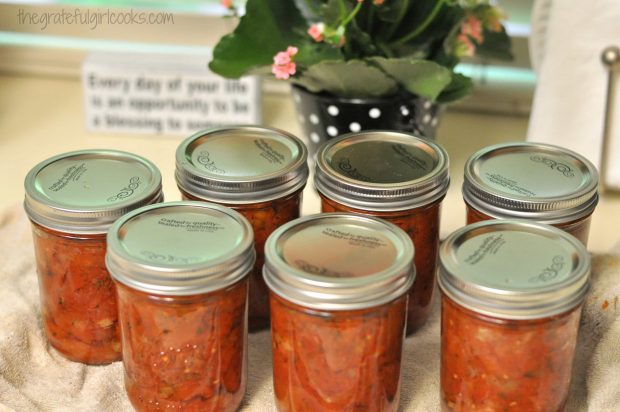 The recipe (as written) makes 3 pint sized jars. I doubled the recipe using exact measurements and ended up with 7 pints (as you can see).  I am thrilled to have a few extra jars of this delicious Italian-style tomato sauce in our pantry to use in a variety of recipes! It's so convenient to know it's in our pantry, which saves another trip to the grocery store!
Have a fantastic day… hope you will consider making this recipe if you enjoy canning as I do!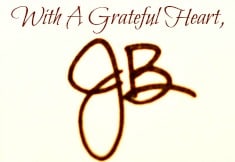 Recipe Source: "Ball Complete Book of Home Preserving", page 365, Jarden Corporation, copyright 2006 and 2012. Published by Robert Rose, Inc.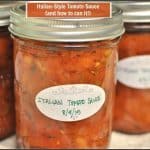 Italian-Style Tomato Sauce (and how to can it!)
Enjoy this home-canned Italian-style tomato sauce which can be used in a variety of foods.
Ingredients
8

cups

fresh plum

(Roma) tomato purée (approx. 4.5 pounds) (see Notes section)

2/3

cup

finely chopped onion

2/3

cup

finely chopped celery

1/2

cup

finely chopped carrot

2

cloves

garlic

, finely minced

4

Tablespoons

BOTTLED lemon juice

2

teaspoons

salt

1/2

teaspoon

ground black pepper

1/2

teaspoon

dried red chili pepper flakes
Instructions
Prepare your water bath canner, jars and canning lids per USDA canning guidelines.

In a big stainless steel saucepan, combine the onion, celery, carrot and garlic with ONE CUP of the tomato purée. Cook on medium-high heat (stirring frequently) until it comes to a boil. Reduce heat, cover the saucepan, and cook this mixture for about 5 minutes (boiling gently). The vegetables should be tender at the end of this cooking time. While the liquid is still boiling steadily, add the rest of the tomato purée to the pan (one cup at a time), stirring well.

Add the bottled lemon juice, salt, black pepper and the dried red chili pepper flakes.

Turn the heat up to High. Bring the sauce to a rolling boil. Continue to boil the sauce hard, making sure you stir the sauce quite frequently. Continue boiling sauce until the mixture has been reduced by one-third (this will take about 15 minutes or so to reduce).

Ladle the tomato sauce (very hot) into the hot canning jars. Leave 1/2 inch headspace. Remove the air bubbles, and adjust the headspace in jars, if needed, by adding more sauce. Clean off the rim. Place the lid on the jar, and add the screw band; tighten screw band until fingertip tight.

Carefully place jars into simmering water in the canner. Make sure that hot water completely covers the jars and goes about an inch OVER the lids. Place lid on canner. Bring water to a full boil, then process jars for 35 minutes. When time is up, turn off heat and remove the lid from the canner. Wait for 5 minutes, then carefully remove hot jars of sauce (without tilting jars) to a dish towel on the countertop (do NOT place jars directly on countertop or they might crack). Let jars cool completely (24 hours), without disturbing them. Water on jar lids will evaporate naturally. After a few minutes, you should hear them make a "pinging" sound, indicating they have sealed properly. After jars have cooled for 24 hours and before storing in pantry, check to ensure lids have properly sealed, per USDA canning guidelines.
Recipe Notes
To puree tomatoes: Blanch, peel, core, and seed tomatoes. Put them into a colander and let them sit for 15 minutes. Discard the liquid. Put the tomatoes into a food processor. Purée with metal blade.
Save
Save