Today I am sharing a recipe I've used for french bread the last couple of years. It's called "Miracle Bread" and it is DELICIOUS!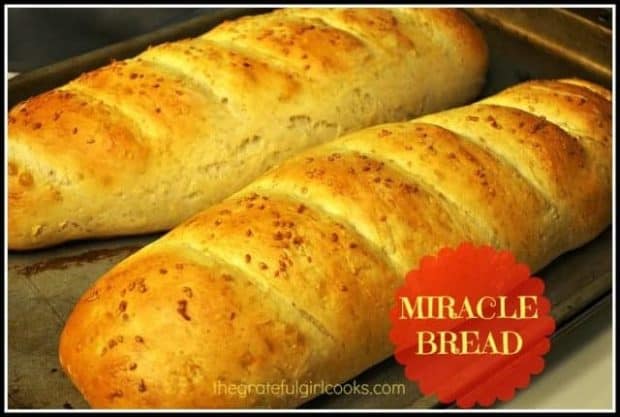 I found the recipe for this easy, simple french bread on the internet, from Gina at Home Joys. I've made it at least 10 times since then, and can heartily recommend this, EVEN if you've never baked bread before!
I guess that's the Miracle of it… even if you've NEVER made homemade bread before, you can make this delicious, and amazingly simple bread to enjoy! The recipe makes two loaves, so you can eat one and give the other one away (or freeze for later), if you want!
I love to bake this bread, especially in the Fall. One year I baked 8 loaves and wrapped them up really nicely and surprised several neighbors on our street and some friends with a loaf of warm, freshly baked french bread. The loaves are wonderful sliced and warm, with butter. The slices are fantastic toasted, or used to make French Toast, also. Yum. Seriously. Yum.
A couple years ago I taught our youngest son and his girlfriend how to make this bread… some of the pictures are from this fun morning! I sure hope you will try this bread. You'll be surprised at just how easy it is to make fresh, homemade Miracle Bread!
Don't be afraid to try this "No Kneading Necessary" bread. If you can stir ingredients, and roll out dough, you CAN make this! Most of the prep time involved is really just the sitting around, waiting for the dough to rise… so just go ahead and get lots of other things accomplished while waiting… and STILL end up with two delicious loaves of home baked bread (and an incredible smelling home)! You'll be the hero of the day when your family sits down and enjoys your freshly baked bread! Enjoy!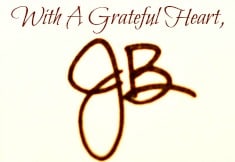 Original Recipe Source: http://homejoys.blogspot.com/2011/01/miracle-bread.html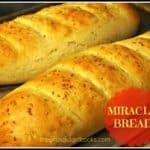 Miracle Bread
Easy to make, and delicious, this homemade French Bread will be a treasured recipe in your home.
Ingredients
1/2

cup

warm water

2

Tablespoons

yeast

2

Tablespoons

sugar

(or honey)

2

cups

warm water

2

Tablespoons

melted butter

2

teaspoons

table salt

6-7

cups

all purpose flour

(will use 6 cups plus more, if necessary)

Non-stick spray

(or a bit of oil)

1

egg

2

Tablespoons

milk

Sesame seeds

, if desired, for garnish
Instructions
In a small bowl, mix together 1/2 cup warm water with the yeast and sugar (or honey). Stir until the yeast has fully dissolved. Let sit for a 3-4 minutes.

In a large bowl, mix together 2 cups warm water, 2 Tablespoons melted butter, and the salt. When fully mixed, add the yeast/water mixture from the small bowl. Stir to combine well.

Add 6 cups of all purpose flour to dough mixture. Stir well by hand until fully combined (or use a dough hook and stand mixer). If the dough is way too sticky, add a bit more flour a little at a time, until mixture is not sticky.

Form the dough into a ball. Spray a large bowl with non stick spray, or lightly oil the bowl. Add the dough ball to the bowl; turn dough over, to coat sides with spray (or oil).

Cover bowl with a tea towel, and let rise for 30-60 minutes in a warm place, free from drafts. The dough should double in size. Once doubled in size, divide the dough in half.

Roll each half section of dough out (like making a pie!) on a very lightly floured work surface. Shape the dough into a 9-10 inch long rectanglular shape. Using your (clean) hands, roll up the dough, starting with the long edge of the dough and roll tightly up into a loaf shape. Tuck the edges in slightly and carefully place the "loaf" onto a greased or sprayed baking sheet (large enough for two loaves!). Repeat process with other half of dough and place a couple inches apart from other loaf on prepared baking sheet.

Using a very sharp knife, make diagonal slits (about an inch deep) across the tops of each loaf. Cover the loaves with a tea towel and let the dough rise again, for one hour, or until dough loaves have doubled in size. Preheat your oven to 425 degrees during the last 15 minutes of rising time.

In a small bowl, beat together the egg and 2 Tablespoons milk. Using a pastry brush, lightly brush this mixture over the top of each loaf. Sprinkle each loaf with sesame seeds (or can substitute poppy seeds, if desired).

Bake bread at 425 degrees for 15-20 minutes, or until golden brown on top. Remove loaves to wire racks. Let bread cool slightly before slicing, for best results. Enjoy!
Save
Save
Save