I tried a new homemade bread recipe… twice! Yes, this recipe for homemade Honey Oat Bread is THAT good, and you do not need a bread machine to make it from scratch!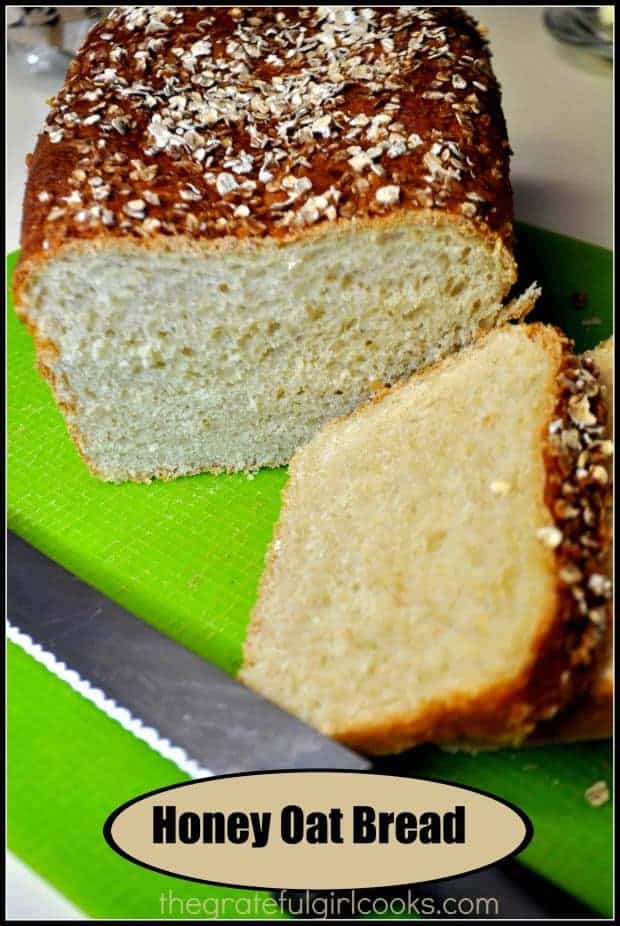 I found the recipe a couple of weeks ago, but have already made it twice…yum!
This bread was absolutely perfect warm from the oven with some butter, but we also enjoyed using it for toast and sandwiches. It had a great texture (light and fluffy-NOT dense), with just a tiny trace of sweetness (from the honey). My husband and I loved it, and know I will be making this often. I highly recommend this recipe to you (thanks to Darla at Bakingdom)!
Hope you will give it a try…it's really not that hard, but it sure is satisfying to smell the aroma of fresh, baked bread filling the house! It really is a wonderful homemade loaf of bread. I know you will love it! Here's a few pics of the "process":
Start by mixing up the dough…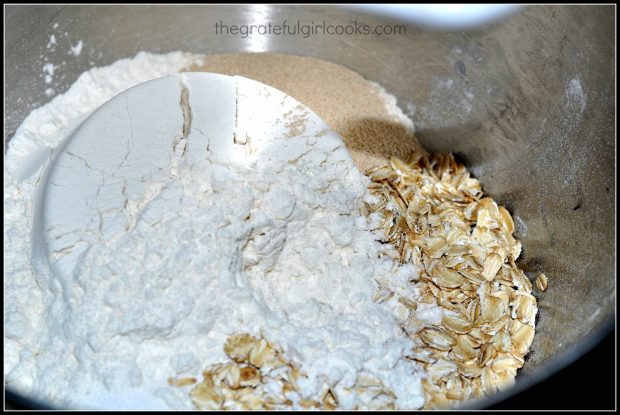 Honey being added to melted butter…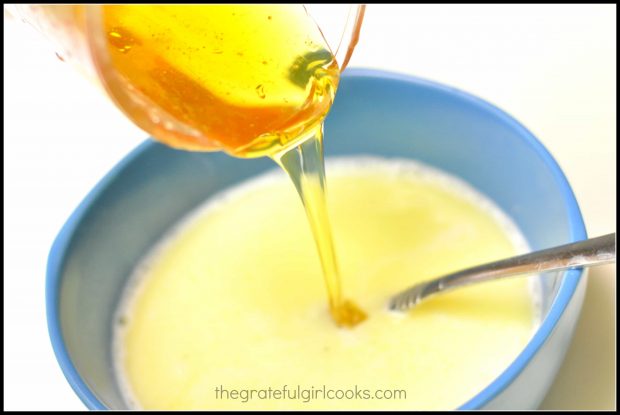 Dough has been mixed, and is now rising.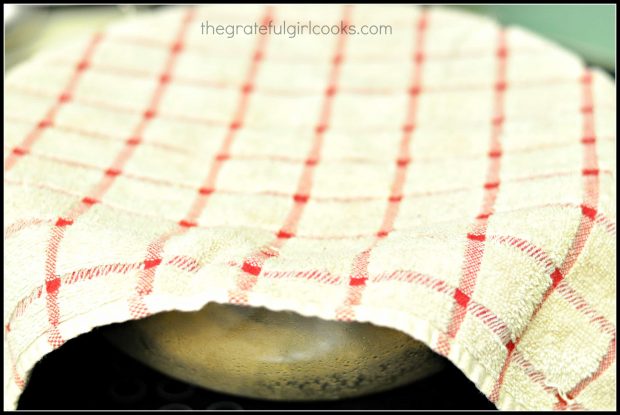 Dough is rolled out into a rectangle shape…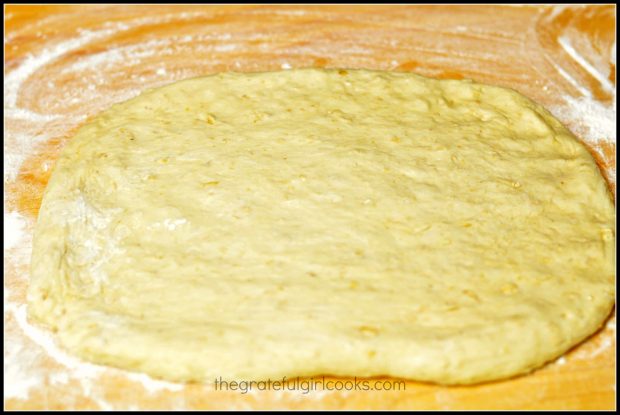 Dough is then rolled up into a loaf shape…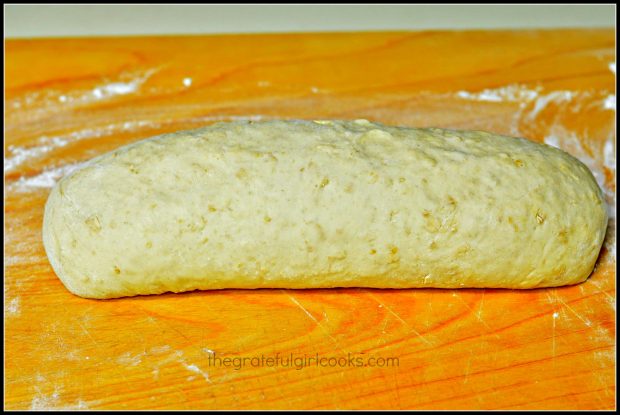 Dough is placed into a parchment paper lined bread loaf pan…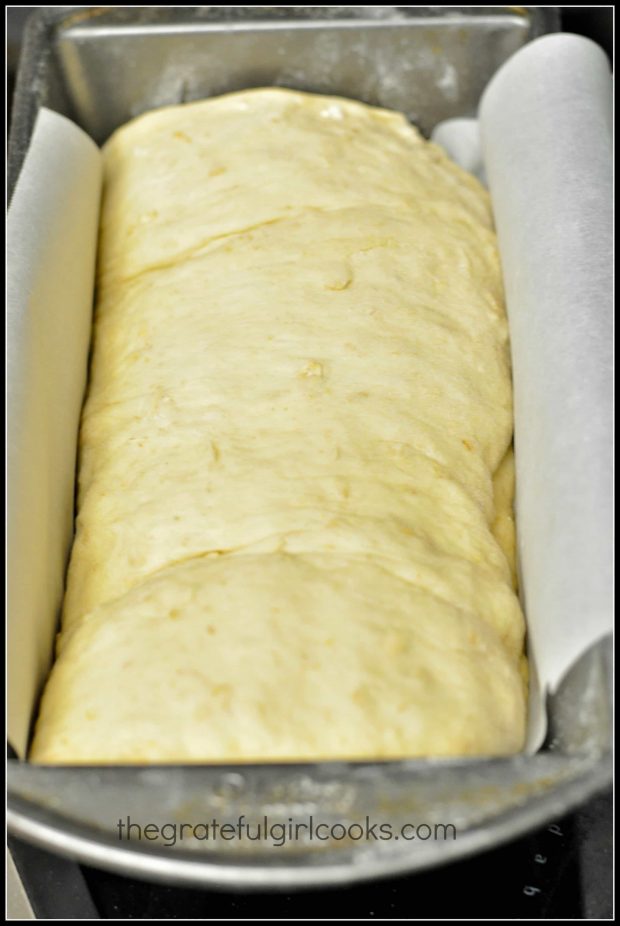 Dough is brushed with honey…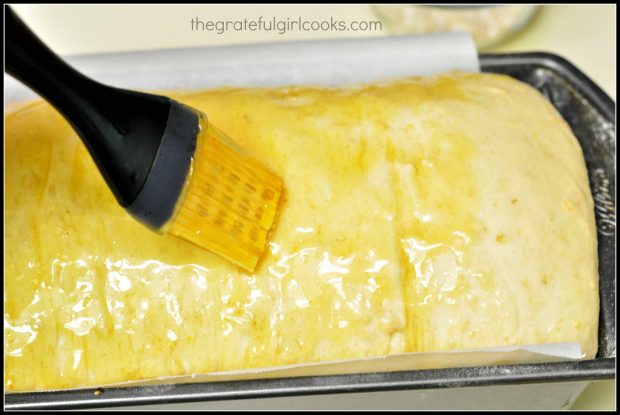 Dough is then sprinkled with oats…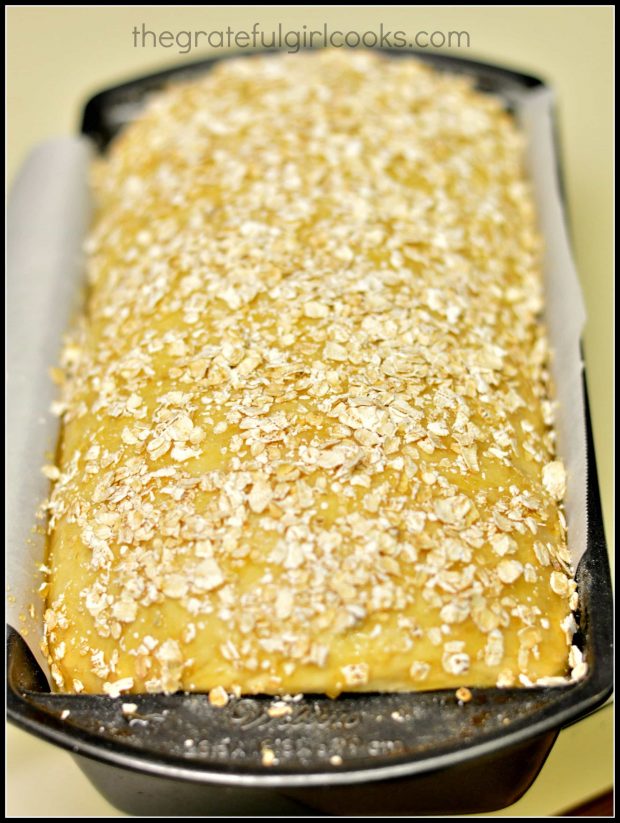 Out of the oven, and out of the pan. Isn't it gorgeous?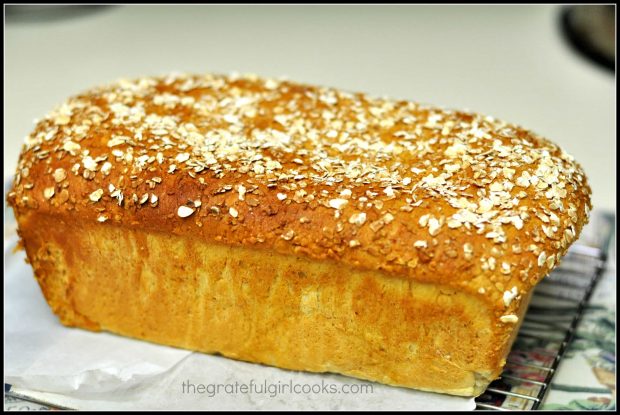 Here's what the slices look like… YUM!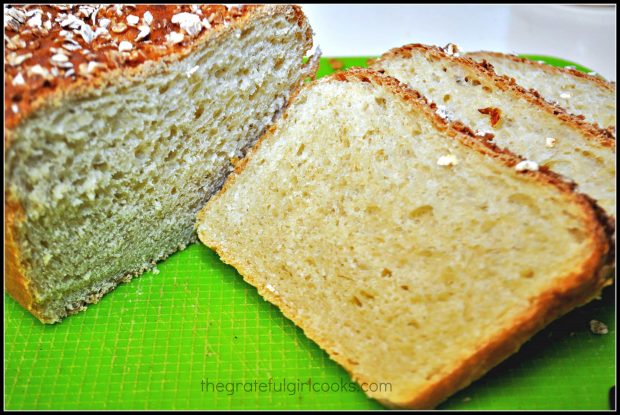 Hope you will consider making this absolutely delicious homemade bread for yourself! You're gonna LOVE it!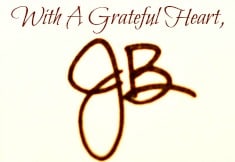 Recipe Source: Recipe Source:  http://bakingdom.com/2011/09/homemade-honey-oat-bread.html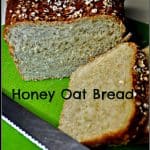 Honey Oat Bread
This delicious loaf of homemade bread, with honey and oats, is easy to make from scratch, without a bread machine!
Category:
Bread, Breakfast
Servings
:
10
slices (1 loaf)
Calories Per Serving
:
241
kcal
Ingredients
For the bread:
3

cups

all-purpose flour

3/4

cup

oats

(instant or old-fashioned will work-I used old-fashioned for my loaves)

2 1/4

teaspoons.

instant active yeast

1 1/2

teaspoon

salt

1

cup

milk

(If you're vegan or dairy-free, use almond or soy milk-*Note* I have not tried this)

1/4

cup

lukewarm water

2

Tablespoons

unsalted butter

(or margarine, if desired)

1/4

cup

honey

(if vegan, use agave)
For bread topping:
2

Tablespoons

honey

(or agave), warmed

2

Tablespoons

oats

(uncooked)
Instructions
In the bowl of a stand mixer (or in a large bowl if making by hand), mix together the flour, oats, yeast and salt.

In a small separate bowl or pan, warm the milk so it's hot enough to melt butter, but IS NOT boiling. Add the butter to the warm milk; stir it until melted. Stir in the water and the honey. Mix well to combine.

Pour the warm milk mixture into the flour mixture.

Using the dough hook on your stand mixer, mix these ingredients until they come together to form a soft dough. Knead the dough in the mixer (still using the dough hook attachment) for approx. 10 minutes. If the dough is still really sticky after 5 minutes, then add in additional flour 1 TABLESPOON AT A TIME, mixing well after each addition until the dough is barely "tacky". (*NOTE: I found that I needed to add 5-6 additional TBSP of flour to get the right consistency...just be sure to only add one tablespoonful at a time. If by some chance you get the bread too dry, simply add 1 tsp. warm water at a time to remedy this).

**If you are not using a stand mixture and are going to be kneading this by hand, just know that you will really have to keep your hands and work surface well-floured...dough will be VERY sticky at first).

Once dough is "done", place it in a large, lightly oiled bowl. Turn the dough over to make sure both sides are lightly coated. Place a dish towel over the top of the bowl and set aside in a warm place. Allow the dough to rise until doubled in size (this will take approx. 1/2 - 1 hour).

Once the dough has doubled in size, remove it from bowl and place dough on a clean, lightly floured work surface. Using your fingers, flatten the dough out into a 9x12 inch rectangle.

Tightly roll the dough (beginning from the long end) into a loaf shape; tuck the ends of the loaf in.

Layer a 9x5 inch bread pan with parchment paper (First position one piece that goes width-wise and overlaps the top edges of the pan (see photo on blog-this will help you lift the bread from the pan when done), then put one piece on top of that which is the length of the pan.

Carefully pick up the floppy loaf of dough and gently place it into the parchment-lined bread pan.

Cover the bread pan with a dish towel; let it rise again until doubled in size (about an hour).

Toward the end of the rising time, preheat your oven to 350 degrees.

While the oven is preheating, place an empty loaf pan (or casserole dish) on the bottom rack of the oven.

In a small saucepan. bring 2 cups of water to a boil on your stove top.

When the dough has finished it's second rise, brush the top of the loaf with the warmed honey (completely brush the entire top of the loaf...gently!)

Sprinkle oats over the entire top surface of the loaf.

Place the bread pan on the middle rack in the oven. Pour the boiling water into the empty pan on the bottom rack of the oven.

Bake the bread for 40-50 minutes, or until the bread is deep, golden brown. (The internal temperature will be about 190 degrees, in case you're checking).

Once done, carefully remove bread (and water pan) from oven. Let bread cool on a wire rack before slicing. Enjoy!
Nutrition Facts
Honey Oat Bread
Amount Per Serving (1 slice)
Calories 241
Calories from Fat 27
% Daily Value*
Total Fat 3g 5%
Cholesterol 7mg 2%
Sodium 362mg 15%
Potassium 132mg 4%
Total Carbohydrates 46g 15%
Protein 6g 12%
* Percent Daily Values are based on a 2000 calorie diet.
Here's one more to pin on your Pinterest boards!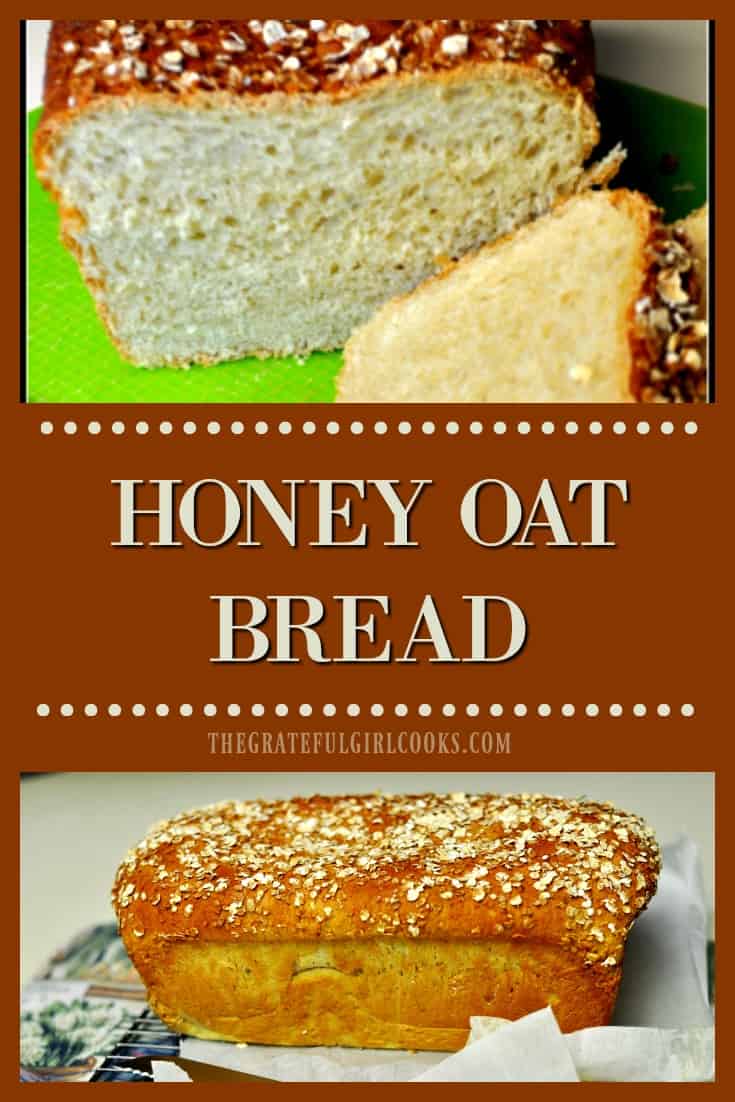 Save
Save
Save