I'm gonna let you in on a little secret….shhh… don't tell… my Mom's Apple Cake is amazing!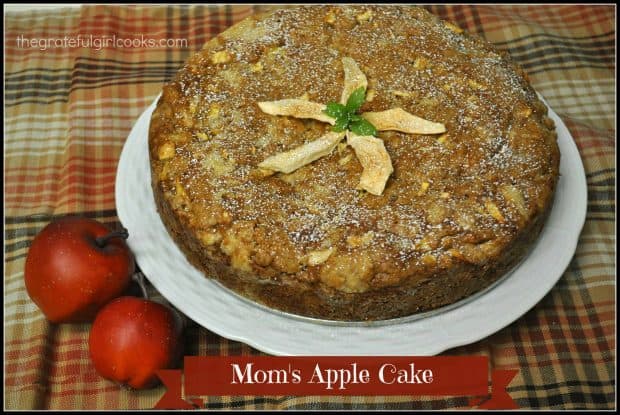 Seriously. It's packed with fresh apples and cinnamon, and is so moist, you don't need to "fancy it up" with any extra frosting… it's absolutely perfect just the way it is!
My mom used to make this cake for our family as I was growing up, and this simple recipe has been in my collection for over 35 years. I don't know where she got the original recipe, but I DO KNOW that it is absolutely delicious, and is perfect anytime, but especially in the Fall!
The recipe is super simple to make, and you probably already have the ingredients in your home. My mom always makes this cake in a 13×9 inch cake pan, but I tried making it this time in a springform pan and 2 miniature spring form pans (just as an experiment). Result…ALWAYS fantastic, no matter WHAT you bake it in. This is a great dessert cake, but is equally good in the morning with a cup of good coffee (well, someone had to try it for breakfast…*cough, cough*…I don't mind "taking one for the team")
Sure hope you'll try it… I know you're gonna LOVE it! Thanks, Mom, for another great childhood recipe!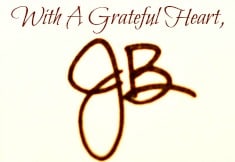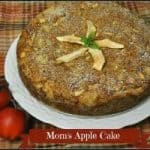 Mom's Apple Cake
Simple, moist and delicious, this apple cake is perfect anytime, but especially in the Fall!
Ingredients
3

cups

all purpose flour

1

teaspoon

salt

1

teaspoon

soda

1

teaspoon

cinnamon

2

eggs

2

cups

granulated sugar

1 1/4

cups

vegetable oil

1

teaspoon

vanilla

3

cups

chopped apple

(approximately 4-5 I usually use Granny Smith, but any apples will do)

1

cup

chopped walnuts or pecans
Instructions
Preheat oven to 350 degrees.

In a large mixing bowl, beat eggs, oil and sugar together by hand until well blended.

Add sifted dry ingredients. Stir until well blended. Dough will be stiff... just keep on blending!

Add vanilla, chopped apples and nuts. Stir well until thoroughly combined. Dough will be stiff.

Grease and flour a Springform pan, plus two miniature springform pans (or use a greased and floured 13x9 inch baking pan).

Spread batter evenly in baking pan.

Bake at 350 degrees for 55 minutes (for regular sized springform pan) *SEE NOTES SECTION FOR BAKING TIMES, IF USING OTHER TYPES OF BAKING PANS*
Recipe Notes
*BAKING TIMES:
1 regular-sized Springform pan = 55 minutes
Miniature Springform pans = 40 minutes
13 x 9 inch cake pan = 1 hour
Save
Save
Save
Save